Sorry for the very un-original title of this My Style post, but it's Wednesday and I'm wearing pink so, it was kind of obligatory… duh. I like this outfit and I hope you do too 🙂 Sorry about the weird blue glow… darn you white balance!  Make sure to leave a comment telling me how you would wear pink on a Wednesday!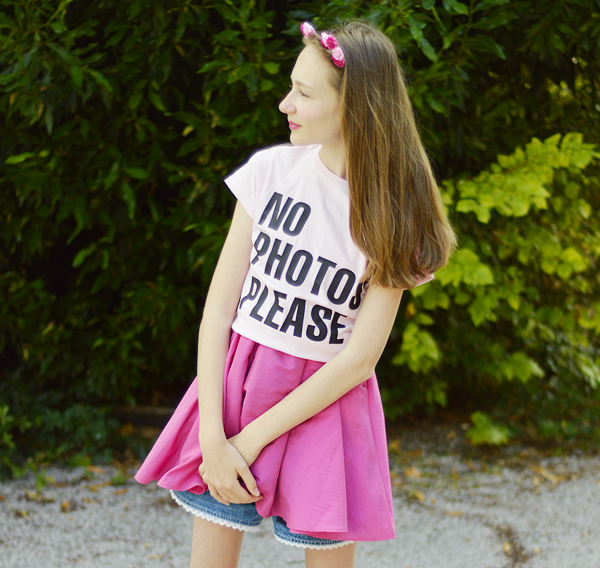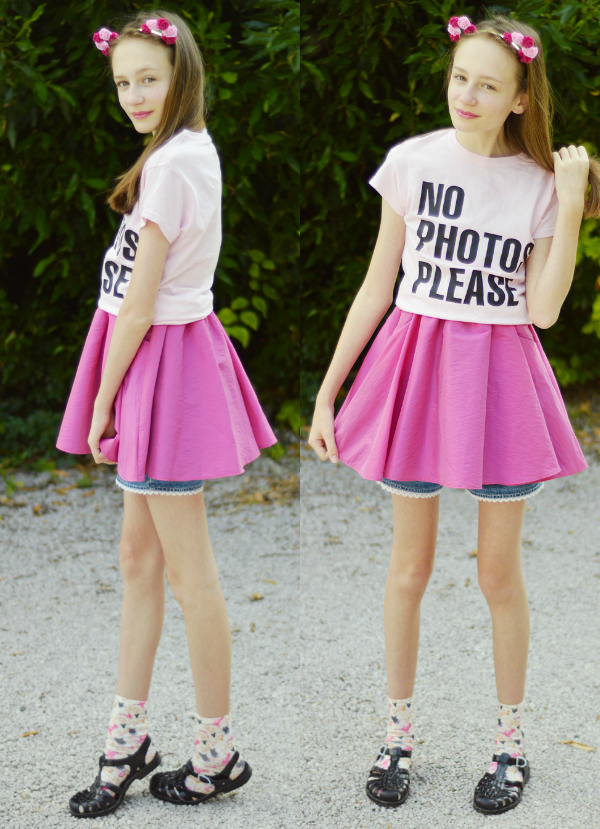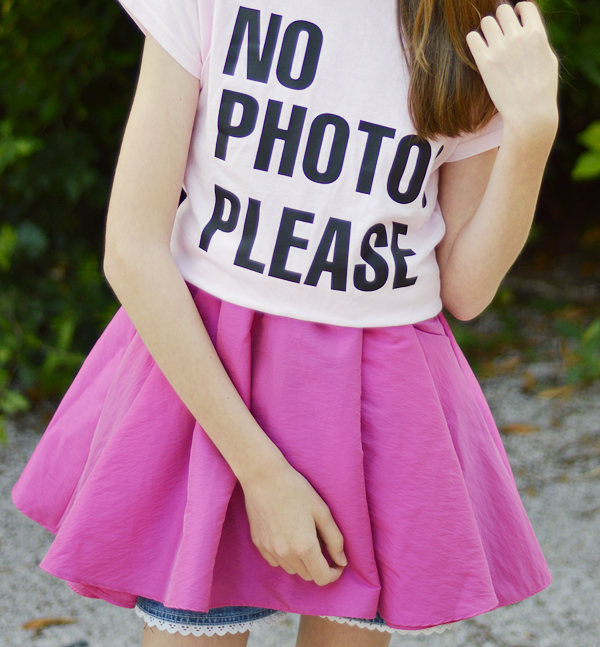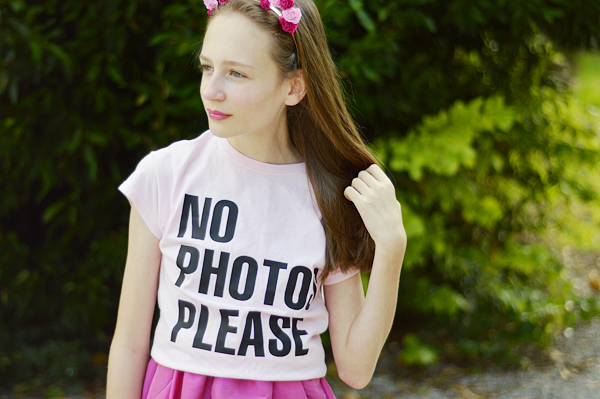 What I Wore: No Photos Please T-Shirt £14.99 (Lush T-Shirts)*, Pink Dress (Marks & Spencer), Denim Shorts (Jumble Sale), Barbie Socks £2.50 (Primark), Jelly Shoes (Supermarket) & Floral Ear Headband £3.50 (River Island at ASOS)
I never knew I was a pink kinda' person, but turns out, I really am. I had to wear my pink taffeta dress because I own no pink skirts… very tempted to make it into a skirt actually, seeing as it's about 7 years old – no. joke. I love the contrast of the pastel and bright pink though, and the slogan top makes such an awesome statement. Plus, it's kinda' ironic, seeing as I'm a fashion blogger and all… lol.  What d'ya think? Too much pink, or just right? I'm thinking the latter, but not sure the French around here would agree.. I changed the dress for some trousers when I went out *hides behind curtains*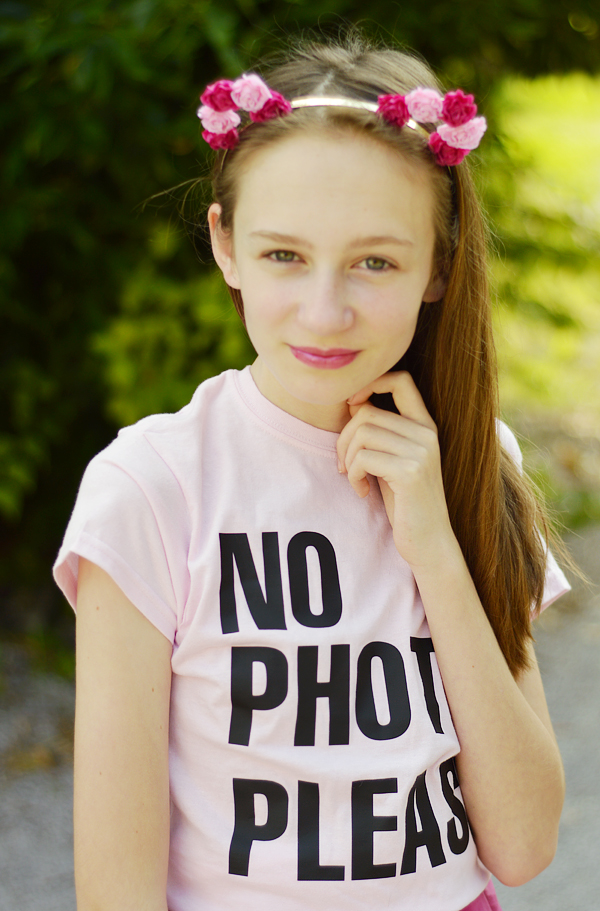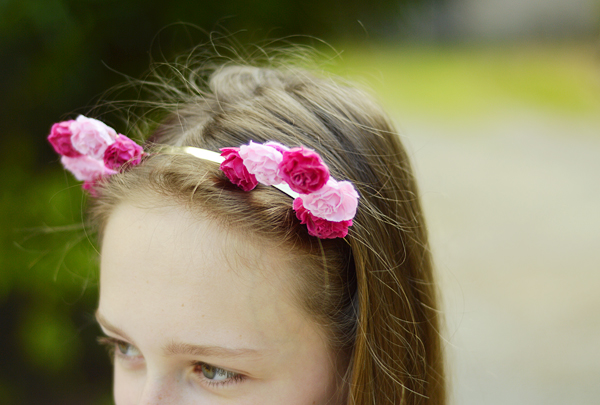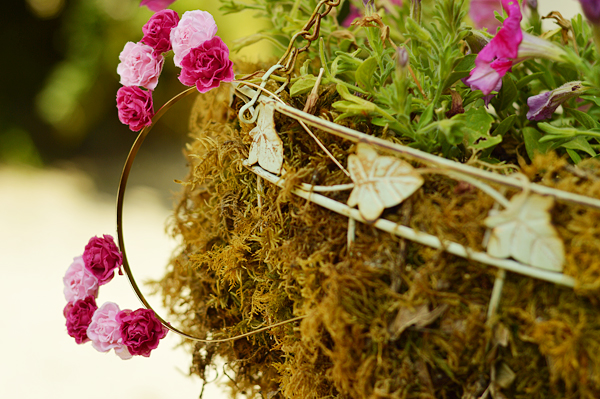 When I was in the UK recently, I tried on this super cute headband in River Island, knowing that it was also on ASOS, so when I saw it for half the price in the ASOS sale, I bought it immediately. It's adorable! I thought I would prefer the multi-coloured one, but I'm so glad I picked the pink! I also love the gold band… it makes it look a lot more expensive than it was! It's also a great headband which can be worn with a topknot as it's just small enough, which is very handy in these warmer months! Oh and FYI, the pool is up and running, and most days I take a dip! Fun, fun, fun!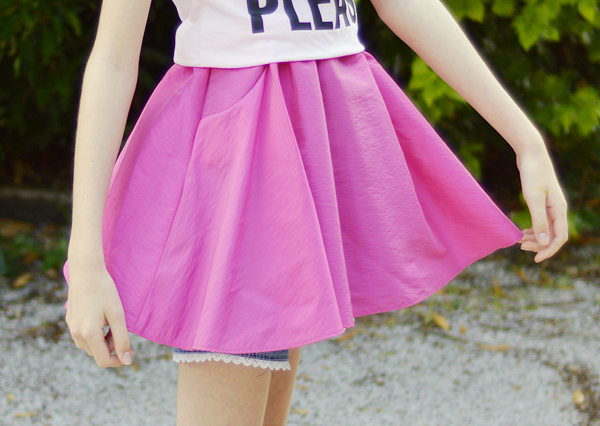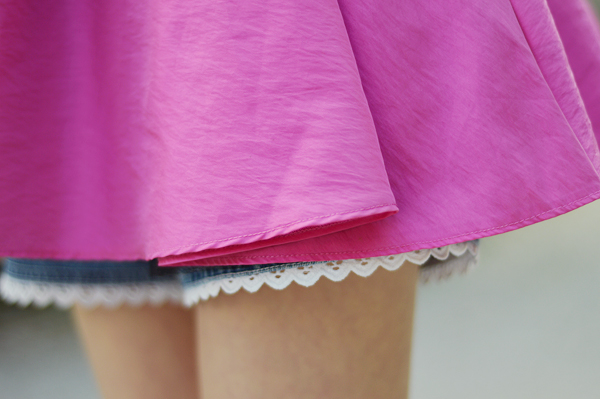 As I mentioned earlier, this dress is kinda' on the small side which means my denim shorts have to be worn underneath! I'm a big fan of denim at the moment, and these are again… adorable! I love the little trim and how it pokes out underneath the skirt… cute-ness! Speaking of denim… I really want a denim/acid-wash style drop arm vest with a high neck… anyone know of where to get one? Thanks if you do suggest anywhere!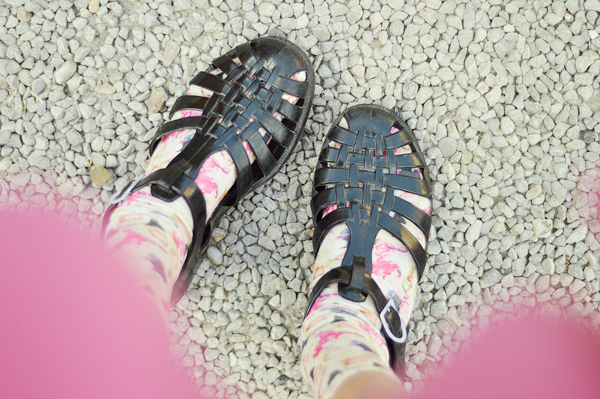 And finally… shoes! I wore my new Barbie socks (featured in my new haul, watch it here!) with my jelly shoes, and I quite like the combo! Due to Primark's bad packaging, when I pulled the label off the socks, it pulled a thread with it meaning there is now a hole on the bottom. Not very nice! I like them nonetheless though, and it just adds that little bit more pink to the outfit!
I shall speak to you soon! I have some exciting things in the pipeline, which I should be able to tell you about soon! The only hint I can give is that it will be the 2nd time in which one of my goals for 2014 will be coming true! Eeep! 🙂 Lots of Love… Tolly Dolly Posh xx