Hidehidehidehi! (Brownie points to anyone who knows which song that's from) I have been really bad on the whole 'real blogging' kind of thing, with outfit ideas, celebrity style etc, because you guys loved it when I did them, so I'm back with a post for you! I've put together a few New Years Eve outfit ideas just in case you need some inspiration! Hope you like it… Just to point out that this will be the last blog post before Christmas Day! I will be back though, but just enjoy this one for now! Don't forget though, I have a GIVE-AWAY going on to WIN a gorgeous necklace from Punky Pins! Enter it now!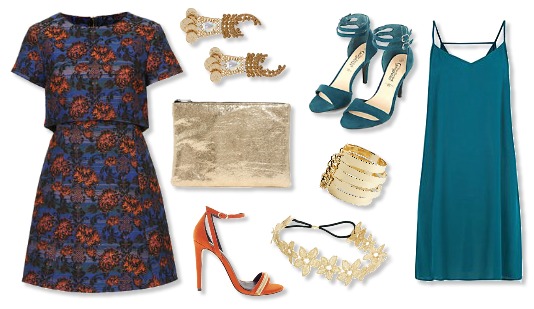 Crocus Dress £68.00 (Topshop), Orange Barely There Heels £45.00 (River Island), Distressed Metallic Clutch £28.00 (ASOS), Lucky Coin Earrings £9.00 (ASOS Sale), Teal Strappy Dress £14.99 (New Look), Teal Ankle Strap Heels £19.99 (New Look), Chained Layer Cuff £9.26 (Nasty Gal) & Flower Chain Headband £8.00 (ASOS)

Cocktail 'Part-ay' – This is probably my favourite selection out of the three because they are all so simple, yet they all dip into the 'elegant' and 'statement' sides of the pool (ooh, nice phrase there 😉 ). I love the Topshop dress because it looks like you are wearing a two piece but…. you're not (surprise!)! I also love how the ASOS clutch is distressed, I think it makes it look a little bit more expensive, and a bit more 'edgy' (I have really gone off that word… eugh). The other dress is a slightly more simple and cheaper option, but it is still as nice as the other in my opinion, the style is also really flattering and 'great' for all seasons. Plus, matching heels in the exact same colour? #winnerwinnerchickendinner (#longesthashtagever #ishouldprobablystopnow #yah)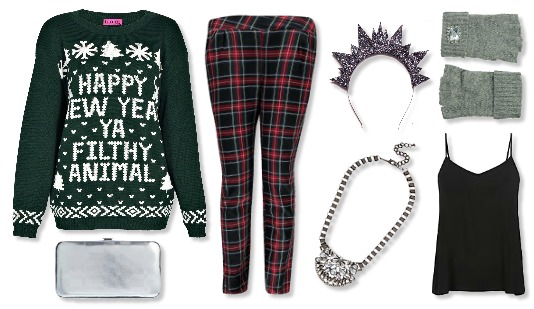 Happy New Year Jumper £15.00 (Boohoo), Tartan Trousers £20.00 (Boohoo), Gunmetal Headband £35.00 (Crown & Glory), iPhone Case/Purse £15.00 (ASOS), Gem Fingerless Gloves £9.00 (ASOS), Black Cami £9.99 (New Look) & Silver Gemstone Necklace £7.99 (New Look)
Casual & Cosy – This is the sort of thing I will be wearing on New Year's Eve. A little bit of sparkle, but casual and cosy (but, I'll probably end up in my PJs…)! I love the jumper from Boohoo! They do a classic Home Alone one for Christmas, but this is so cool as it is perfect for New Year! I also really like the trousers, they look really comfy and simple and of course would be really good for any A/W occasion. After seeing one of my favourite bloggers (a.k.a Megan) wearing the gold version of the Crown & Glory headband, I now love it! It's so sparkly and just… amazing! The necklace goes perfectly, and I must say, for under £10.00, that is pretty good? Although I love the cocktail dresses (previous image), this is what I would wear if I was going out on 'NYE'.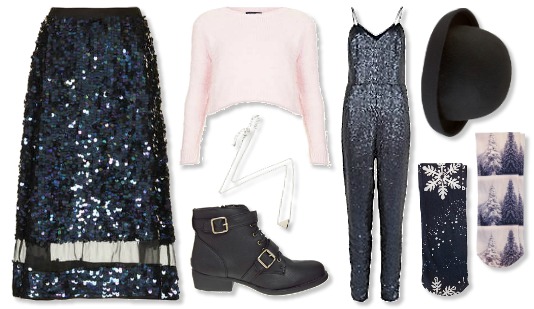 Sequin & Mesh Skirt £125.00 (Topshop), Pink Fluffy Jumper £34.00 (Topshop), Buckle Boots £38.00 (ASOS), Triangle Necklace £6.00 (ASOS), Sequin Jumpsuit £59.99 (New Look), Felt Boater Hat £18.00 (ASOS), Snowflake Socks £4.00 (ASOS) & Snow Scene Socks £4.00 (ASOS)
Sequins & Sparkle – Ohhh. Myyyy. Just look at that skirt… take a moment to appreciate it… and then sob in sadness at the price… it's so nice! I'm a big fan of fluffy jumpers over sequins because it looks so nice and the textures look perfect against each other. Paired with some buckled boots to make it more casual, and a dainty little necklace… ohhhh. Then, New Look have a blimming amazing jumpsuit, covered in sequins… for under £60.00, which quite frankly is amazing if that is the closest I can get to an Ashish one! I would wear it all day, every day and nobody would be able to stop me! I've always wanted a boater hat, and I think this 'look' would make it the cutest accessory. Oh, and don't forget the novelty socks! 😉
Lots of Love… Tolly Dolly Posh xx