Like every outfit post it seems, it's been a while since my last. Quite honestly, my appearance hasn't been on top form over the past few months because I've been living in a tent, out of a dust covered house and now a very limited amount of clothes as we start exploring in Sardegna (Sardinia). But I thought I'd take a moment to share with you something I've been wearing a lot recently. You may notice I've worn the top half of this outfit in photos already but an outfit isn't much of an outfit without something on the bottom!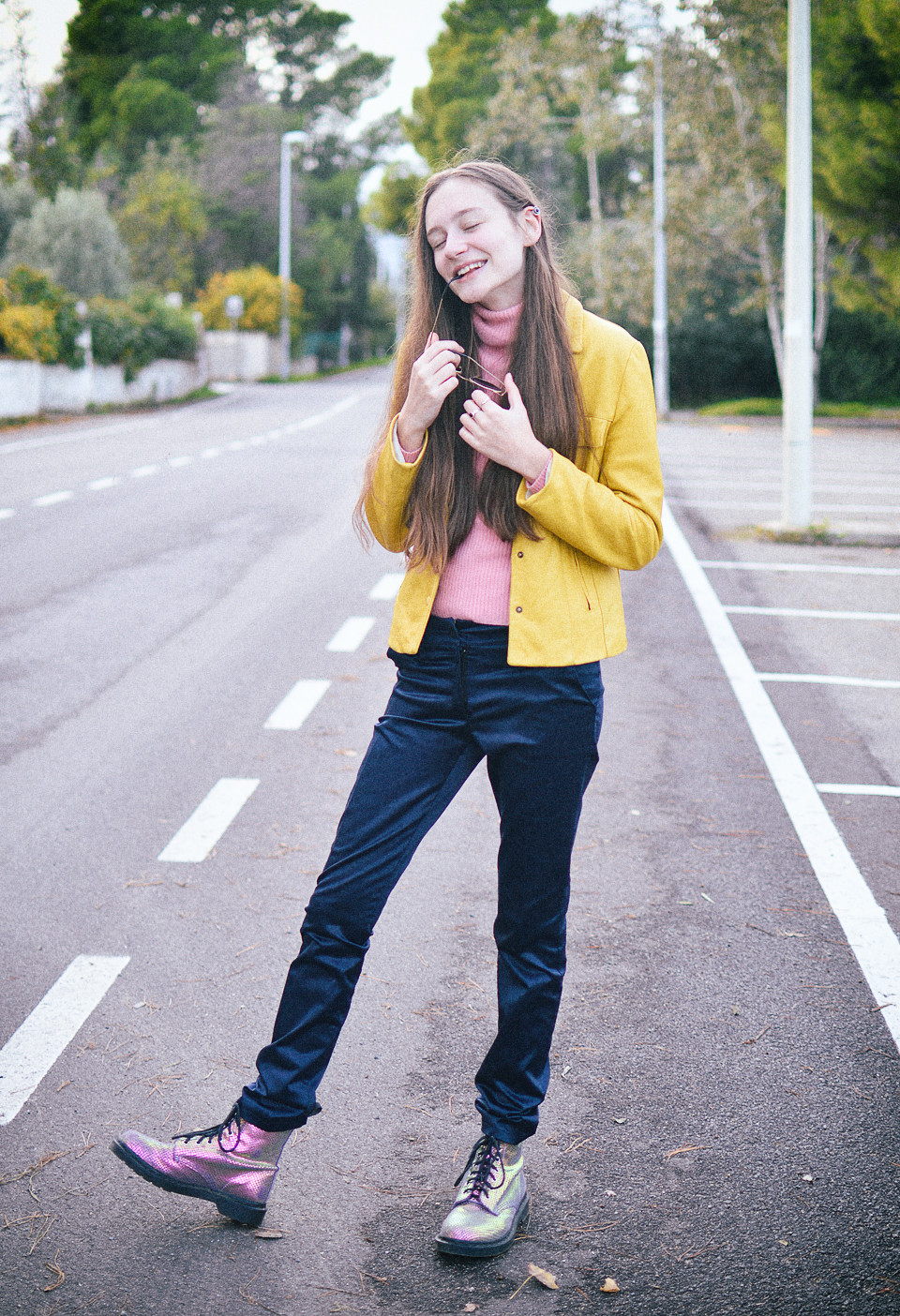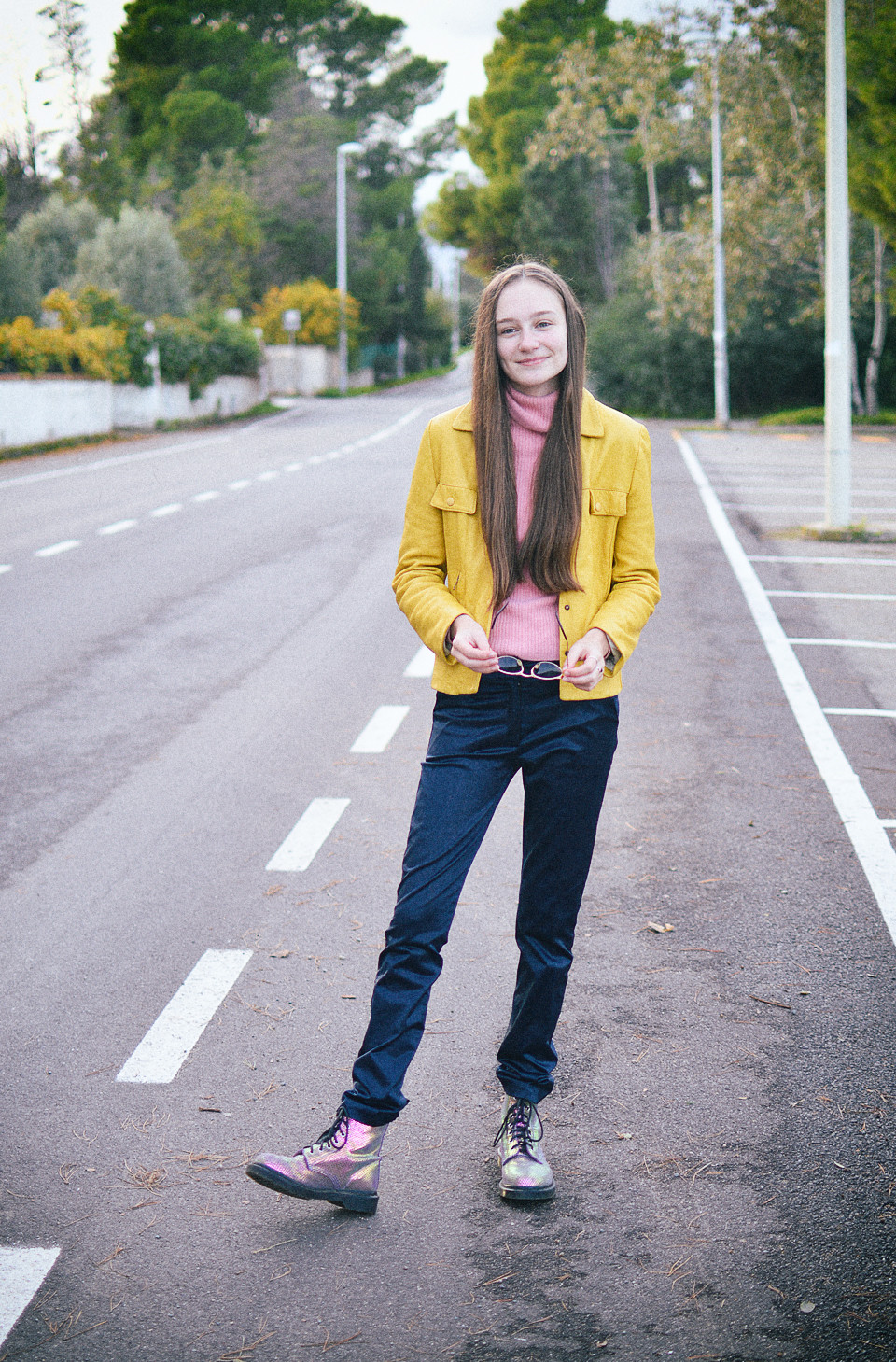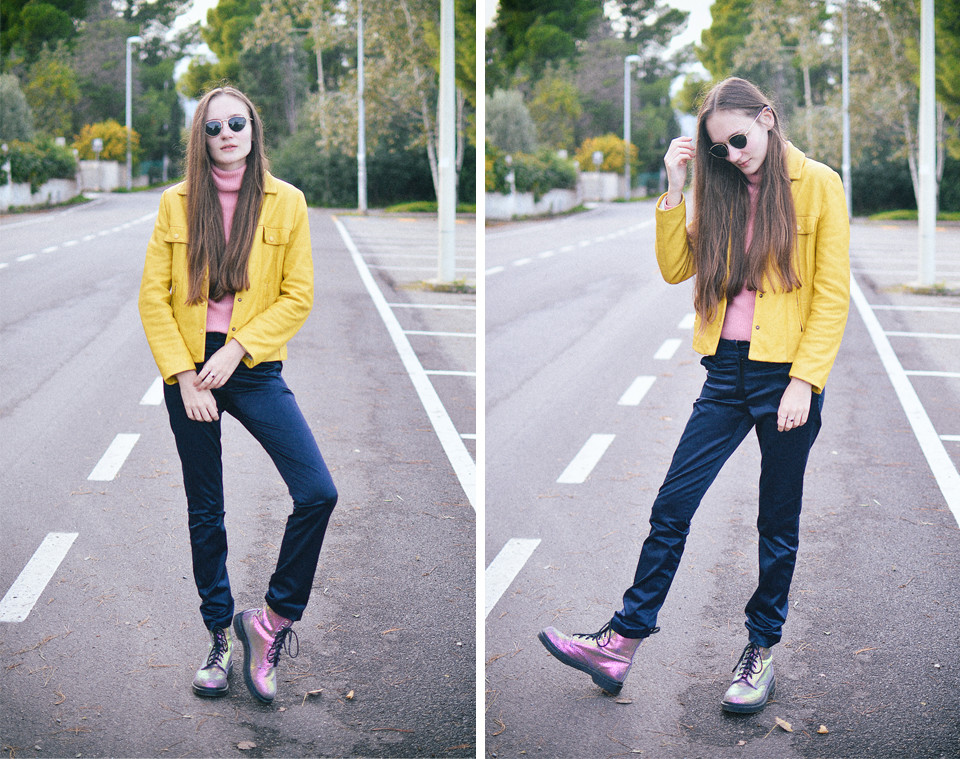 ---
WHAT I WORE: Yellow Leather Jacket €35 (Jumble Sale) // Pink Turtleneck £5 (Charity Shop) // Navy Satin Trousers €5 (Jumble Sale) // Dr Martens Pascal Mirror Shift Suede Boots (Mastershoe-MyShu)*
---
Looks familiar, huh? It probably looks familiar to my whole family seeing as I've worn this outfit about 500 times since I bought all of the pieces. It's a colour blocking outfit and it was even more block-y when I was wearing it with my white platform heels, but I've refined it now which means it blends out in the right places. The majority of it as you will see above, is second-hand. Everything other than the Dr Martens and one of my rings are previously owned which means I'm happy to promote the whole look.
And luckily, even though I was wearing it with a winter coat over the top at home in England, the weather here in Sardinia means I can wear it with everything on show. That's one thing about winter I dislike – sometimes you'll be wearing an outfit you love, but you have to cover it up with a coat or jacket that isn't quite as exciting.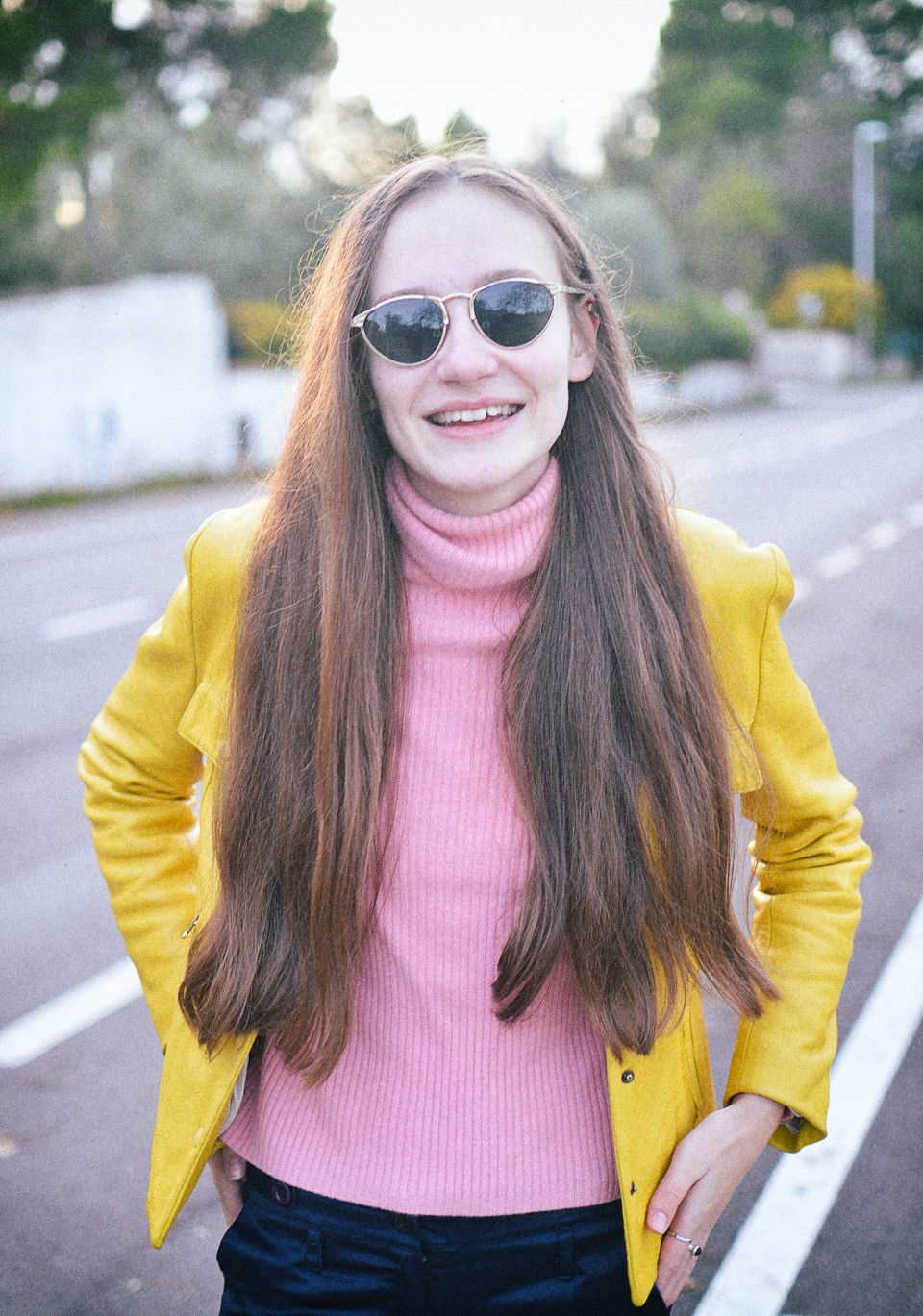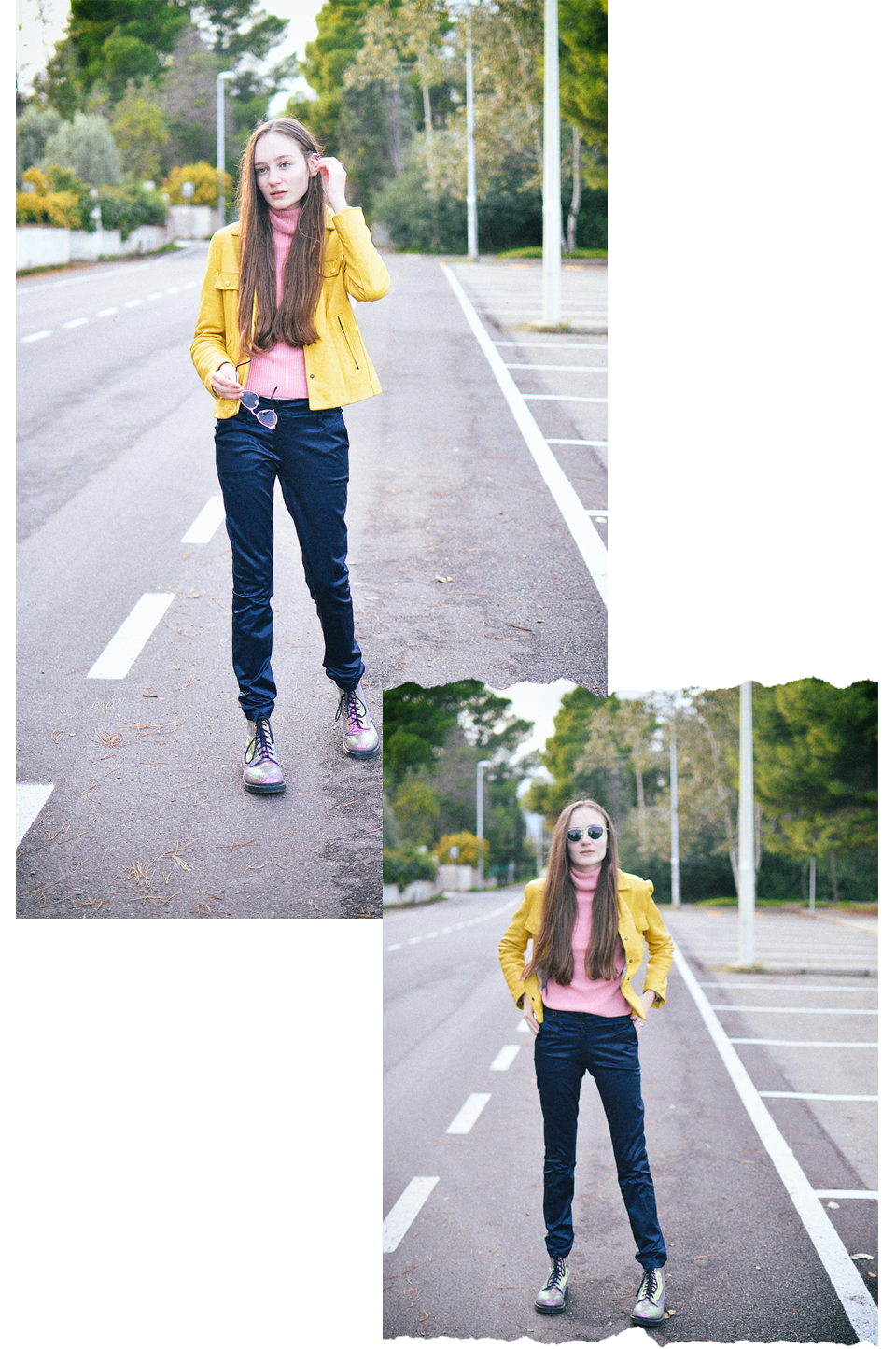 Speaking of jackets, I've worn my yellow leather number so much more than I expected myself to. One of my biggest concerns before purchasing it was 'What will I wear it with?', but it seems I can wear it with quite a lot. I haven't had the chance to wear it with a dress yet, but I know with the right shoes and accessories, it could work well with something floatier than what I'm wearing here.
The trousers are probably one of my favourite purchases of late. The satin texture is surprisingly wearable, and as I mentioned above about the block outfit blending in certain parts, the sheen and shine to them ties in my Dr Martens. There's something really satisfying about the contrasting colour of the rest of the outfit, tied in with the shoes and trousers. I've yet to wear the matching suit jacket as I was about to adjust the shoulders before another earthquake hit… but you just know I'll be shooting an outfit as soon as it's ready to wear.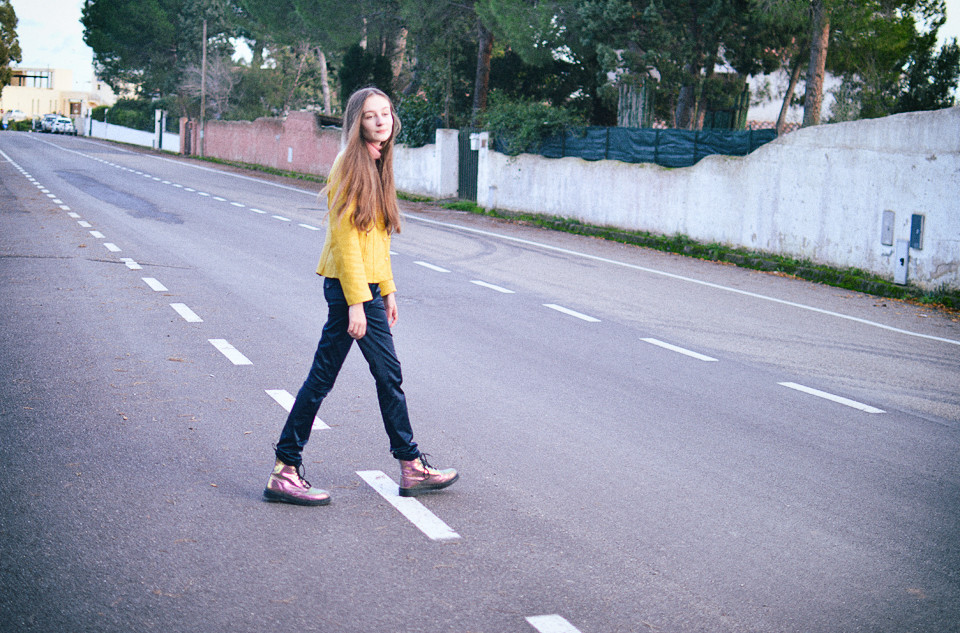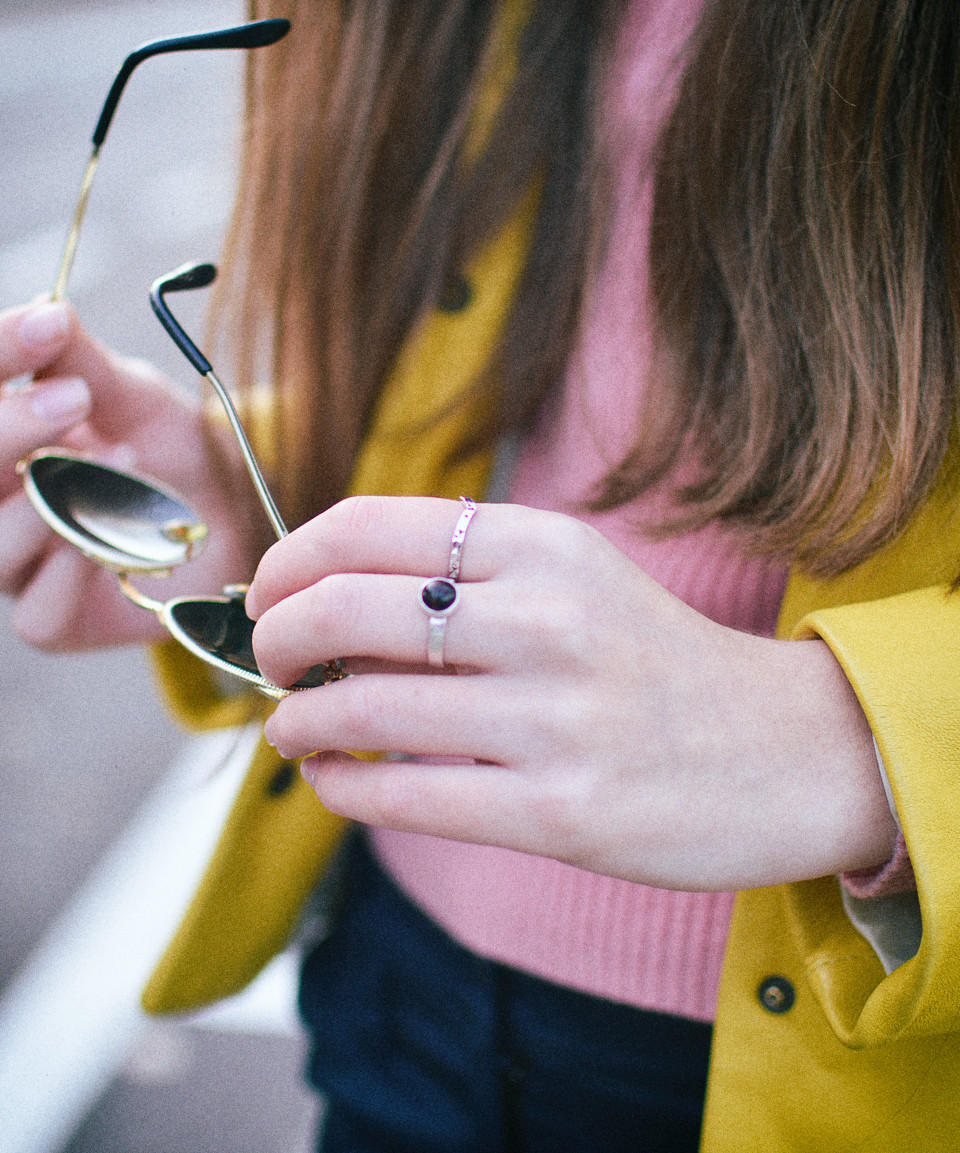 ---
Sunglasses €2 (Jumble Sale) // Middle Finger Ring (Unknown) // Index Finger Ring (Arezzo D'oro Diamond Cut Stacker Ring – Gemporia)* // Ear Cuff (Claire's)
---
If you read my second hand shopping post, not only would you have seen the top half of this outfit before, you would have seen my jewellery and sunglasses. I'm a very simple jewellery person. In fact, I'm so simple that I now hardly ever take my rings off. The only real things I change up are whether I'm wearing a watch or whether I have an ear cuff on (which I really wish was a real piercing. I was planning on getting my helix done, but I haven't had the time yet). This recent discovery in semi-permanent jewellery has made me question why people worry about mixing silver and gold. My watch is gold but everything else I wear is silver. Mix it up! Forget the norm! Wear what you wanna' wear. We haven't got time for rules.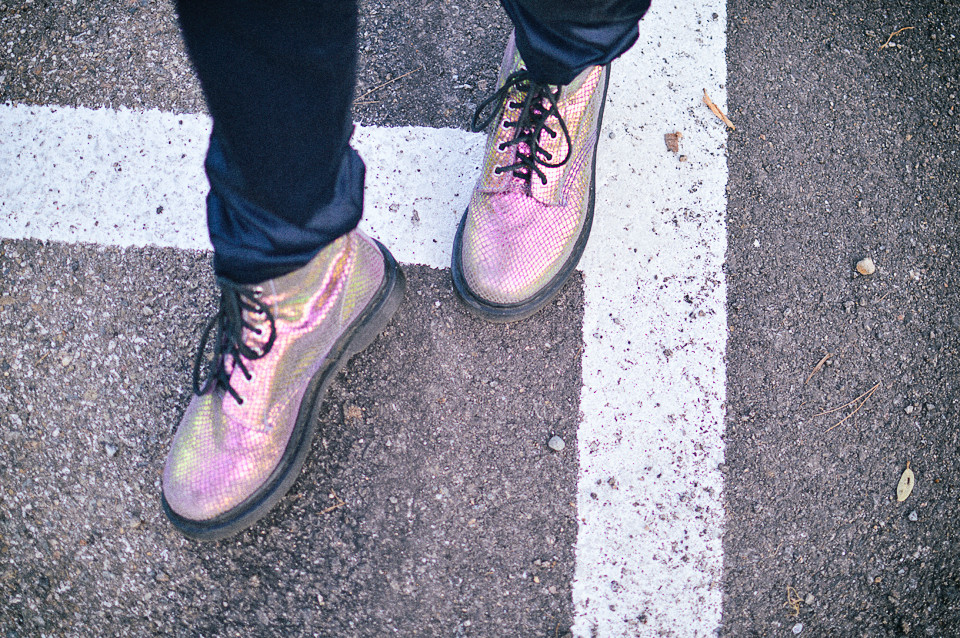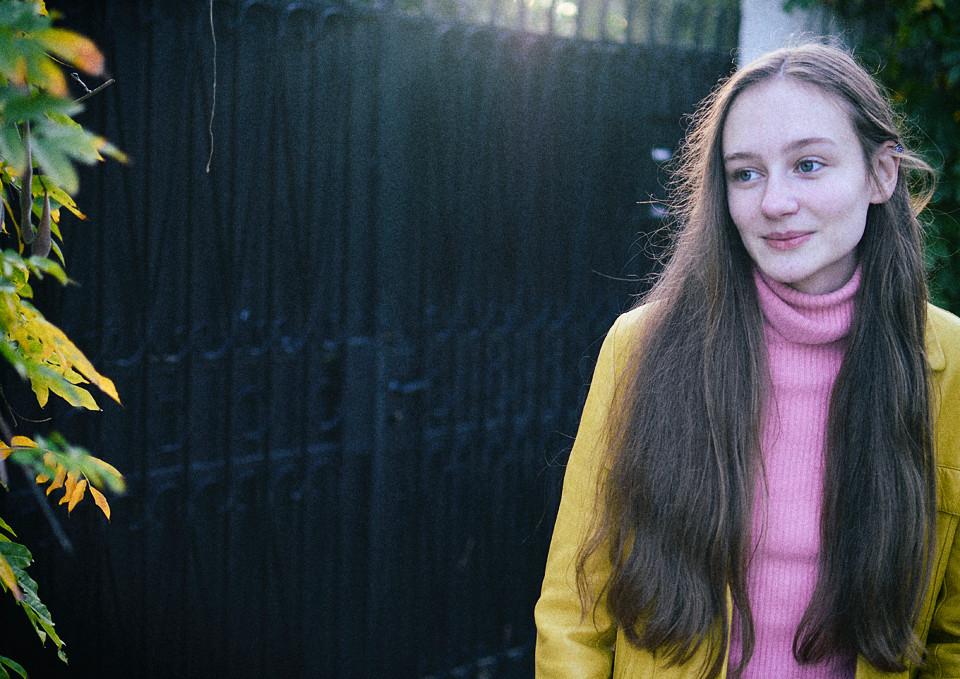 I've come to the conclusion that my Dr Martens are a fairly sustainable purchase. They're not the most ethical from what I know, and there are definitely better options (even from Dr Martens themselves with their vegan and Made in England collections), but if they're going to be lasting me years and I'm only buying a pair every once in a while, I don't feel too bad about it. I'm always talking about how we have to take small personal steps to becoming more ethical and sustainable in our lives, so I'm going to admit that this is a small step I have yet to take.
What have you been wearing recently? How would you style a yellow jacket? What's your small step you've yet to take? Let me know in the comments!
Lots of Love… Tolly Dolly Posh xx