---
'Pen to Paper' is a new feature on TDP, which involves an informal handwritten form of interview between myself and creatives –  from fashion designers, photographers, journalists, artists and musicians, to people who generally inspire me from day-to-day. 
---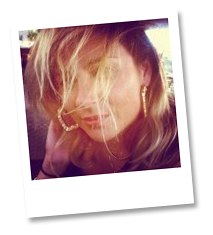 Renata Morales is a textile and visual artist who has designed costumes and stage outfits for such artists and bands as Arcade Fire and Grimes. Her work is a mixture of texture and movement, and is a great place to start when looking at the deeper more abstract side of design and the inspirations behind certain concepts. Some of her more notable (costume) works can be seen in videos such as Sprawl II and Reflektor (by Arcade Fire), and even a Spike Jonze directed short-film (for Arcade Fire) called Scenes from The Suburbs.
 WEBSITE // TWITTER // FACEBOOK // INSTAGRAM

---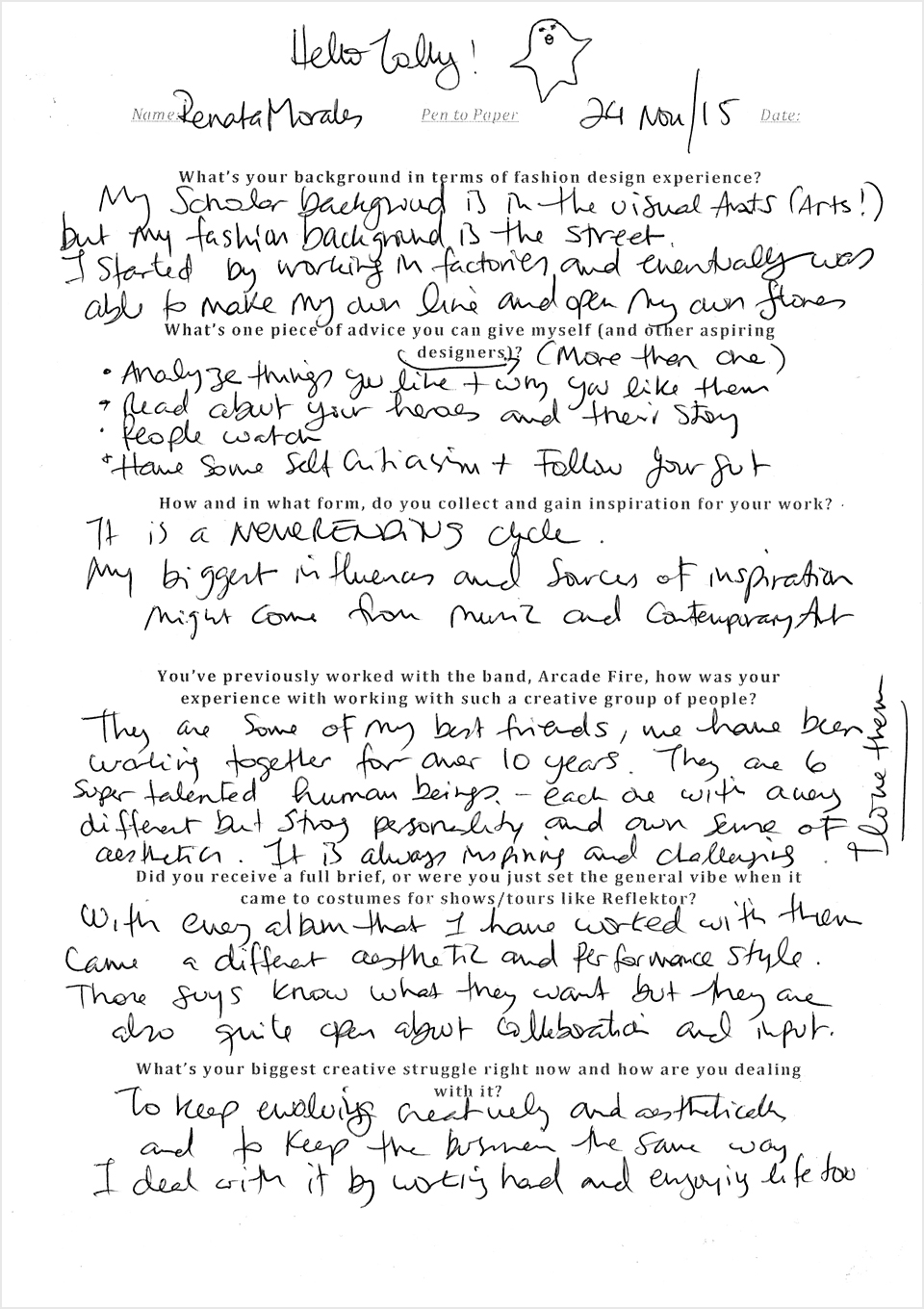 ---
---
For me it was really interesting to see what Renata has to say because of what area of fashion she works in. Her work is more of an art form and I think we can all take inspiration from that and try and infuse that idea into all other aspects of design. I was also really interested to see what she had to say about her work with Arcade Fire… not just because I'm a huge fan, but because I'm always interested in how these sorts of collaborations come together, so getting an insight into that has definitely made me more intrigued about the world of costume (and even stage design).
---
They are some of my best friends, we have been working together for over 10 years. They are 6 super talented human beings – each one with a very different but strong personality and own sense of aesthetic. It is always inspiring and challenging. I love them.
---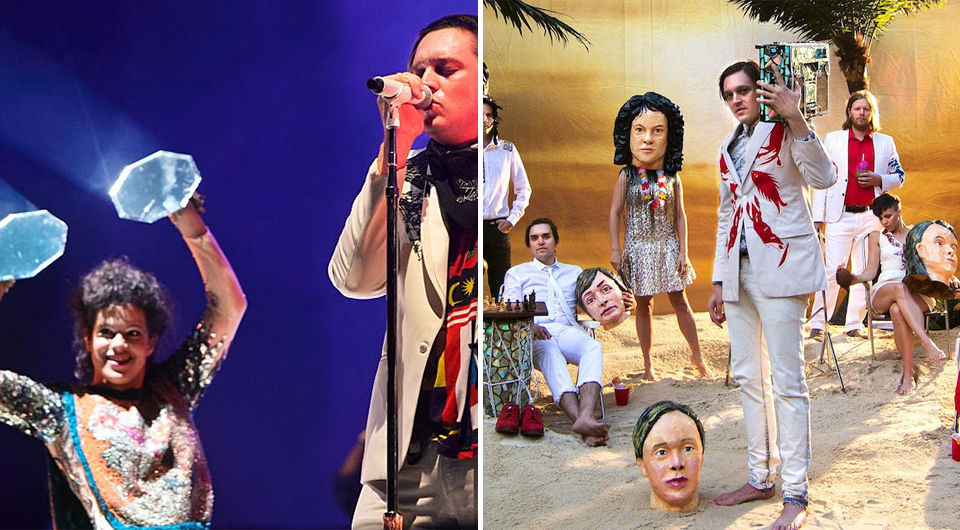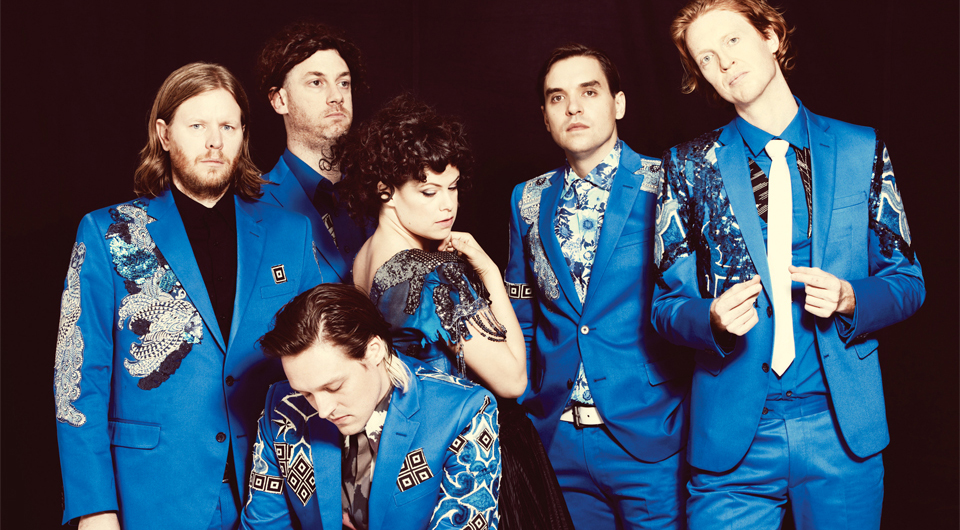 ---
My scholar background is in the visual arts (Arts!) but my fashion background is the street. I started by working in factories and eventually was able to make my own line and open my own stores.
---
One of my favourite answers from Renata's handwritten sheet is about her previous experience… it reassures me that sometimes it really is more about real-life experience rather than what you learn in books and in exams. It's about getting out there, 'on the streets' and taking from what's already there, ready to grab and take hold of. I also one hundred percent agree with you on 'People watch'. It's a great exercise if you carry it out discreetly… it can really stretch your imagination and inspire you, even with small details taken from the most random of people.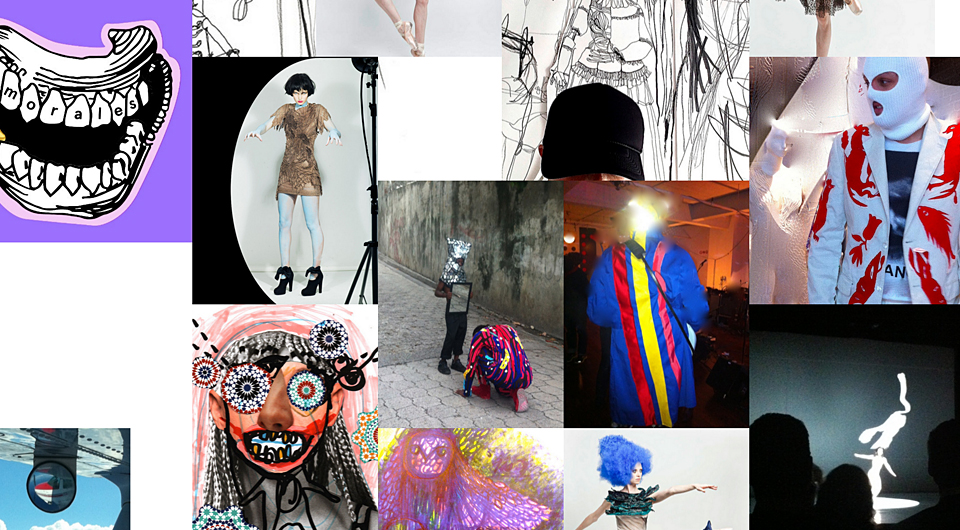 ---
It is a NEVERENDING cycle. My biggest influences and sources of inspiration come from music and contemporary ART.
---
Having the opportunity to get a deeper insight into Renata's work has definitely made me more motivated to get working on the inspiration and background of my designs, rather than just thinking about what's there on the surface. Although, as you can tell, what's on the surface can also say a lot… Renata's work is proof of that. I really hope you enjoyed this new feature and are looking forward to seeing what other designers and creatives have to say. Please make sure to click off to Renata's social profiles and take a watch of the Sprawl II video embedded above (it's a good one!)
---
(IMAGE SOURCES: 1&2 // 3 // 4)
---
Lots of Love… Tolly Dolly Posh xx