So… to give you a break from all the Mooi en Lief by Tolly Dolly Posh craziness, I've decided to treat you with an OOTD/chatty post about all things Dr Martens, because what could be better than that? Okay, well actually my socks do make an appearance in this post but they look pretty awesome in my opinion. So without further-a-do, let's get back to school with Dr Martens!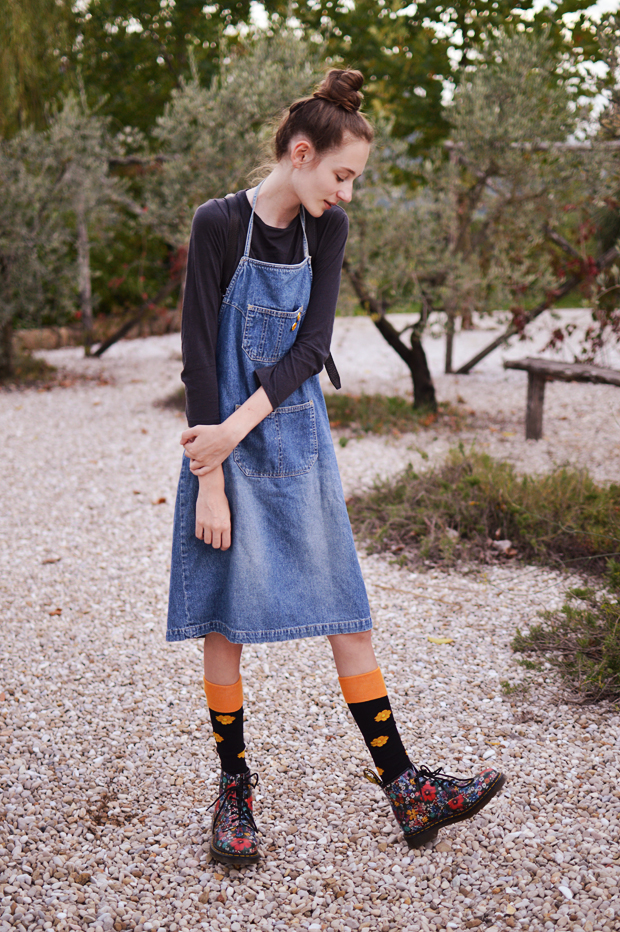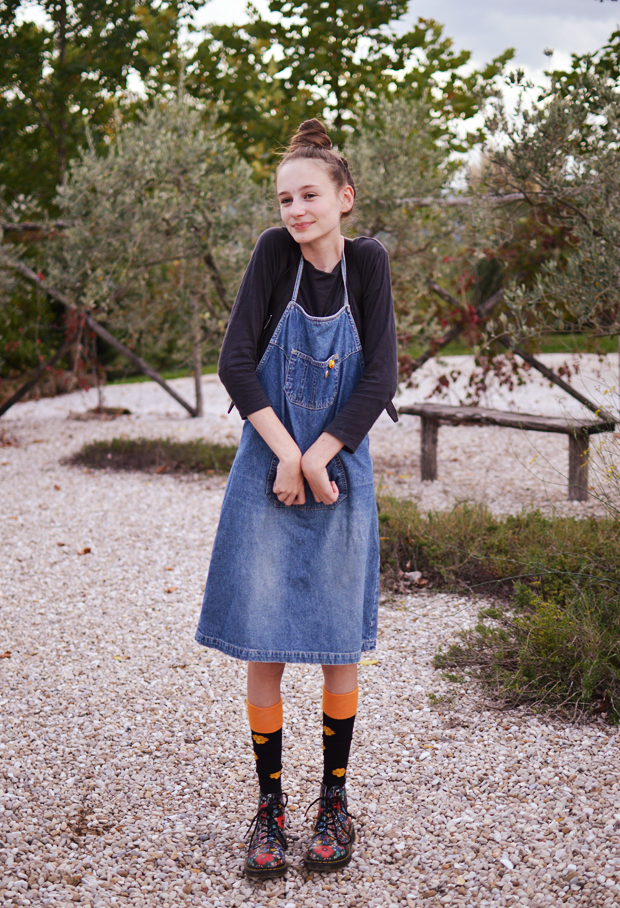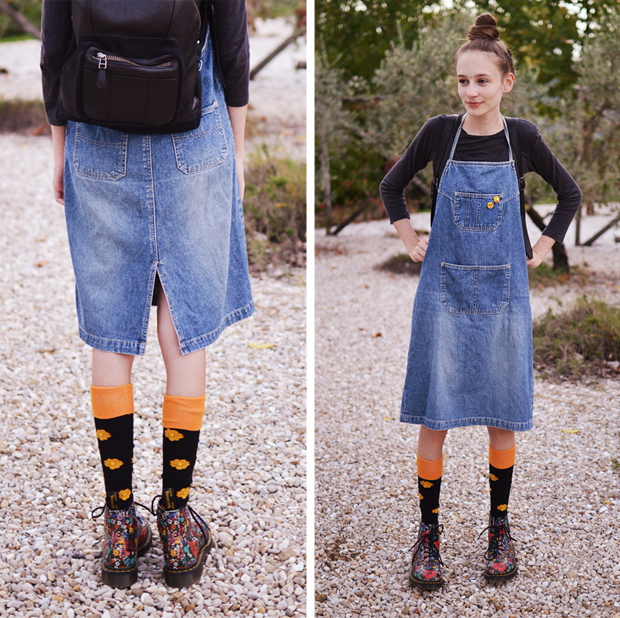 ---
WHAT I WORE: Long Sleeve Top (ZARA Kids – Very old) // Denim Apron Dress (Jumble Sale) // Floral "Homo Superior" Socks (Mooi en Lief by Tolly Dolly Posh) // Wanderlust 101 Boots (Dr Martens)* // Small Slouch Leather Backpack (Dr Martens)* // Emoji Pin Badges (Emoji Shop)*
---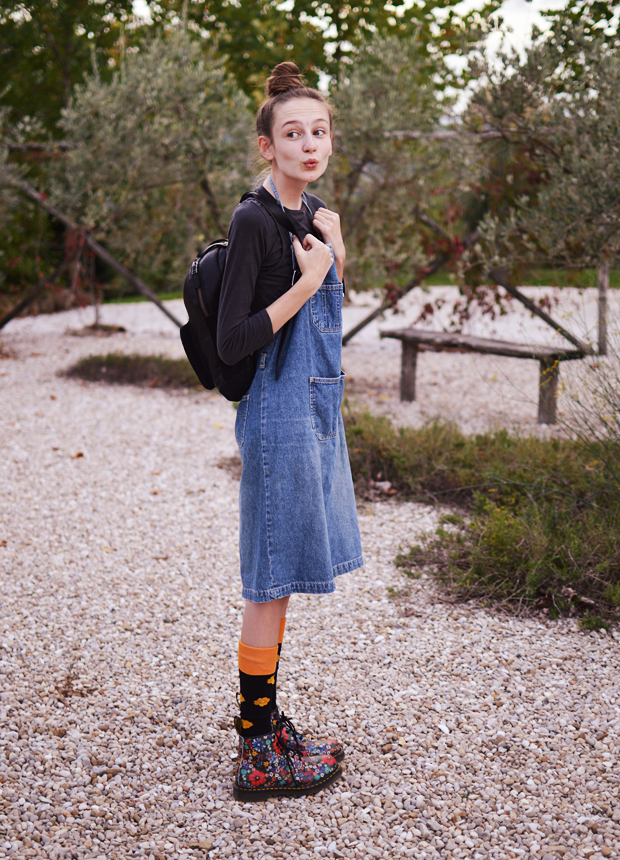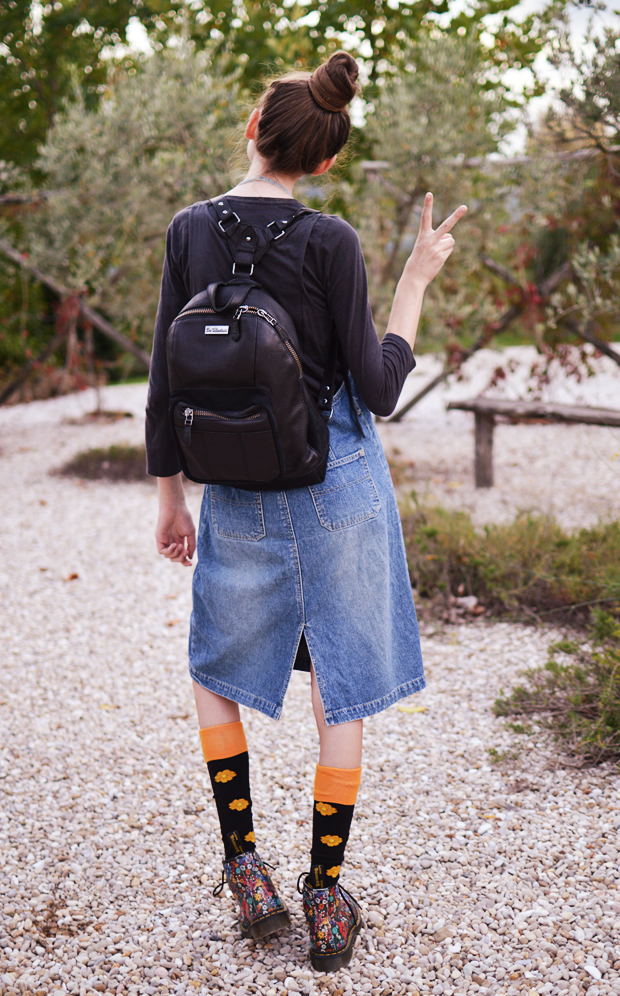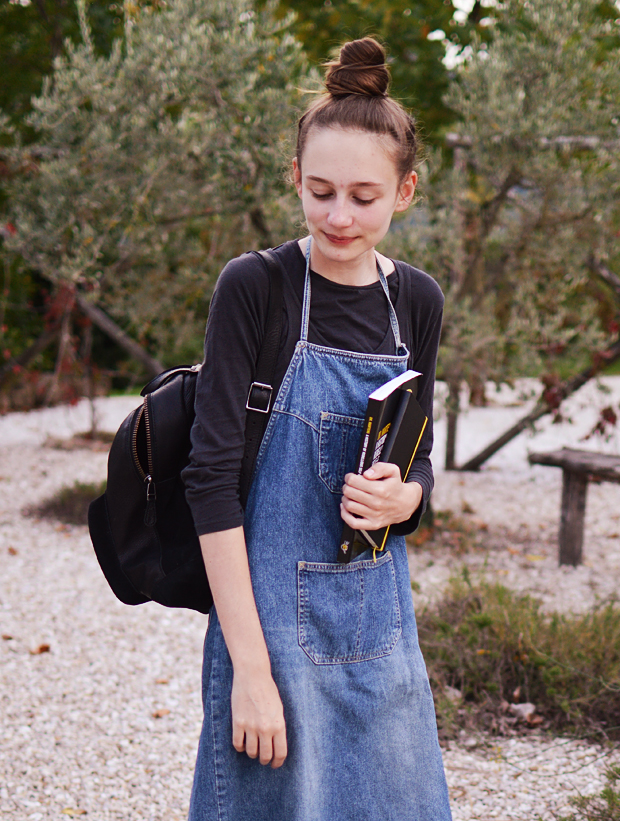 ~ THE OUTFIT ~
I wore a very similar combination of this outfit to dinner the other night (seriously though, it really does seem that the Italians only tend to eat pizza and pasta!) with a striped skirt instead of the denim dress but I actually kinda' like this combo better. It's very 'ART student'-y and fits in well with the back to school vibe I was going for.
Over the past few months I feel like my style has really developed and I have to say that this is a very me outfit. It's simple but strange; just how I like it. The top underneath is actually a dress from when I was about 6/7 years old (those aren't really ¾ length sleeves, it's just a really really old item of clothing – a pro (and con) of being extremely thin) but it works well as one of the very few items of black in my wardrobe. I popped on top this jumble sale find of a denim dress and there you have it!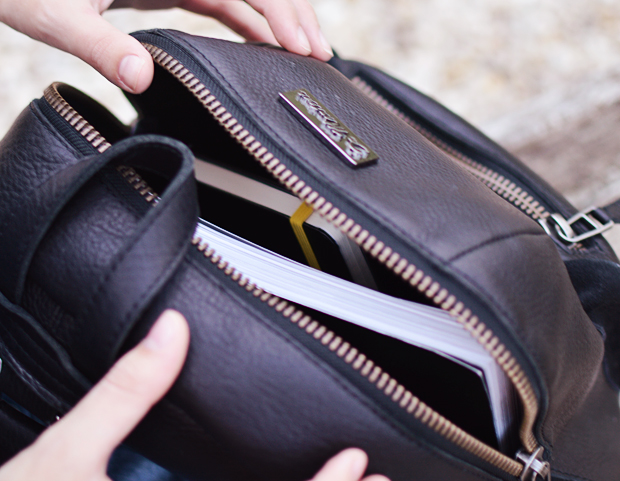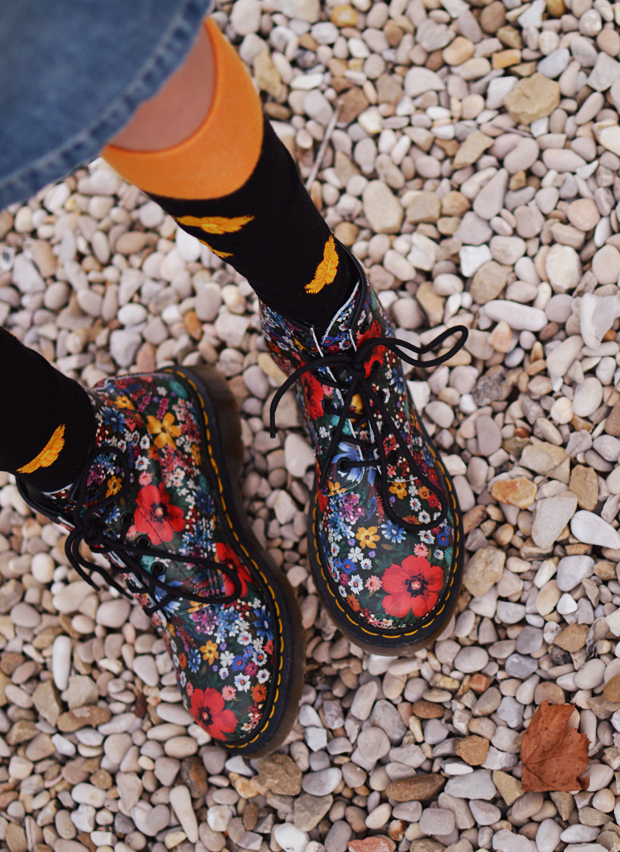 Well, almost! For the main attraction I went for a Mooi en Lief by Tolly Dolly Posh (yes, my own collection of socks… eep!) and Dr Martens combo. I am honestly obsessed with how they both look together. The yellow stitching and the flowers… the colours… it's a match made in heart-eye 😍 emoji heaven! I'm going to talk more about my love for DMs in a moment, so just take this time now to admire the beauty of my feet (weirdest sentence ever).
Also don't forget to admire my backpack too… those straps though… #BackpackGoals? Is that a thing? Seriously though, if you're looking for an indulgent purchase (buy my socks – I'm kind of kidding) definitely check out this backpack. Too. darn. beautiful. Oh and of course, if you're looking for some Wellington boots, defo' check out Mooi en Lief's range.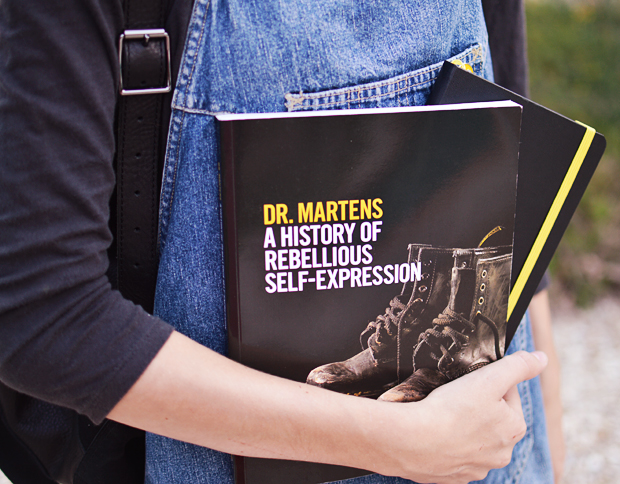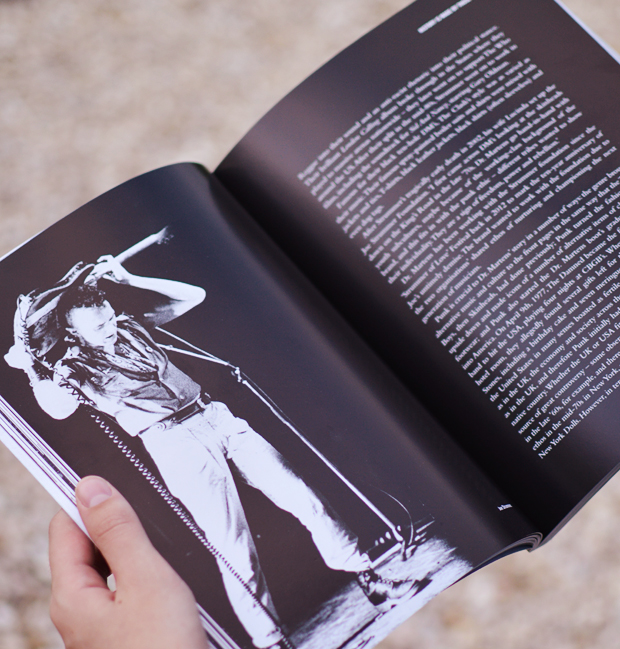 ~ THE BOOK ~
I also wanted to mention the new Dr Martens book. I have to be honest and say that I still have a couple of pages left, but all-in-all, "A History of Rebellious Self-Expression"* has been so interesting. If you're a big DMs fan like me, then you'll adore it… but it is also an awesome read for anyone interested in the many different musical sub-cultures throughout the decades from the 1960s – nowadays. It has a lot of information on the topics and how they made a deep impression on the rise of the Dr Martens brand.
I would definitely recommend picking it up. It's only £10 ($15) and 50p (around $0.77 I believe) from every copy goes to the Joe Strummer Foundation, so not only are you getting an excellent read, but you're also helping out an awesome musical charity. Sounds good, huh? It's also made me feel extremely proud to be a DMs wearer. There is so much history behind the brand that genuinely blows my mind. It's crazy!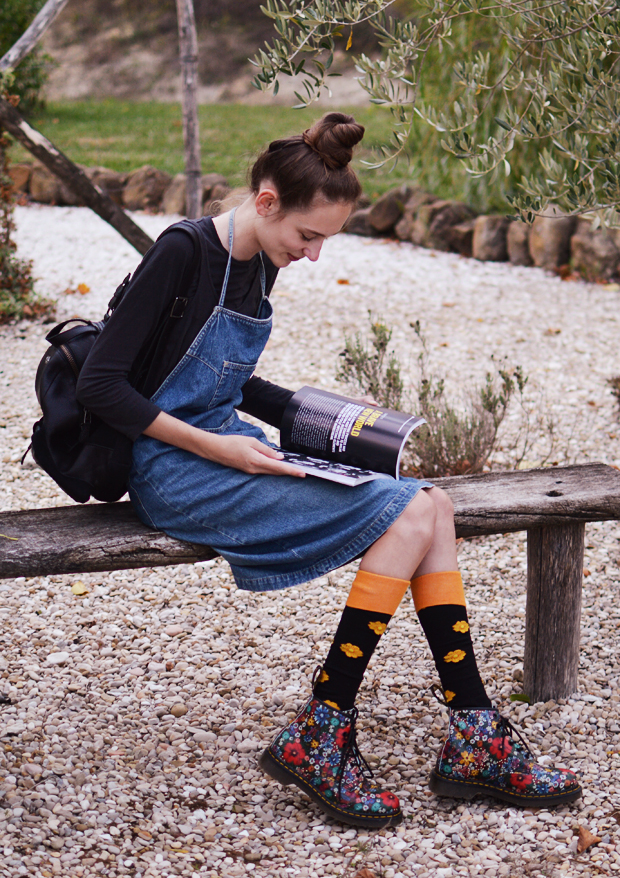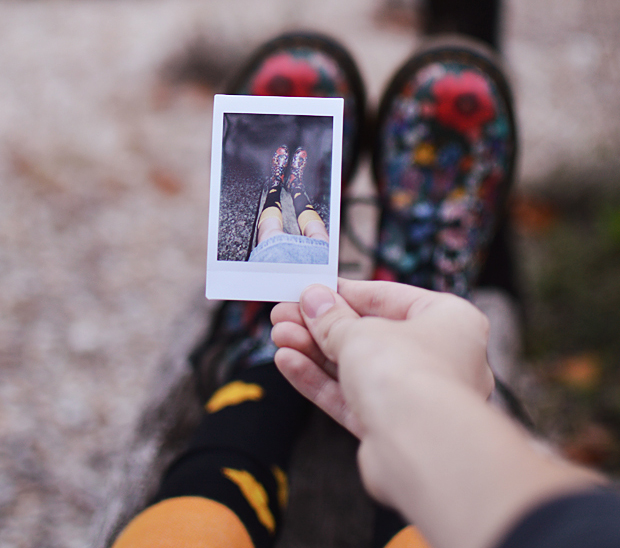 ~ THE CAMPAIGN ~
I definitely couldn't write this blog post without leaving out something pretty awesome – the #STANDFORSOMETHING campaign. Dr Martens are just like me – they love self-expression (hence the book's name 'A History of Self-Expression') which is a big reason for their campaign which you may have seen floating around on the internet. Dr Martens are asking you "What do you stand for?" so that you can have a big think as to what makes you, you.
Also I think if you log onto Facebook and share your style and what you stand for, you can win some DMs… pretty darn cool! 
Personally, I stand for diversity. I was going to say 'for being me' but I think diversity sums it up better. I stand for being unique and expressing who you really are, because after all, that's what's most important to me. I stand for every single individual who believes in being who they want to be. I stand for the diverse array of human beings that are standing on this planet just doing what they do best.
---
What do you stand for? Are you ready to go back to school and have you got your Dr Martens (and Mooi en Lief by TDP socks) at the ready? Let me know in the comments!
---
(This is not a sponsored/advertorial post. I was kindly sent some samples by Dr Martens but all opinions are 100% honest. I just really love DMs! You can read my full disclaimer here.)
Lots of Love… Tolly Dolly Posh xx