Ah! My first outfit post as a 15 year old… how weird?! This post actually has a couple of my birthday prezzies in it, which I absolutely love (and obviously am very grateful for). Thanks for all the birthday wishes by the way, and all of your awesome comments on my 15 things blog posts… it really makes me smile when you take the time to leave one, so don't stop, okay? 😉 Want to hear my thoughts on how to dress for spring? Carry on reading…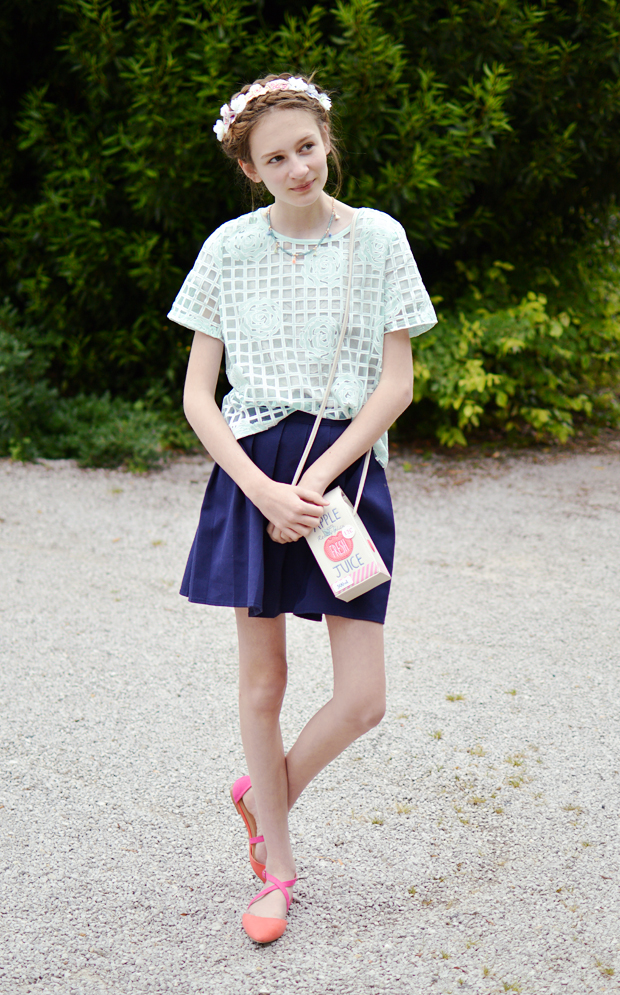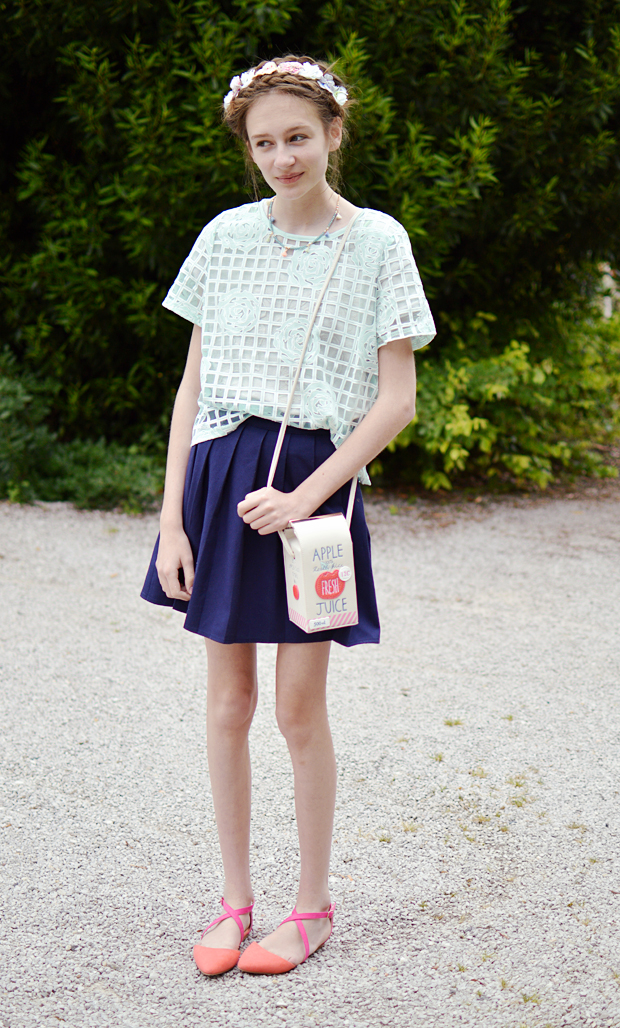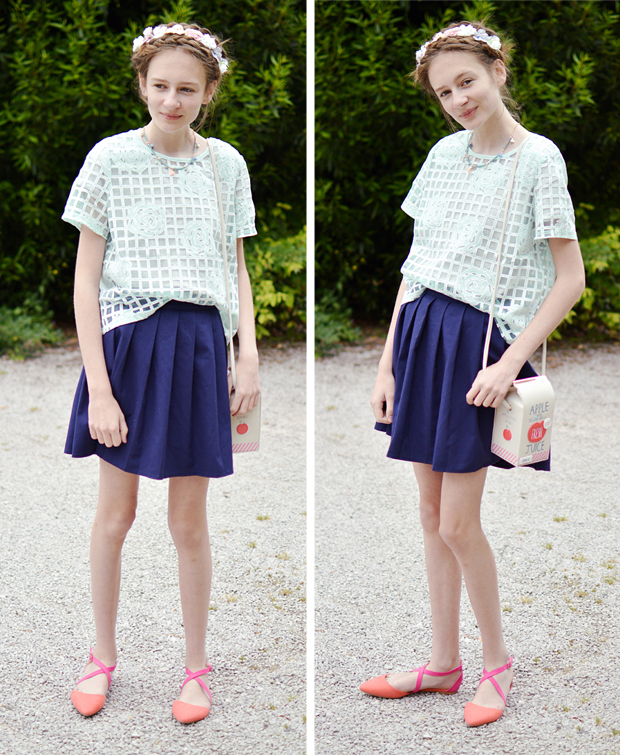 ---
WHAT I WORE: Mesh Grid Top £18.00 (Blue Vanilla)* // Beige Top – Underneath – (Jennyfer) // Blue Skirt (H&M) // Apple Juice Bag (Accessorize) // Floral Headband (Accessorize) // Necklace (Accessorize) Suede Flats (Accessorize)
---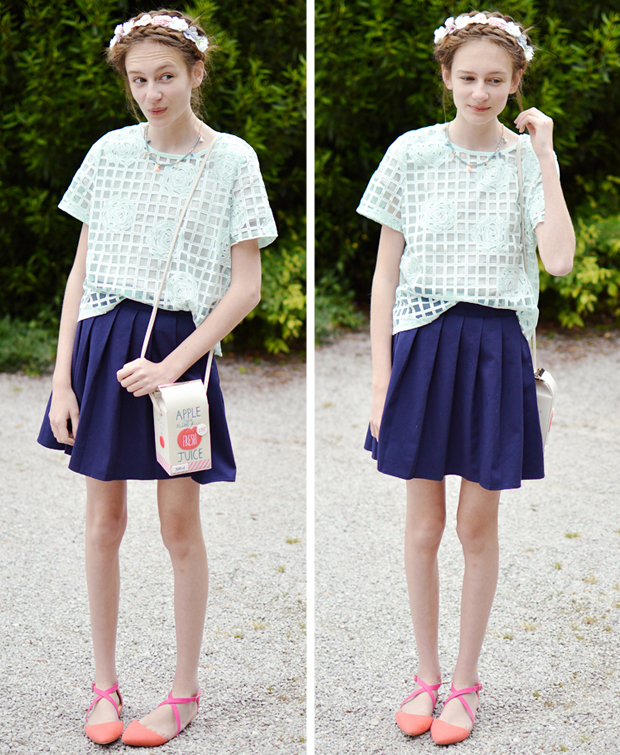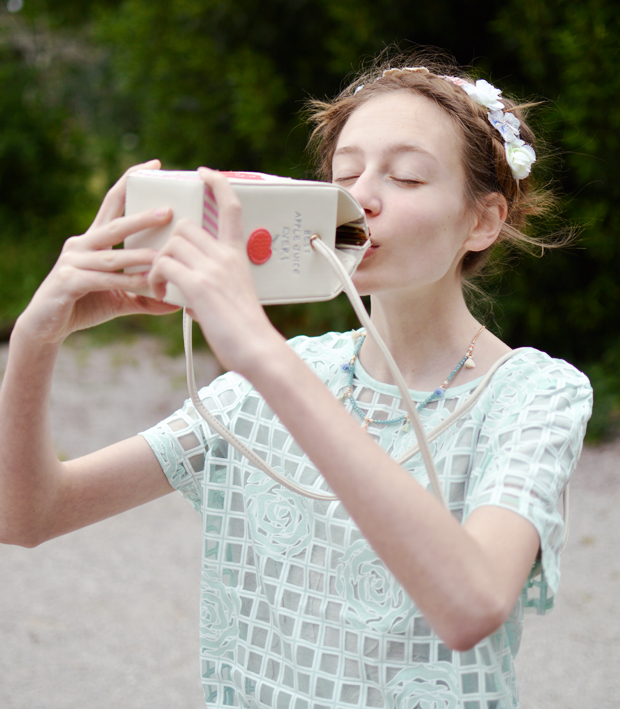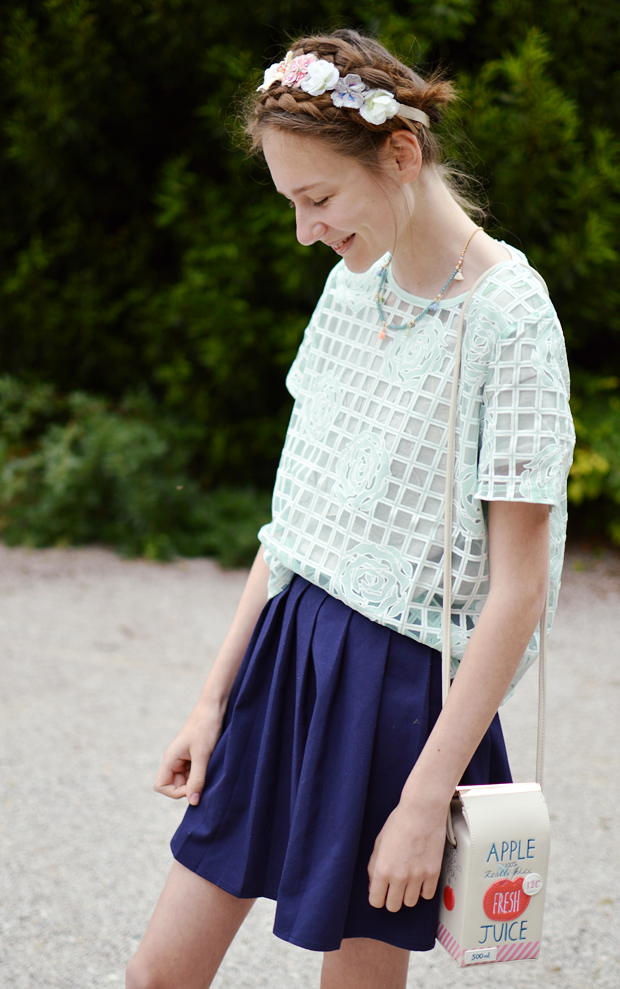 This an outfit which I'm actually really happy with. It's pretty cutesy but then it still caters for my style and the simple elements of things which I'm loving right now. It also caters for the weather perfectly… it's finally warm enough for my legs to be out without tights, and my arms to be (almost) sleeve free! YAY!
The top is a number I received from Blue Vanilla, and it's actually surprisingly awesome. I do have to admit that the fabric is rather plastic-y and when I originally unfolded it from the packaging, I had to actually pull it apart. Other than that, the design is lovely and I like the mix between grid, mesh and florals.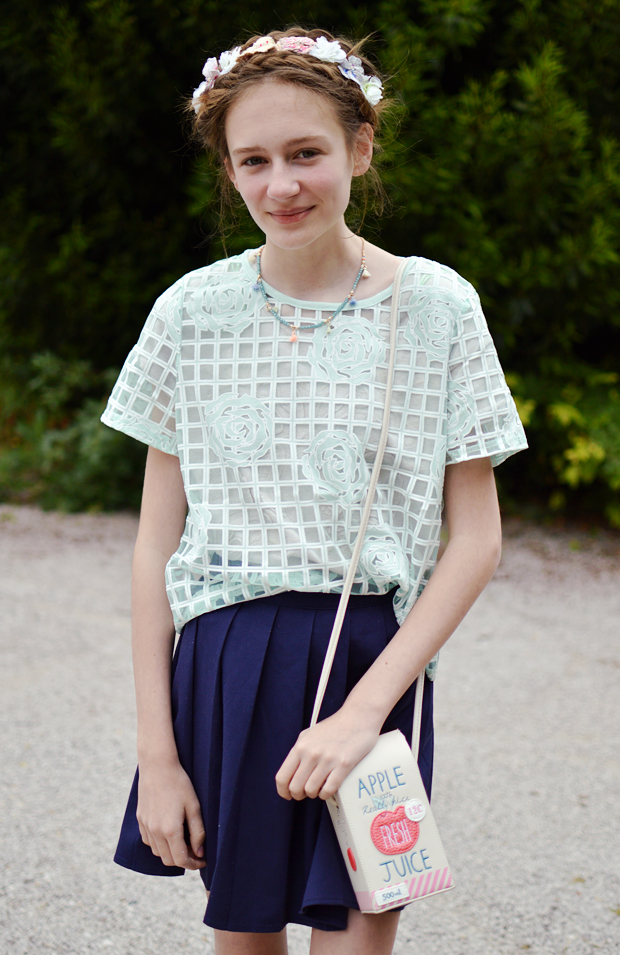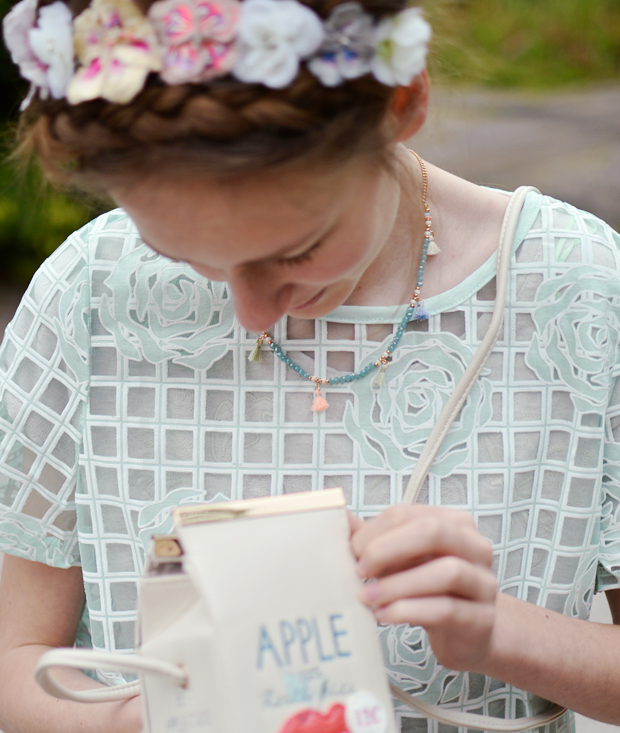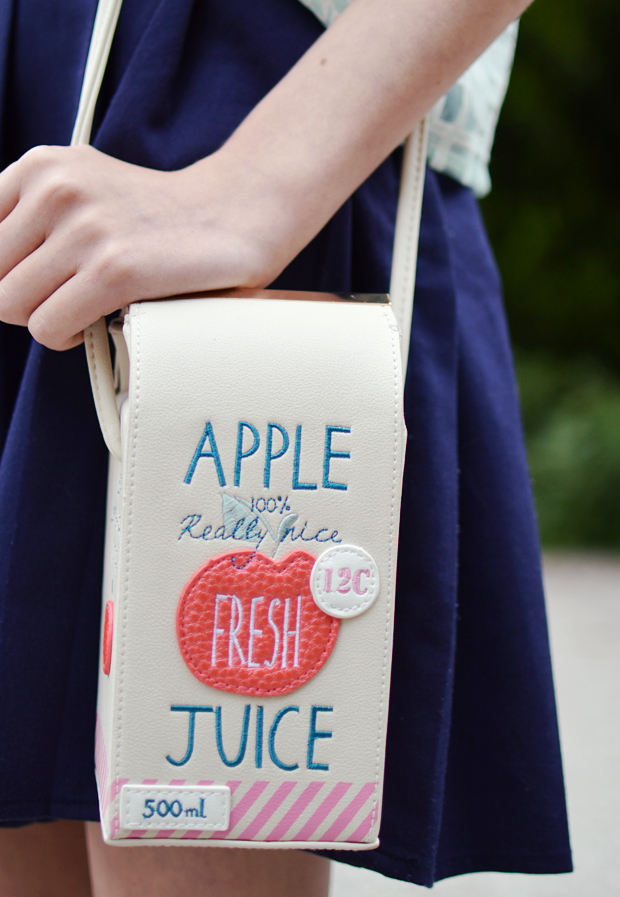 One of my birthday presents was this absolutely adorable across-body bag in the shape and style of an apple juice carton… HOW CUTE?! I'd actually seen this on the Accessorize site before so when I peeled back the wrapping paper I was so happy to see it was underneath.
I also realised that the colours on the bag matched the rest of the outfit perfectly. The wording is dark blue just like the Changing With The Seasons, H&M skirt (you guys voted for it!) and the tiny little leaf detailing matches the mint from the top. The little details people, it's all about the little details…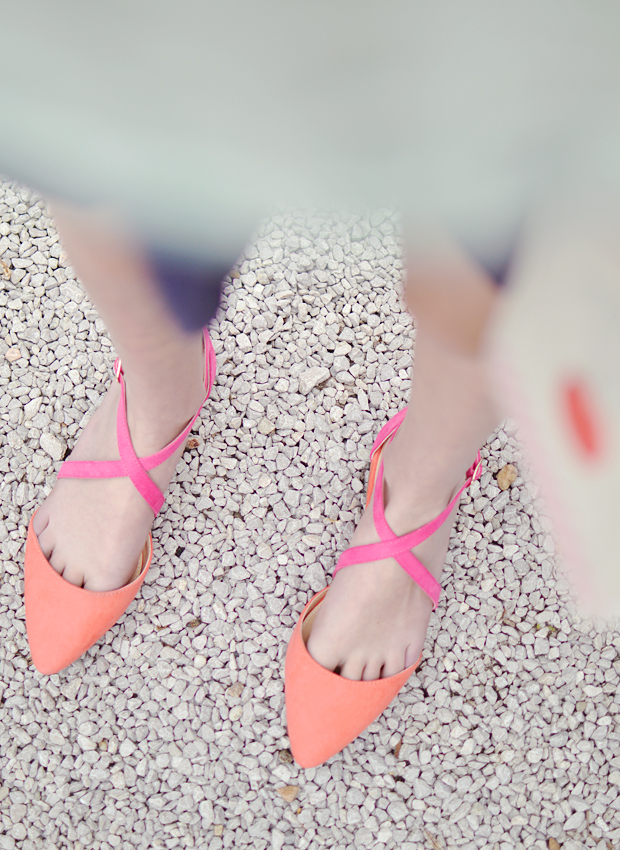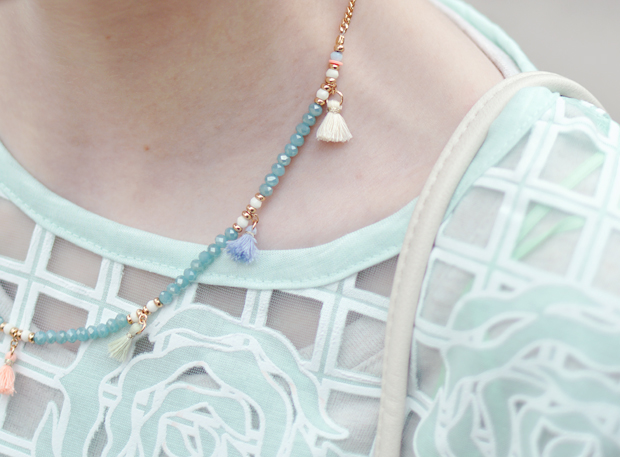 ~ SUBSCRIBE ON YOUTUBE ~
Finally, even more details. My shoes are my new favourite pair; another birthday gift which I am obsessed with. I'd say they're my first pair of proper grown up flats, as usually they don't fit due to my feet being so skinny mini, but luckily these fit like a dream with no rubbing. They're also suede which makes them look super fancy. I just love them!
I also have this super cute necklace which was another birthday treat which I picked out myself. My sister has a similar one, so when I saw this blue version I knew it had to be mine! It matches all the colours once again, and I like how it compliments my floral headband too. Ahh, can you tell I like this outfit?
Lots of Love… Tolly Dolly Posh xx