Oh wow, I haven't done a wishlist in a while, have I? I'm back from a short break (by a break, I mean a busy 10 days) and I thought I would kick off March with a wishlist! A few of these items are 'I like that' items and a few of them are 'I neeeeeed that' items, so it's a bit of a… 'I really cannot wait for spring wishlist'. Why not tell me what you've been loving recently in the comments?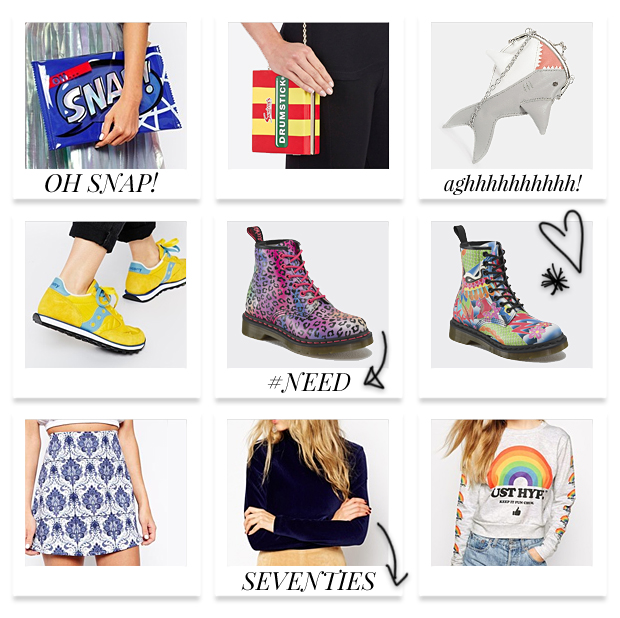 ---
WISHLIST: Oh Snap Clutch (Skinny Dip @ ASOS) // Drumstick Bag (Next) // Shark Purse (ASOS) // Jazz Trainers (Saucony @ ASOS) // Leopard Print Boots (Dr Martens) // Colourful Tattoo Boots (Dr Martens) // White & Blue Skirt (Motel @ ASOS) // Velvet Roll Neck (ASOS) // Just Hype Sweatshirt (Hype @ ASOS)
---
Bags, Bags, Bags…
I'm a big fan of bags at the moment (the carrier kind, not the under-eye ones…), and I especially love the novelty, 'based on' style ones. I've picked out 3 of my favourites. First up is this super cool Skinny Dip number which I'm obsessed with. I'm in love with their whole brand currently and I really hope one day they'll bring out all of their iPhone cases in clutch form too!
The Drumstick number is from Next (in my opinion, that's quite surprising) and I love it! I really want to try and inject some more red into my wardrobe as I'm pretty sure I have every colour item other than red. PLUS, it looks like a Drumstick! The shark purse is just adorable and if it goes down any lower in price I may just snap it up. SO CUTE.
Shoes, Shoes, Shoes…
My feet won't stop growing. One minute I'm size 5 and the next I'm size 7, so shoes are always on my mind. These 2 pairs of Dr Martens neeeeeeed to be mine. I feel like they were made for me. Don't you agree?! They're just perfect. Colour and print all in one, plus that added bonus of grunge from the classic chunk of the DM boot…. perfection. Sometime soon they will be mine! I can feel it in my fingers…. I can feel it in my toes 😉
Clothes, Clothes, Clothes…
A random bundle which just caught my eye. I'm so excited for summer yet I'm still clinging on to long sleeves, which pretty much means it's Spring! I'm obsessed with the 70s trend and I have a feeling I will be throwing my wardrobe back to the era very soon. Rainbows seem to be a big thing at the moment too, I especially love this lil' sweatshirt.
P.S My first ever newsletter went out last night and I was pretty excited! It was a little taster but if you are interested, make sure you sign up for the next one! Subscribe here. Lots of Love… Tolly Dolly Posh xx