I think you are all excited for this post. A while back you guys were like 'Please do some DIYs' in my reader survey and I listened (like I actually kinda' felt bad for not posting any), so here we are! DIY numero uno of many more to come! The peeps over at Dylon Dyes challenged me to get ma' dye on, so I had a think and came up with a pretty darn simple but pretty darn awesome looking, do-it-yourself. I'm talking DIY ripped jeans and dip dye…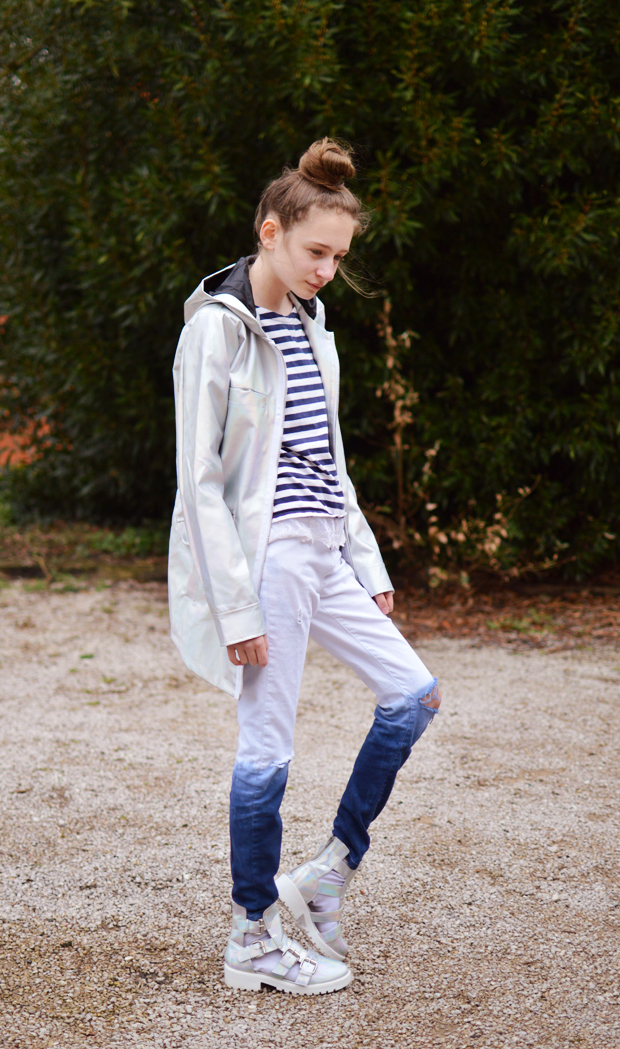 ~ THE LOWDOWN ~
First up, what do I mean by ripped and dipped? Well my friend, I've combined 2 pretty cool trends and made them into my own thing; ripped jeans with a dip dye effect. As soon as I saw these jeans (£3.50 in the ASOS sale), I knew that I could do something to spruce them up and that involved, well, essentially destroying them. I didn't really know whether the ripped knee trend was my kind of thing but now that I've done it, I'm obsessed! It just adds that edgy touch to a simple outfit, don't you think?
The dye idea of course came in when Dylon got in touch and the navy colour really poked at me. It's not a super bold colour but because I incorporate a lot of blue into my wardrobe, it just seemed to work really well. So you wanna' make your own pair, huh?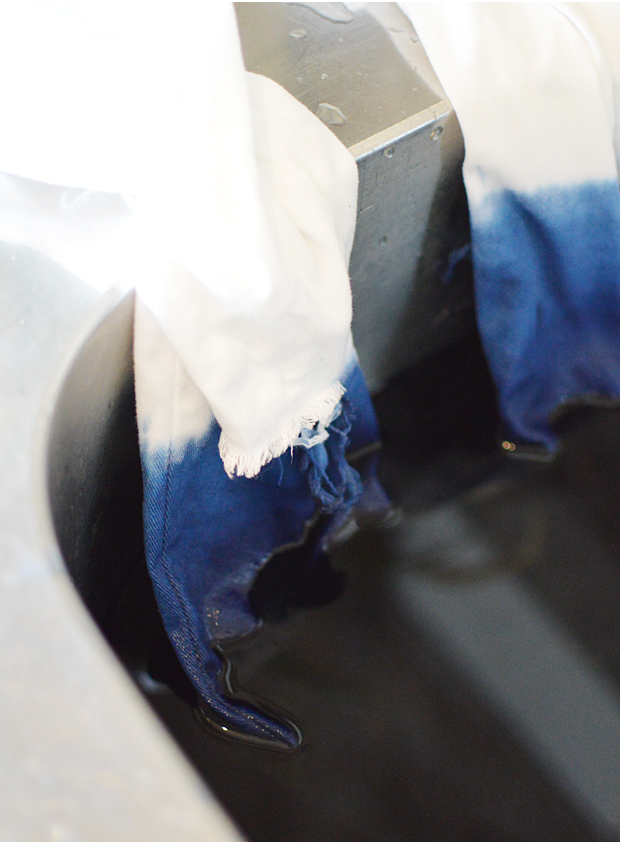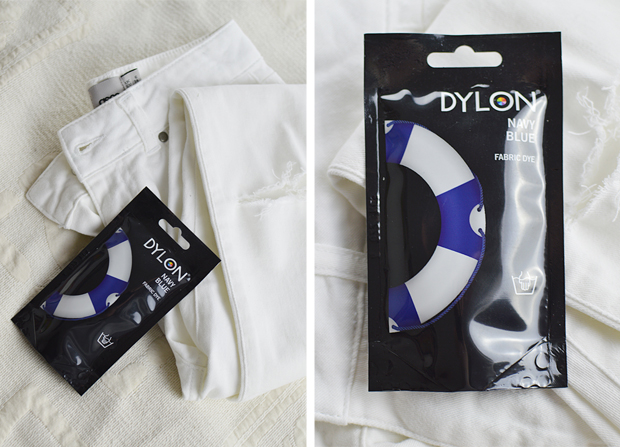 ---
WHAT YOU'LL NEED: White Jeans (ASOS) // Pencil // Scissors // Serrated Knife // Tweezers
---
To Rip…
To rip your jeans, I would highly advise watching The Line Up's DIY video because it is fab and super clear! But just so you can see it in writing, you will need to do the following… put on your jeans and with a pencil, draw a light line across your knees (this is where you will cut). Take off your jeans and lay them out on a flat surface. Get your scissors and make an incision across the lines you drew (be careful not to cut through to the back!). Be careful not to make them the cuts too big as they will naturally stretch out.
Next, grab your serrated knife and start to brush over the rough edges that you have made. The edges will start to fray, which is a good start! Then start pulling at small threads with the tweezers, and create the ripped effect you want. Carry on until complete on both cuts! Add smaller cuts on the back of your jeans or anywhere else if you want 🙂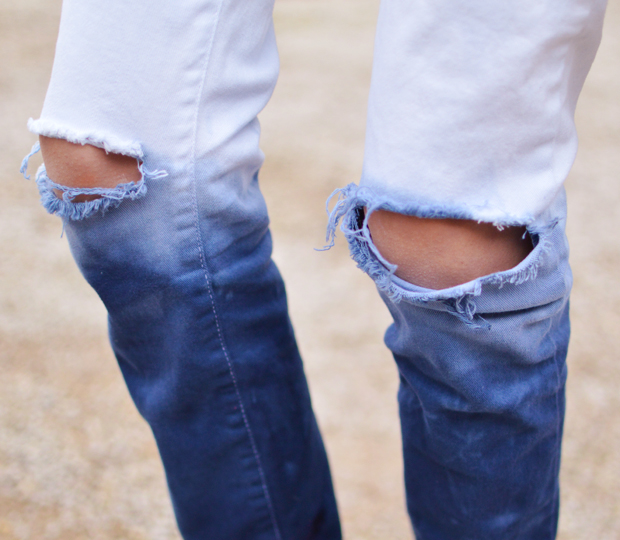 ---
WHAT YOU'LL NEED:  1 Sachet of Dye (Dylon)* // Weighing Scales // 250g of Salt // 6L of Water // Bucket/Metal Sink // Large Spoon // Protective Gloves
---
To Dye…
I'd recommend reading the sachet instructions first but really, all you need to do is fill up a bucket/sink with 6 litres of hot water (40°c) and pour in 250g of ordinary salt. Next up, you should mix the salt into the water so it's nicely dissolved and then add the sachet of dye. Mix up the dye and salt and get ready with your jeans! Make sure you're using protective gloves when completing this project!
Get your jeans and slowly dunk one leg into the dye-filled water. Gradually dunk the one leg into the water until it reaches just below your ripped knees. Don't go too much further unless you want the dye to seep over the rips. Squeeze and bunch the submerged fabric so that the dye really soaks in. Now, you will need to really carefully sink the other leg into the water, careful not to get even more of the other leg covered in dye. Repeat what you did on the first leg, just careful not to spread dye everywhere!
Set the top half of your jeans (the un-dyed part) to the side of your bucket/sink, making sure that it can't accidentally slip into the water. Leave for 45 minutes and voila!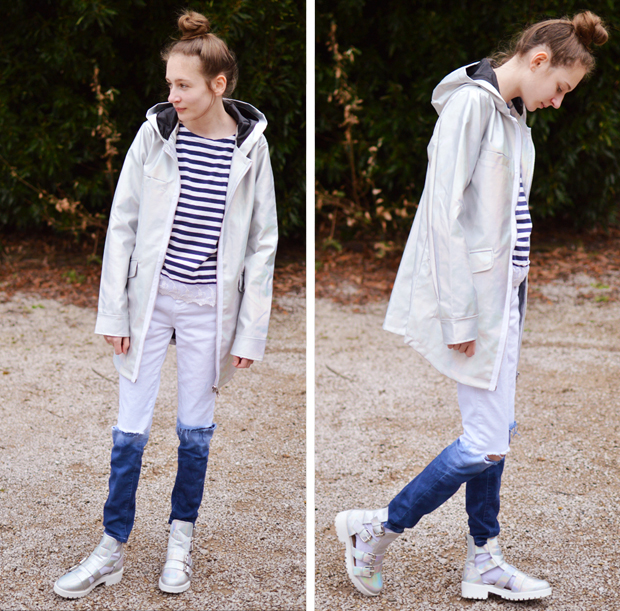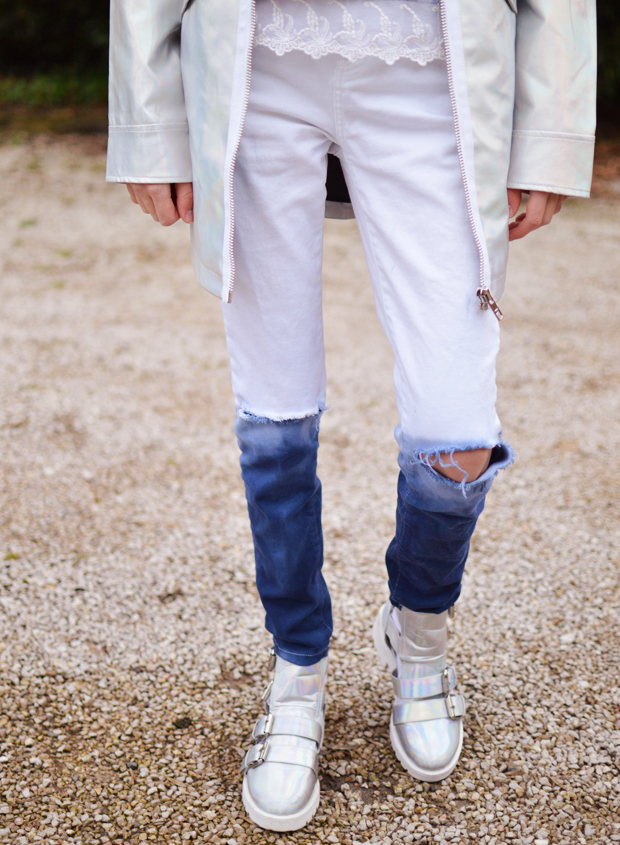 ---
WHAT I WORE: Holographic Rain Coat (ASOS) // Stripey Top (Johnnie B @ Boden)* // Ripped & Dipped Jeans (DIY) // Holographic Shoes (Boohoo)*
---
So, what do you think? I'm actually quite impressed with my DIY attempt. Do let me know what you think in the comments and tweet me a picture if you make your own version! Also, let me know anymore do-it-yourself ideas that you'd like to see on my blog… 🙂
Lots of Love… Tolly Dolly Posh xx