I'm so excited to share this post with you! You may remember at the very start of this year, I popped up a little 'Let's Get To Know Each Other' survey! I was pleasantly surprised when all of your entries came in… there were loads! It's actually been the most interesting thing I have done and I would push every blogger to get their readers to do the same. So obviously I wanted to share my reader survey results with you! Enjoy… 🙂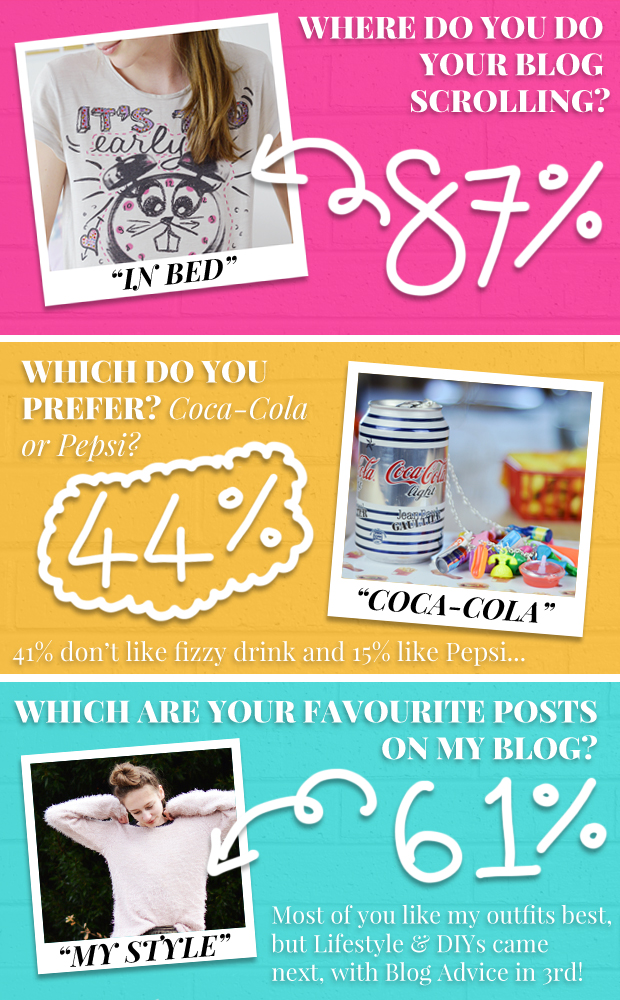 87% of you said you read blogs in bed…
I kind of knew that you guys would be sloths like me, but I was surprised that it was pretty much all of you, who read blogs in bed. Doctors and sleeping experts (pffft, I'm probably one of them…) would probably be a bit annoyed but hey, I'm cool with it?! What I really want to know now is… what drink is on your bedside table? Hot chocolate, tea, coffee? Let me know!
44% of you prefer Coca-Cola to Pepsi…
…and 41% of you don't like fizzy drinks at all! Shocking! I'm definitely a Coca-Cola and all round fizzy drink lover. How can you not like it?! Yes okay, dentists don't advise you to drink it but I'm afraid I just can't resist. My current fave combo is lemonade and cherry sirop (in France they call it a 'diabolo cerise').
Your favourite blog posts on Tolly Dolly Posh Fashion are My Style outfit posts…
YAY! I'm glad. They're actually my favourite to put together. I'm such a weirdo that I genuinely enjoy spending a good part of an hour fiddling around on Photoshop making the pictures look even more pretty. They're also a great way for me to store outfit inspiration so we win all round. Lifestyle & DIYs post come in close second… more on this later!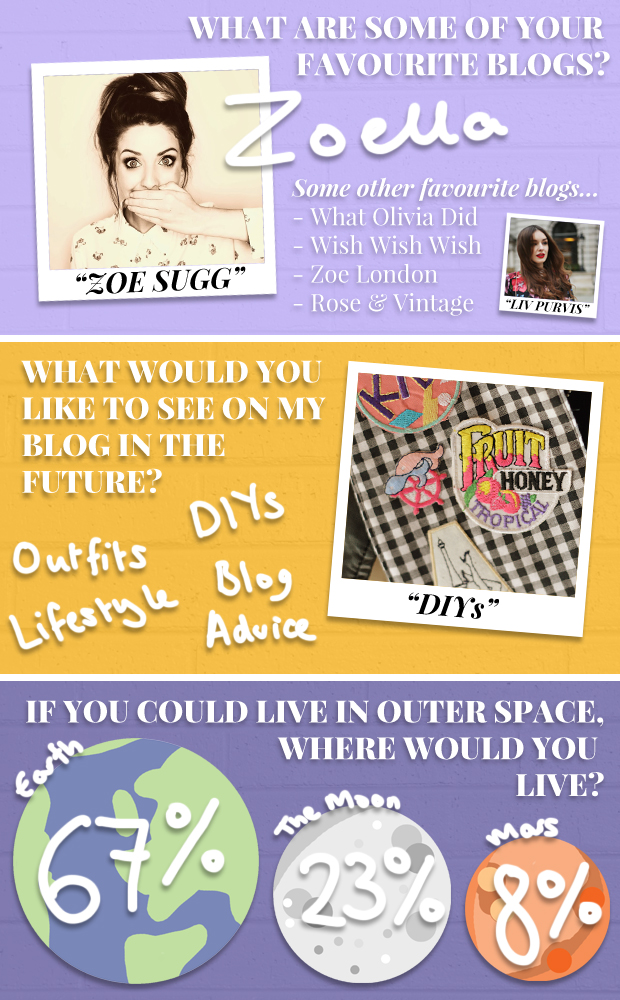 Your favourite blogger is Zoella…
This was super interesting. I think for bloggers, knowing what other blogs your readers like is super helpful for content ideas. Obviously copying is not what I mean, but taking inspiration from them is always acceptable. There were loads of smaller blogs that I had never heard of, but the most mentioned were some pretty cool girls. Obviously queen of the internet, Zoella, came out on top, but ma' bae Liv Purvis was pretty close too. (No competition obviously, they're all beauts). Here's the list of most mentioned blogs…
Most of you want to see more outfits, lifestyle + DIYs, and blogging advice on my blog…
I also found this question really interesting. So many of you want to see more outfit posts, and to me this is actually a big shock! I thought I was doing plenty, but obviously not! Of course I take into account how much I can physically do, and whether I want to, but I will take this on board. Lifestyle was also a shocker… I don't do many lifestyle posts so this was interesting. What I want to know (other than DIYs… I'll also do more of these, watch this space), is what kind of lifestyle posts? Days out? Photography? Let me know!
67% of you would prefer to stay on Earth than move to Mars or the Moon if you could…
Hmph. Boring! Haha, nooo, I understand why… obviously your scared of aliens, right? Ha! I was surprised. A fun question, but I would have liked to have seen a bit more of an adventurous side in my readers. That 8% who'd like to live on Mars are my kind of people. Comment below if you choose Mars… I shall reward you with (virtual) cookies.
So there you go! Pretty cool, huh? I'm definitely going to take this all into account and start putting your feedback to use in the future 🙂 But for now, I'm just gonna' blow my nose for the 50th thousandth time today (poorly Tolly)… goodbye! 
Lots of Love… Tolly Dolly Posh xx