He sees you when you're sleeping, he knows when you're awake! He knows if you've been bad or good, so be good for goodness sake! Oh… hello there 🙂 I won't bore you with a whole rendition of that Christmassy tune, but I will bore you (or maybe not) with a Christmassy set of photos! Christmas is literally just around the corner… like just over 2 weeks right?! How crazy. I decided to get a little bit festive and start getting my wrapping done now, before it all gets a bit hectic. How excited am I for Christmas? I'm pretty darn excited.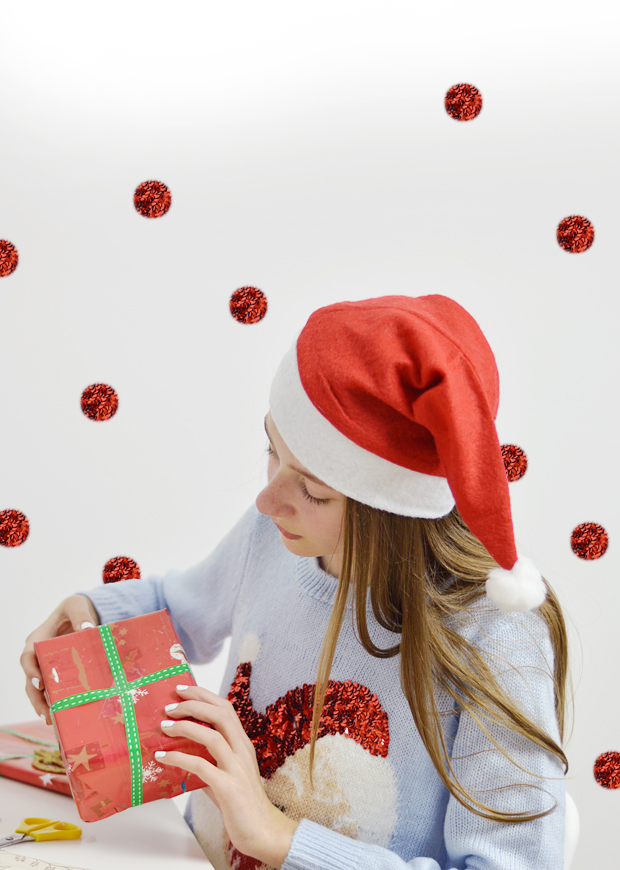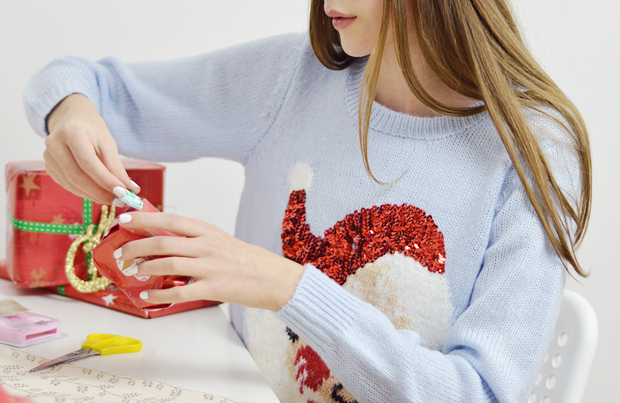 In the 'Posh' family, we've never really had a Christmas jumper tradition, but I am definitely a lover of the cosy, and cheesy feeling that they bring. This year I'm sporting a cute pastel blue number from New Look, which I am in love with. It's super warm and soft, and definitely fits in with my adoration for all things pastel and kawaii. The Santa face also looks kinda' retro, which I think adds to the classic feel of a Christmas sweater. I also love the sequins… it's got me rather excited to wake up on Christmas Day and slip it on just in time for opening my stocking. Cute, huh?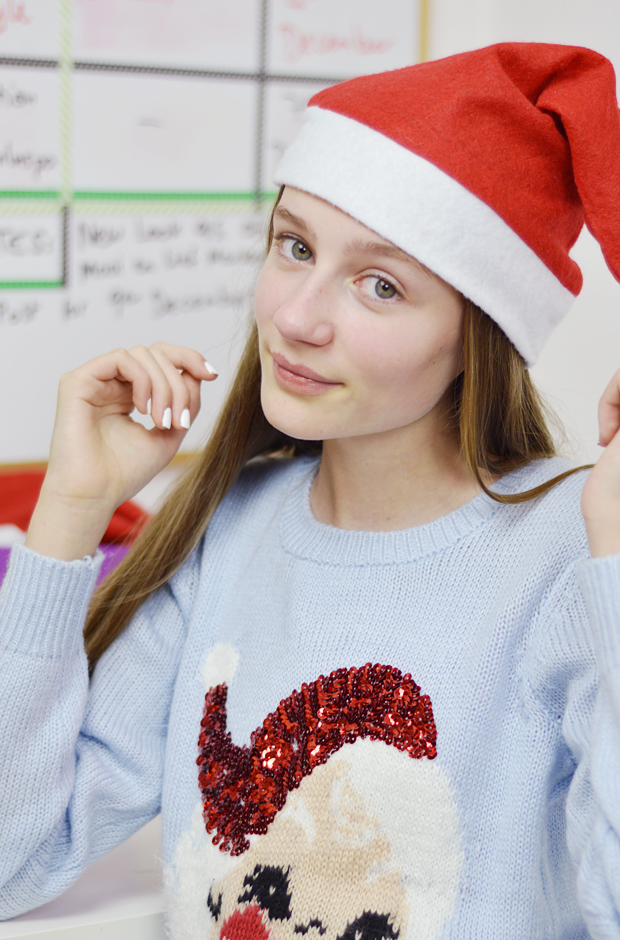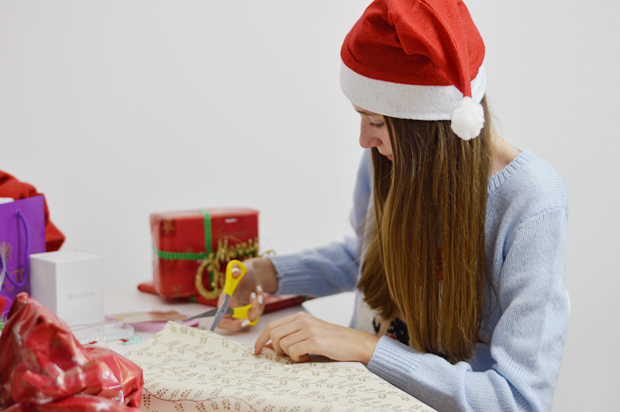 ~ THE PRESENTS ~
I know some people genuinely hate this part of Christmas Day, but I am SO excited for it… and that's seeing people open my presents! It's such a nice feeling seeing their plain faces change to huge great big grins when they see what's inside the lovely wrapping. Obviously presents are quite hard to buy if you don't have a list or have any clue as to what the receiver might like, but either way, most people are lovely enough to appreciate even a piece of coal 😉 But… if you do need any inspiration, make sure to check out my gift guide here!
Another gift which would be perfect is a pair of Heat Holders. I've always been a fan, and they kindly sent another pair to add to my collection but due to a little photography crisis I had for this post, I couldn't fit them in, but please do check them out if you have a set of cold toes!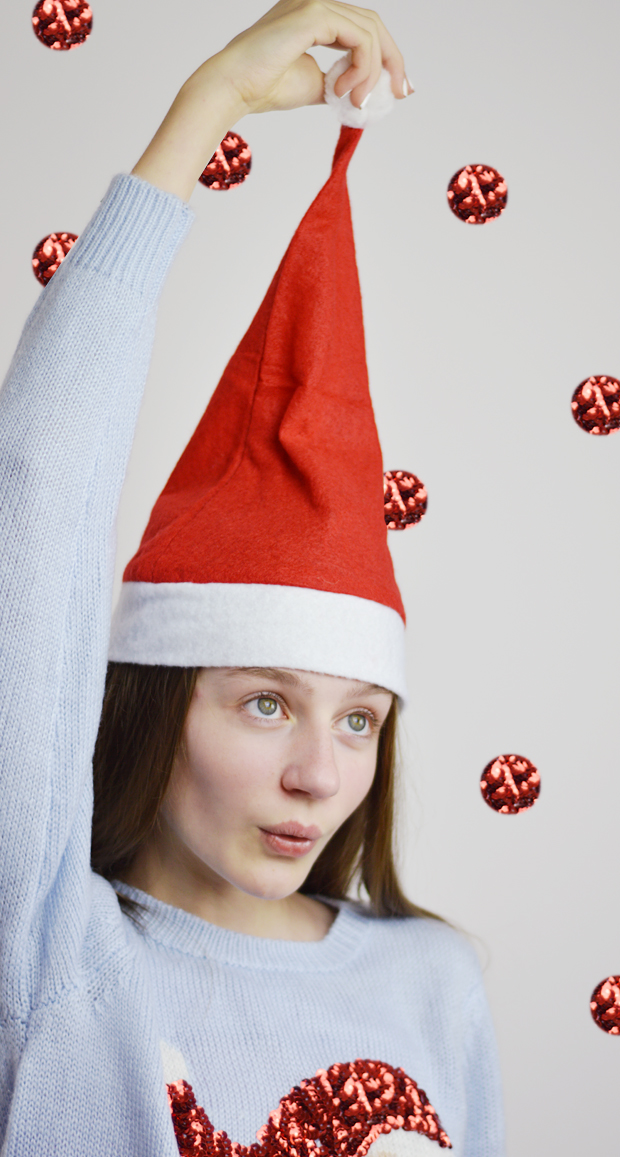 ~ THE TRADITIONS ~
I think one of the most common questions asked when it comes to Christmas is, 'What are your traditions?'. For my family, it's waking up earlier than usual, grabbing our stockings (lovingly placed on the ends of our beds during the night… yes, I am 14 and my siblings are almost all 20…), and racing to our parents room to open them up. It's always been something I've been excited for, because we all truly love Christmas. Not for the presents, but for being altogether. I'm also starting to appreciate that more and more as my siblings get older, as soon it will just be me on the end of Mama & Papa Posh's bed… oh dear, don't get the water works starting! 
(This is not a sponsored post. I was kindly gifted a New Look Christmas jumper, but all opinions are 100% honest. The mention of Heat Holders was just a little thank you for them sending me a pair my way… I just couldn't fit them in photo form! Read my full disclaimer here.) Lots of Love… Tolly Dolly Posh xx