This year I decided I wanted to do a gift guide. I love reading and watching them, so why not do one here?! This post may come across quite stereotypical, and I know everyone has different tastes, but if you need some inspiration, or want to know that you are definitely getting the right kind of gift for a fashion loving friend, then it might be useful to you. Let me know if you have bought any of these kinds of gifts yet in the comments!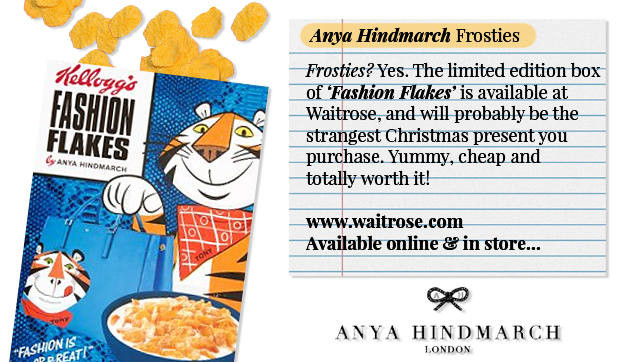 Let's start off with a cheap and cheerful one… you maybe thinking, why the heck have I included a box of cereal? Well my friend, these are not any kind of corn flake cereal… these are fashion flakes. You may or may not know of the designer Anya Hindmarch, who's AW15′ collection was food inspired. Some of the designs featured our favourite tiger, 'Tony', on them, so Kellogg's have gone and collaborated with her on an actual box! Pretty cool huh? These are only around £3, so if you can get to a Waitrose, or if you can buy them online, get them! They're a fab stocking filler too… and if your gift receiver is like me… they'll probably just keep the box sealed!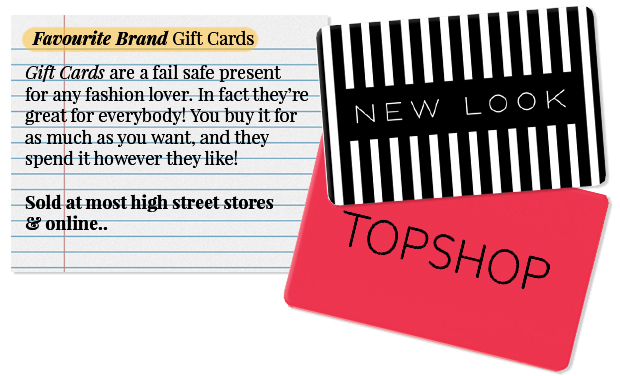 A fail safe option is the classic gift card. Usually covered in snowflakes and robins at this time of year, but packed with as little or as much money as you can afford. They're perfect for anyone who likes to shop, because you don't have to worry on choosing something that will fit, or even suit their tastes! Most let you put on a minimum of £10-15, so if you want a gift for a friend, or perhaps an additional stocking filler, these will be perfect. It's also perfect because then they can spend it on sale items of which you may have bought yourself anyway… it's a win-win situation!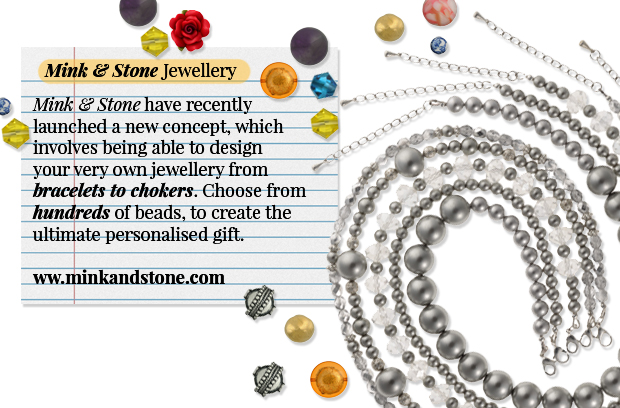 Recently, the rise and demand for unique and personalised jewellery has been higher than ever! There is something so special about receiving a gift which is completely unique and one off, so when I heard about Mink & Stone, I was intrigued! I've always loved designing and making my own necklaces and bracelets, and this service just makes it easier. You can choose from hundreds of beads, lots of chain lengths and metal tones, and easily design it with the virtual designer. There are so many beads to choose from, so if you want a slightly different present for a loved one, definitely check out this new idea…
Now don't get me wrong, I don't personally love this collection, but I know a lot of people do, and if you know somebody who does, they've probably already asked you for something a million times. The Alexander Wang collection has been one of the biggest collaborations of the year, and it definitely tops off this gift guide! The cheapest piece is a metal ring with a handy whistle (?!) and the more pricey and wearable items come in at around £150… so definitely be certain that your chum will suit the piece you buy! Plus, items are always going in stock and then out again, so you need to be quick to snap these up before they're all gone!
(Sponsored Feature: Mink & Stone Jewellery. All opinions are 100% honest. You can read my PR disclaimer here)
Lots of Love… Tolly Dolly Posh xx