Ever since I did my LFW At Home post, I've been really inspired to do 'list posts'. I find them a really easy read on other blogs, so I thought why not do another? Today though, I thought I would talk about blogging. I get so many questions about blogging whether it be on Twitter, Instagram or by email, you guys just want to know the ins and outs of blogging. So today is for those thinking of starting their own blog, or perhaps for those who are new bloggers who just 'don't see the point'.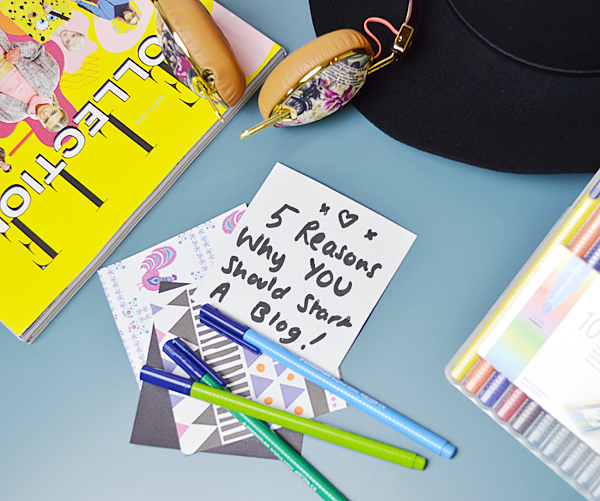 1. It's a hobby…
Blogging is a fabulous hobby. In fact, it's more than a hobby, it's a project. That's exactly why I started mine, for something to do in the summertime. Okay, it is a bit like a full time hobby at times, but that is if you want it to 'lead somewhere'. Blogging has no rules, and I think that is something we ignore… You can write and do whatever you want! I believe in this little circle of beauty, lifestyle and fashion bloggers, we forget that we're not the only bloggers. There are science, art, language, relationship, university and whatever you want bloggers! You can blog when you want, what you want and how you want… It's just like every other hobby, there are no boundaries!
2. It's a learning curve…
There are so many things you can learn from blogging. It's not just writing like you might think… Blogging teaches you about language, grammar and spelling, social media, PR, coding, site design, photography, culture, admin and management, the blog topic you write about, and believe it or not, yourself! Now if that isn't making you want to start a blog, then I don't know what else will. I didn't even know that brands sent products to people before I started! I had literally no idea what a page rank was and never in my wildest dreams did I think I would know what an f/ stop was either!
3. You can gain new connections…
Whether it be new friends or possibly your future boss, blogging opens thousands of new doors. Even just tweeting in Twitter chats starts a conversation with a new group of people, and just like in 'real life' this can lead to even more. I have met and chatted to loads of lovely people from all around the world who genuinely support me and want to help out in making my goal become a reality. I've worked with brands who I used to shop at all the time, and I have made some amazing friends.
4. You can record your life…
Just like a diary, a blog means you can look back on all the memories you have captured and shared. This can be fashion related, so you can see all the outfits you have recorded over the years, or lifestyle related, with all the days out that you took your readers on. I'm most looking forward to seeing how my style has developed, which is such a nice benefit to writing this site!
5. It has it's rewards…
I'm not going to lie, I like to be honest so… I enjoy getting freebies from time to time. This isn't a reason to start a blog… at all. It's just a bonus, us bloggers have to be upfront and say we enjoy receiving parcels. If you want to, and once you get to a certain stage, brands will be interested in sending you things to try out. If you start a blog for this reason.. well it will be obvious and most likely people will just think of you as a freebie hoarder. Also not really a 'reason to start a blog', but a bonus, is the opportunities you get, including being in magazines, on TV, radio and designing things with brands. These things don't come easy though, you have to work hard for them, and I really want to make it clear that these things are bonuses. 

I hope you enjoyed this short little insight into why many people start blogging. I honestly couldn't say a bad word about blogging. It has made me look at certain things in life in a new way and made me such a more care free person. I'd like to say a huge thank you to all the people who have made my blogging journey a whole lot better, you guys rock!
Psst.. 10 days until the launch of my new blog design! Eeee! You can see a snippet on my Instagram! Lots of Love… Tolly Dolly Posh xx