Hello! How are you? I have another OOTD today because I just couldn't resist. My schedule is officially… empty… well apart from my next blog post, but it feels good! I've been wanting to shoot at an oil seed rape (is it that or rapeseed?) field for a while now and I finally did before the sun officially set last night! I hope you like this post as it has a little something extra added in 😉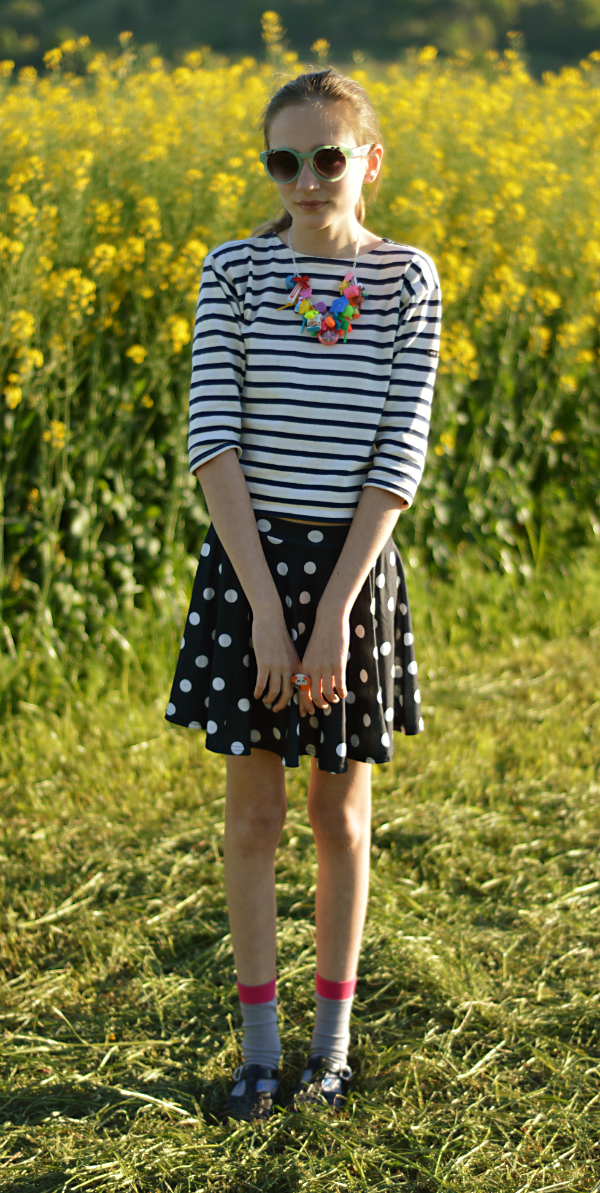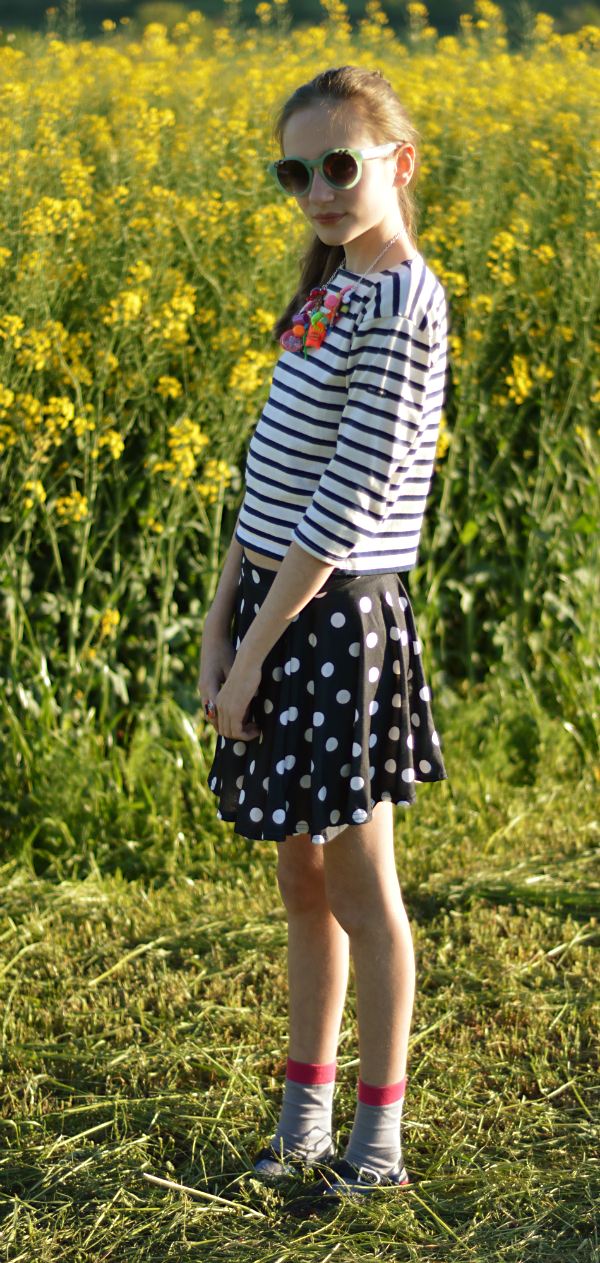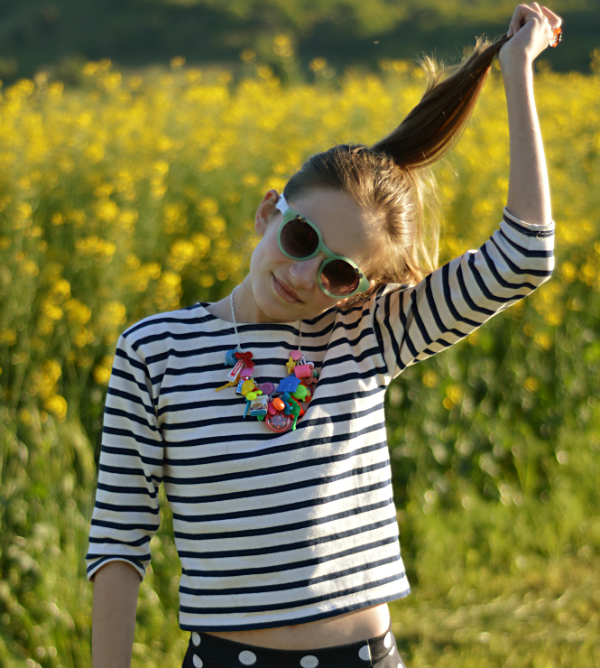 What I Wore: Stripey Top (Saint James), Polka Dot Skirt* (Peacocks), Miko Socks £7.00* (Chatty Feet), Black Jelly Shoes (Supermarket), Multi Gum Ball Junk Charm Necklace £18.00* (Punky Pins), Ring (Octopus – I think?) & Sunglasses (#stylebloggerawards2013 – Nominate me for 2014!)
 I recently got sent an awesome pair of socks… sounds weird right? But honestly, they are so fun! The brand which is, Chatty Feet, has an awesome vibe to it, and basically makes my feet look happy all day long! I knew straight away I had to do some sort of thing involving the song Happy Feet – the one time it is acceptable to be a real life Muppet! – so I decided to film a cute little video for you! It's not amazing but I hope it brightens up your day none the less! I will talk more about the socks later though 😉 Can we appreciate that I actually got a good picture of that pose? By that pose, I mean that one where you hold your pony tail up, trying not to look like a weirdo? Yeah, I got a good picture. Let's also appreciate how I wore not only stripes and spots together… but navy and black. 0_0 Shocking I know!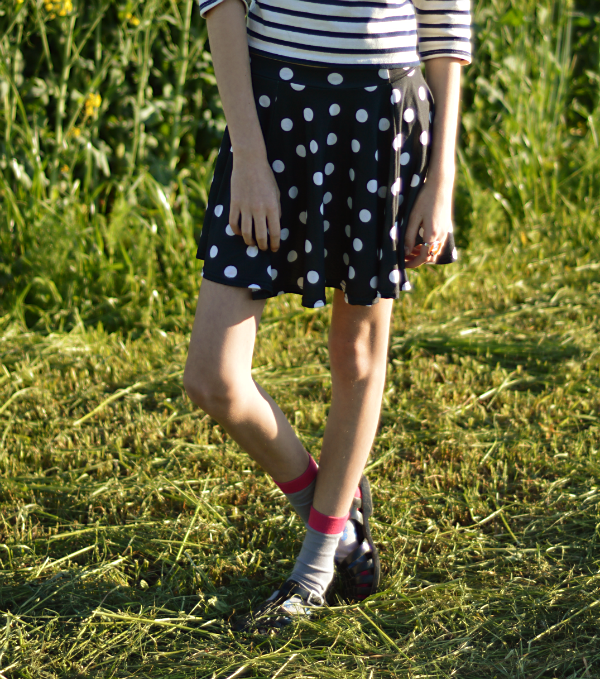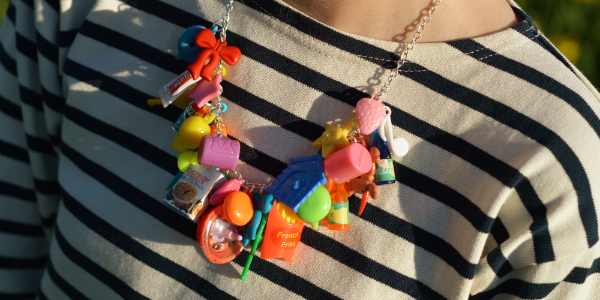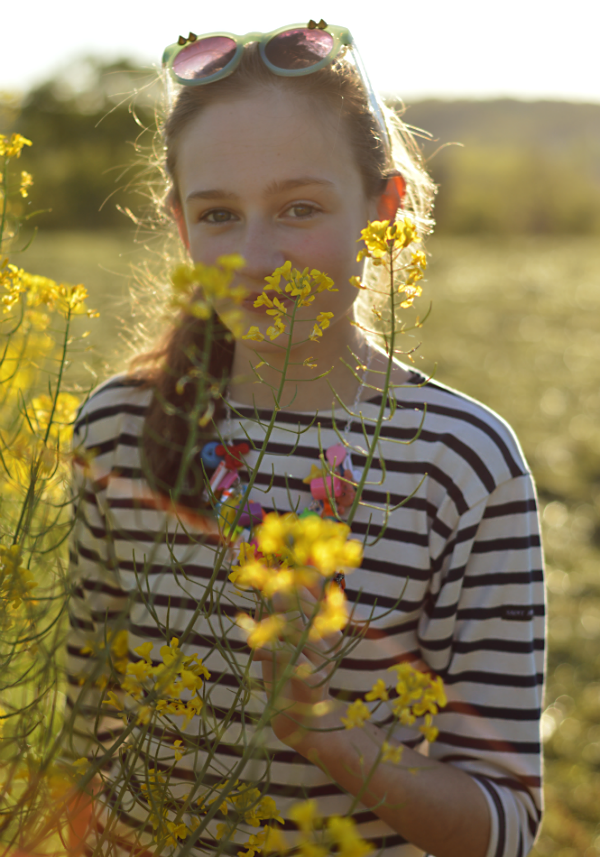 Oooh hazy evening pictures haha! I was actually not sure about the skirt I was wearing because of the length, but I think it's okay now! Being a fairly long legged gal (by fairly, I mean 'maybe I count as one'), short skirts usually look a bit odd, but the fit and fabric of this one makes up for it! I think monochrome polka dots go well with quite a lot of things, so this is a nice addition to my wardrobe! I'd had my eye on this Punky Pins necklace though… it's so cool! It's sort of tacky, but in a weird and wonderful way. I love how it has a mini Pepsi bottle, and a randomly placed Colgate tube, in amongst a load of other random stuff! As it is so colourful, it means it can go with lots of different outfits! Definitely a new favourite 🙂 Another new favourite of mine are these beautiful coloured fields. Last winter was pretty bad so I think they are more obvious this year, and they just make me smile! Perfect photo opportunity!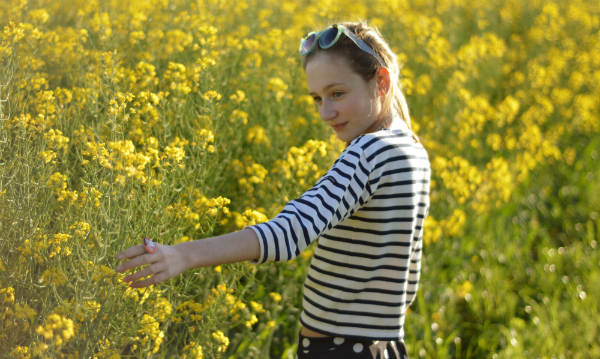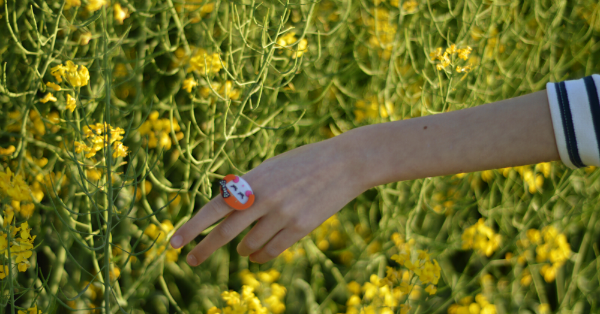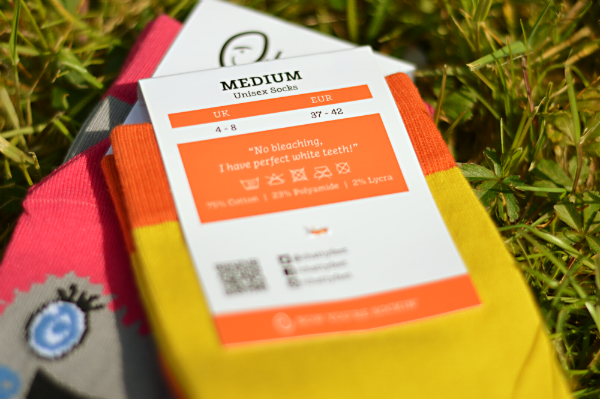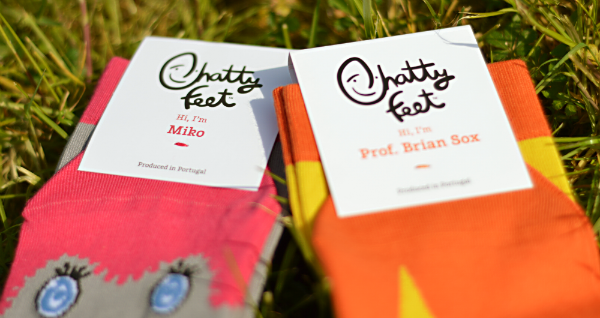 I picked up my cute little ring quite a while ago in a shop called 'Octopus' back in the UK. I think there are quite a few dotted around, and they're stuff is really cute! They actually have a fairly similar shop in a town near us which I always like to browse. For now though, let's talk about socks! These are the socks I featured in my Chatty Feet Look Book (embedded above), and they are just so bright! They have so many cute characters, and I seriously want to get my nephew a pair! They are kind of a 2 in one, of socks and puppets really, which is a bonus! The only thing which I would say is that they do wear away quite quickly, and you need to be careful of the wash! They sort of shrunk when I washed them… Other than that I think they make great gifts and look awesome with sandals! I have my eyes on the Yoko Mono pair as they are perfect for summer!
I hope you liked this post and the added YouTube video! It would be awesome if you could nominate www.tollydollyposhfashion.com as Best Teen Style Blog! You can do so here!
Lots of Love… Tolly Dolly Posh xx