Hello! I'm really excited about this blog post! Don't get too excited, I'm not working with Lazy Oaf (…although, I wish I was!), but I love the brand so I thought it would be cool to create a Lazy Oaf inspired design collection, as if I was collaborating with them. I hope you like them, and if you do, make sure you tweet this, and maybe, just maybe, Lazy Oaf might see it! 😉 Oh, and Lazy Oaf (or anyone else), please do NOT pinch any of my ideas! Please! 😉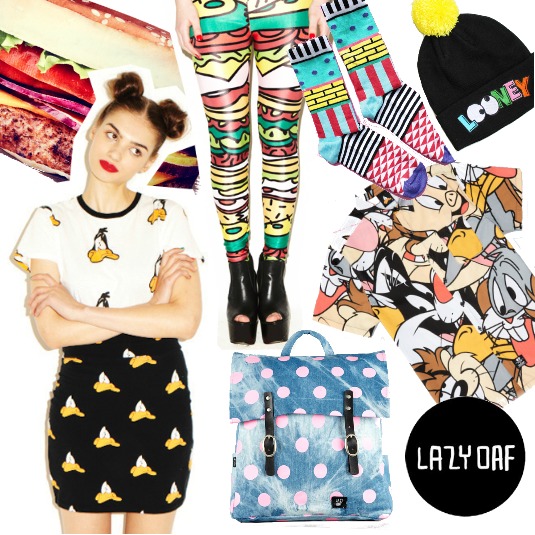 I thought it would be nice to do a sort of mood board so you can see what feel I was going for. Lazy Oaf are like the God of funky prints, modern pop art, food on clothing and just anything awesome. I wanted to take their love of prints, and also their love of shirts and combine them in my own way. My first thoughts were ice cream, and I wanted to do 4 seasons of ice cream. The classic ice cream and Flake would be for Spring, the melting lollipop for Summer, a pumpkin ice cream for Autumn and the ice cream stuck on a tongue for Winter. Unfortunately I had to go with the 3 seasons of ice cream because the Autumn one didn't work out so well, but none the less I hope you like my little ideas!
Spring/Summer (Ice Cream): Pastel Pink Ice Cream Print Crop Top & Pastel Pink and Blue Ice Cream Print Spot 'Skort' with Pom-Pom Trimming 
I really like this because the pastel colours just add that perfect base for all things Spring. I also love how they are quite subtle, but they bring both the top and 'skort' to life. The top would be cropped with short sleeves and a high neck line, giving it that 90s, retro feel, which I think Lazy Oaf are all about. The 'skort' would have a pom-pom trim which just adds that little bit more texture and layers to the piece, and I think that is what Lazy Oaf often do. I think you could make some really nice outfits from these pieces, whether you like pink, or you just love anything retro! I also love how the 'skort' could be used as a piece of beachwear.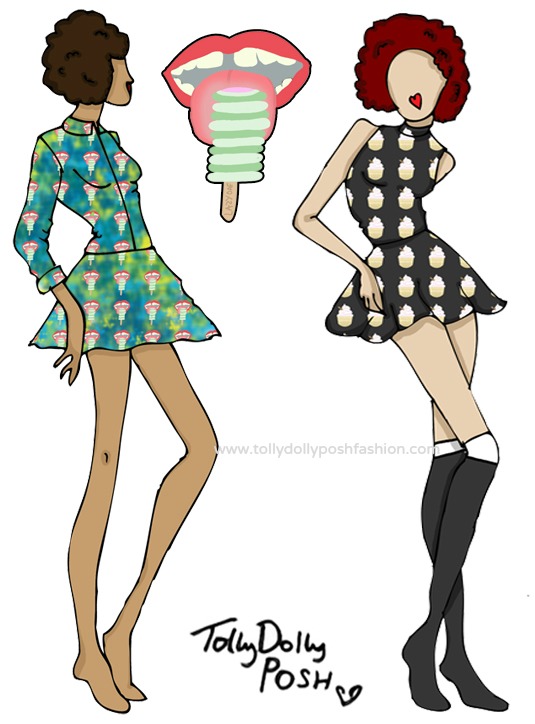 Autumn/Winter (Frozen Tongue – left): Green and Blue Tie Dye Blouse and Skirt with Frozen Togue Print. Spring/Summer (Ice Cream – right): Charcoal Black Polo Neck Top and High Waisted Skater Skirt with Ice Cream Print 
These are my two favourite designs because I think they are classic Lazy Oaf. I love how on the blouse and skirt (left), the Frozen Tongue print just pops against the green and blue tie dye. As I said, Lazy Oaf love using shirts with prints, so I had to include one, and I think this one is perfect, and because it has the green in there, it really fits in with the A/W feel. You could pair the two together, or you could wear it is separately, which I think any collection needs to offer. With the top and skirt (right), I think they would be perfect for all seasons because you could easily layer them, and the ice cream print again, just adds that perfect extra boost for a new layer and dimension.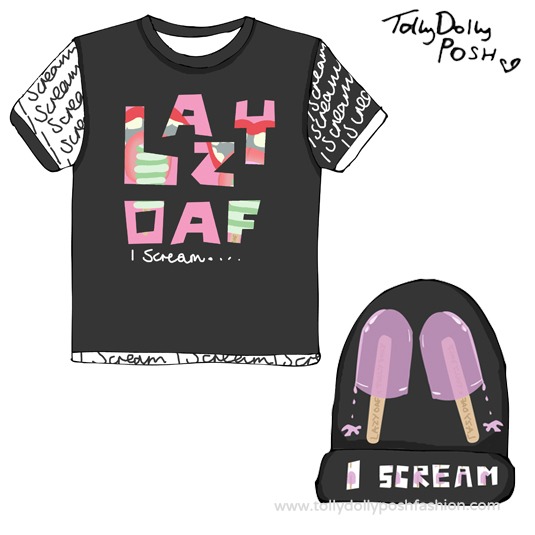 Autumn/Winter Menswear ('I Scream'): Charcoal Black and White Top with Lazy Oaf in Pink and I Scream Text & Charcoal Black Beanie Hat with Embroidered Melting Ice Lolly and I Scream Text 
I think I had to include some menswear in this mini design collection, because the Lazy Oaf guys are 'stylish' haha! I think that these pieces are very 'Lazy Oaf Guy'-ish (lol)! The top would have Lazy Oaf on the front filled in with the Frozen Tongue print, and would have patches of 'I Scream' text on the hem and sleeves. The beanie would have embroidered 'I Scream' text and the 2 embroidered Melting Lollies, which I think is a nice contrast between Summer and Winter.
I hope you liked this little design collection, and if you did, please please please leave a comment, or tweet it because wouldn't it be fabulous if Lazy Oaf saw it?! Urmm.. yes! Thank You 😀
Lots of Love… Tolly Dolly Posh xx