An new OOTD! Woop! I know you guys like 'My Style' posts, seeing as I did about… 4 recently, but I had a bit of break from them so here you go! Enjoy ^.^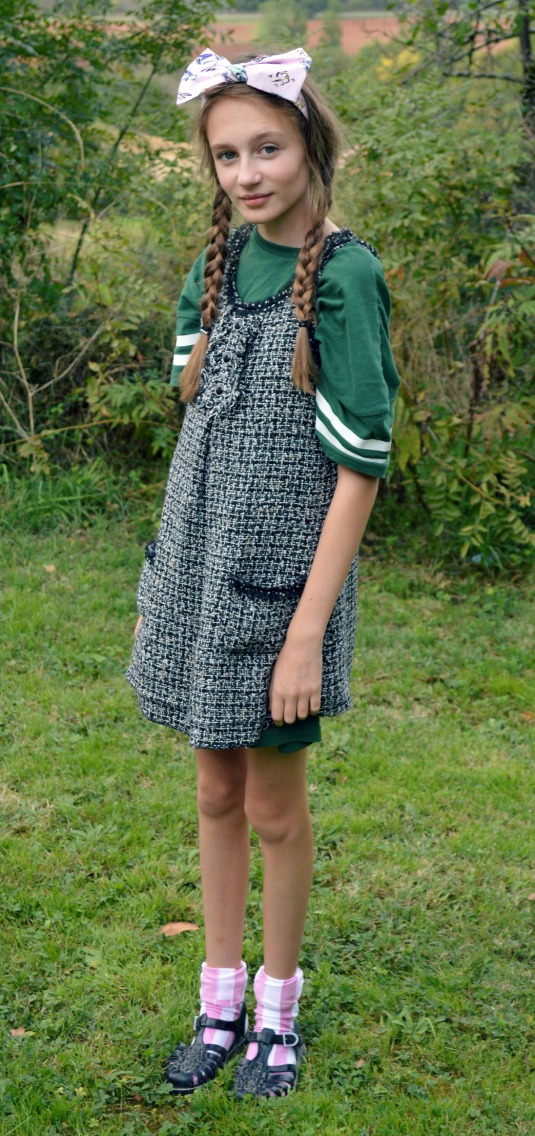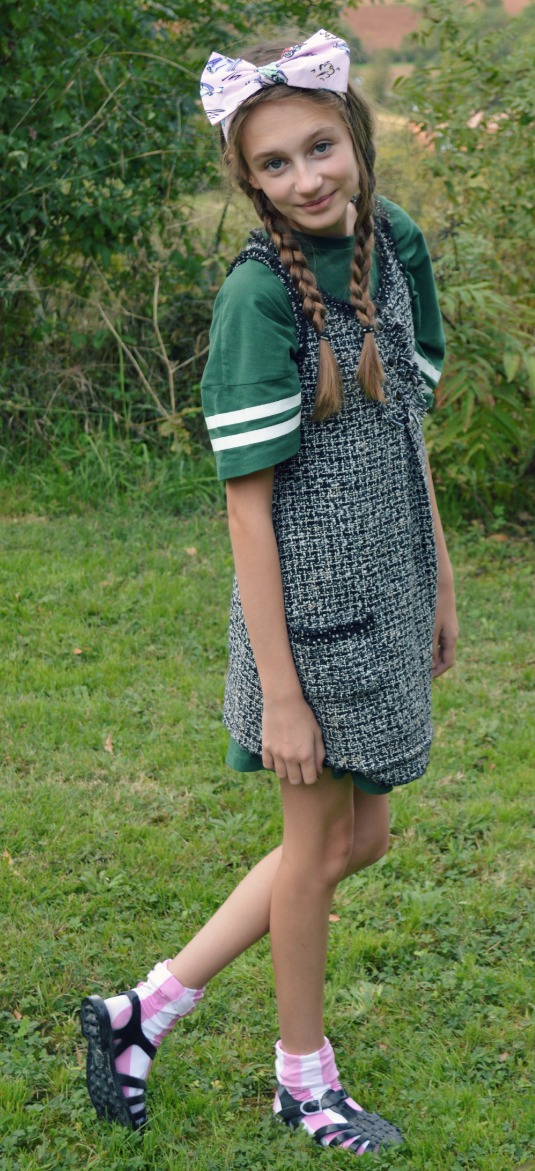 What I Wore: Monochrome Tweed Dress (ZARA – Old), Green Stripe Detail Dress Top (Primark ASOS – Underneath), Shapeless Socks (House of Holland ASOS), Black Jelly Shoes (Supermarket), American Car Print Oversized Bow* £12.00 (Beauxoxo)
I feel like these pictures don't do this outfit justice. I swear it looks nicer in person! Oh well, I still like it! Also please ignore my weird arm/shoulder situation… I know it went a bit funny… I feel like this is a good summer to autumn transitional outfit because it mixes pops of pastels with darker colours, and also includes layering! Plus… how cute is my hair bow?! Georgie from Beauxoxo is literally, so lovely and makes some super cute stuff!
I also paired this outfit with my pink tweed jacket – Chanel-esque – and I think it just makes it all complete. I do have to say it though, but if you are a french parent, please can you teach your children that everyone is different? I got laughed at twice this week (not for just this outfit) and it really doesn't make one, feel too good. I dress completely different to the girls around 'ere, so please… STOP. *composes herself* Anyway, with this green Primark dress top, I almost feel like a vintage Barbie doll which has been dressed in clothes which are too big, in a good way of course. I also feel like Pippi Long-stockings, except my stockings don't stay up – House of Holland, do improve your 'One Size' sizing, I do like to actually 'wear' my socks.

I am a true supporter to Georgie at Beauxoxo! I feel like other hair accessory brands, or handmade brands have a sort of 'factory' feel, and more of a 'churned out by the dozen' feel, but with Beauxoxo I feel the lurrrve. I know that a lot of hard work has gone into each individual piece, and now I have my own hair band, I know for sure. The fabric is really nice and soft, it's well made and sits nicely on my head(?!). I love the prints that are available, and next on my wishlist are the sparkly bow headbands! They look perfect for A/W! I really do think you should go check out Beauxoxo, I do really support her work and some of it is sooooo gorgeous! GO GO GO!
Watch out for another OOTD featuring this gorgeous headband! I'm not sure this outfit gave it justice, but I still love it! I hope you do too! Please leave a comment if you like!
Lots of Love… Tolly Dolly Posh xx