Hi hi! (I seriously don't know how to introduce these posts anymore)… Today I am doing a tag. Oh yes, 'Tolly-The-No-Tag-Blogger' is going against all she has said, and making her own?! *gasp* I know. I thought there was one missing, so I decided to YOLO it and create the ultimate, Fashion Week tag. *DUN DUN DUN – dramatic intro*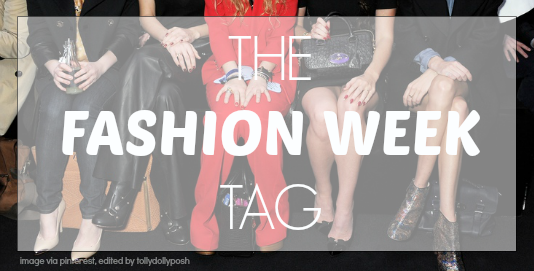 Have you ever been to a Fashion Week before?: Unfortunately, no. I've been to The Clothes Show Live, but that's the closest, and I've been invited to a LFW Party but, had to decline due to living in France. But um, yeah. Nope. *sob sob*
If you could go to a Fashion Week, which one would you go to and which season?: Ummm… I think probably London just because I am English, but I wouldn't mind really. For the season, probably Spring & Summer because I'm more of a fan of colourful clothing than dark grung-y stuff, so S/S is my pick!
What designer's show would you most like to go to?: Although I absolutely love Vivienne Westwood, and it's one of my dreams to be able to attend her show, I would be really interested in Valentino's show because after seeing the catwalk pictures, it looks like such an interesting show to attend!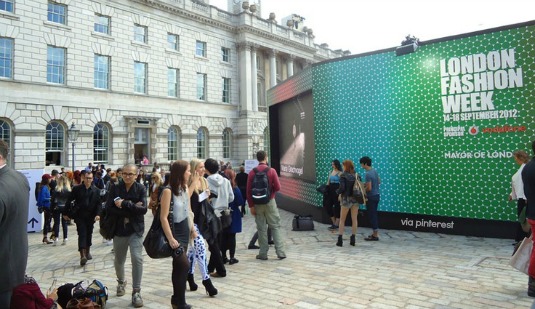 Would you rather be 'FROW' (Front Row) or would you rather take the back seat?: Personally, I'd rather go FROW. I know that some people would like to be back seat because of not being intimidated by 'bigger' stars (maybe…?), but for me FROW is where I would like to be seated, oh and if possible, can Anna Wintour sit next to me?
If you were able to work at LFW, who would you rather be – A designer, a model, the press, a VIP, or someone backstage?: Well, I think we all know the answer to this one for me 😉 Of course, I would love to be the designer. Just being able to see my designs go down the catwalk sounds so cool!
Sometimes you can get invites to the after 'part-ays', but you are only allowed to meet one model, one designer and one VIP/celebrity, in person. Who would you like to meet?: For a model, I know it is very typical, but Cara Delevingne. Apparently Cara is really laid back and just like any other 'gal' – sorry, I'm being rather typical and boring today aren't I? -, so it would be interesting to see exactly what she is like. For a designer, it would of course be the queen herself, Vivienne Westwood. I am ever so jealous of Olivia (from What Olivia Did) for meeting Vivienne whilst she was eating pie, so I am now aiming to meet her in the next few years (…optimistic!). For a VIP, it would probably be… um… I don't actually know! I guess meeting anyone inspiring would be amazing, so I guess I'd just see who was there, haha!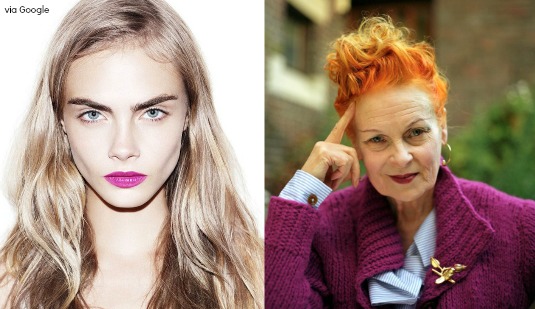 For your Fashion Week trip, you can take 5 items, for example a camera etc. What would be your essentials?: Like the example, of course my camera for snapping those catwalk pictures and when I meet Cara & Vivienne. A note pad for jotting down information and thoughts on the shows. Lucozade to keep me going, because it is literally a life saver for people who don't like coffee! A pair of pumps or super comfortable shoes to slip on if my snazzier pair get painful! Plus, some business cards to just remind people of when they meet me 😉
And finally, of course the obvious question. What will you wear?: I definitely think comfort is key. I think perhaps a jumpsuit and then jazz it up with a funky jacket and accessories, and a striking pair of shoes! I definitely don't think that making yourself stand out is what it's all about, but maybe something eye catching which suits your personality and is something you would normally wear.
I TAG…
Anna from The Life of A Fashion Nerd//Joni from Berry Crumble//Nicole from Cole of The Ball//Flora from Pretty Little Things To Do//Harriet from Harriet Does Make-Up//MyDogBlog//Megan from Floral of Beauty
AND EVERYONE!
I hope you enjoyed this very rare occasion. If you are interested in doing this tag, you can find all the questions here: TAG QUESTIONS! Just simply copy and paste! If you did enjoy this, let me know in the comments!
Lots of Love… Tolly Dolly Posh xx