Bonjour! It's taking my ages to actually take the pictures for this My Style instalment. I tried it at the beach, but my hair got wet, but then I realised that we recently bought a tripod and remote for our camera. Which means… I can take the photos myself! Woop! Excuse the weird 2 toned hair colour… not sure what happened there…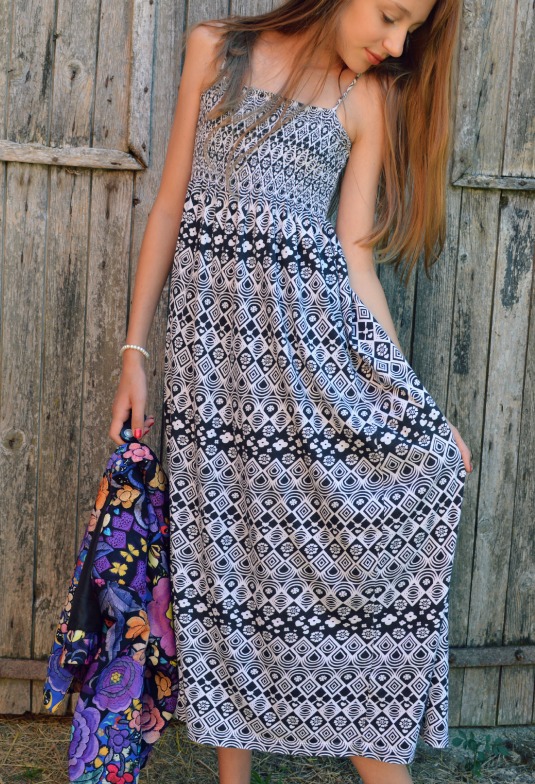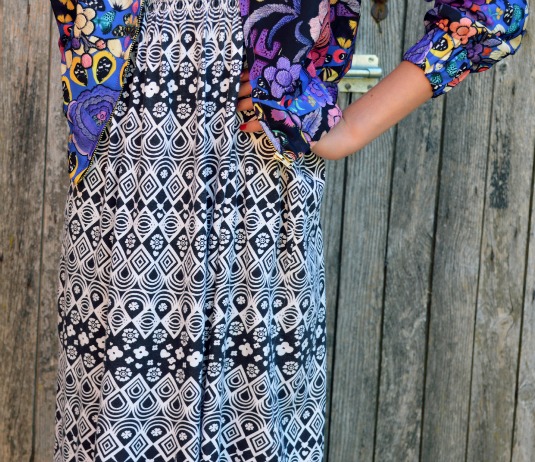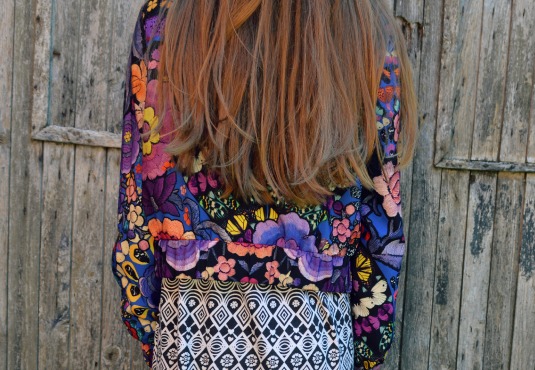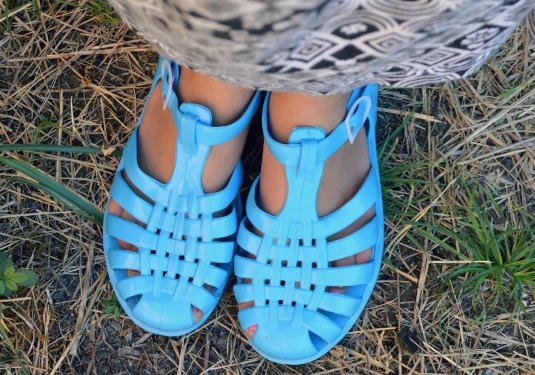 What I Wore: Floral & Embroidery Print Bomber Jacket £18.00 (ASOS Petite), Monochrome Aztec Dress (H&M – Jumble Sale), Cyan Jelly Shoes £19.00* (Sun Jellies), Love Beaded Bracelet £3.50* & Spiral Above Knuckle Ring* (Both from Daisy Mae Jewellery)
Except from changing into a swimming costume or my PJs, I have been living in this outfit the past week or so. Slight exaggeration, I do change. I just love it! It's a very LLYMLRS inspired outfit, because I have been loving how she mixes bright colours with monochrome. I haven't really known how to wear my ASOS Jacket since the #stylebloggerawards, but I think this is the perfect way! It's casual but it has a certain 'some-in' some-in" going on. It's incredibly comfy too! Even in the heat, this jacket doesn't get too hot, unless you are in direct sunlight, then you may, quite possibly, boil up into a brightly coloured soup (with croutons of course.)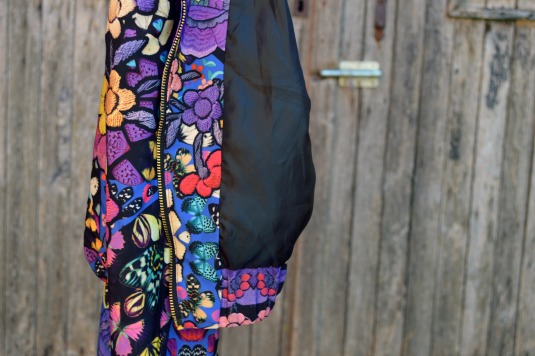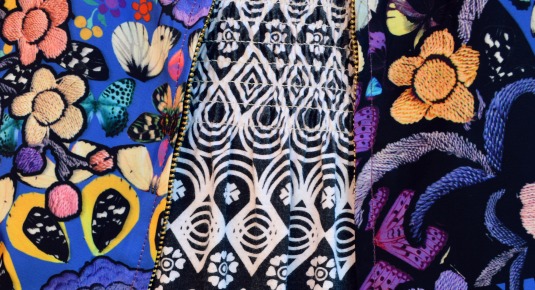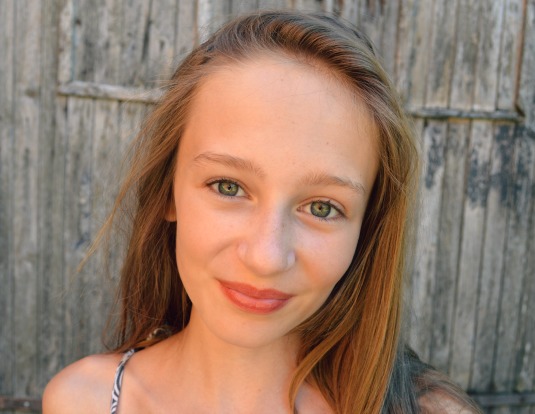 As I said, this outfit is very LLYMLRS inspired. I'm trying to make my style a little bit more retro and quirky because I just love certain aspects of the retro vibe, but at the same time, I want to keep my grunge feelings running through my style, and of course my love of mixing prints.  Looking at the above picture though, my hair looks ginger at the front and dark brown at the back?! Weird lighting alert haha!
In terms of jewellery with this outfit, I like to keep it simple, which means adding 2 cute pieces from Daisy Mae Jewellery. I found Daisy's store over Instagram and instantly fell in love! She makes all the pieces herself, and I am obsessed with her chocolate and cake inspired rings! They are amazing! Daisy kindly sent me this gorgeous bracelet and ring. My favourite has got to be the bracelet! I was going to by a similar one ages a go for about 5 times the price because I loved the little gem (it says 'love' on the otherside!), but this one is so cute and it makes my summer tan look that little bit more.. tanned. Haha!
Unfortunately, I wasn't so happy with the ring. I absolutely loved it when it arrived! It was rose gold and really shiny. There was a little note with it which told me to add a coat of clear nail polish, and I forgot 🙁 The ring is now a copper colour which doesn't quite look as dainty. I love the shape of it, and it is the perfect of sizes, but it's a shame it is now a funny colour!
Lots of Love… Tolly Dolly Posh xx