A massive trend which was first introduced by designers such as Chanel, is Embellished Sunglasses. Whether you want studs poking out of your brows, or want a few daisies bordering your eyes, there is something for everyone! Some of these sunglasses cost a BOMB, so I've decided to show you how I made some for less than £3.00!! Enjoy 🙂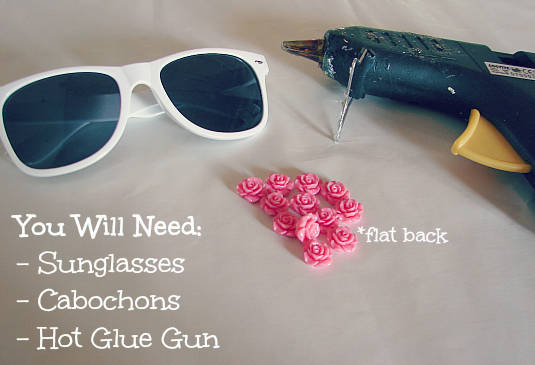 Wayfarer Sunglasses – 99p (eBay)//Floral Cabochons – £1.04 (eBay)
The Sunglasses in which I bought are just plain white. I went for this style as it suits me best, but I think any style would do for this DIY, as long as it has room to fit the flowers. You must get 'Cabochons' and NOT buttons, as they have flat backs which makes it super easy to stick on. I went for one colour as it was a bit cheaper. You could also use different things, like studs or perhaps little stars, or animals. Mix it up! It is best to use a Hot Glue Gun as it means you can take off any mistakes(?!) as the glue can come off quite easily, but still holds things down for a good amount of time.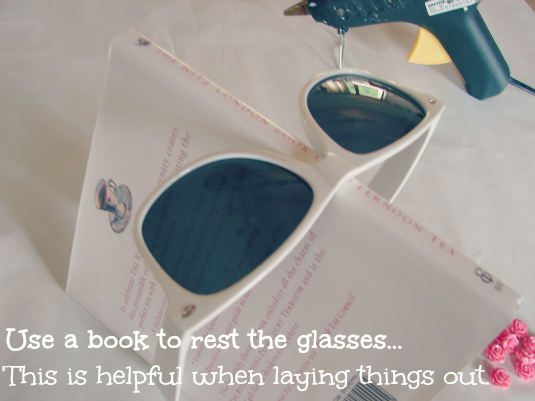 First of all you want to heat up the Hot Glue Gun and get it so it is dripping out the end on it's own, because it will be easier to use. Whilst you wait, think about how you will put the Cabochons on. Put a book underneath so they don't slip off. The best designs are either across the whole brow, or just in the corners, but you could also do the sides or 'arms' of the Sunglasses too.
Secondly, when the Glue has melted fully, add one small dot the place you want to stick the Cabochon onto. DO NOT put the Glue on the Cabochon itself as you could burn yourself, and it may spread out and make the Glue visible when pressing it down. When pulling the Hot Glue Gun away from the glasses, pull them away from the lenses to avoid any glue going onto them. You could put a sticky note over the lenses too to make sure this doesn't happen. Repeat this process until you have finished the design, and leave them to cool.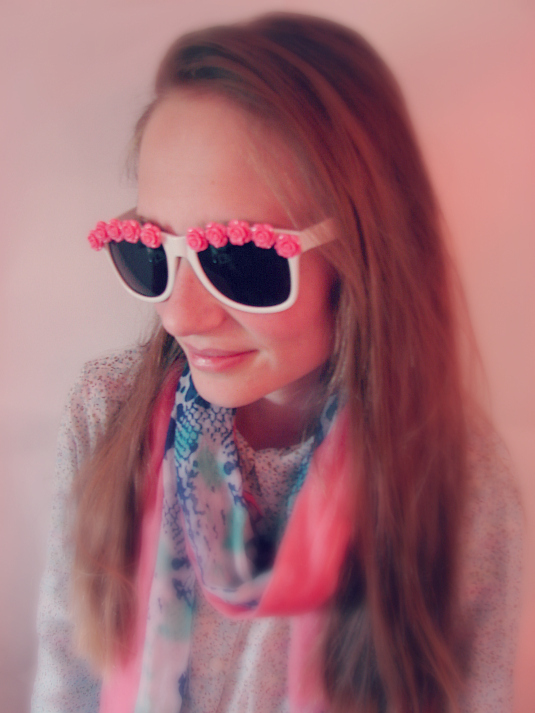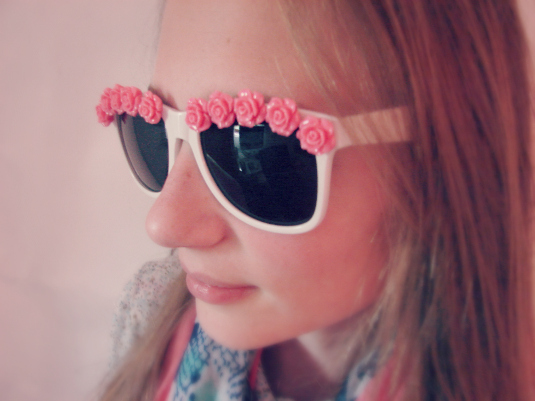 The complete design! Pretty cool, huh? 🙂 Make sure to be careful with them!
In total these cost me £2.03, as I already had the Glue, so at the most it will cost you £5.00! It's super easy, and you can experiment with different designs. I think these will look great for summer, and will be a great statement to add to any outfit. This is a great thing to try out as some cost £15.00, and for £2.00, I think we all know which is the better deal! I hope you enjoyed this 'DIY Embellished Sunglasses' tutorial and do make sure to tweet me if you give it a whirl! Or Instagram a picture using #TDPSunnies
Will you be trying this DIY out or will you buy a more expensive pair? Have you already tried this DIY out? Make sure to leave a comment below!
Lots of Love… Tolly Dolly Posh xx