This year has been super sonic. It's flown by! I can't believe I'm already doing my Christmas 2014 Wishlist! Yup, that's right, today I'm showing you what's on my list, and what I expect Santa* to be bringing me down the chimney. It's not a very long list, but I hope it gives you some inspiration, whether it be for buying presents or even for your own list! Make sure to let me know what you want for Christmas in the comments! * – aka: family member…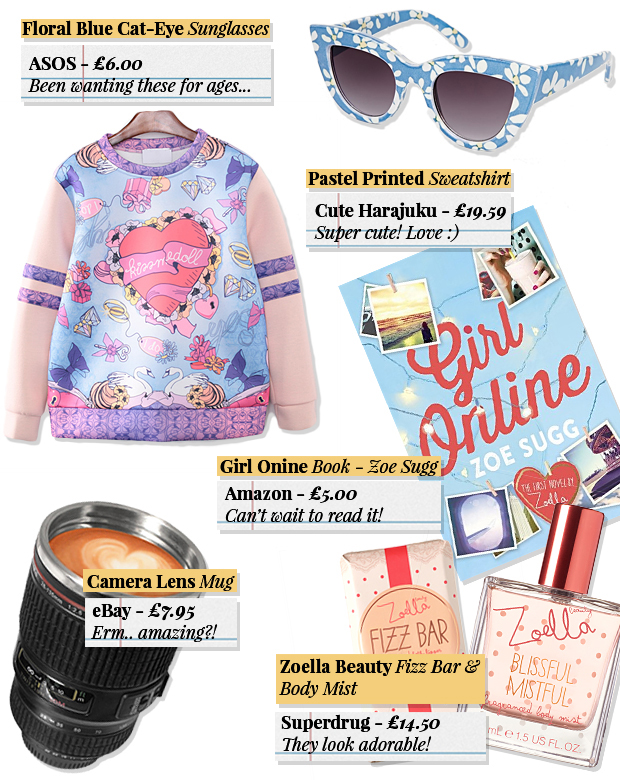 Sunglasses – I've been wanting these for ages… and I could get them myself, but I really want to save my coins, so even this little purchase would make a bit of a dent… I have to buy my own presents you know?! But they're super cute and fit perfectly with my style. They'd look great for autumn, winter summer and spring, so for £6 they're a bit of a winner? They'd be a great stocking filler too.
Sweatshirt – I stumbled across this jumper on Tumblr, and I adore it. It's super duper cute and kawaii, and so up my street! I don't think I'll be getting it though as delivery takes too long 🙁 Oh well, maybe for my birthday? Super cute though, right?
Girl Online – Obviously, I had to put Zoella's book on my wishlist! I'm actually interested to read it for two reasons 1 – it's by Zoe (duhh) a fellow blogger and 2 – I need a new book to read soo… makes sense! It's actually pretty cheap on Amazon at the moment (no doubt it will have changed price by the time this post goes live), so hopefully I do end up getting it!
Camera Lens Mug – Hell yes! HOW AMAZING?! It's a mug that looks exactly like a camera lens?! I need this. In fact all bloggers and photographers need this in their life. I want to drink tea out of it every morning! *winks at Father Christmas*
Zoella Beauty – I must say I'm definitely intrigued into what the fizz bar is like. It looks like a very clever idea, so I'd definitely be happy if this is under the tree! Plus, who doesn't love a good bath?
A FEW OTHER THINGS…
Lots of Love… Tolly Dolly Posh xx