I began writing this blog post because as some of you might know, towards the end of last year (on Halloween, precisely) life took a bit of a turn for the second time (read here for the first), meaning I had to part with some of my wardrobe for a while. After tweeting and Facebooking and asking how many clothes my readers and followers own, the topic of this blog post has ended up being slightly different.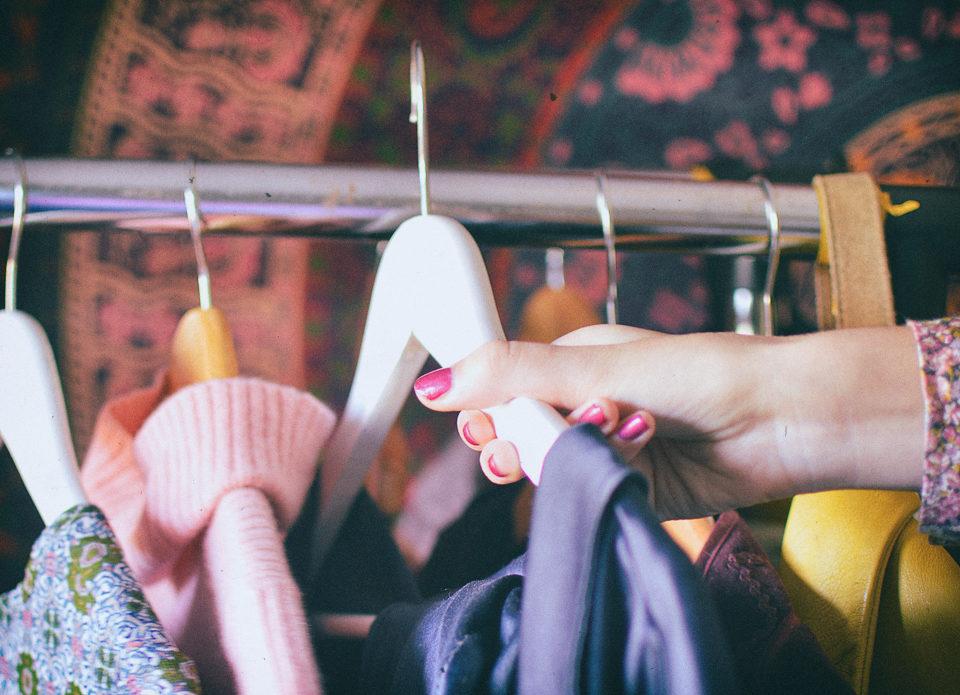 I originally intended to tell you that living with only 38 pieces of clothing over the past three months has been relatively easy. I, unfortunately, can't pinpoint how many items of clothes I genuinely own seeing as I haven't completed a full count before, but I know that the number in total would probably be double or perhaps even more than.
I can live with 38 items of clothing. Seeing as it's winter, that number roughly includes about five pairs of trousers (2 pairs of jeans; 1 pair of black trousers; 1 pair of suit trousers; 1 pair of patterned), multiple tops (including 4 sweatshirts, 2 of which are the same with a different variation of design), one skirt (for wearing with tights which I didn't include within the number – there are some essentials we can't live without) and four choices of jackets for varying weather conditions and outfit choices.
Usually, if my clothes weren't stuck in a building damaged by an earthquake, I would have the choice of a fair bit more. Although I do sort my clothes by summer and winter, in turn, technically creating two separate wardrobes of choice, I like to say I have gradually mastered the art of wearing summer dresses layered up for the colder months meaning I have missed the extra choice.
There is a pair of ASOS Africa trousers which I thoroughly enjoy wearing, sat in a drawer, waiting to be worn by me again soon. There's my grey and floral slip dress you may have seen in one of my final summer outfit posts, which I would have loved to have worn with a turtleneck and some tights.
I love clothes, obviously. I want to have my own collections one day; there's no denying that, which means there have been moments so far where I've been bored and a little uninspired of what I have to choose from. I worked out that technically if I'm wearing about 4 items of clothing (excluding shoes, socks and accessories), I could wear about 361 different outfits with what I currently have with me. I'm not going to do that however because my suit jacket doesn't match with my bohemian maxi dress but the idea that, that is a possibility is what has got me thinking.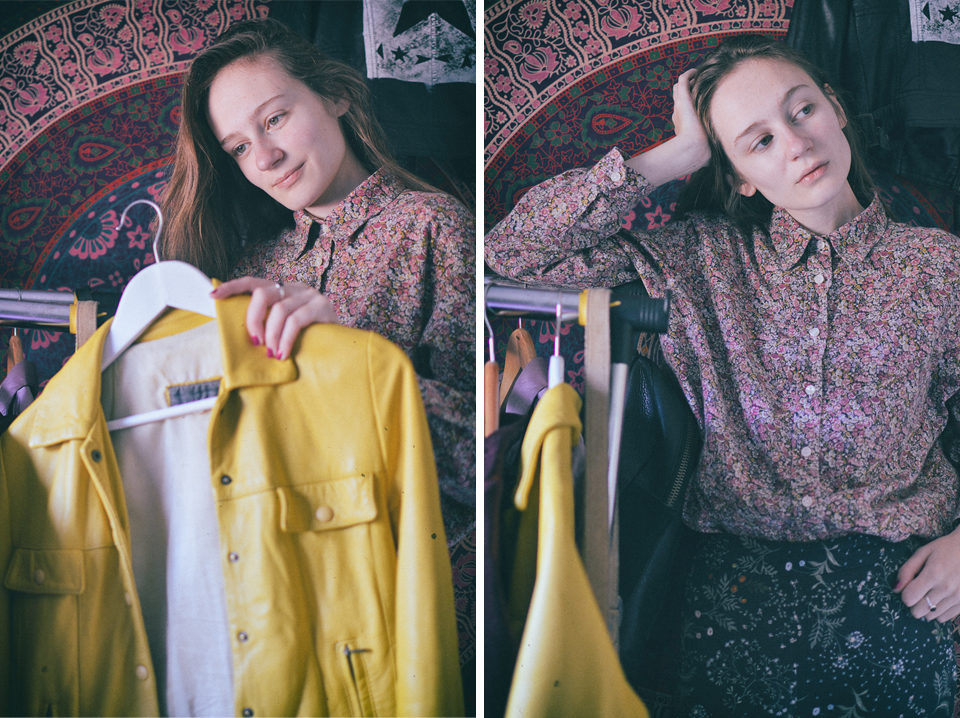 ---
WHAT I WORE: Floral Shirt (Jumble Sale) // Botanical Print Trousers (Motivi) // Vintage Yellow Leather Jacket (Jumble Sale)
---
After running polls and asking how many clothes you own, I received a lot of feedback which has had me questioning – does having fewer clothes, actually make a wardrobe any more sustainable? My answer is in fact, no.
52% of you own between 30 and 60 items of clothing in your wardrobe, which I will presume is a fairly rough estimate as I'm not expecting everyone to have rifled through and counted each individual item. That number surprised me because I happened to believe it would have been more. Only 26% (which is still a fairly large amount) of people responded saying they couldn't count, or at least that the number went over 100. But; none of these numbers included shopping habits.
In a 2015 Barnardo's report which I often refer people to, it states that typically in the UK, the average woman will spend £64 per month on new clothes, with 33% of the surveyed women deeming an item 'old' after only wearing it three times. And I don't know about you, but I often read or hear the phrase 'spring cleaning' when it comes to clothes, which means there must be a high number for how many times those 'old' clothes are being removed and sent elsewhere.
Only having 38 items of clothing doesn't make my wardrobe sustainable – my shopping habits do. Your shopping habits do. If 52% of you are living with between 30 and 60 items of clothes, that means you have around the same amount of options as I currently do; 361 outfit combinations, or more. That's just under a year's worth of outfits, for one per day. That only becomes unsustainable when you increase, and yes, decrease that total number.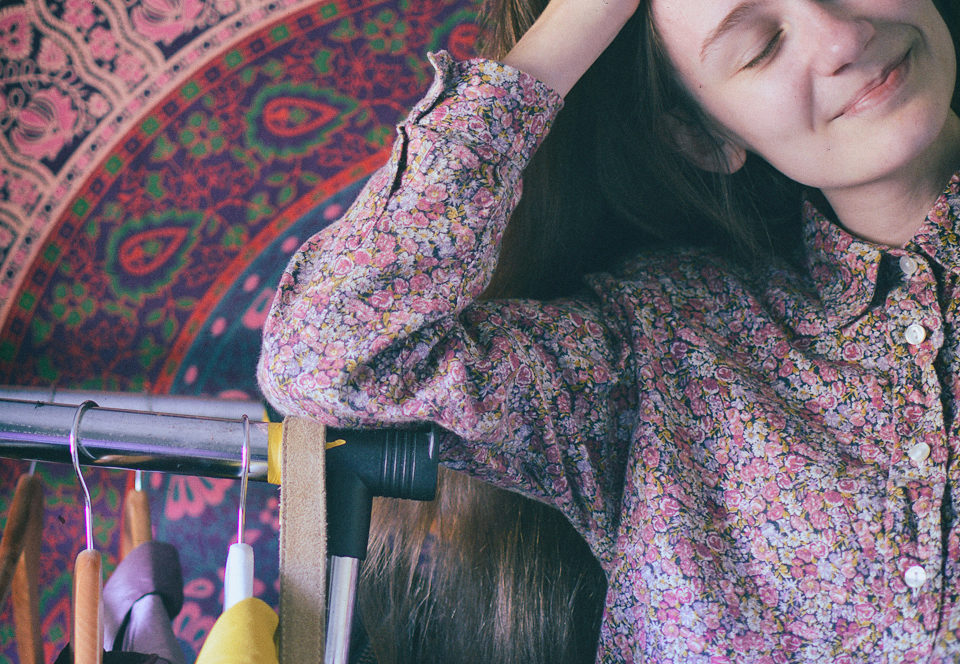 A wonderful member of the #EthicalHour Facebook group brought up the fact of why decreasing the number of clothes you own is just as important as to how frequently you increase it. Starting a capsule wardrobe shouldn't mean chucking away all of your clothes because that will then create waste, which creates a whole separate issue.
Some will say that you can donate to a charity shop and there won't be anything to worry about, but as I will talk about in an upcoming blog post, that isn't always the best option. Becoming vegan or changing an element of your lifestyle elsewhere, also shouldn't mean suddenly and dramatically changing what you wear.
There are consequences to so many of these decisions. It's about working out a way to get around all of them for you. Consciously shopping and working out whether you'll actually end up wearing what you buy are super important elements to keeping your wardrobe at a sustainable level, and passing on clothes to other individuals or attempting to revamp an item will leave you feeling much more satisfied than taking your textiles to the dump.
In conclusion, whilst admittedly being bored at times, living with less has given me two challenges which hopefully, you can take something away from. Firstly, it has challenged me to wear outfits I'd never usually think about wearing. Just the other day I wore my vintage yellow leather jacket, the floral oversized shirt and completely contrasting navy floral trousers I'm wearing in this post. (Hands up if you saw it already on my Instagram Story!) In theory, none of that should have matched, but it did because it worked out looking fairly seventies inspired.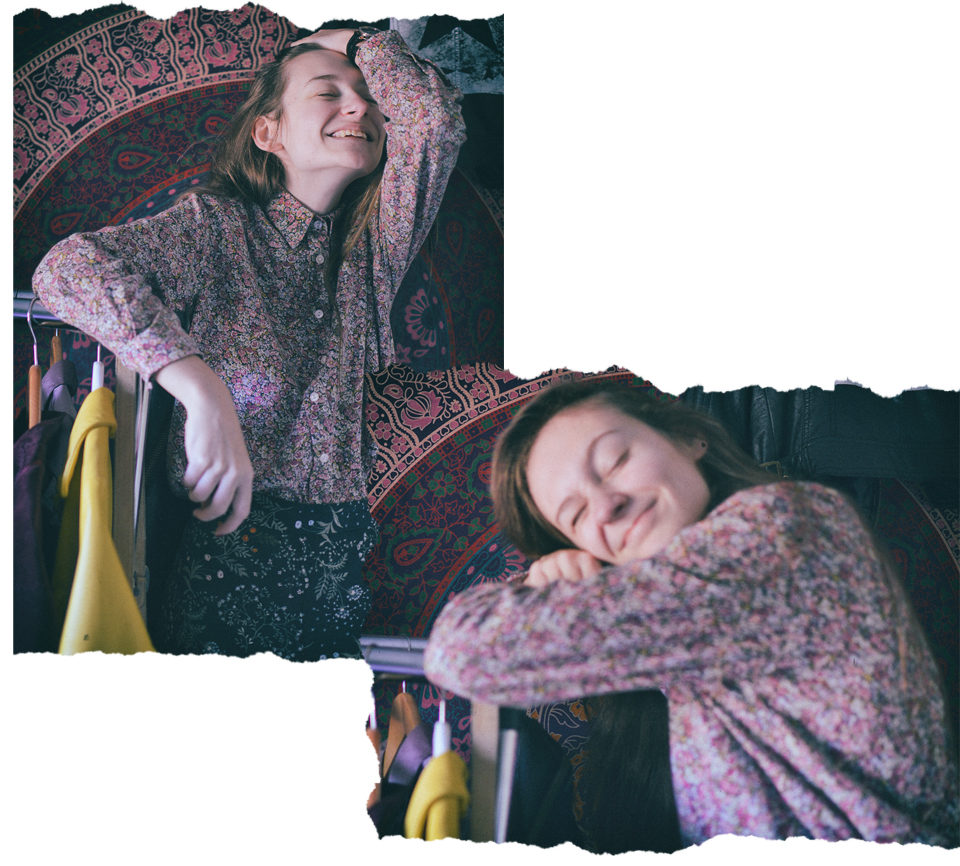 I discovered a new outfit I would never have worn before because I had nothing else to choose from except the blouse and sweatshirt combination I'd been wearing for a couple of days straight – in a hygienic manner, guys. It challenged me to think about those 361 combinations, and if I, in fact, need to make that number any larger.
And secondly, it has challenged me to think harder about how or if I do increase the choice I have. Recently, the only additions to my wardrobe have been from ethical brands, like Lost Shapes, who are part of my ethical directory. Truly measuring the size and scope of what I own, makes me value what else is eventually included. So, for you reading this, perhaps this will inspire you to count what you have, and count up the value of what you might have in the future.
Sustainability doesn't happen by removing what isn't '100% organic' or produced using '100% recycled materials'. Sustainability starts when we limit the number of resources we're using up.
---
How many clothes are in your wardrobe? How sustainable are your clothes? Let me know in the comments!
---
Lots of Love… Tolly Dolly Posh xx