Hey peeps! It's officially only 17 days until this gal (uhu, yup, me) turns 14… gah, sounds so weird! I started this blog when I was 11! Anyhoo, as a lot of people do on the interwebs, I'm here with a '14th birthday wishlist'. Be warned this was written past 10pm at night, whilst listening to Vampire Weekend on full volume… don't tell me I didn't warn you!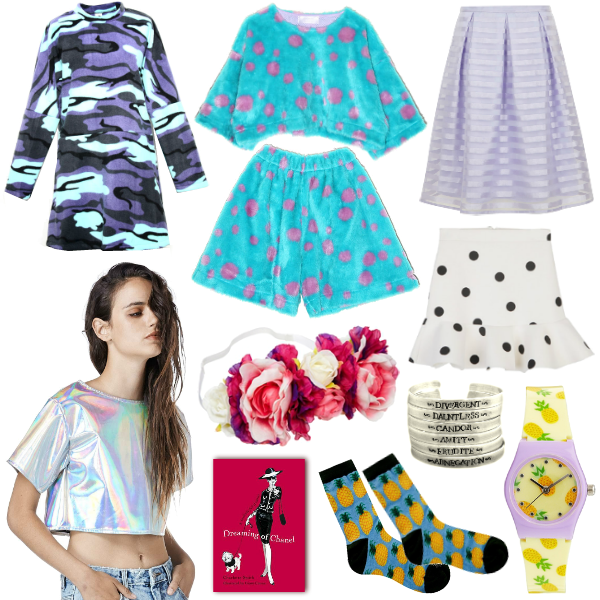 Camo Dress//Monster's Print Fluffy Top//Monster's Print Fluffy Shorts//Pastel Lilac Midi Skirt//Polka Dot Scuba Peplum Skirt//Floral Crown//Holographic Top//Dreaming of Chanel Book//Pineapple Socks//Divergent Bracelets//Pineapple Watch
 Camo Dress – This was an Instagram find. When my brother says that I spend all my time flicking through endless (and pointless) selfies, I can prove him wrong because I find little gems like Somewhere Nowhere. There stuff is AWESOME! Like, totally, amazingly awesome. Even though summer is around the corner (on this subject, my birthday is meant to be sunny and 24 degrees, FYI), I would totally rock this on the cooler days. I think it would look awesome with my ASOS Soldier Heels and some sunnies. It's totally awesome (oh, I've already said that about a billion times), and the style is so flattering. WANT… well it wouldn't really be a wishlist if I didn't want what is in it… would it?
Fluffy Monster Print Top & Shorts – Another couple of pieces from Somewhere Nowhere! How awesome?! I remember writing this post on how Sully from Monsters Inc is a new fashion trend, and here is proof! I flipping love them! I think the fit of the shorts would look amazing, again with my ASOS Soldier Heels. So freakin' cool! These 2 pieces are probably at the top spot of my wishlist!
Pastel Lilac Midi Skirt – I've never thought much of Dorothy Perkins, but this skirt has definitely caught my attention! It's so beautiful! It's slightly girly, but because it is so full, I could see myself styling it in so many ways. I also love the stripey mesh detailing, makes it that tad bit more interesting. What do you think of it?
Polka Dot Scuba Mini Peplum Skirt – I am in LOVE with scuba at the minute. It looks so structured and every time you wear it, it just looks like it is brand new. I think this skirt would be so cute for summer, especially when you are down at the beach. I wonder whether these sorts of clothing actually work like wet suits? Haha, you never know! If they do, that would be one cute little wet… skirt? Hahah deary me…
Holographic Top – Yes, I know, I'm still banging on about holographic things. I only own my £5 River Island purse, and my sort of holographic ASOS Soldier Heels (mention #1192423412423141), so this would be amazing! It's actually slightly pricey, but I think it looks AMAZING and I could look over the price… if somebody bought it for me *insert crying from laughter emoiji*
Dreaming of Chanel – If you haven't seen this post I did on my Top 5 Fashion Books (read it, it has a give-away *evil cackle*), then you won't know that I have already read Dreaming of Dior, which was fabulous (read the post… it has a review…). When doing the post (READ IT), I discovered there was another book, but not about Dior… about Chanel! I must own it immediately. In fact, it needs to be delivered to me on a tray with orange juice and a nice warm croissant (with Nutella on the side), wrapped in holographic wrapping paper, with a note saying 'From [insert your name]', in 17 days time *flutters eyelashes*
Divergent Bracelets – If you haven't seen this video (hehehehehe), then you won't know that I have read the whole Divergent series (my boy was it good), and I now of course, need the bracelets to match! These ones I found on Wanelo, are awesome! I don't think I could choose which one to get… probably Divergent as that's the name of the series, but maybe all of them if possible?
ASOS Bits & Bobs – A wishlist by me wouldn't be a real wishlist without some ASOS… I think I actually have a slight addiction with their site… I also have an addiction to floral headbands and when the 2 mix together, well, I think I know what love is… *sings* Isn't it gorgeous though!? I have a black one which is perfect (even for summer), but this one is more colourful and just all round awesome… and not too badly priced either!
I'm on a bit of a pineapple high at the moment, so when I found some pineapple socks (£3… I  can't resist… perhaps a pre-birthday treat?), and a pastel pineapple watch, I knew I had to share them with you! To be fair, the watch isn't that awesome, but it has pineapples and pastels on it, so I ain't complaining!
I hope you liked this wishlist! I shall see you soon my beautiful ones…
Oh and my address to send all these goodies is… Tolly Dolly Posh, I'm Only Kidding, But I Would Really Like These Things-shire *giggles*
Lots of Love… Tolly Dolly Posh xx