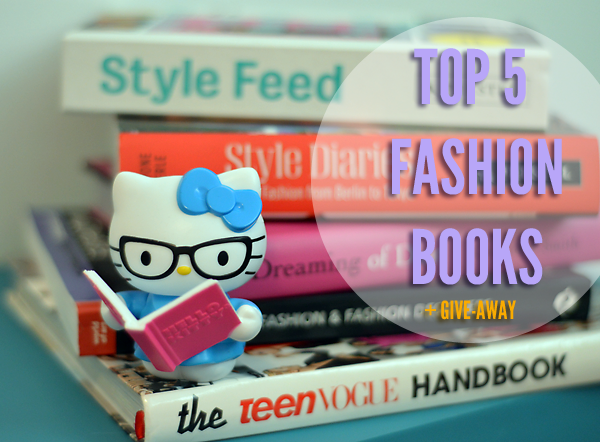 Hellooooo! Happy Easter! Today I have a post which has taken me quite a while to get together, but hopefully it shall be worth it because 1, you will like it and 2, there is a give-away at the end! I've picked out 5 of my favourite fashion books and am going to review all of them for you! I hope it is helpful and you find some new reads at the same time! Enjoy! Look at me as well… putting a picture before the intro! Something new 😉 …and yes that is a McDonald's Hello Kitty toy… Please note that this post isn't in an order!
Let's start with the most obvious one… by that I of course mean, the Teen Vogue Handbook. I have read this all the way through, and it is pretty darn good! It's basically a book going into the lives of people in the fashion industry, and how they got there, along with tips and tricks on how you can get there. The cool thing is that as you go along, it asks questions to do with each job that there is available. You get to learn so much about each part of the industry.
The layout is beautiful and all the pictures are gorgeous which makes it such a nice book to read. In each section they have a page which is a 'tool kit' for that job, and I love it! There are pages focusing on people like Anna Wintour, the Teen Vogue Fashion Market Team, Phillip Lim, Mario Testino, Marc Jacobs, and many more, so you really get a feel for what life is like in the fashion industry. One of my favourite pages is page 206, where they tell you how a shot was created for a photoshoot, and it is hilarious! At the back of the book they have a list of design schools, the prices, what are the benefits of each one etc, and it is actually surprisingly helpful!
Would I recommend it? – Yes! It's really interesting and you learn a lot.
Who would you recommend it to? – I would recommend it to anyone who thinks they might want to have a job in the fashion industry, or anyone who is generally interested in fashion!
Any cons? – The only con really is that because there are so many pictures, at times you forget to actually read the book, so if you are a looker not a reader, then this might not be for you!
The next one I have is the Thames & Hudson Fashion and Fashion Designers Dictionary. Now you might think, Tolly, why are you reading a dictionary? Well my friend, because it is very very insightful. Although I read it before bed and I cannot actually remember things off the top of my head… that is not to say it is a bad book! I don't really know how I can describe this book because it literally is… a DICTIONARY! It's full of everything about fashion, and it is actually what helps me make my topics for my A-Z series.
Not like the Teen Vogue Handbook, you can actually read it without getting distracted as there aren't that many pictures. I would probably like a few more for things like shapes etc, but I wouldn't say it is a problem. For the value, I think you are getting a lot from this book and it has been really helpful for me!
Would you recommend it? – Yes! Not much more to say, but a definite yes!
Who would you recommend it to? – Anybody who needs/wants to learn about fashion. I would say any fashion student needs this book in their life!
Any cons? – Only the fact that sometimes a few more pictures/diagrams are needed!
This is a book I didn't really realise I was going to like until I read it page by page. Dreaming of Dior is a book all about a collection of dresses that the author has inherited and she basically tells the story of each dress through this book. Some of the stories are heart-warming and some are sad, but the book is just gorgeous to read, and it's all real!
Each story is quite short so it's a great book to either read all the way through, or time to time. I love looking at the illustrations of the dresses and deciding which one I would wear, or not, or how I would change the dress to make it suit me. It's not necessarily a learning book, but it's too lovely not to include.
Would you recommend it? – Absolutely! Even if you don't learn from it, it's a great read!
Who would you recommend it to? – Anybody who loves clothes will enjoy this book!
Any cons? – Nope… maybe the stories could be longer, but maybe that is what makes the book great!
Of course being a blogger myself, I had to include a fashion blogging book. Just like the Teen Vogue Handbook, you've probably heard of Style Feed before. The book is basically about the world's top fashion blogs, from 2005 – 2011. It's written by both William Oliver and Susie Bubble, and it features some really interesting people and their blogs. Of course it is understandable but quite a few of the blogs are those ones we all know about like Tavi G, The Man Repeller, Anna Dello Russo, etc etc, which kinda' irritated me because I just wish smaller blogs got into these things!
I would say this is more of a coffee table book… maybe not in my case seeing as it was printed awfully (I have to miss out a few blogs), but the reason it is, is purely the fact that I don't really find it that interesting. Not to say that everyone else will feel the same way, but IMO, it could have a bit more too it. A plus would be the outfit inspiration in this book… they are awesome! The reason it is in my Top 5 though is because I am sure other people will love it more than me!
Would you recommend it? – Yes and no. I think it depends on who you are!
Who would you recommend it to? – Other fellow bloggers and maybe students wanting to learn more about blogging.
Any cons? – My copy was printed terribly, and I didn't think it was very interesting.
Along the very same lines we have Style Diaries which I absolutely prefer to Style Feed. Other than just featuring the top blogs in the world it features loads more, smaller ones too! There is so much diversity in this one too, which makes me smile! Plus, there were no printing errors! Yipee!
If you are on the look out for new blogs to read, but don't want to keep tweeting everyone and anyone, then GET THIS BOOK! There are male fashion bloggers, vintage fashion bloggers, punk, modern, crazy and cute fashion bloggers in this book and you are sure to find a new favourite! Although there are lots of lovely pictures, I would say that this is quite a pricey book for what it is… but for the inspiration, and for all the new blogs to find, maybe it is worth it!
Would your recommend it? – Yes, yes, I would!
Who would you recommend it to? – Bloggers, blog readers, fashion loving people!
Any cons? – The price… as I said, there are a lot of pictures… maybe try find it second hand?
GIVE-AWAY TIME! WIN 1 of 5 COPIES of Model Under Cover
A while ago (here) I promised that I would be giving away 5 signed copies of Model Under Cover by Carina Axelsson, and here I am, doing exactly that! All you have to do is fill in the entries in the widget and voila! 5 lucky people will get 1 signed copy each, where ever you live! I also got to ask Carina a couple  of questions, so check it out underneath the widget!
 Before you started writing this book, you were PA for John Galliano. Is the writing industry as buzzing and fast paced as the fashion industry? What made you stop and turn to writing?: Fashion is constantly changing so you have to move quickly to keep up. Also, because it's so youth oriented, fashion is at the forefront of new trends and ideas. All of this gives it a high day-to-day buzz. That's just fashion: it's always "on". For me, as a writer, publishing moves at a much slower speed than fashion, but that's because the process of writing and publishing just one book takes oodles of time! As soon as it's publishing time, the buzz picks up and the buzz is intense, and after a while I start yearning for some buzz-free days!
Could you describe the sort of person who might enjoy Model Under Cover?: Ooh! That's easy! Anyone who wants a thrilling, page-turning read! Model Under Cover: A Crime of Fashion has a juicy mystery, and fresh, young romance set against the glittery, fast-paced world of fashion; these are things that I think interest most of us. I also think that Axelle's sassiness will appeal to all kinds of girls.
I hope you liked this super duper long post! I will be back with another post on Fashion Revolution Day talking about something quite interesting! See on the 24th April!
(This post is not sponsored or in anyway in work with Amazon or Usborne Books. Amazon links are affiliate links. Usborne Books gave me the chance to give-away some books, so I took the chance! Read my full disclaimer here.) Lots of Love… Tolly Dolly Posh xx