The other day I had a bit of a brainwave… why not share some creative people's scrapbooks in my Scrap Social series? You guys seem to love the series so much so it only seemed to right to share the love! So today I have fellow blogger, Holly Cassell, from The Persephone Complex! I've asked her 12 questions to go along with some of her favourite pages, and some of the answers are pretty interesting! I hope you enjoy…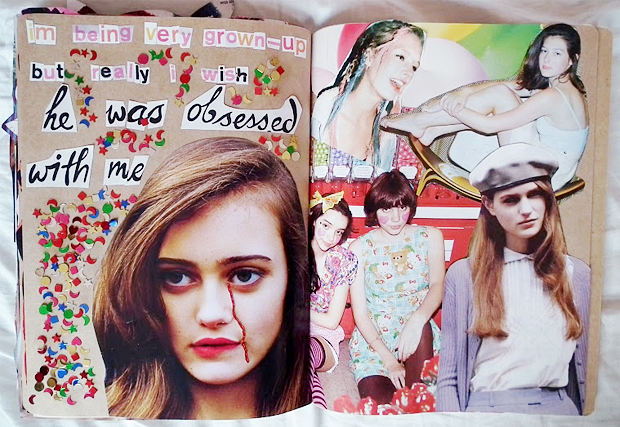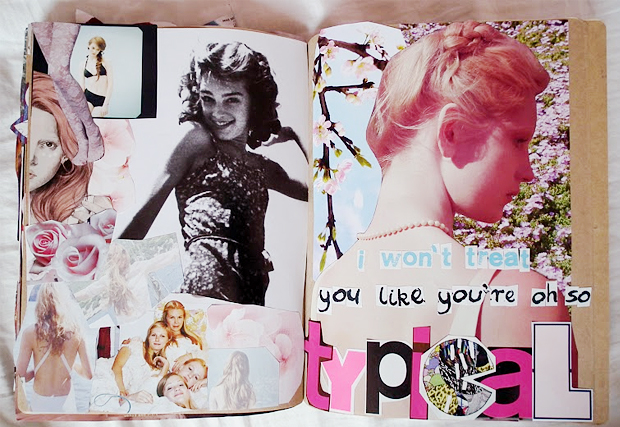 Why do you use a scrapbook? It's cathartic, mostly. I make pages about people, things I've experienced, dreams I have, or even certain sub-sections, or mini characters, within my own personality.
What are your favourite methods? I find cutting paper and gluing it down really trance-like, and my method remains pretty much the same no matter what. I like to think of a concept for a page, choose a phrase or a lyric that is stuck in my head, and then look for images that suit the mood of what I'm trying to make. I have some cute craft materials and I always use acid-free glue so that my work won't ruin over time.
You feature a lot of text in each page, why do you think that is? I find working exclusively in images or exclusively in words really limiting and frustrating. I always need both to express myself. Which is probably why I love blogging so much too! You can get so much more across by mixing mediums. The right words can completely change the meaning of an image, and vice versa.
Has your scrapbook inspired you for any ideas/projects (or are you going to start one because of it)? Definitely! I'm currently working on an ebook that should be available via my blog quite soon, featuring new material as well as some of the stories behind my art. It's going to be a deeper, more explicit insight into my art journal and why I started making the kind of work that I do, which often focuses on some very dark themes.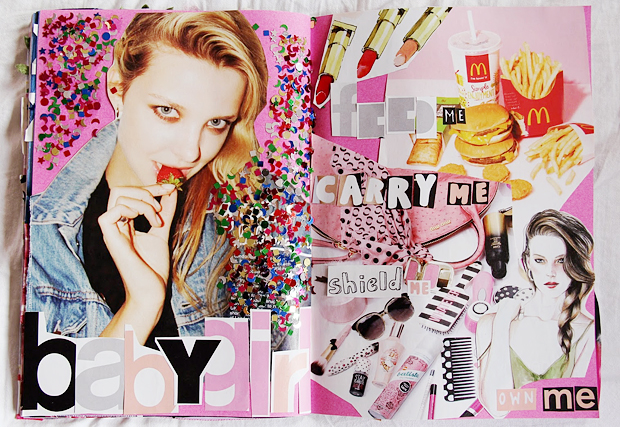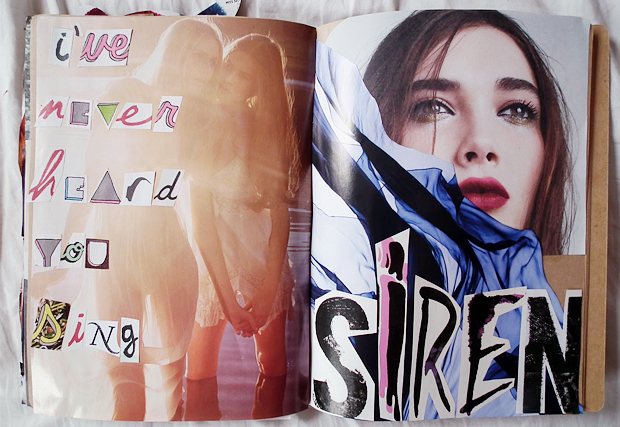 Do you think each page represents a period in your life, or the mood you are in? I can sometimes make a whole collage about something as small as a text message that has been sent to me. Sometimes I won't make one for months. I have a strange mind that sometimes chooses to focus on unlikely things, and see importance or beauty where there isn't any. My pages are just the manifestation of this slightly off-kilter focus.
When and where do you create your wonderful collages? Always in my bedroom. Always at night. Always listening to music.
Do you think your scrapbook is a representation of your personality? I think most people have many different personalities that they inhabit at different times, or around different people. I use my scrapbook as a way of coming to terms with them all, or expressing something that I don't get to in "real life". We keep a lot of ourselves bottled up, and because of that, those parts are often the most beautiful and shocking when splashed across a page.
You've bought a new magazine which would be perfect for scrapbooking… do you chop it up straight away after reading, or wait a little while until it's considered 'old'? HAHA That's such a good question! I usually wait for a while until I've read the magazine a few times, but sometimes I do get impatient. If a magazine doesn't interest me very much I'll be ruthless and gut it straight away. I'm not precious about magazines any more. I see them all as potential collages..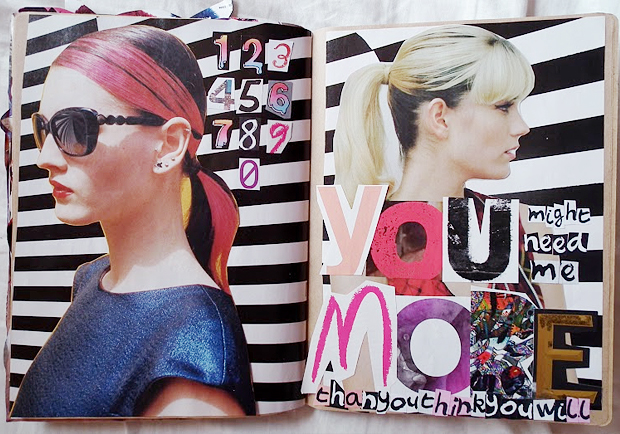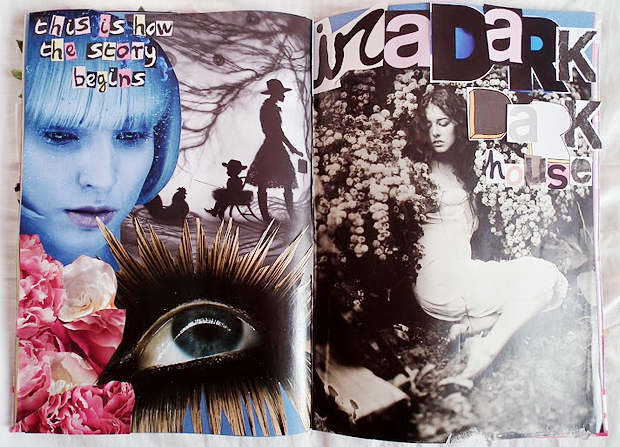 This top image is my favourite page, which is your favourite out of this selection? If I had to pick one I'd probably choose "This Is How The Story Begins". As far as my aesthetic goes, this one really represents me. It's quite dark and fairy-tale themed, and the words are menacing and hopeful at the same time. They were said to me by a real-life monster I met once.
Paint or Ink? Ink, just because I'm a better writer than I am painter.
Neat or Messy? Both.My collages are very precise, but I wouldn't call them neat. Kind of like an organised explosion.
Glitter or Puffy Paint? Glitter paint. Glitter everything.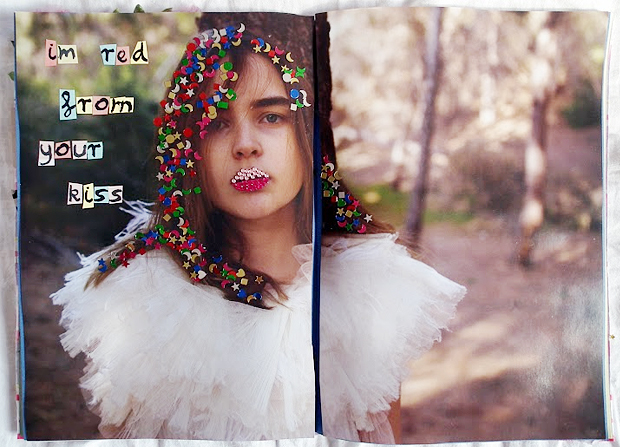 ~ ABOUT HOLLY ~
Holly is a blogger and freelance creative-type who lives in a pretty white apartment she's too lazy to keep tidy. Her work is mostly inspired by love, text messages she receives in the middle of the night, and archetypes from ancient literature that no one else remembers. Her floor is always covered in glitter.
 BLOG – TWITTER – INSTAGRAM – PINTEREST
---
This was so interesting! A big thank you to Holly for letting us take a dive into her scrapbook! I love some of the pages and they have definitely given me some inspiration for some of my own pages. Let me know in the comments what you think of Holly's style, and if you'd like to share your own pages in your very own post! 
Lots of Love… Tolly Dolly Posh xx