Growing up means growing up in size, which also means growing out of clothes you love. Sadly this means having to pass on my favourite ever pair of denim mom jeans to the charity shop. They cost me under £5 and were the most perfect fit and colour you could ever imagine. I loved them *sob sob*… and I am currently lost without them. I've looked in the shops but I think the online world might just be the answer. Here are 9 pairs of my fave mom jeans on the market!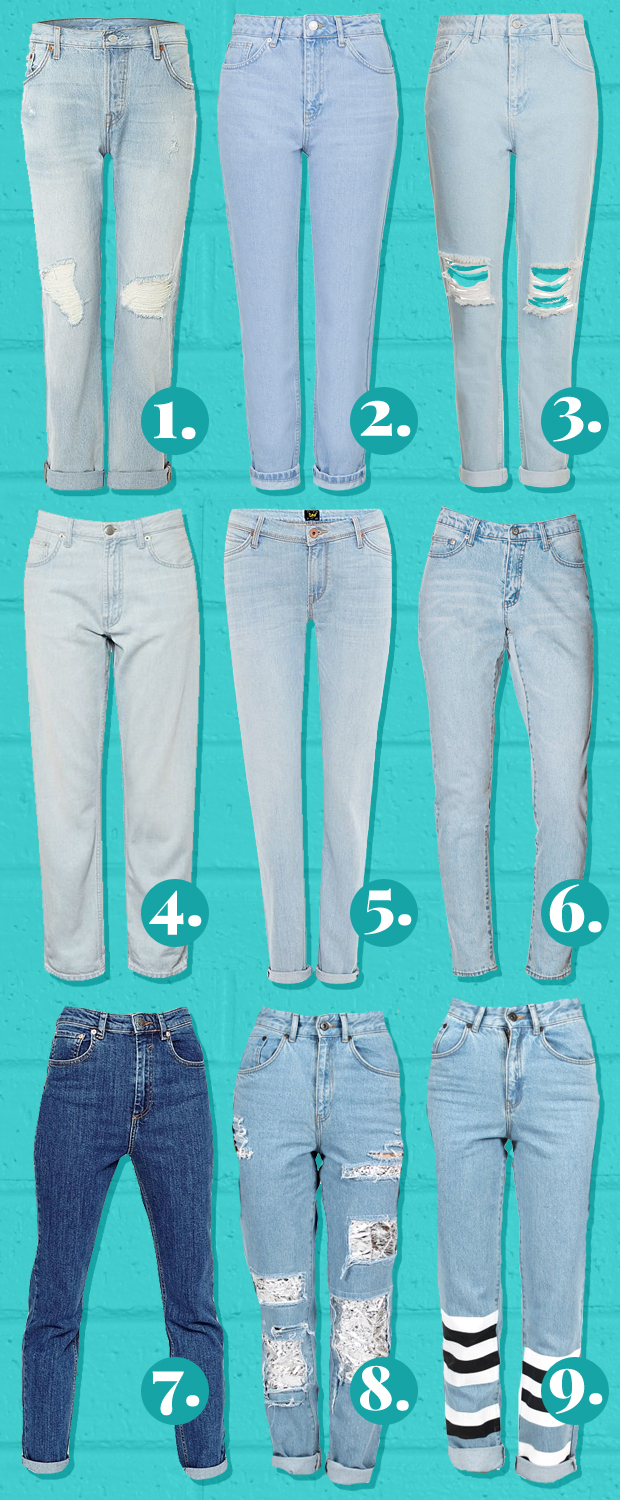 1-3 : Washed and ripped…
As you can probably tell by all of the above (minus 1 pair) I'm on the hunt for a washed out, pale blue pair of mom jeans. I have come to realise though, that mom jeans usually have rips in them?! I'm unsure on how the two go together, especially in a pale blue shade. I found the Levi's on House of Fraser… they have an awesome selection of women's jeans!
---
1 – LEVI'S 501 RIPPED JEANS (HOUSE OF FRASER)* // 2 – MOTO BLEACH MOM JEANS (TOPSHOP) // 3 – MOTO ICE RIP JEANS (TOPSHOP)
---
4-6 : Plain and simple…
The next set of three are all very plain and simple. I'm unsure of the colour of these, but I would be interested in the fit. Another thing with mom jeans seems to be that the better the fit, the erm worse the price (#TeenLife)… do share any cheaper versions though, I'd love to know! 
---
4 – FRENCH CONNECTION JEANS (HOUSE OF FRASER)* // 5 – LEE SLIM JEAN (HOUSE OF FRASER)* // 6 – DONNA DREAM JEANS (CHEAP MONDAY)
---
7-9 : Something special…
The final 3 pairs are all a little bit different. There's a slightly dark pair which I actually kinda' love, and 2 pairs with a little bit of something special. Of course they couldn't come from anywhere else but The Ragged Priest! I love the mix of sequins and frayed egdes. It's a girly and edgy combo… what do you think?
---
7 – FARLEIGH MOM JEANS (ASOS) // 8 – SCREW UP JEANS (THE RAGGED PRIEST) // 9 – BEETLEJUICE MOM JEANS (THE RAGGED PRIEST)
---
(This post features sponsored content in collaboration with House of Fraser. All opinions are 100% honest. Read my full disclaimer here.)
Lots of Love… Tolly Dolly Posh xx