"Honey, I'm home!" – Okay, maybe not 'honey' but, yes, I am back! The trip was really nice, fun and exciting (shopping, and new born baby cuddles, what more could you want?), but sadly I am back 🙁 I have a cold, and I miss my sister a lot. But, to get things started again, I'm here with teen a/w fashion design collection! Please excuse any abnormal legs in this collection… aha!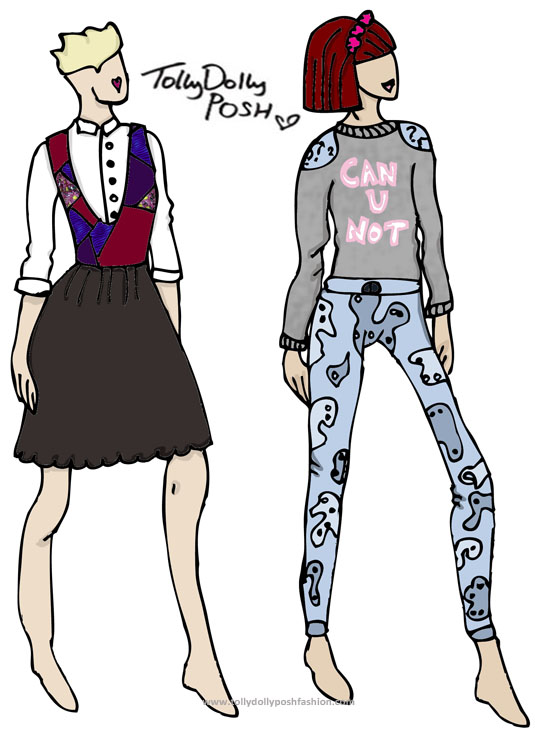 Mixed Knit Pinafore Dress and White Blouse (left) & 'Can U Not' Marl Sweater and Paisley Print Mixed Denim Jeans (right):
I feel like this dress (left) is a mix between an old man's sweater (lol), and a waitress's dress (weird…) but someone how I think it looks pretty cool. I would hopefully make the top part of the dress a knitted part, and then the scalloped skirt either a jersey material, or a chiffon material, I cannot decide! I would also make the top part detachable, because I hate it when the skirt part of a dress is also nice on it's own! The blouse would be an ordinary white blouse, but with some nice floral buttons. The 'sweater' on the right, would be a nice marl fabric, with soft fluffy lining. On the front it has 'Can U Not' (one of my favourite sayings at the moment) in a pastel pink colour. As you can see, the shoulders have a blue detailing, which would have a ? (question mark) print. The jeans are a mixed denim paisley print skinny jean. I would want them to be quite skinny, but comfortable so they would fit most teens.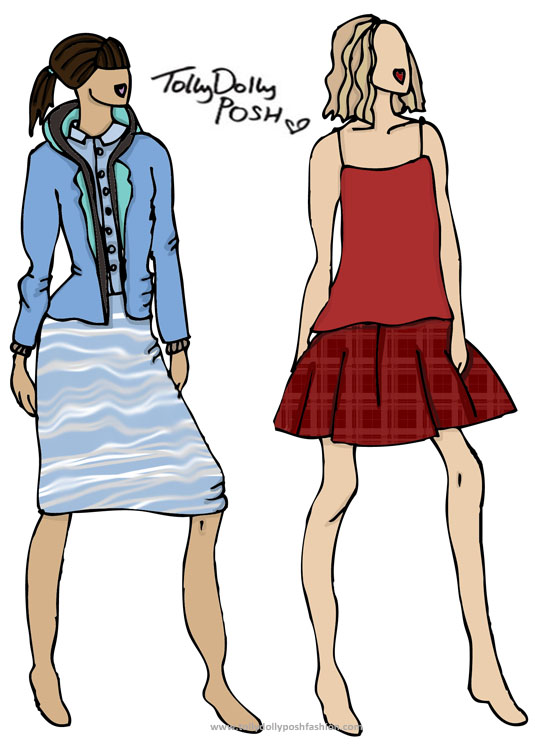 Blue and Grey Hooded Blazer/Jumper, Pastel Blue Blouse and 'Soundwave' Print Tube Skirt (left) & Red Chiffon Vest and Deep Red Checked 'Party' Skater Skirt (right):
I thought of a jacket which would be perfect for teens, whether it was for just casual use, or for at school (if you don't have to wear uniform that is), and I made up the perfect of pieces! It's basically a jersey material blazer, with hood, and a thicker lining, so it keeps the comfort of a hoody, but style of a casual blazer, all in one. The skirt is a tube style, so it comes just to the knee, and the blouse, again is just a plain one, but with the collar in a lighter blue than the shirt itself. The vest on the right, is one of those chiffon-y, lightweight, floaty ones, with skinny straps. The skirt would be a nice thick, but easy wear, skater style, in  a deep red check, to go along with the A/W trends.
I feel like all these designs are very teen appropriate. What do you think? Make sure to leave me a comment down below! Also check out my previous designs here.
**Make sure to check out Let's See, the awesome photography blog, which I absolutely 100% honestly love! (This is a sponsored link)** Lots of Love… Tolly Dolly Posh xx