We're all guilty of keeping a piece of clothing or a pair of shoes in our wardrobe simply for the fact it reminds us of a certain time or moment in our lives, right? When it comes to a spring clean, there's always that one item that you pick up and say, 'I'll throw you out one day' to (yes, I personify my clothes – you're probably guilty of that too), but never actually get around to doing so. But upon thinking about it, I've come to the conclusion that there's value in sentimental fashion and clothing…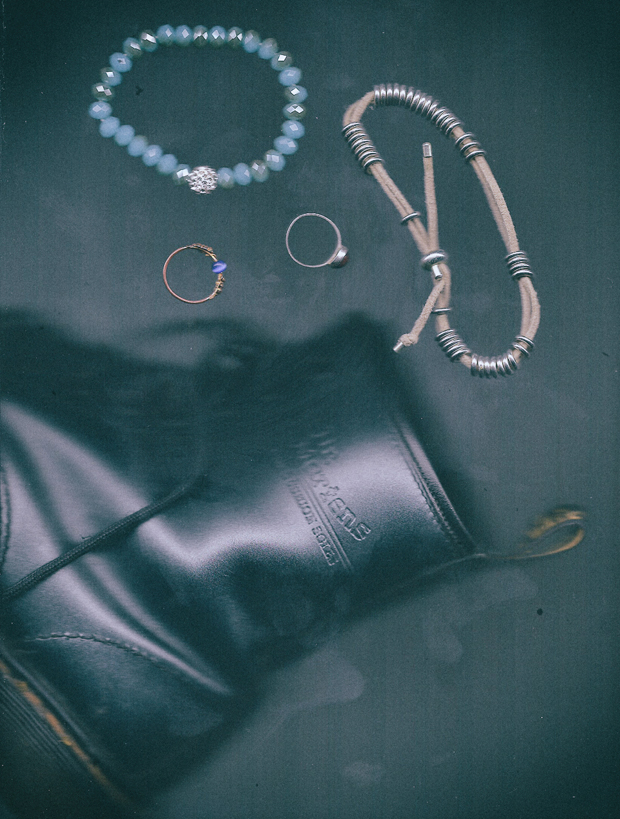 My first pair of Dr Martens // My blue Maid of Honour bracelet // A bracelet bought with my mum // My sister's old ring // My mum's old ring
The value is that it's sustainable. Yes, keeping that dress you've had for four years is sustainable, because it's lasting; it's staying put and not being chucked away or replaced. So, you might not wear it very often, but you might have stopped yourself from buying something similar that one time because you know it's there. You're keeping an item and prolonging its worth, and whenever you see it, you're being thrown back emotionally to a time you loved and appreciated.
There are some items you might own that you never want to lose, so you take extra care of them when you do showcase them to the world. I own a ring (pictured) which my dad originally bought for my mum many moons ago, and I go into a state of panic whenever I can't find it – Note to self: always check leather jacket pockets.
These items are irreplaceable. They don't keep up with the trends. They aren't part of the profit gaining cycle of the industry. They may not even be long lasting items which were made of the best fabrics, but because we want to prolong the memory; we prolong the item.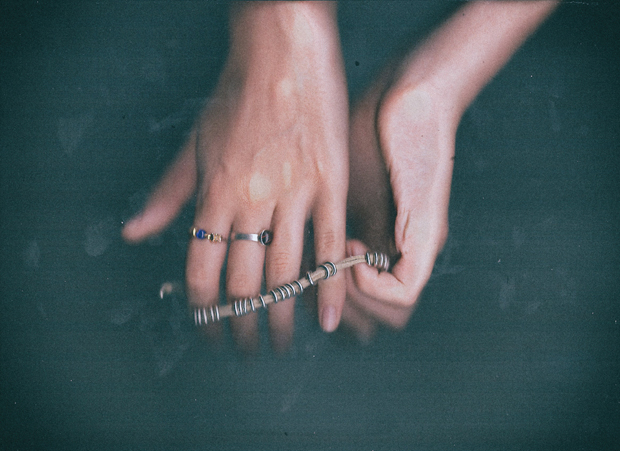 I remember buying this bracelet from a small little shop with my mum.  It was nothing special in the moment, but she treated me to it and it always reminds me of that day. 
There are also those items that one day you might want to pass onto your children (just like my mum did with that ring). If you buy something of value and quality, it's more likely to last longer, meaning you can pass it on in the future. Buying an expensive watch which will last several years, gives you that option to then pass it on to your child. "But it will probably be broken by then" I hear you say… repairs are an option, which is exactly why DIY fashion is promoted as sustainable.
For me, I'm clinging on to my first pair of Dr Martens. It sounds ridiculous, but yes, one day I hope that I can pass them on. They'll remind me of a time in my life and how much I treasured them, and because I know they are of a certain quality (okay, not necessarily of an ethical and environmentally friendly quality), I know that they are going to last just that bit longer and I know that they can carry on being sustainable for much longer than a pair of shoes I could buy some time in the future. They were second hand, they're being sustained, they can be repaired, and they will be passed on again. It's a much more beneficial cycle than that of something new and temporary… which brings me to the idea of the sustainable fashion industry as a whole…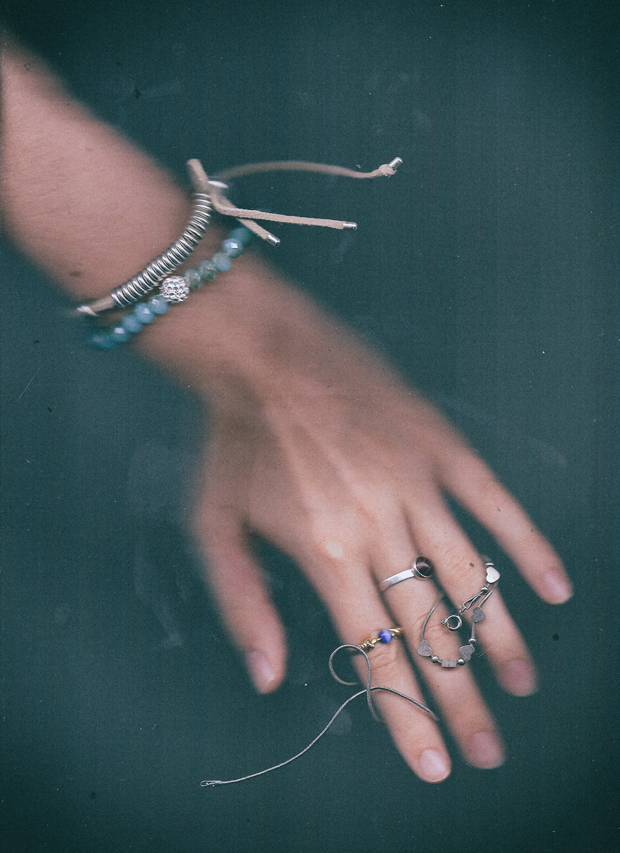 This silver necklace used to also be my mum's and I hold it very close to my heart (a pun which was very much intended).
Sustainable fashion is about stepping out of the profitable cycle of fast fashion, and stepping into the cycle of clothes and items that last longer than the trend they were produced for. Fast fashion is all about trends and keeping things ticking along. To quote a line from 'Stitched Up by Tansy Hoskins' (that I will be reviewing soon) – "It is a commodity cycle of newness that makes clothes go out-of-date and keeps retailers in business."
Sustainable fashion has no sell-by-date or best-before label. It lasts. Buying a product which is made of higher quality fabrics and has been crafted in a way that not only prolongs the item, but prolongs the wellbeing of the earth, is going to be so much more beneficial to everyone (and the children that it gets passed on to).
The idea and meaning behind what a sustainable item is doing, brings us back to sentimentality. If consumers start to be aware of where their clothes are being made and by whom, they'll start to appreciate their items and will stop seeing them as disposable items. We all need to start seeing our clothes and fashion as a whole as something that lasts longer than one season and a few weeks on a rack. If a moment can keep us clinging on for years, then the stories and effects of what we're buying should be able to, too.
What's one item you're sustaining for sentimental reasons? Have you bought anything specifically sustainable recently? Let me know in the comments!
---
I hope you've been liking my posts recently. I feel like I'm back in the blogging game and really know where I'm going with it. I also hope you liked these pictures in this post! I've discovered that I'm in love with 'Scanography' (the art of using a scanner as your camera) and I absolutely love the look and feel of them. I'll talk to you soon!
Lots of Love… Tolly Dolly Posh xx