Howdy folks! Today I have the very last part of letter 'A' from my A-Z Fashion Guide. Yes, I have actually done 3 of these posts now! To view them all, scroll up to my header, and click on A-Z Fashion, and voila! All of the posts will all be in a nice place, easy to get to! 😀 It's just a quick one today, but I hope you enjoy it none the less!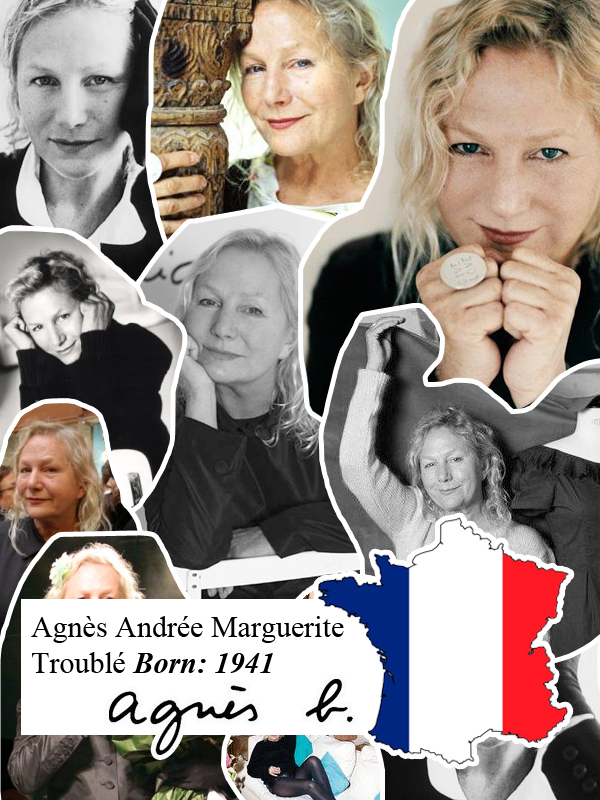 Agnés was actually born Agnés Troublé (she means Trouble… aha) in Paris. At just 17 she joined Elle magazine as a junior editor, but shortly after she gave birth to twins and moved to Dorothee Bis as a designer and then left in 1964 to become a freelancer. Troublé opened her own store in 1975 where she sold clothing to a wide age group. Most of her designs were adapted from French work uniforms, but she also specialised in separates such as cardigans which had a rustic, worn in look. In 1981 she started to design for menswear, and then opened her first international store in New York in 1983. Agnés B is now an internationally renowned designer with maternity, footwear and cosmetic lines.
To me her designs now are very simple and chic, but have that sort of retro vibe running through them. I like the fact that all her collections are very wearable because it means they can match anybody's fancies and are all very versatile. I chose a few pieces which are currently on the Agnés B site…
 As I said the pieces are very simple, but some of them are gorgeous! I am in LOVE with the pastel blue coat, and it's sophisticated shape. You will probably know that I am on a bit of a blouse 'high' so the blouse above definitely caught my eye! I love the print and shape of the dress (3) and how even though it is rather plain, it still looks so interesting. I think the t-shirt is really cool too, sort of illustrative but funky, and nobody can beat a bit of monochrome! The 'Laura Dress' (5) is also divine, especially the back of it which is open. Definitely a dress which you could wear to the beach at night time and drink back a few cocktails (my drink of choice would be a non-alcoholic Cinderella. If you have yet to drink it, then you are missing out!) The checked trousers are a really nice addition too. Simple, classy and very versatile, and could be worn with the t-shirt and coat, perfectly! Très jolie 😉
I hope you liked learning about this lovely french designer! The next part of my A-Z Fashion Guide will be beginning with B! If you have any guesses of what it could 'B' 😉 leave a comment below!
(Images via Pinterest & Agnès B) Lots of Love… Tolly Dolly Posh xx