Hi. Hey. Bonjour. Howdy! – Me trying to decide how to start these blog posts. I currently have chicken pox (yipee!) so this is just a short post as I really don't have the energy so today I am going to be sharing a short run through of one of the SS/14 Trends with you, and before you ask, no, I did not get this idea from The Carrie Diaries. (Images from Dazed, Pinterest & Relevant stores.)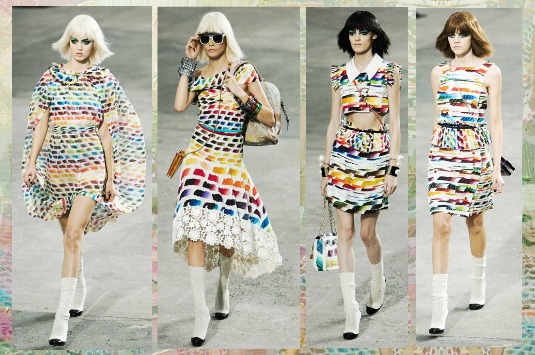 Chanel SS14 – One of the first places I saw the paint stroke idea for SS/14, was in the Chanel collection. It's really simple, yet comes across really intriguing. My favourite look is the 2 piece with the collared crop top! I love how the colours are bright, yet they look so minimalistic and not too over powering. I love how they've made the looks look like (ooh, alliteration) they are casual, when of course they could be dressed up.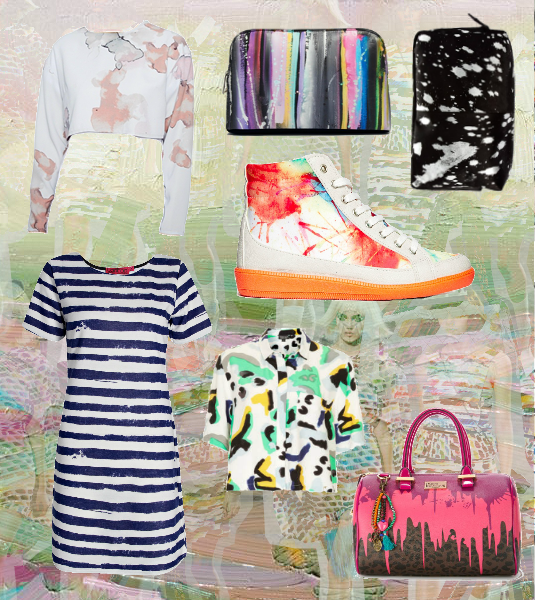 High Street Picks – Long Sleeve Top//Paint Stroke Clutch//Monochrome Washbag//Shoes//Dress//Blouse//Handbag
I think we can all definitely see that the paint stroke and splatter trend is slowly creeping into the shops. One of my favourite things about this trend is the fact that there are so many different ways of doing it. For example, there is the splatter, the stripes, the splodge and the watercolour. They are all so different and are suitable for every body. I think my favourite pieces are the long sleeve top and shoes from ASOS. The top is really simple and chic, and the shoes are bright and funky; a really nice contrast under one roof of a trend! Dah dah! I don't personally own much paint stroke inspired pieces *cough* except my DIY Carrie handbag *cough* blog post coming soon *cough*, but when I go shopping very soon, I am sure something will crop up with something paint inspired! 

What trend are you looking forward to rocking in SS/14? Let me know in the comments below! 😀
Lots of Love… Tolly Dolly Posh xx