An area of ethics and sustainability that I haven't quite cracked on my personal journey, is where to stand with leather. If you've already made the choice with your food to become a vegetarian or a vegan with your diet, then it's likely that your opinions with leather will line up with what you eat. But for those of us who haven't made that choice (for whatever reason that may be – we all have our reasons), I believe leather in fashion is quite a confusing subject.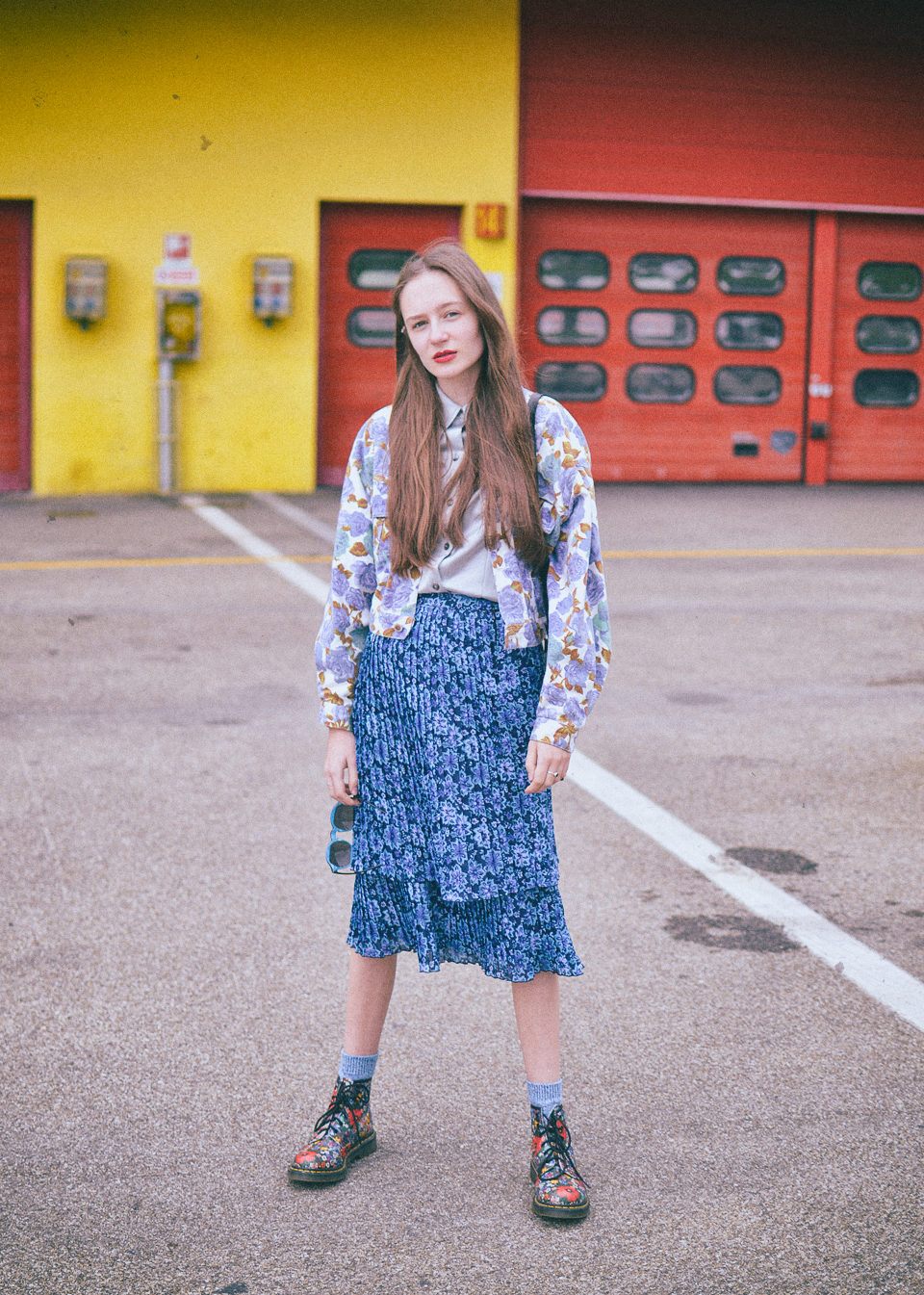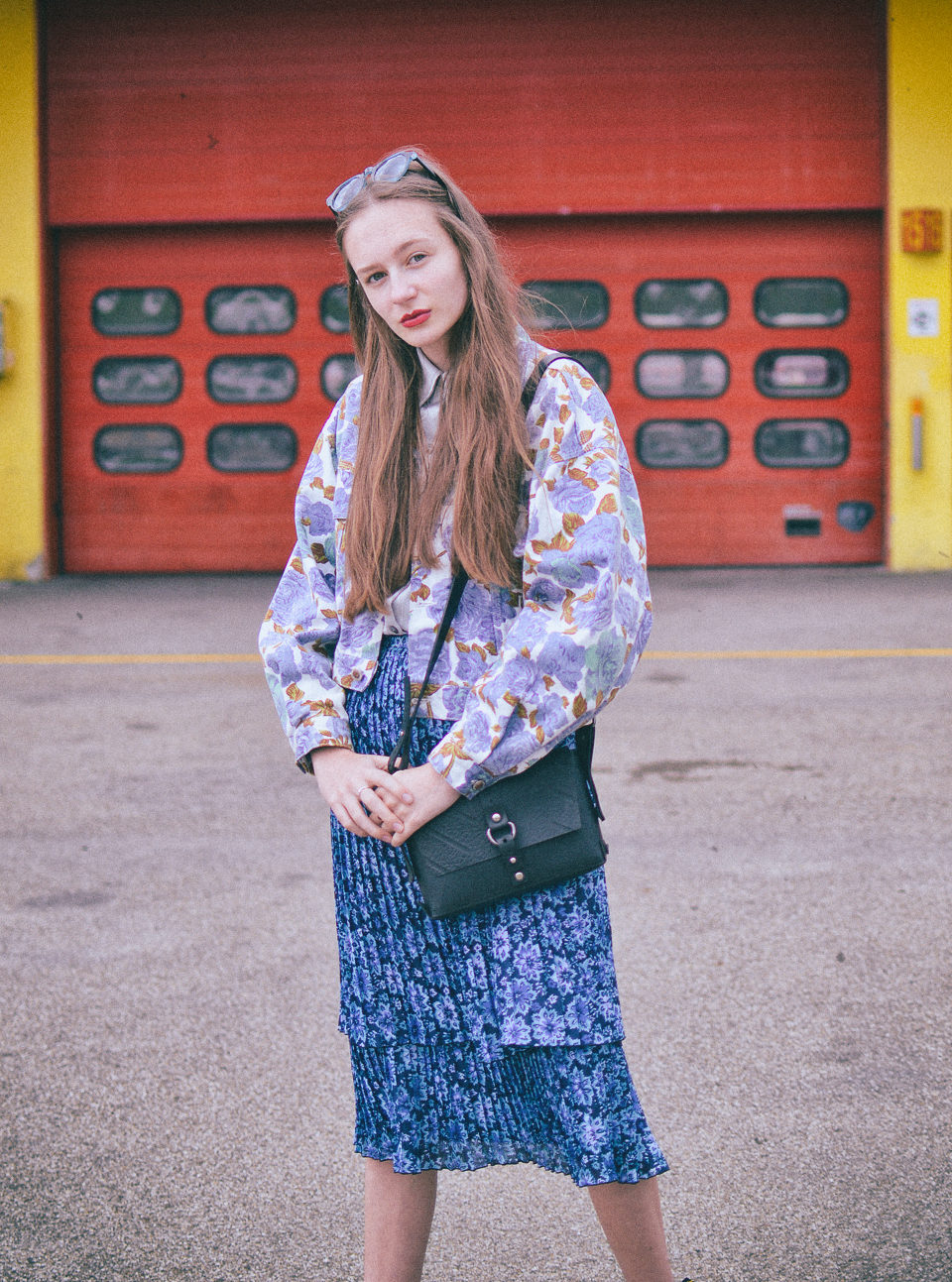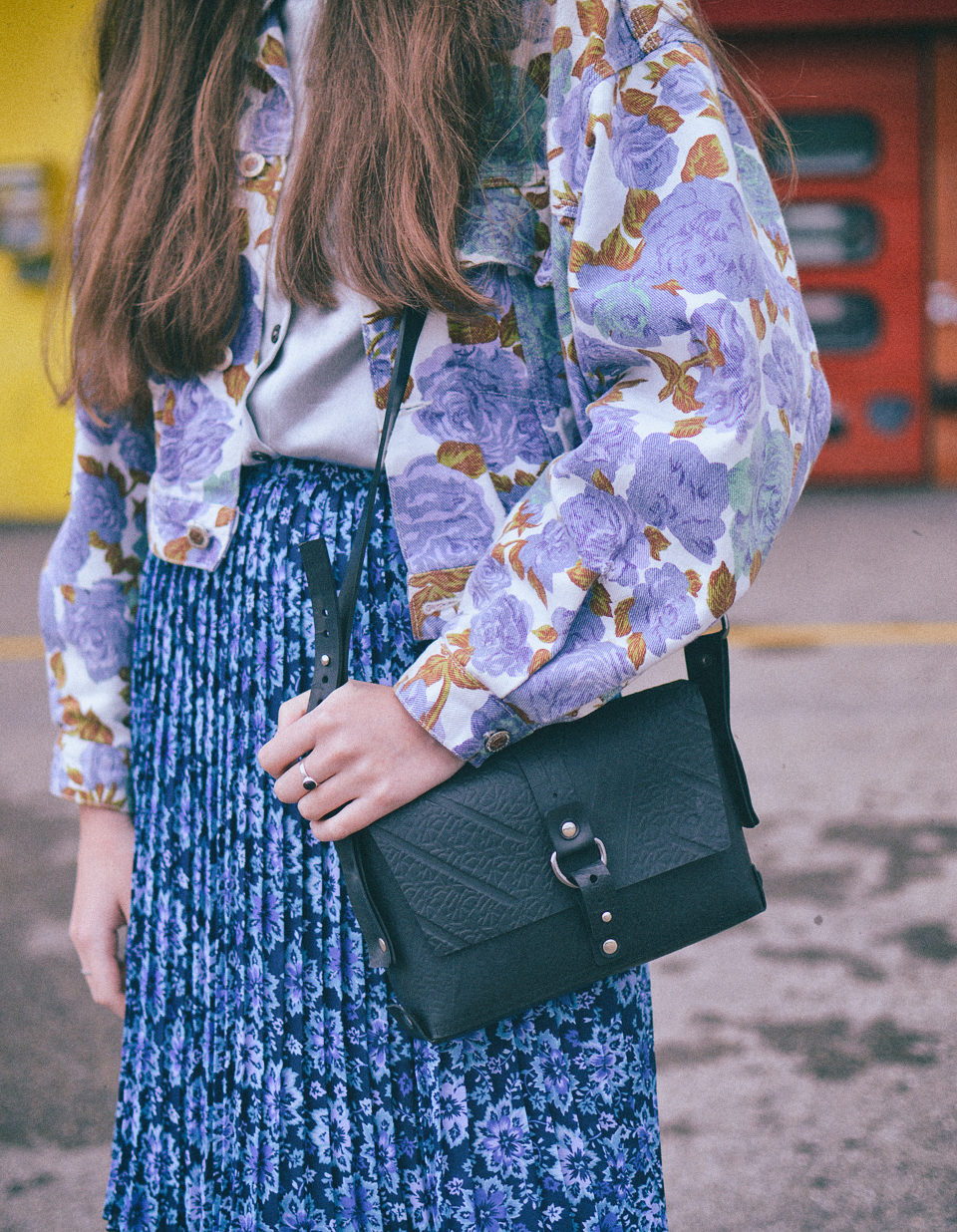 ---
WHAT I WORE: Floral Denim Jacket (Jumble Sale) // Silver Blouse (Charity Shop) // Floral Pleated Skirt (Charity Shop) // Reina Dual Purpose Vegan Handbag (Paguro)* // Sunglasses (Unknown) // Wanderlust 101 Boots (Dr Martens)*
---
I believe for most when we think about leather, we think about quality. Words like 'long-lasting' are associated with our impression of leather and what it brings to the table. However, unfortunately, with recent times and the speed of the industry, fast-fashion has given us the ability to consume and own leather without there being a lot of quality to it or without it really being long-lasting. To Die For by Lucy Siegle is a book which has a fascinating focus and chapter about leather in it – page 201 states that around 14.8 billion pairs of shoes were manufactured globally, eleven years ago in 2006, with nearly 5 billion of them being designed and produced with leather uppers.
As we've started to become accustomed to easily accessible leather, we've started to forget leather's impact on the world. Cattle farming is responsible for 18% of the world's greenhouse gases (another quote from To Die For) which is a staggering number to take into account when the majority of leather produced for the fashion industry is taken from cows. Not only that, in India, which is responsible for 8% of the world's leather production, the country is struggling with the side effects of pollution. A report by National Geographic shows that samples of water from the Ganges are high in Chromium, which can cause lung cancer, kidney and liver damage and other concerning health conditions, not only for leather tannery workers themselves but also for the communities in surrounding areas.
---
The bag that I'm wearing (and quite in love with) is made from 75% recycled materials, or, recycled rubber inner-tubes to be precise. It's vegan and has been produced with ethics in mind by Paguro's partner, Sapu. And if it looks a little different to the modelled version on Paguro's site – it's because no inner-tube is the same which makes every piece a little bit more unique.
---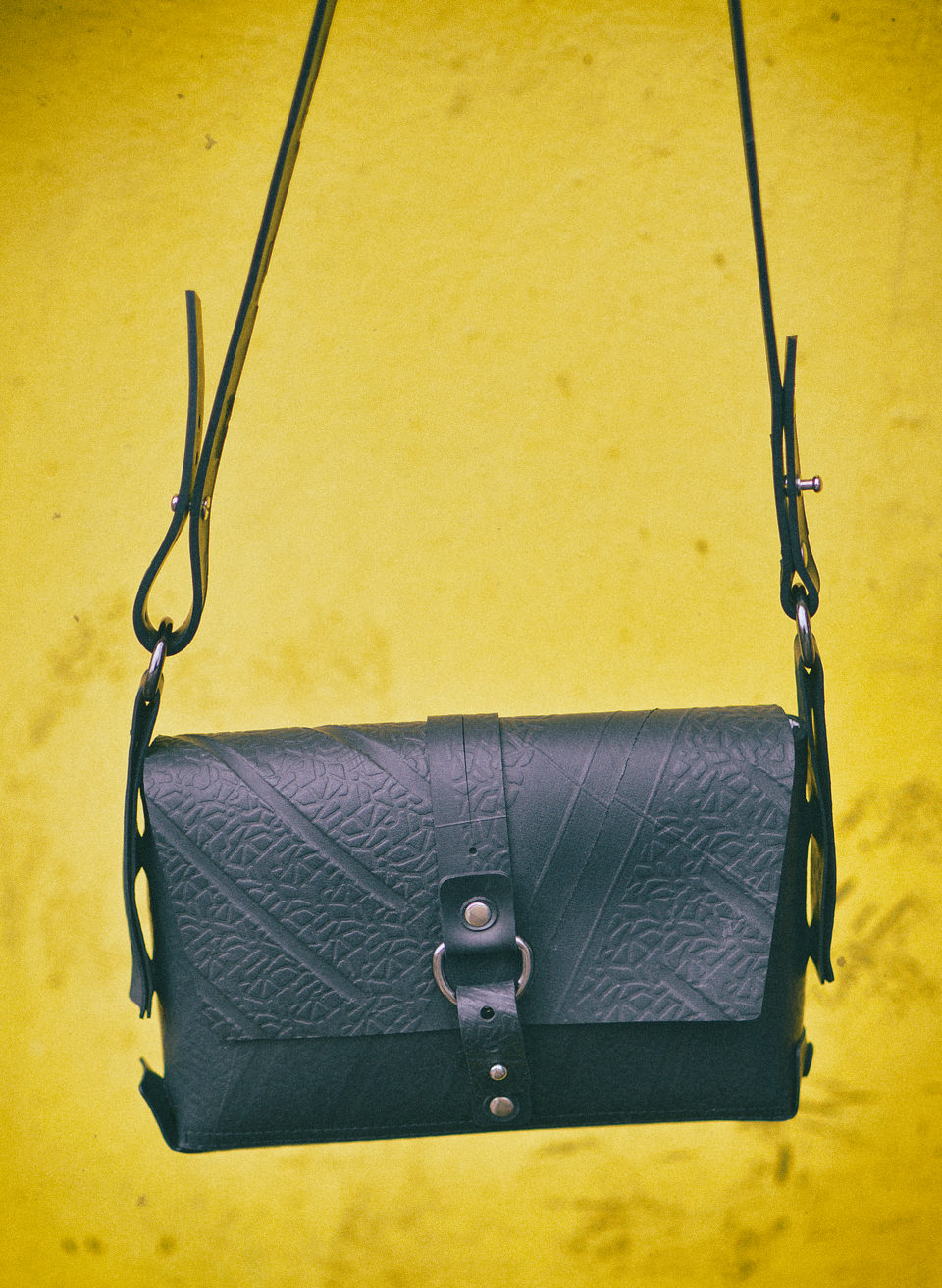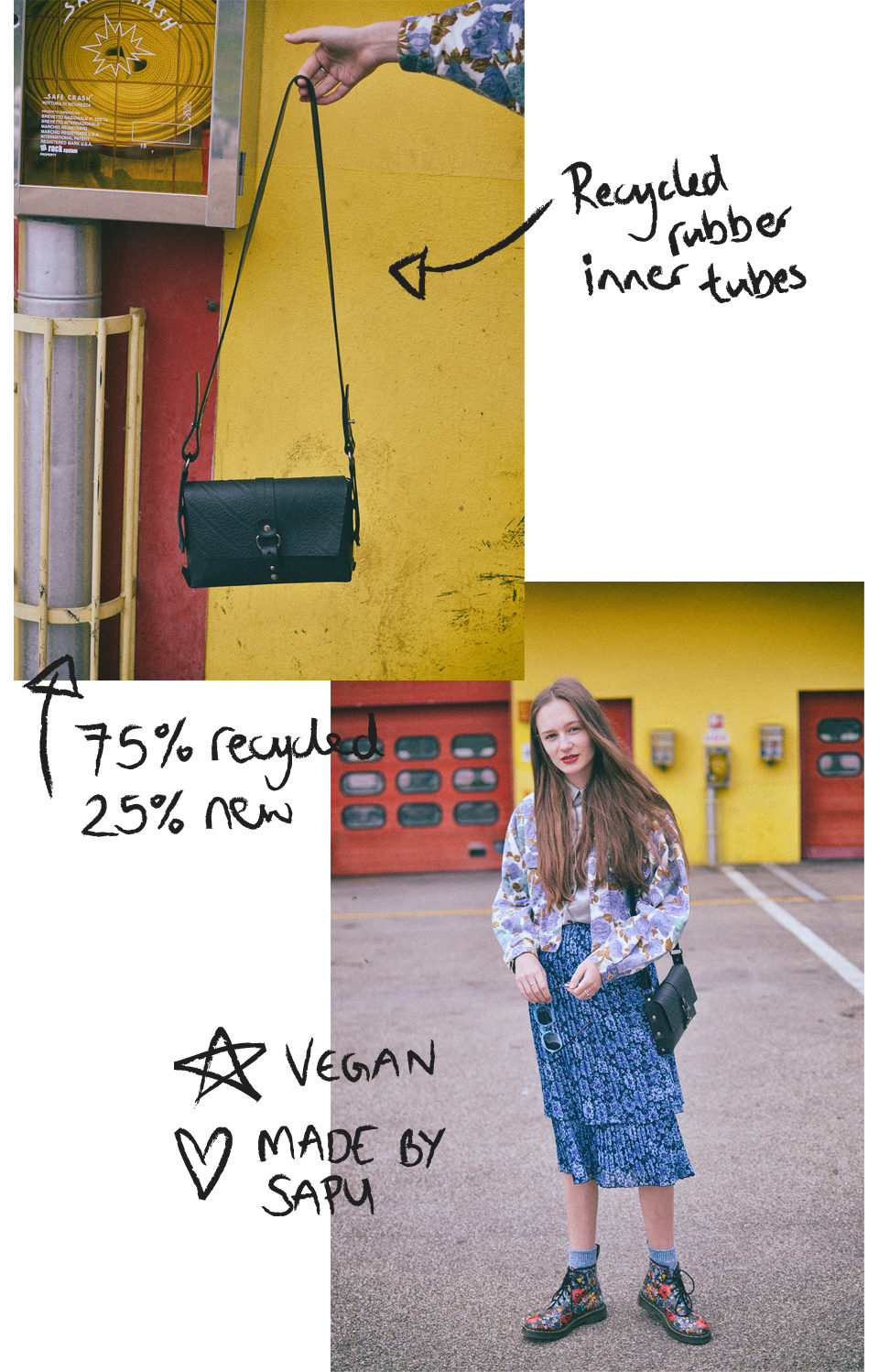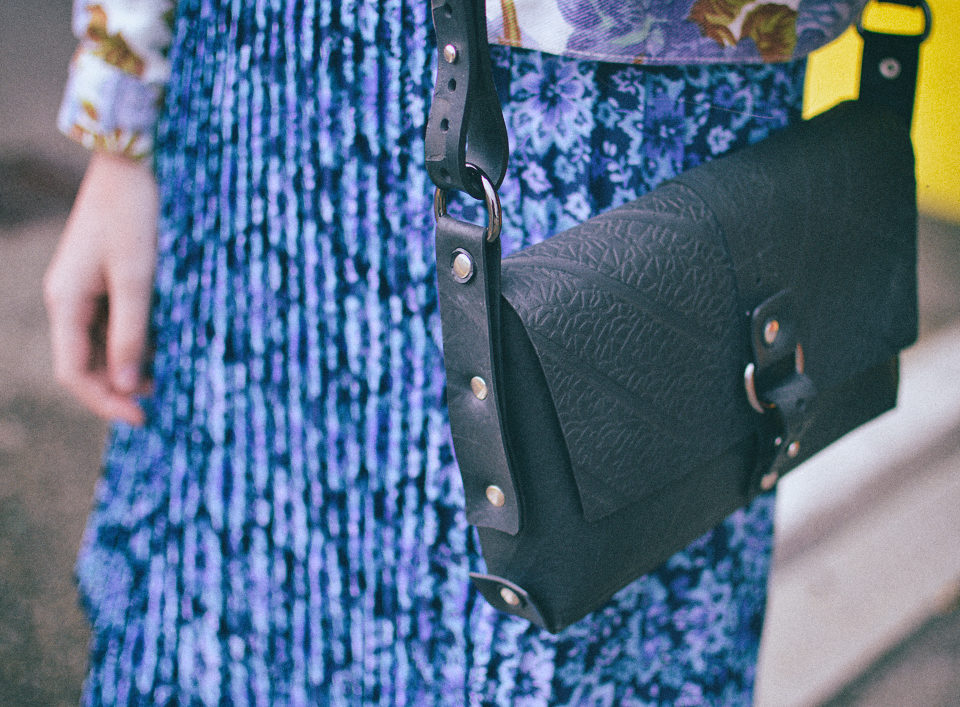 ---

~ WHO MADE MY BAG? ~
Sapu – a group of artists based in the Indonesian town of Salatiga. They are made up of a collective of creative people: designers, artists, craftsmen and recyclists. Moreover, the members are united by a respect for their natural environment. They use unwanted man-made materials, transforming these into jewellery and accessories.

---
Of course, there are some sustainable values to leather. The leather products that I own – shoes, a jacket and two handbags – will stay in my wardrobes for years to come. If I maintain their longevity and care for them like prize possessions then the sustainability factor will most definitely be put to use over shoes and bags which will most likely become damaged and worse for wear over time due to their less robust materials. Overall, I'm personally more comfortable in buying second-hand leather; I'm not directly contributing to the current leather industry and I'm being even more sustainable by reusing something that is already there.
If the working conditions, ethics of animals and polluting processes of leather aren't all that attractive to you then luckily, there are alternatives and if you haven't got the hint from the images within this post, then I'm here to tell you about one of them. I discovered Paguro on Twitter and was instantly intrigued. They use man-made materials but they're recycled and/or off-cuts, so once again; there's no direct impact being made.
---
It is essential to us that the principal element of each of our products is made from a recycled or reclaimed material. The majority of our products are made using the recycled rubber inner tubes of bus and lorry tyres. The rubber is sourced directly from transportation companies in Central Java and is transported to our designers' workshop in the town of Salatiga. All of the inner tubes are recycled and have reached the end of their useful life. 
---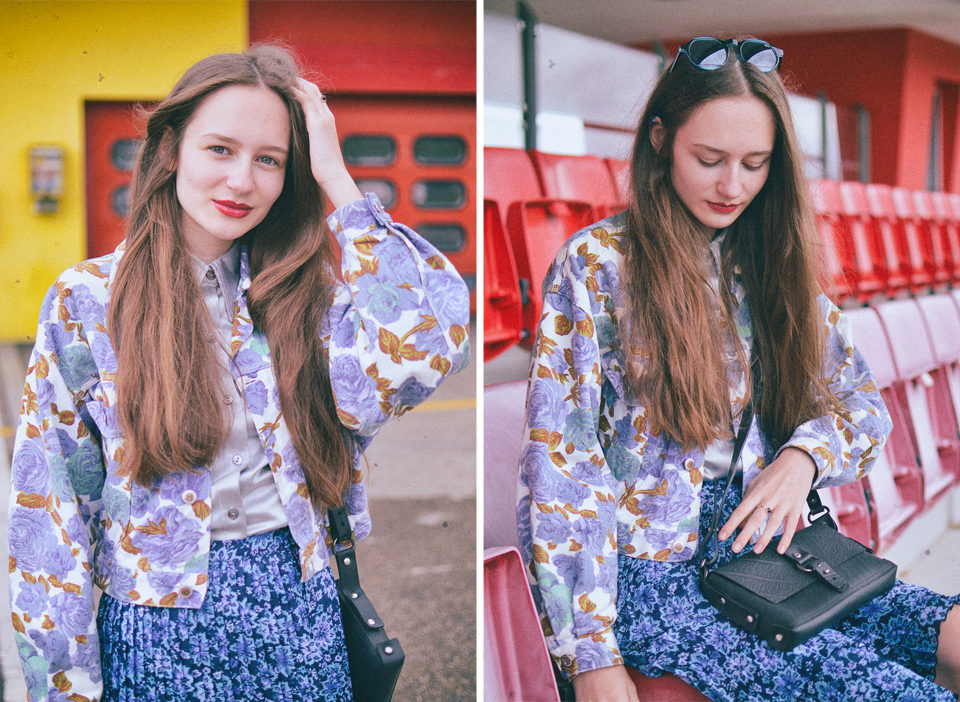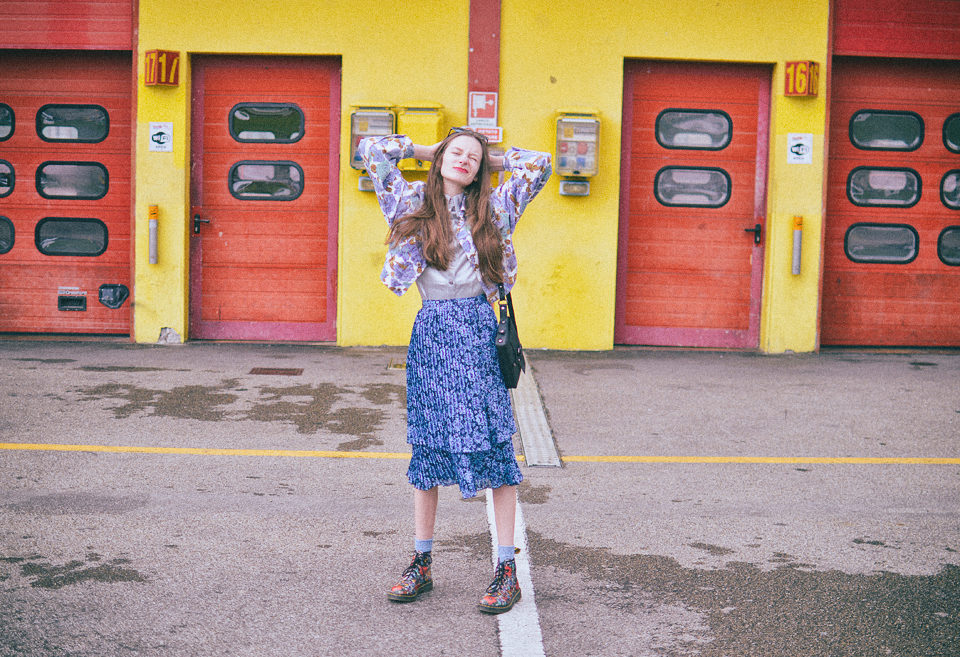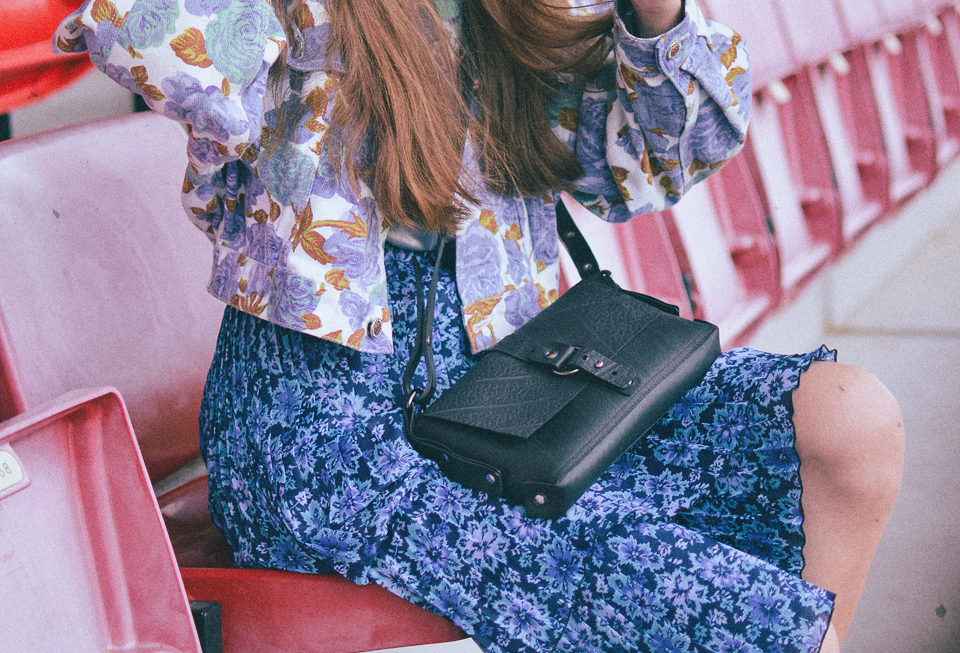 ---
Our production processes are focused on minimising waste. The tyre inner tubes and bike chains, which we use throughout a range of jewellery and accessories, require little work beyond a thorough cleaning. The makers are determined to use as little water as possible in the cleaning process. Whilst there are inevitably offcuts from the production of our inner tubes bags and jewellery, they can generally be incorporated into the designs for smaller products such as our cuffs or earrings. Any material which can not be used in this way is thinly sliced and used in place of cord for our product tags.
---
All of the information I received from Paguro was clear, thorough and concise which excites me because it shows how dedicated they are to their work both in ethics and in sustainability. Their rubber designs will end up lasting far longer than leather too and if you want to keep it in top condition, very little work goes into the process. I can also assure you that the lining is just as cool; mine is striped.
---
We have taken the decision to focus on the use of recycled and reclaimed materials which require minimal processing and we do so for a number of reasons.
Firstly, I feel that recycled materials to have a greater degree of individuality and character in comparison to synthetic materials. For instance, the inner tubes carry patterns which follow the treads of the tyres. These patterns are all distinctive, making each of our products unique.
Secondly, I think recycled materials pose more of challenge creatively. The designer is faced with constraints in terms of the size and amount of the material available and needs to adapt their ideas accordingly. I believe that this leads to a more interesting final product.
Finally, using the materials in their original form is generally better for the environment. Any additional processing with inevitably carry environmental considerations, which I would sooner avoid.
---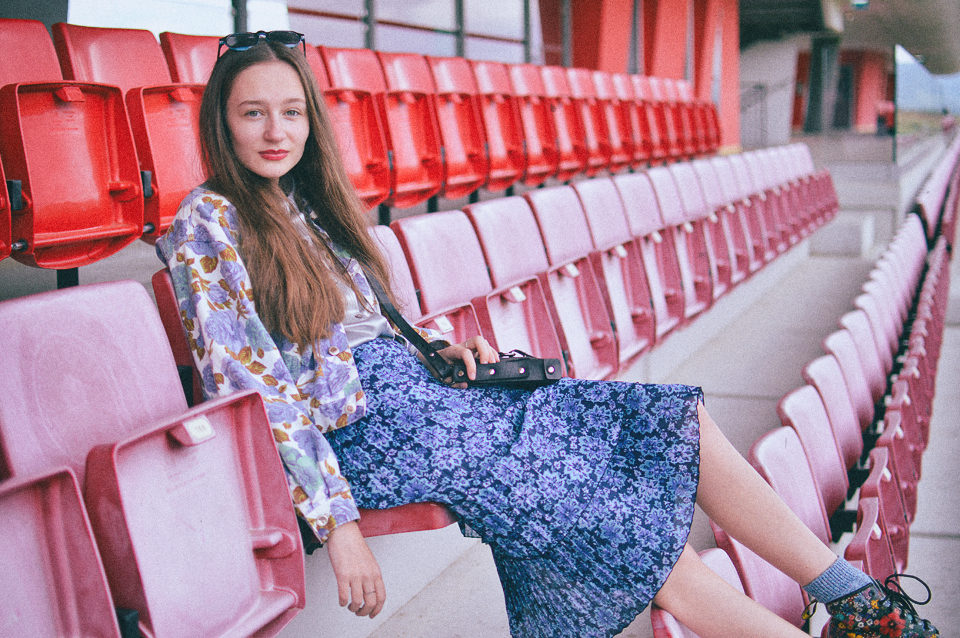 Although recycled rubber isn't the only alternative, my eyes have been opened to a similar feeling, similarly long-lasting option over leather. Pinatex is next on my list to inspect – a leather made from pineapple. See? The possibilities are pretty endless if you really want to try something new.
What leather alternatives do you know of? What are your thoughts on leather? Let me know in the comments!
(This is a sponsored post in collaboration with Paguro. Read my full disclaimer here.)
Lots of Love… Tolly Dolly Posh xx