Honey, I'm hommeeee! Sorry about the delay, but if you didn't know already, I've been home in the UK for a while again, back tomorrow! I hope you didn't miss me too much 😉 Shall we get on to the post now? Yeah! It's just a quick one but I hope you like it nonetheless… I found out about Coca-Cola's new idea to stop the waste of their bottles, and I suddenly had a light-bulb moment! Why not think of 3 easy ideas which can be made with house hold items… especially bottle types?! Genius… hehe (Images via Pinterest & Coca-Cola)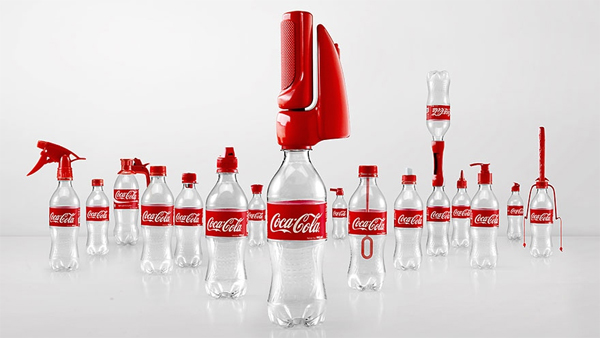 The whole idea, like I said, is to reduce the waste of Coca-Cola bottles. So they've come up with a scheme (only in available in Vietnam currently, I believe!) to give out packs of bottle tops with different uses. From spray bottles, pens, sharpeners, to toys, and even lights! I think it's such a cool idea! I want one… I would 100% pay my very own money for a pack. Would you?! 🙂
SPRAY BOTTLE – BLEACH GALAXY PRINT
My first idea is so simple. Just pop some bleach (or paint) in to an old spray bottle, and spritz at your shorts, top or shoes, and then just add on some details for that whole 'galaxy' look. I've never been the biggest fan, but I think if you put your own twist on it, you could create something really cool! My favourite version of this is the bleached jumper!
PEPPER SHAKER – SEQUIN SHOES
This is probably my favourite idea! Take an empty pepper/salt shaker (I mean, you could do it full if you really wanted that kind of vibe…), fill it up with glitter/sequins, and then glue all over your desired shoes, and sprinkllleeeee! All you have to do after is just touch up any bare patches, but if you get a good glue, this should be really easy and fun to achieve! I think turquoise glitter looks awesome!
SQUEEZY BOTTLE – SPLATTER PAINT CLOTHES
This brings back my Carrie Diaries memories *sobs that it has been cancelled*…. and also ART lessons! Fill up an old ketchup bottle (or a few), with coloured paint, and splatter it all over your item of choice! I would recommend putting a small amount in the bottle, which will help it 'squirt' rather than just squeeze, to create the splattered effect. Or do it with a fine paint brush to do the Carrie Bradshaw bag… I still haven't shown you mine! You guys must remind me 😉
What other household items would make awesome DIYs? Let me know in the comments, I would love to know! I shall see you in my next post with some graffiti… say whatttt?!
Lots of Love… Tolly Dolly Posh xx