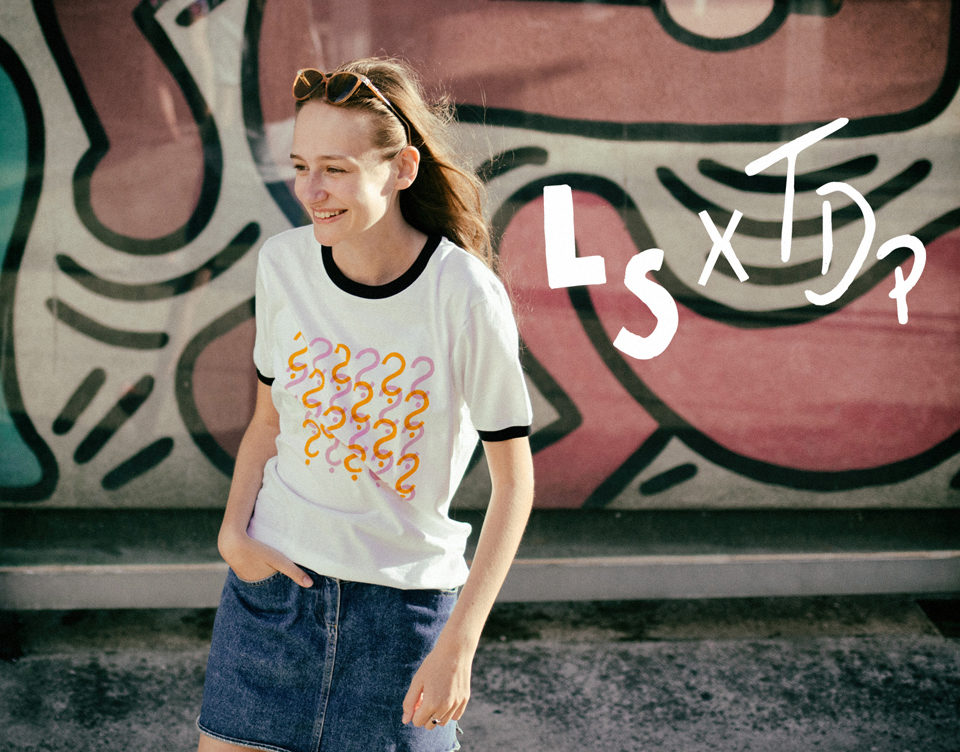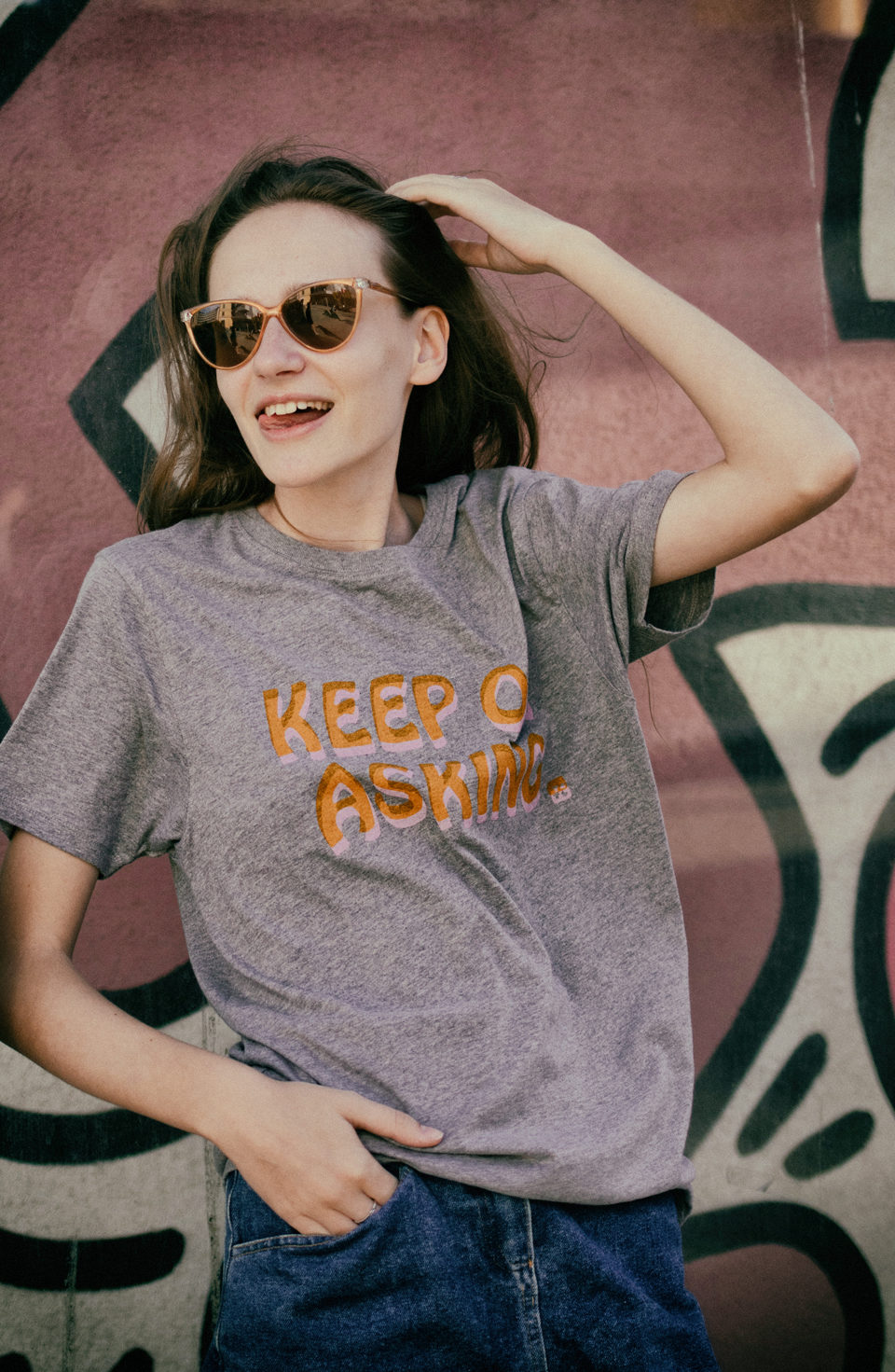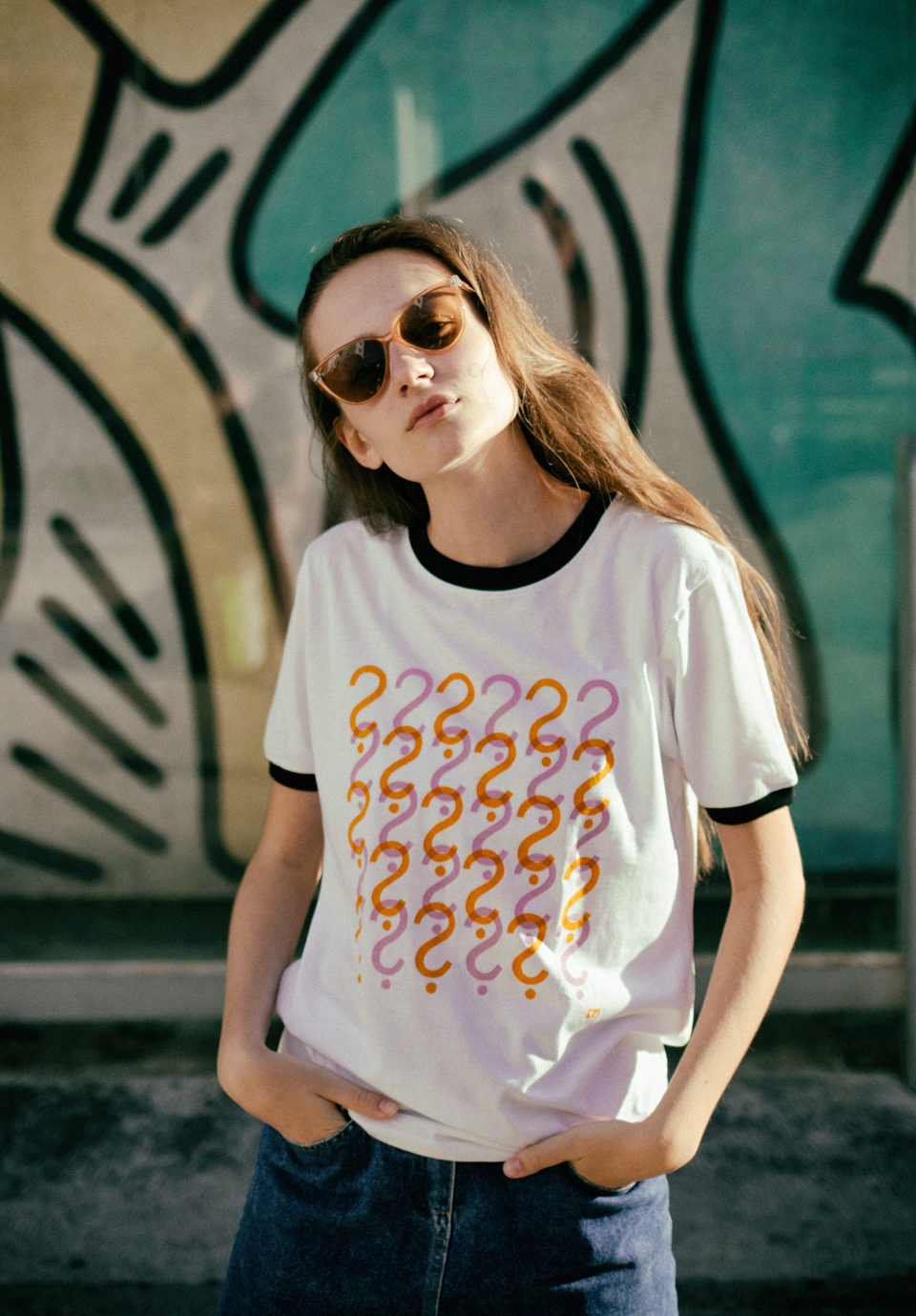 ---
---
I'm so excited to announce that I have officially launched my own ethical and sustainable t-shirts with Lost Shapes! For a large portion of this year, I've been working closely with Lost Shapes to bring you something that we're both incredibly proud to be sharing with you all. A lot of projects like this often don't seem like much on the surface but I can tell you now that a lot of love and hard work went into making these t-shirts possible, so I hope you appreciate them as much as we do!
In case you aren't aware, Lost Shapes are an independent clothing brand from back home in the UK. The wonderful owner, Anna, has built her brand upon ethical and sustainable values to go along side her traditionally hand-printed designs. You might recognise Lost Shapes from my ethical directory.
I couldn't release my first sustainable pieces without making them all about what I believe in. In this post, not only can you scroll through and get a taste of the lookbook, you can also find out the inspirations behind each piece and why they ended up looking like they do.
However, if you're ready to shop already, click the link above. I can't wait to see you all wearing your Lost Shapes x Tolly Dolly Posh pieces!
Make sure to tweet @TollyDollyPosh and @LostShapes with the hashtag #LSxTDP so we can see how you style them.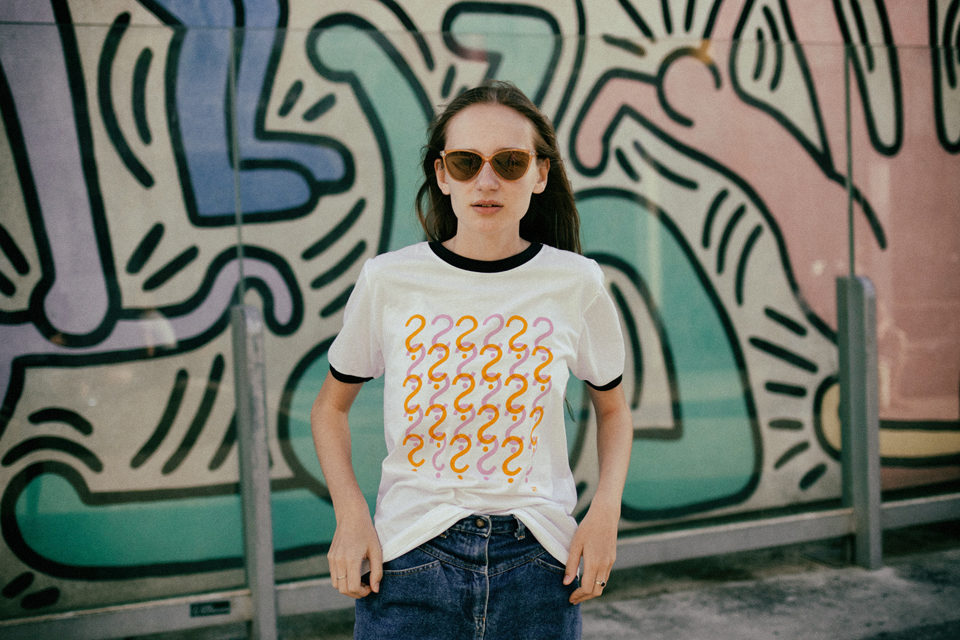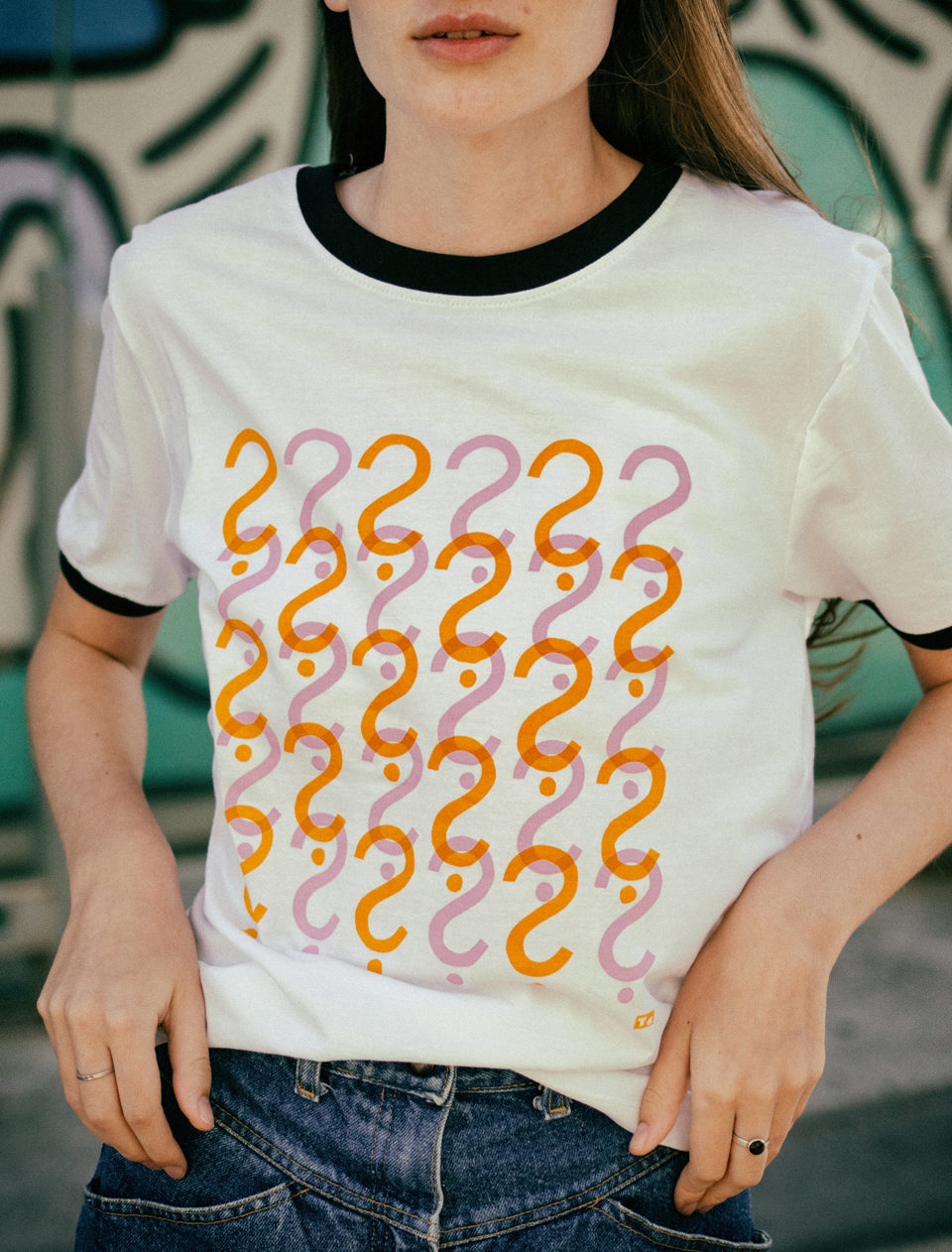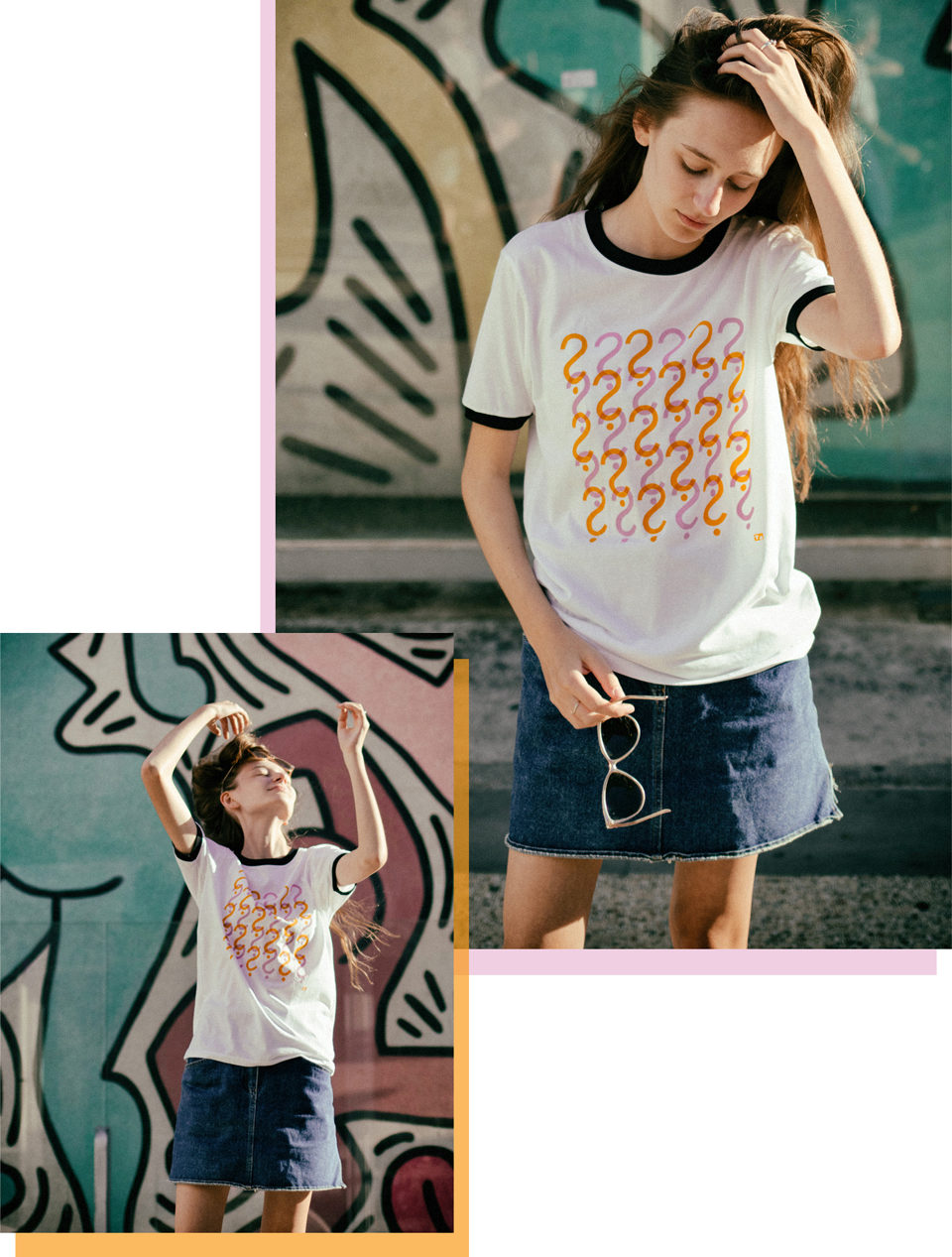 ---
~ MANY QUESTIONS T-SHIRT ~
100% Organic Cotton with 90% Reduced Carbon Footprint
---
This design is inspired quite simply by the idea of questioning the supply chains across the fashion industry. It's a bold inspiration which might not come across to just anyone but it started to be put across from the very first pages of my sketchbook. The question marks are linked like a chain and if you look very closely, the colours cross over each other with slight transparency – that of course was very intentional.
As the name suggests, there are so many questions that need answering when it comes to our clothes, so this is like wearing all of them on a t-shirt which supports answering them. The racer style makes it all the more striking and looks rather good against the backdrop of the lookbook (it's a Keith Haring mural, open and on display in Pisa, Italy).
I styled both t-shirts with a denim skirt (second-hand, of course), as there are definite yet subtle 80s vibes in each design. Although the bright pink and orange may seem rather summery, there's no reason these t-shirts can't be worn throughout the colder seasons. I'm ready and set to pair this design with a biker jacket.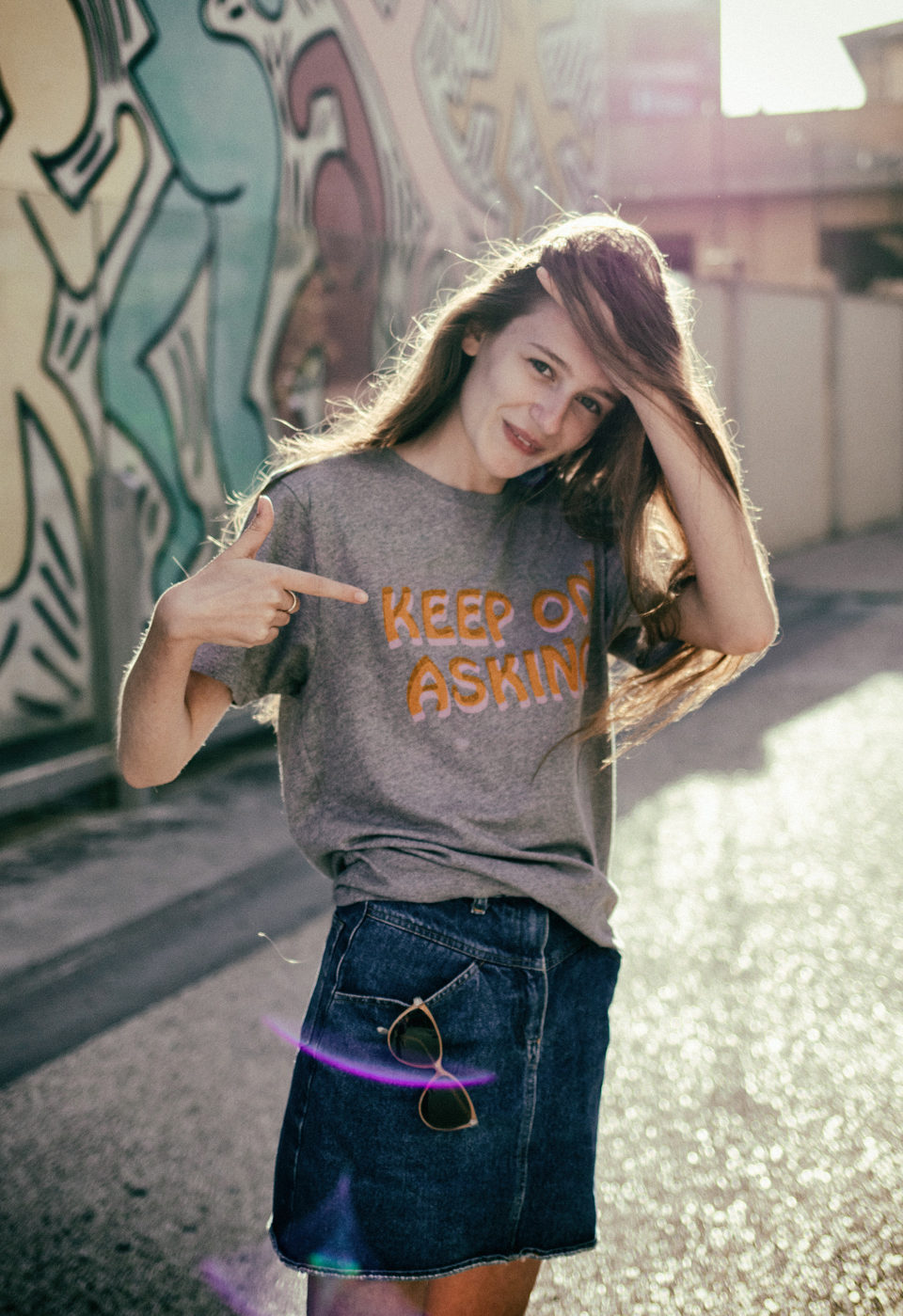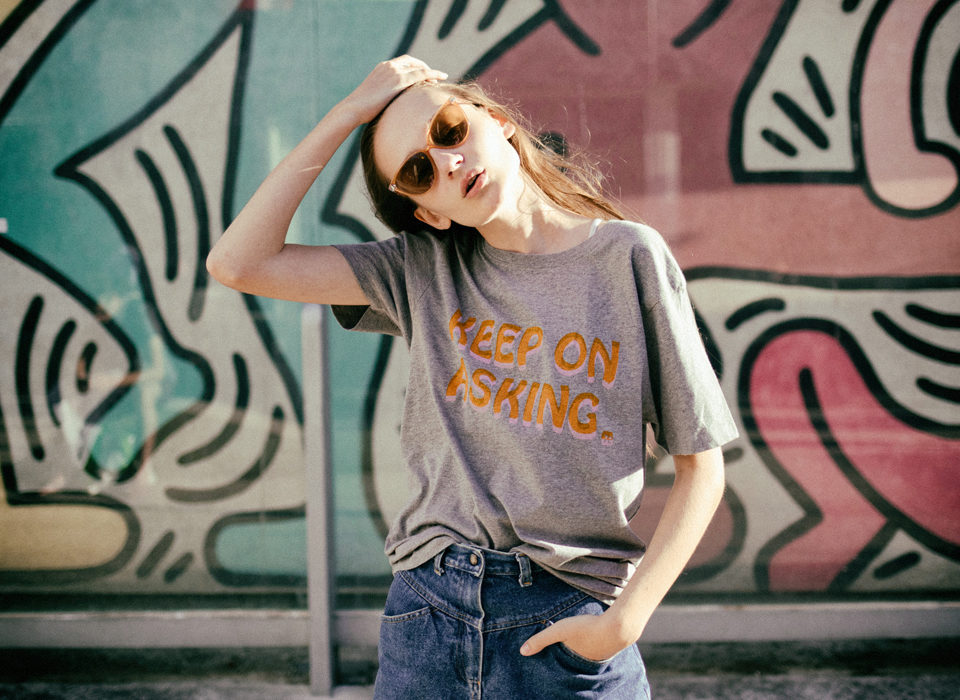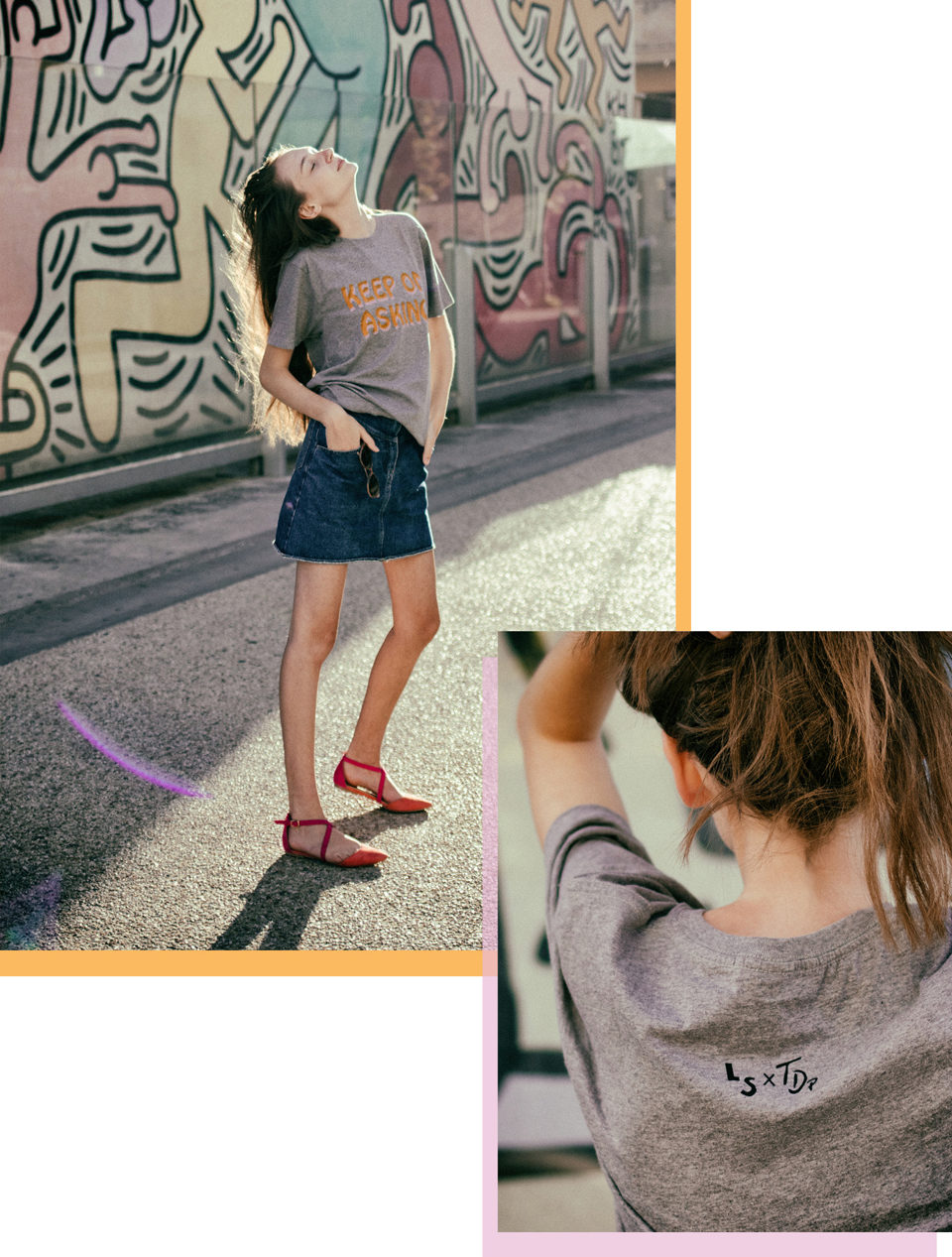 ---
~ KEEP ON ASKING T-SHIRT ~
Fair Trade 100% Organic Cotton with workers premium
---
The other t-shirt in my little collection took a while longer to perfect (well, both of them did – a lot of time goes into making colours perfect when they're being hand-printed), simply because slogans of course have a lot to shout about.
We want these t-shirts to be open for everyone to wear (man or woman, they're unisex!), hence why the 'Many Questions' design is a symbolic pattern and hence why the phrase 'Keep on Asking' hopefully, applies to a lot of other things.
Of course, the 'Keep on Asking' I'm referring to within my designs, is the idea of asking those who are in charge and capable of real change, to answer questions. This stems back to great initiatives like Fashion Revolution and #WhoMadeMyClothes, as well as just conscious consumerism in general. In order to become more transparent, we need questions to be answered. Once again, the transparent layering is intentional and I'm really happy with the outcome, especially with the 80s style, bubble font.
I've already worn this t-shirt a dozen ways with different skirts and bottoms (it may or may not be my favourite design of the two, with the Fair Trade cotton being the cherry on top) and I think the versatility definitely comes down to the shirt being grey.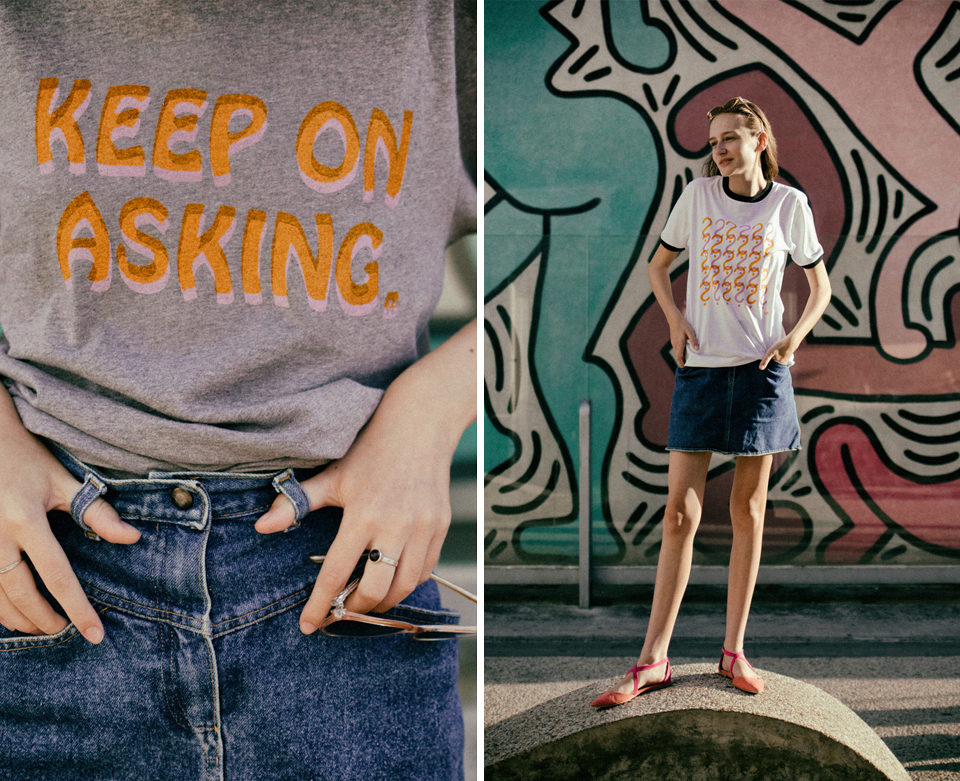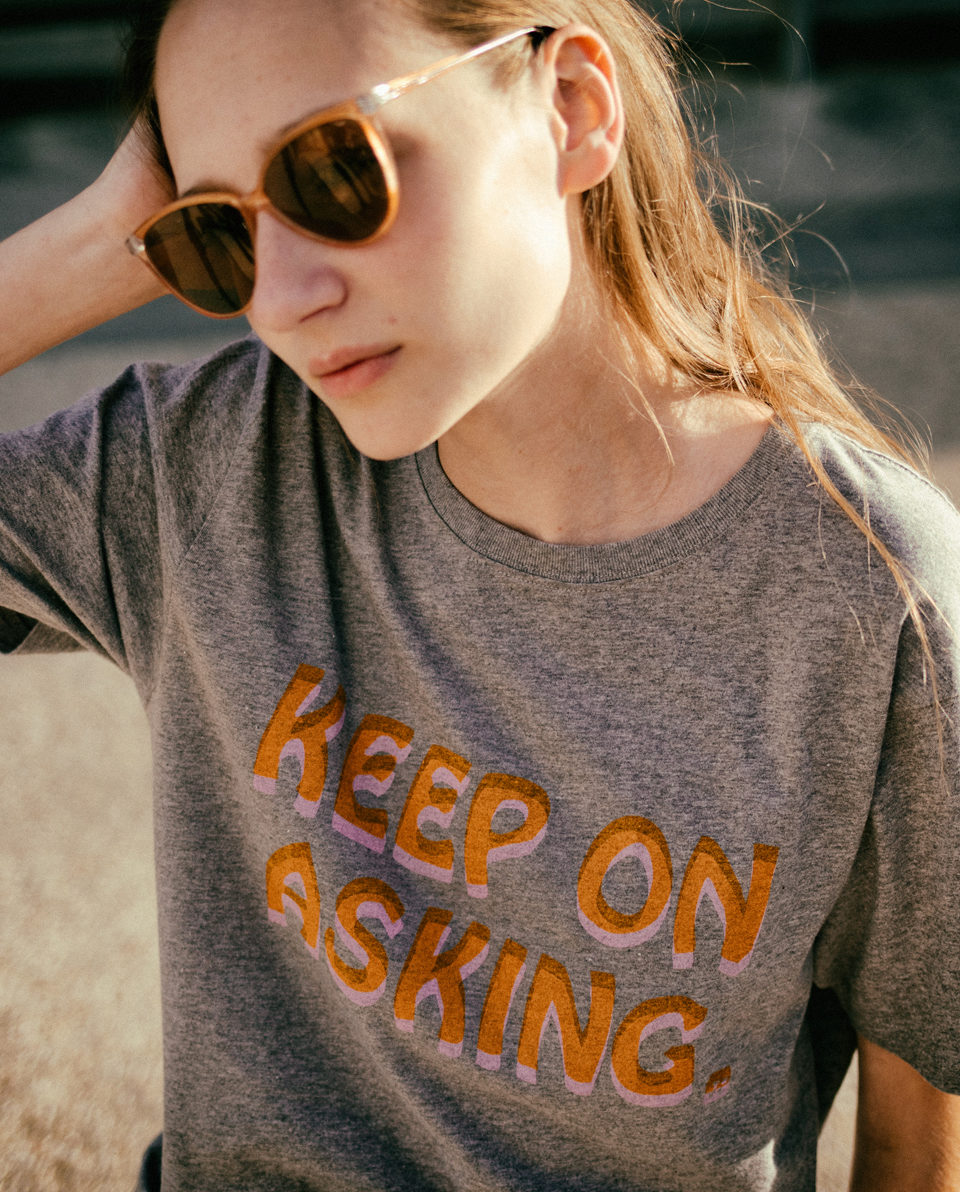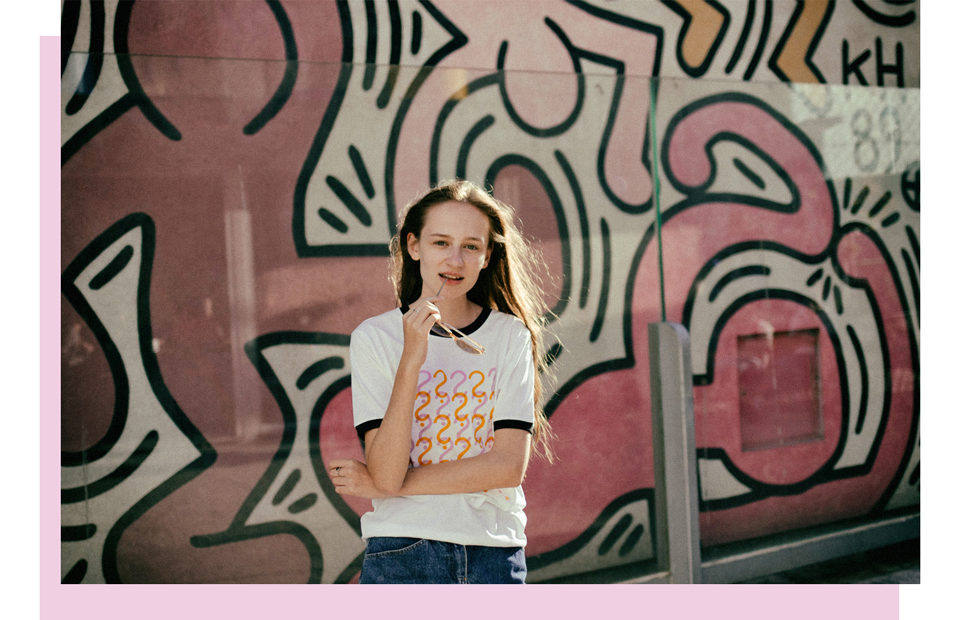 ---

~ WHO MADE MY T-SHIRTS? ~
Every Lost Shapes item is sourced sustainably before being hand-printed by Anna Brindle, the creator of Lost Shapes, with each design in the collaboration designed lovingly by Tolly Dolly Posh.
---
I'm really proud to have worked with Anna on this little collection. It took a lot of back and forth work but I believe the overall outcome was most definitely worth it. I really hope to see some of you wearing them in the near future, or at least to hear you have them on your wishlist! All the important links can be found below… happy Lost Shapes x Tolly Dolly Posh shopping!
---
---
Special thanks to Kayleigh Adams Photography for capturing the t-shirts in all of their glory. Follow Kayleigh on Instagram for more photography and visit her website if you're interested in using her for your own project. 
Lots of Love… Tolly Dolly Posh xx