If you follow my Instagram stories then you'll alway be up-to-date with my outfit obsessions, so it won't be a surprise to some of you that today's outfit post is styling up a combination I've shared a lot recently. You may even notice two of the pieces from my post about how we can make everyone understand fast-fashion, if you've been paying attention, lately…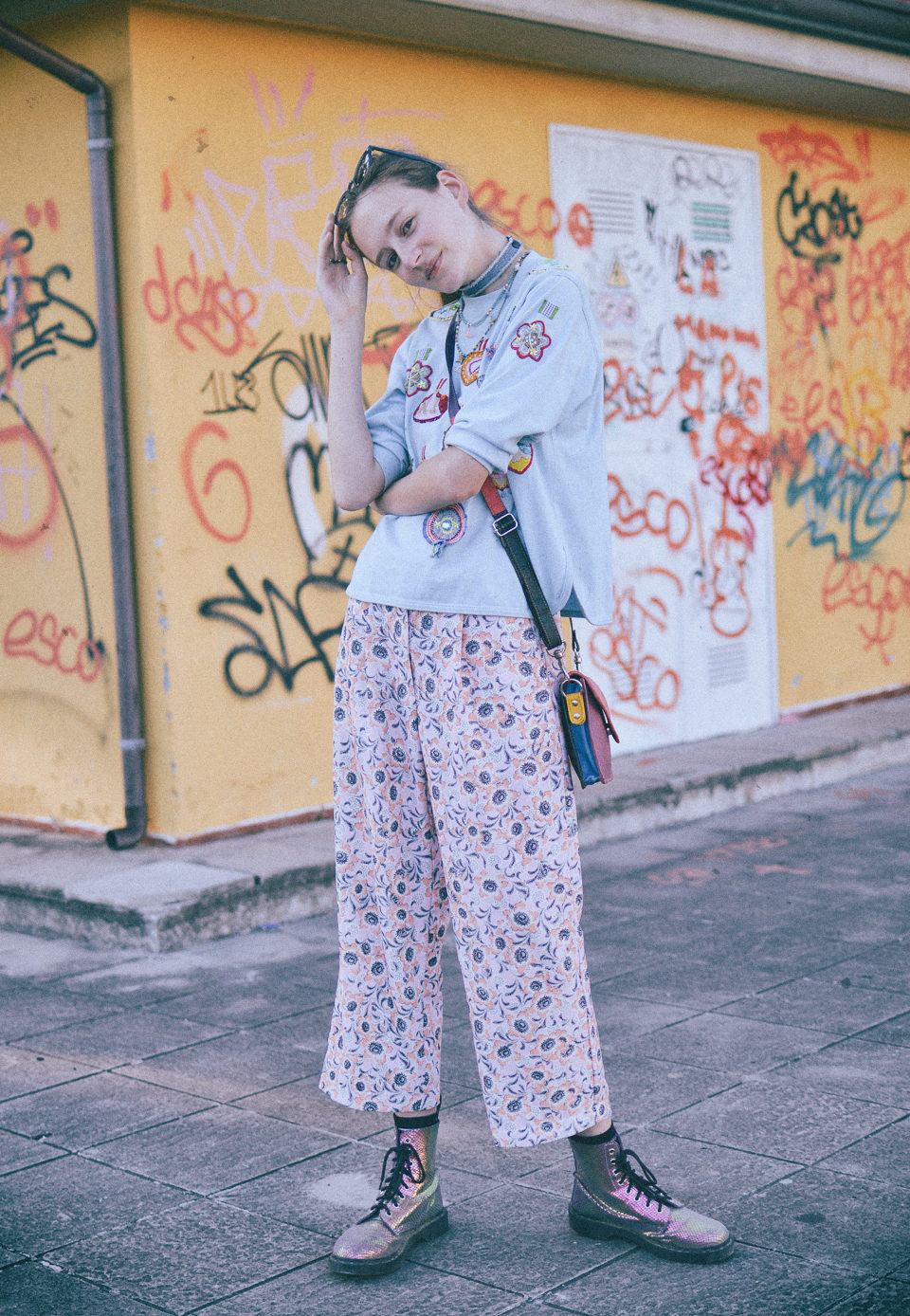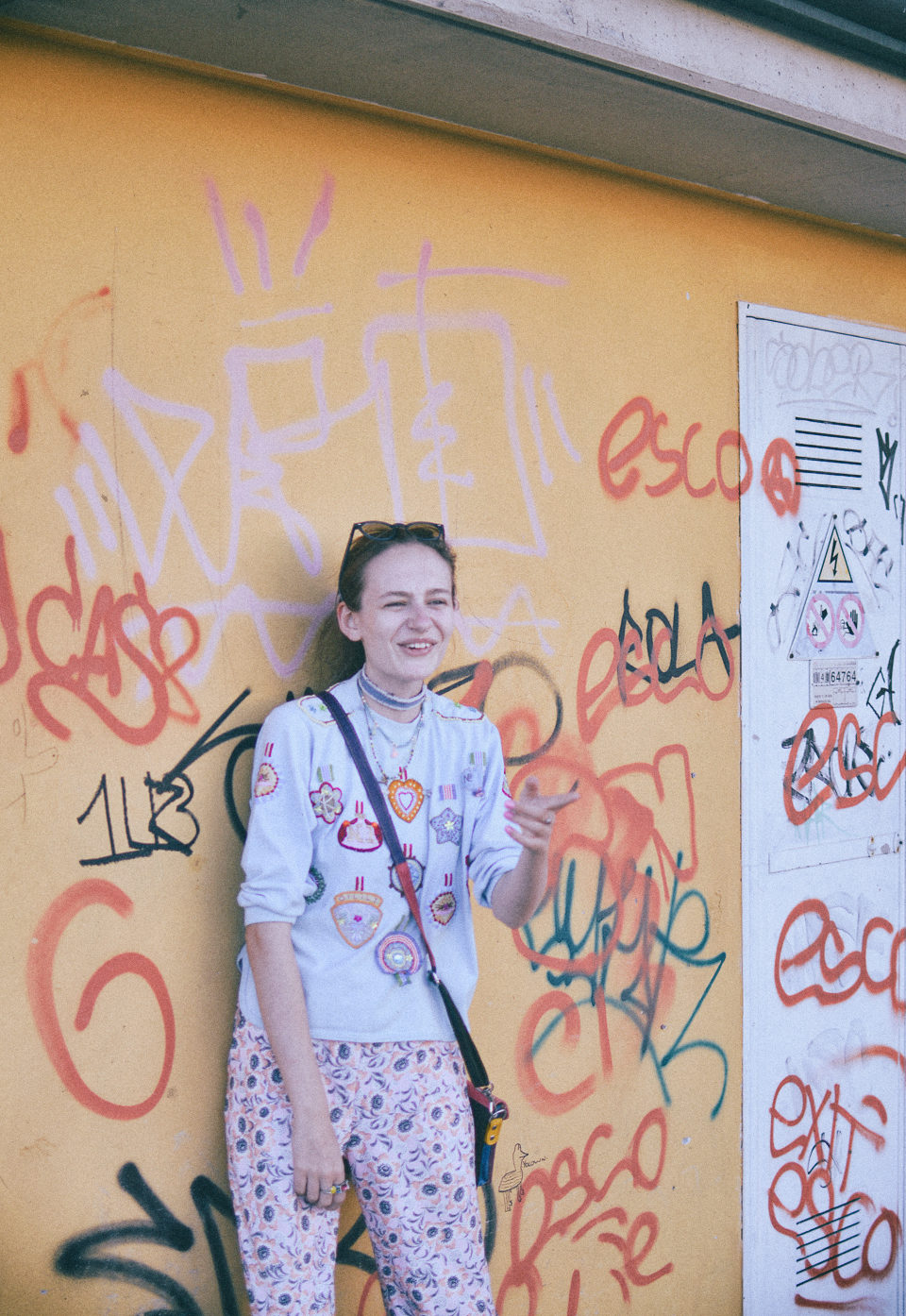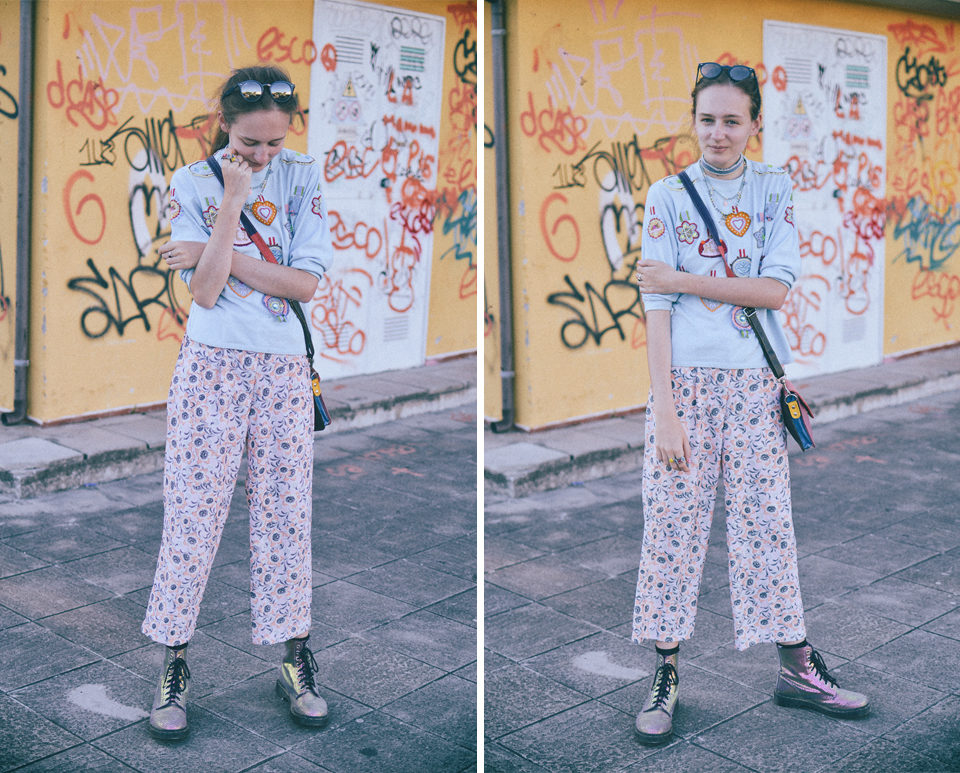 ---
WHAT I WORE: Embroidered Top €5.00 (Second-hand Shop) // Floral Trousers (ASOS Africa) // Clarabella Bag £33.00 (What Daisy Did)* // Dr Martens (Mastershoe-MyShu)* // Denim Choker (Yours Again)* // Necklaces (People Tree & Accessorize) // Sunglasses (Rayban) // Rings (Various) 
---
It seems as if everytime I'm unsure about an item which I've picked up second-hand, as of late, I've ended up feeling quite the opposite once I've washed it and hung it up in my wardrobe. Not only did this happen with my golf print blouse, it's also happened with my new embroidered long-sleeve top, originally from the brand Oilily.
And yes, the way I've styled it may come across slightly bizarrely and perhaps a little youthful but personally it makes me feel as if I've stepped out of an ASOS magazine with that free, edgy and mix-matched vibe. It's one of those outfits that clearly shows how certain elements of my personal style have stuck with me from when I was younger and still work with my aesthetic now.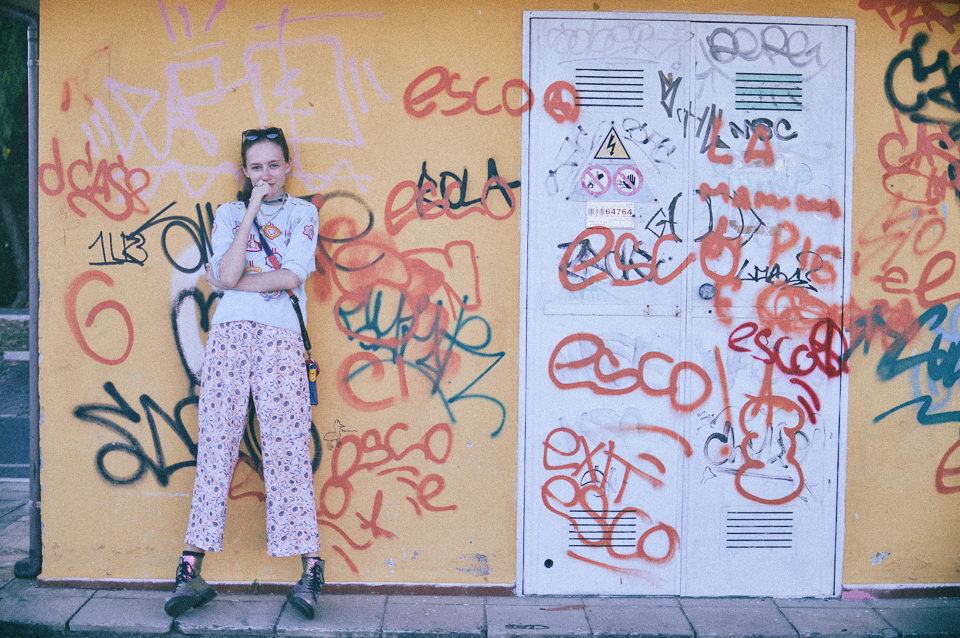 I'm happy to say that about 60% of this outfit is somewhat ethical and sustainable too. The top is second-hand, the trousers are from ASOS's Made in Kenya range (formerly known as ASOS Africa), my handbag is by What Daisy Did who use recycled leather, and my denim choker is by Yours Again who also use recycled materials for their handmade pieces.
It's always satisfying when you can trace back the majority of what you're wearing and prove those who believe ethical fashion is dull and boring, that it doesn't always have to be. Even pushing yourself to mix-up different combinations of pieces is being sustainable. I haven't worn these trousers in quite some time so it's nice to bring new life to them!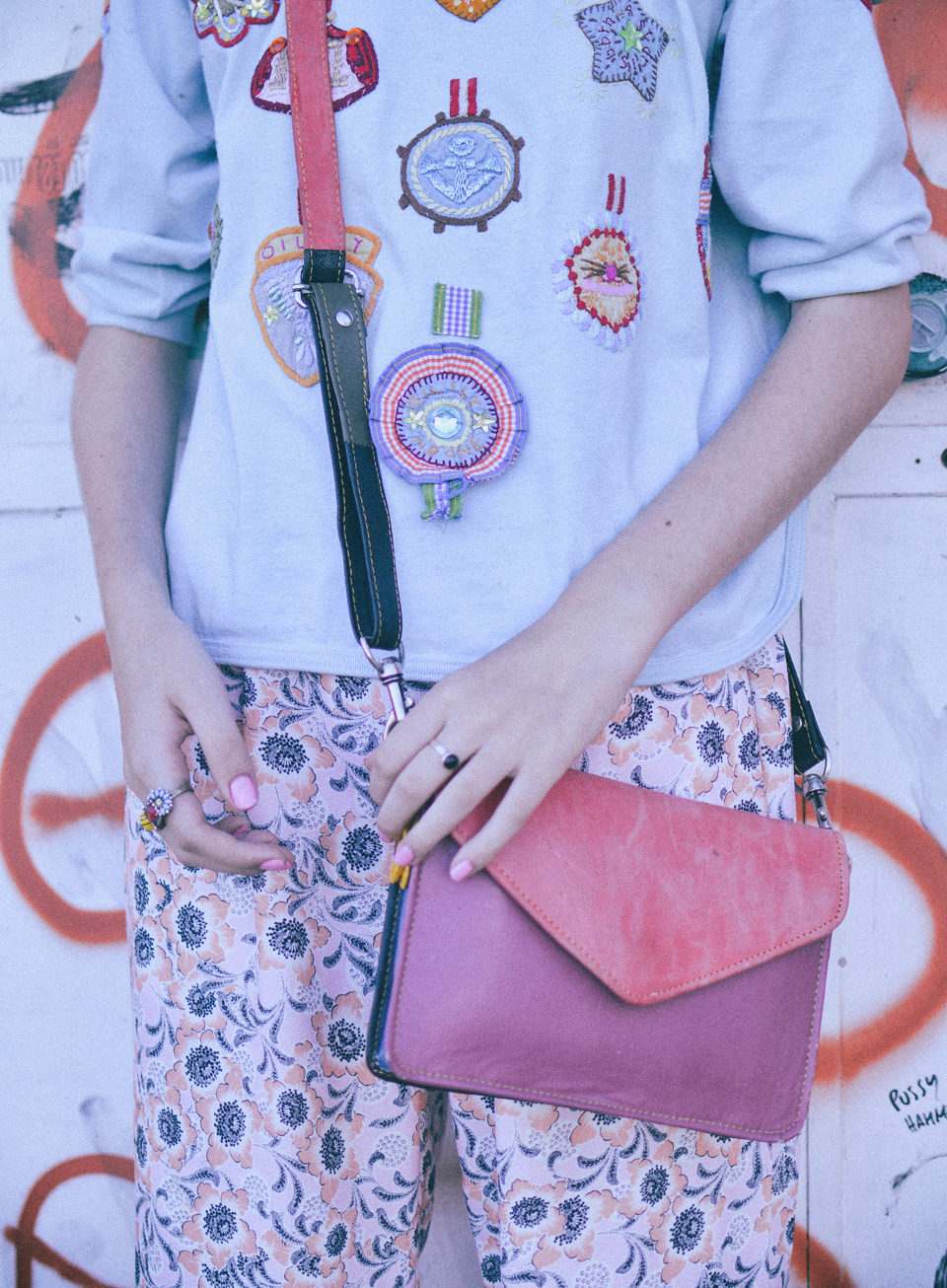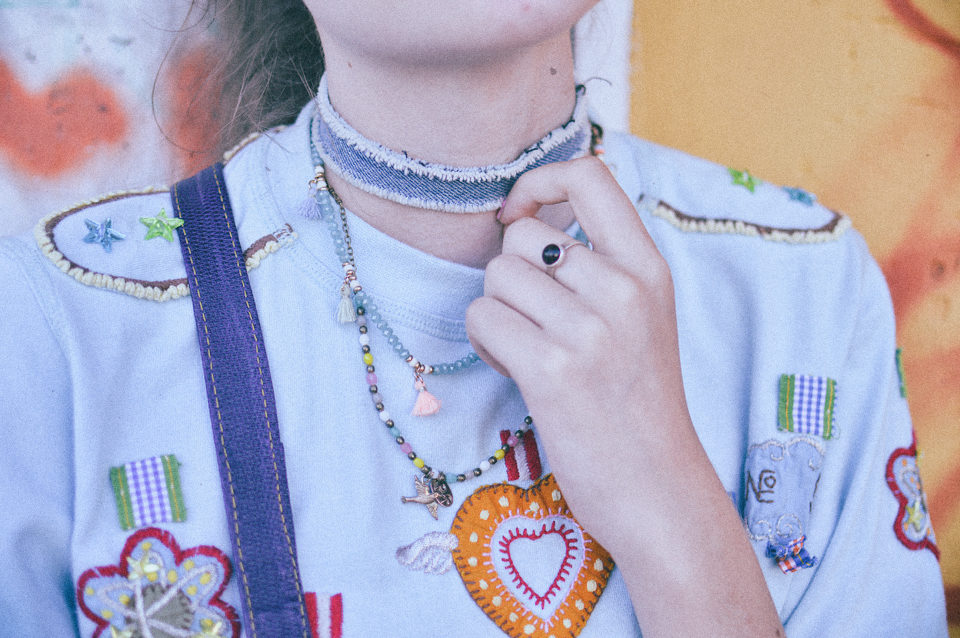 Speaking of those ethical pieces, it's rare to see me without my Yours Again choker these days. It's such a simple accessory but it works so well. I've found it's especially worth wearing if you're a fan of collars like myself but don't want to restrain yourself in the summer heat. I've also worked out it looks great with dresses which are rather open across the collarbone area. I'm not particularly keen on anything too revealing so it makes up for it.
My handbag is still holding up and the more I wear it the more I want to add What Daisy Did's Blue Jay backpack to my collection. The differing colours and panels mean you can match up different elements of your outfit which is always fun.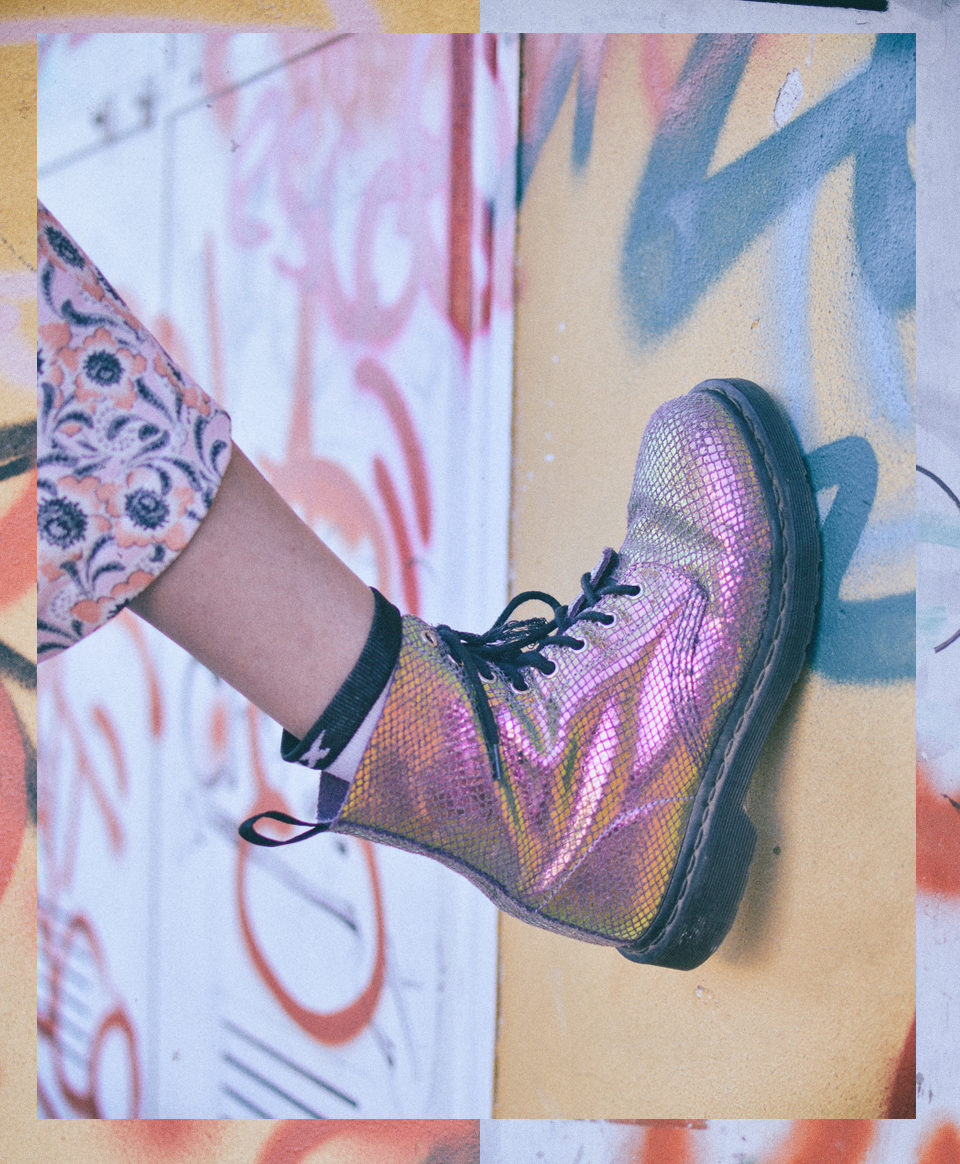 Lastly, I need to dedicate a whole segment of this post to my Fox socks. No, they're not covered in cutesy little fox faces but they're actually by the mountain biking brand, Fox. My brother gave me a pair many moons ago and I ended up working out that they are the best socks for wearing with Dr Martens. Boot socks are all well and good for the colder months but once you've worn in your boots, the thickness and style of them makes for a dreamy combination (can I say that about socks?). I also like how the white and black always pops out, even if I am repping a logo that doesn't exactly scream fashion. So there's a little pro tip for all you Dr Marten wearers out there; find some socks meant for biking. 
---
How would you have styled this outfit? What ethical pieces have you purchased recently? Let me know in the comments!
Lots of Love… Tolly Dolly Posh xx