It seems the last time I shot a full outfit post was back in November last year. Due to the fact I do so much more photography for my blog in recent times, I often forget that I haven't solely focused on my style, so I'm back at it again today. If you haven't read my blog post on sustainable wardrobes, you won't know why I'm re-wearing a lot of the same items recently. Hopefully, this outfit will be a bit of a mix-up!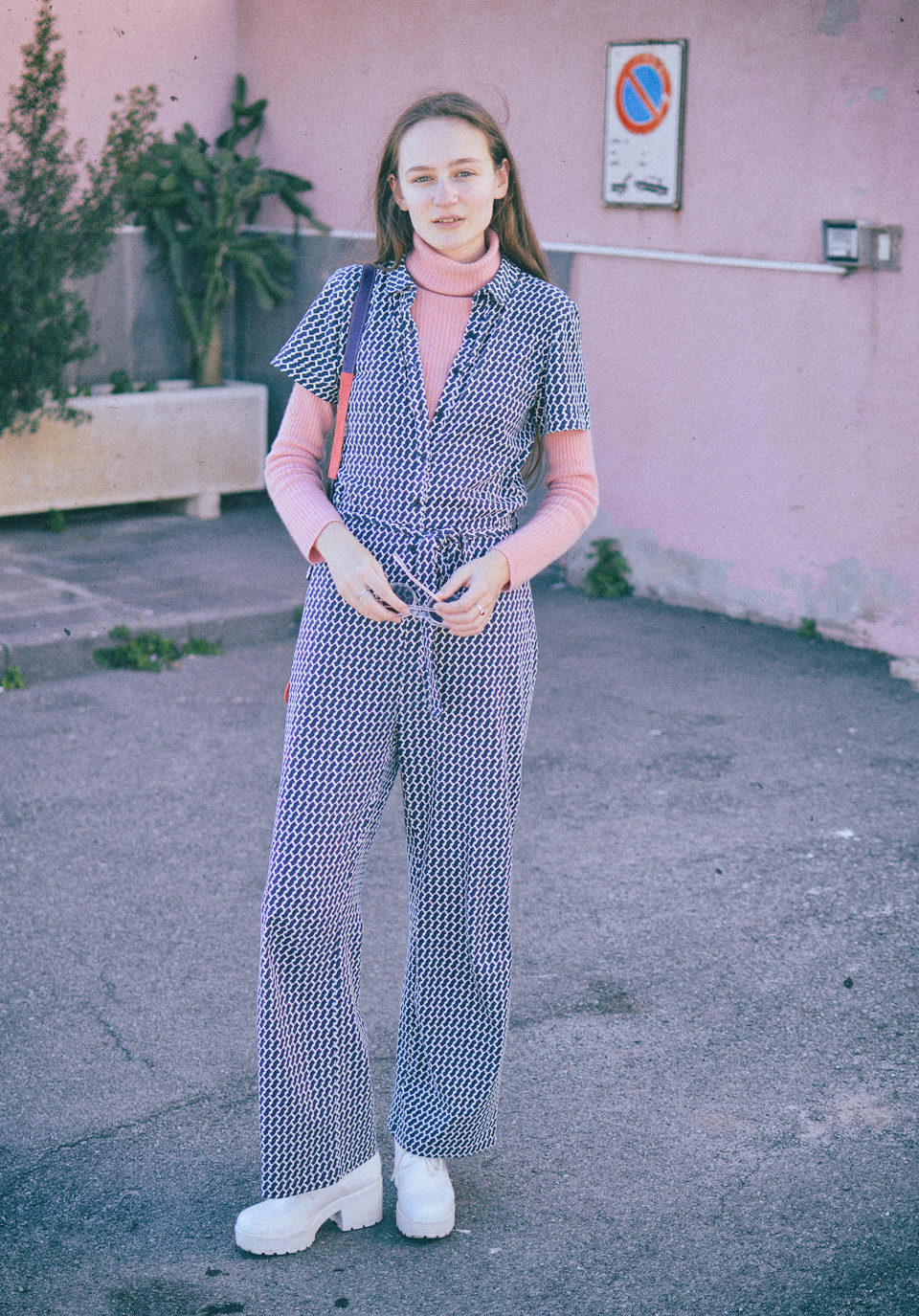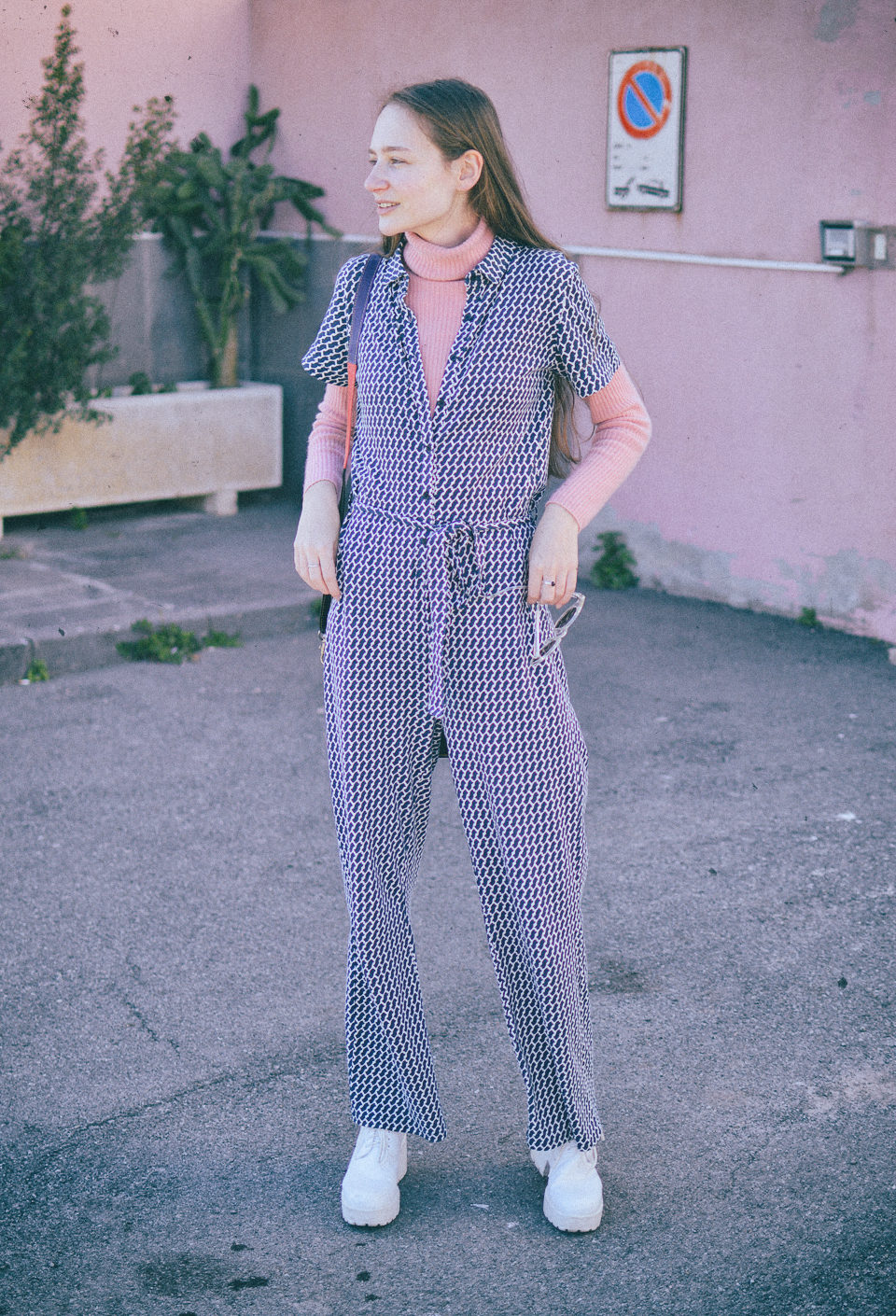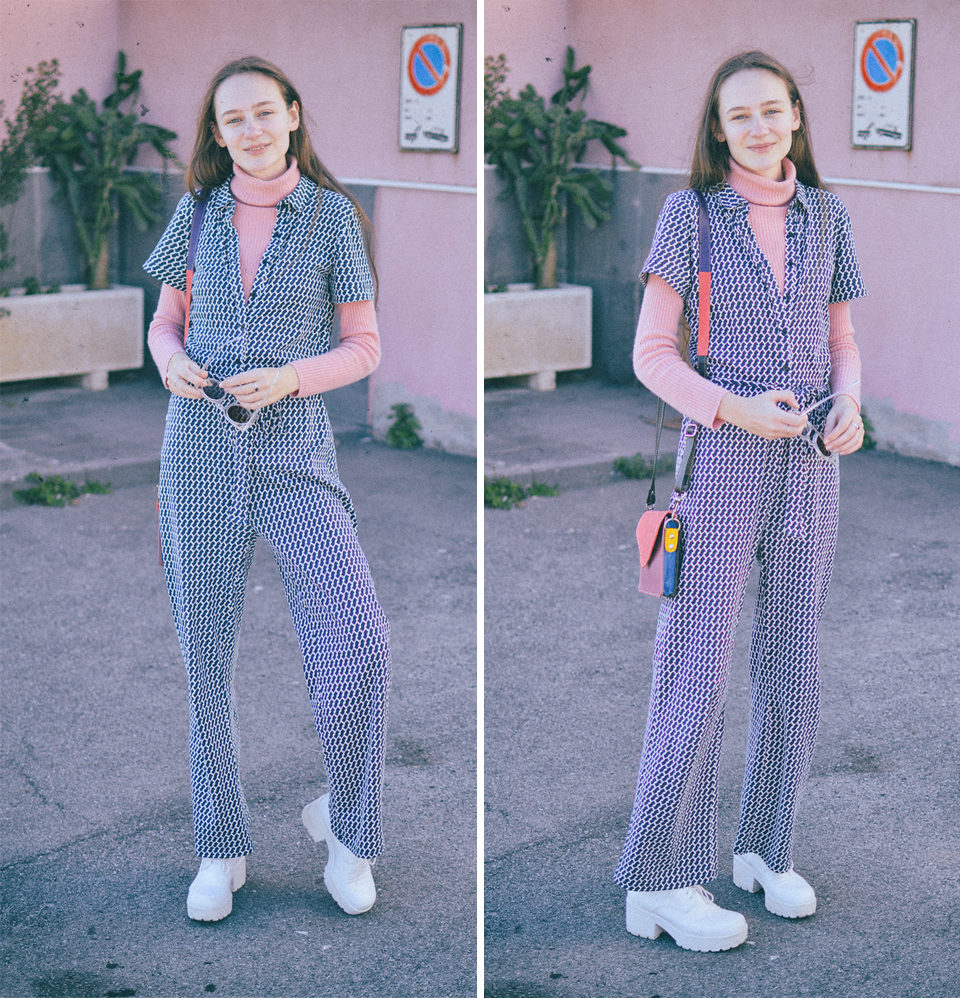 ---
 WHAT I WORE: Pink Cashmere Roll Neck (Charity Shop) // Navy Livia Jumpsuit £90.00 (People Tree)* // Clarabella Bag £33.00 (What Daisy Did)* // Vagabond Dioon Platforms (Mastershoe)* // Sunglasses (Topshop – old) // Stacker Ring (Gemporia)*
---
The last time a People Tree item entered my wardrobe, I wore it non-stop. The fabric was beautifully soft, the fit was comfortable yet the sleeves and shape made up for how casual it seemed and the pattern and overall design was eye-catching but abstract enough that it was wearable with a lot of my other clothes. This time is exactly the same but it's an even better experience.
As my style has started to evolve, I've started to attract two very different styles of dress; fitted and shaped, or floaty and draped (that rhyme wasn't intentional, but it works). This jumpsuit is of course of a fitted variety yet it hits my sweet spot for floatiness by having a comfortable looseness in the trousers. The last time I owned a jumpsuit was actually back when I started my blog (five years at the end of this month!) and I wore it so much it became faded and the fabric started to bobble. Although it's a much higher quality than that one, I can quite easily see myself wearing it until it's officially just a piece of loungewear. It's comfortable, but it's enough to make me feel dressed up, suited and booted.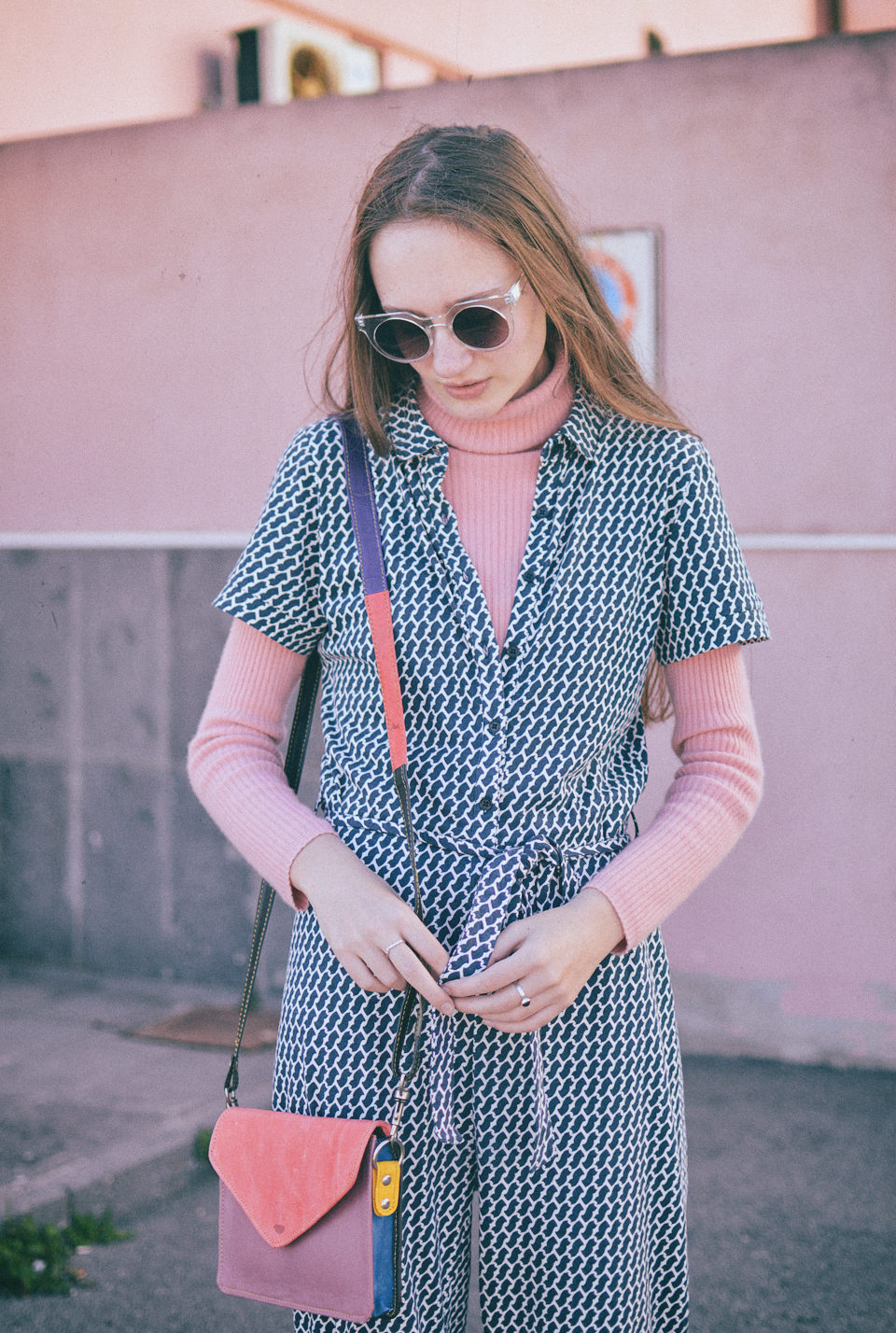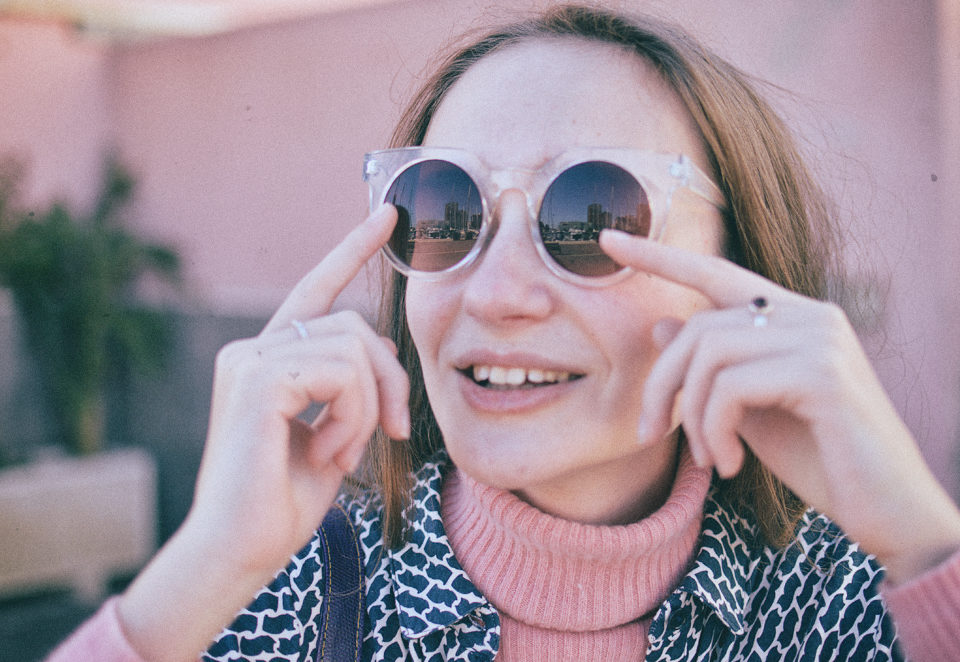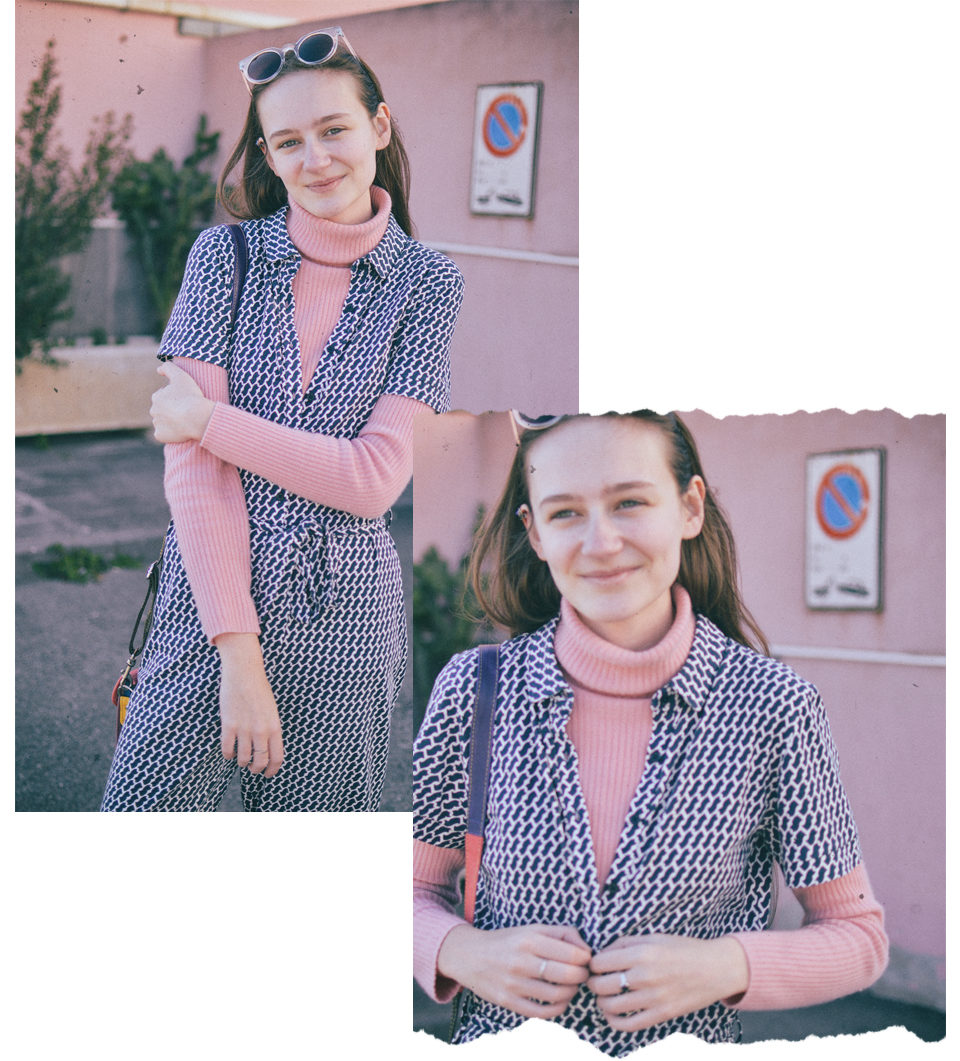 ---

~ WHO MADE MY JUMPSUIT? ~
Assisi Garments – a garment manufacturer using organic cotton to produce garments for People Tree, supporting deaf, mute and economically disadvantaged women by providing training and employment. 
---
I have worn this jumpsuit buttoned up and without another item underneath but instead of showing you that outfit (which involves the yellow leather jacket you are probably all sick of by now) which you can actually see on the People Tree Instagram account, I thought I would layer things up with my trusty cashmere sweater. It was the perfect combination for what felt like a spring day recently; no jacket or coat needed, just a pair of sunglasses. Yay for sunshine!
When I looked down at my platforms I realised this could definitely be seen as a 70s apre-ski inspired outfit. The collar on the playsuit definitely lives up to that aesthetic especially when it's in such a retro looking print… which for any cat lovers out there, is actually a diagonal repeat of a kitten. You can't tell from afar though which I like meaning it doesn't take away from the chicness. On top of all that, the fabric is organic cotton.
I hope you like that new segment of "Who made my…". I'll try and add that in as many outfit posts as possible to as many clothes I wear as possible! For more info about the Fashion Revolution campaign, #WhoMadeMyClothes, make sure you head over to their site. Fashion Revolution week is in April; get ready!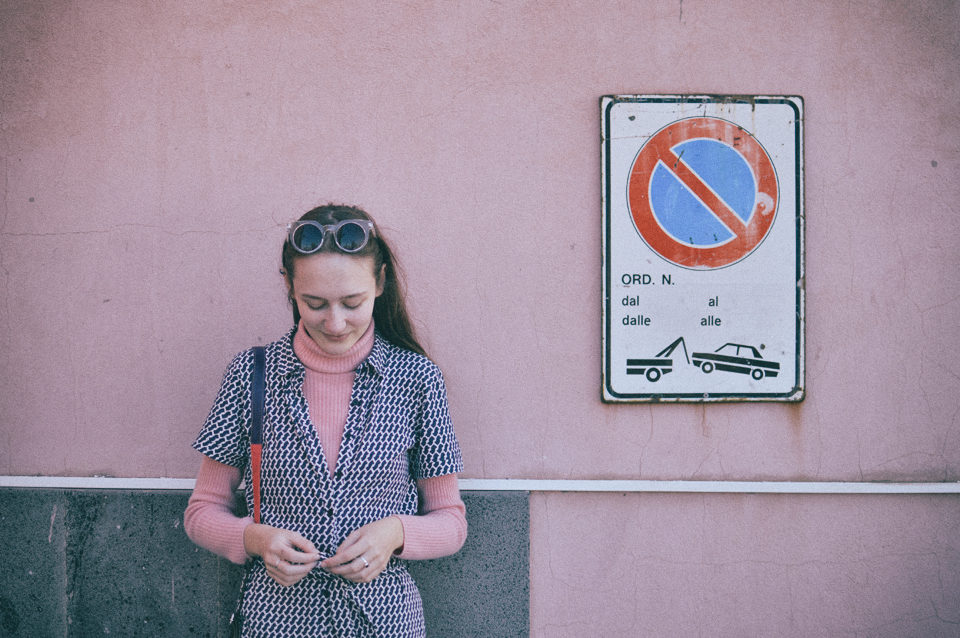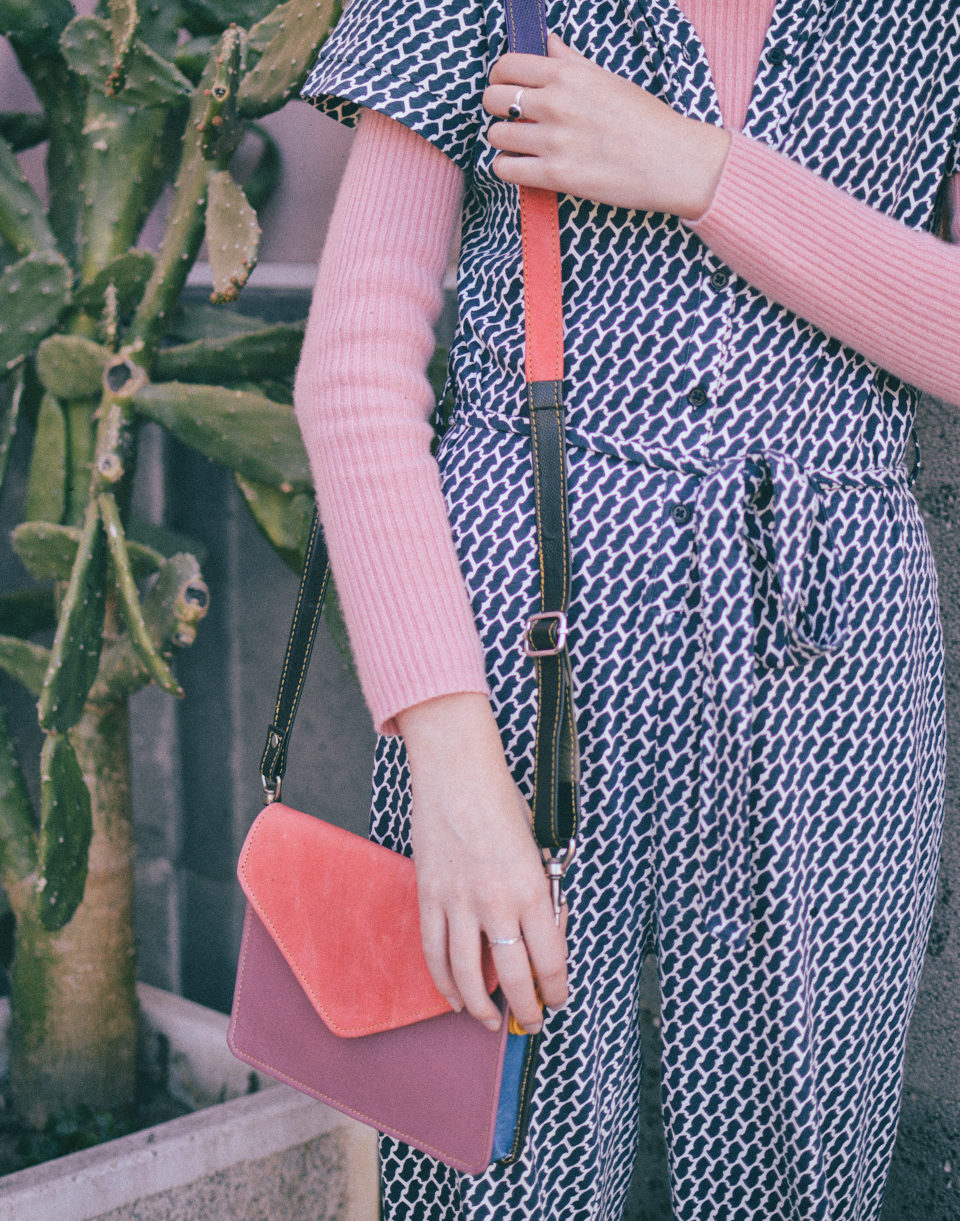 In terms of accessories, I have a new handbag in my life. I've been wearing my suede tassel bag for so long now that it's started to get a bit grubby so to swap it out for a while, I have this gorgeous Clarabella bag from What Daisy Did. I connected with Daisy on Twitter and have been in awe of their brand ever since. What Daisy Did uses recycled materials and when it comes to their colourful leather collection, the materials that would be going to waste are collected from factories within a 140km radius of where the bags are made.
Their website is pretty much transparent all around and states that their workers set their own deadlines for what they can produce, meaning no pressure is put on them to meet deadlines. For me, this is hugely important and ties in with one of the biggest issues within the fashion industry today. If I'm using up waste materials and I know that this is the case, it's a cause for a huge sigh of relief.
I understand that leather isn't for everyone but the materials What Daisy Did use would otherwise be added to a landfill. Leather is somewhat sustainable in terms of how long it lasts, it's just the actual process of creating it which is the problem. I really love this bag though and knowing where it came from makes it even more beautiful to look at. And yes, I can't escape yellow – that small bit of dealing works wonders with my jacket 😉
---
 How would you wear this jumpsuit? What ethical clothes have you been buying recently? Let's talk in the comments!
---
Lots of Love… Tolly Dolly Posh xx