Oh. My. WOW. I haven't done a design collection in yonks. I know I said I would, and I'm sawwwry, okay?! But, I thought this idea would make it a good way to start a fresh? Non? Welcome in my blogger inspired fashion design collection, oh yes!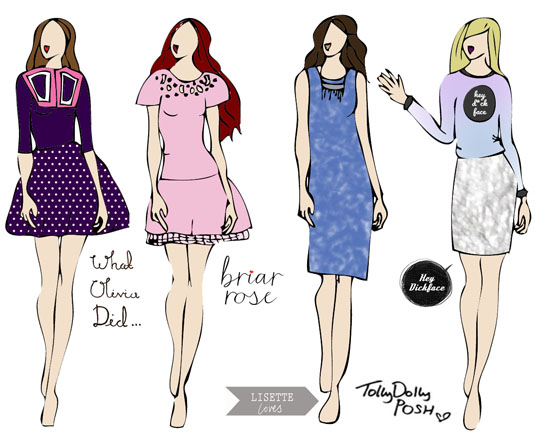 All these designs have been based on the blogger's style. I've looked at what they've worn and slightly tweaked them. I'm sorry if they are not totally extravagant, but I wanted to really make them wearable for the bloggers.
What Olivia Did:
As you may already know, I love Olivia's style, and I wanted to sort of, change up a few of the classic pieces that she likes to wear. I've made a sailor style collar, but changed it up to a pink colour. I would also make it embellished but it was hard to show on the image above. The skirt is a skater style one in polka dots, I would make it a nice thick jersey style so it has a lot of shape to it.
Briar Rose: 
Again, one of my favourite style inspirations, Megan. I decided to sort of change up the style, by going all out pink, and also using a smock style dress. Megan has the perfect figure for any type of dress style! The neckline has laser cut detail with also a few embellishments around. The skirt is a low waist, and has a nice puffy underskirt. I definitely think Megan could rock this!

Lisette Loves:
You might know, that um, I have a slight obsession with this one 😉 in, a *hopefully* non creepy way. Lisette has a gorgeous fashion sense! I decided to take her away from her favourite style of the smock dress, and pop her in a shift dress. A shapeless dress is always flattering, plus denim is too? I know Lisette could accessorise this really well! I would make the dress a nice perfect blue with a slight acid wash effect.
Hey D*ck Face: 
A more recent style obsession, is the lovely lady from Hey D*ck face. Her style is quite quirky but simple, so anyone can try and take a few ideas from her outfits. I decided to do a twist on one of her most recent OOTDs. I've made the sweater a purple and pastel blue dip dye colour, with the Hey D*ck face logo.  I also changed up the skirt so it is a metallic texture – so cool. I love the metallic look, and I definitely think she could work it 😉

I hope you enjoyed this blog post! Make sure to check out all these lovely ladies, their blogs are amazing! I think I might do another one of these collections? What do you think? Let me know in the comments?
Lots of Love… Tolly Dolly Posh xx