A while back I found an online store called Not For Ponies, and I thought it was super duper cute! It mixes basic pieces with cute twists in really good quality fabrics. Beckie at Not For Ponies was kind enough to send me 2 of the Pug Tops which are my favourite from the shop! They're so basic yet so cute and versatile, plus there is a French Pug one!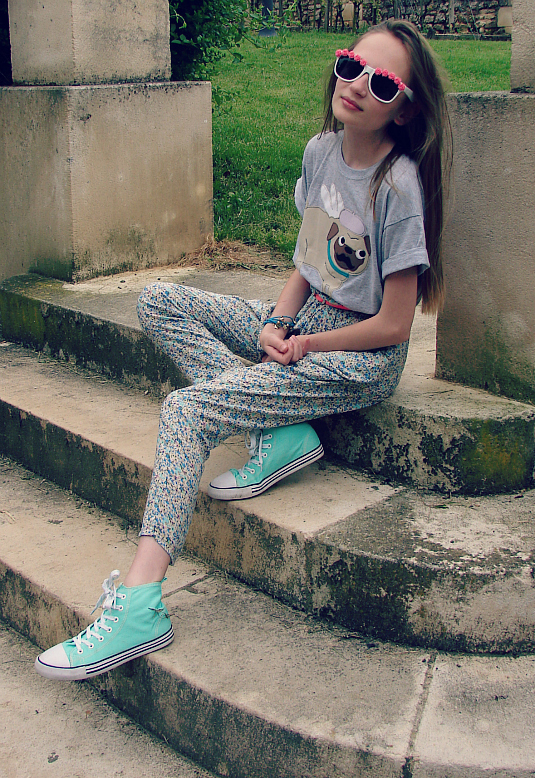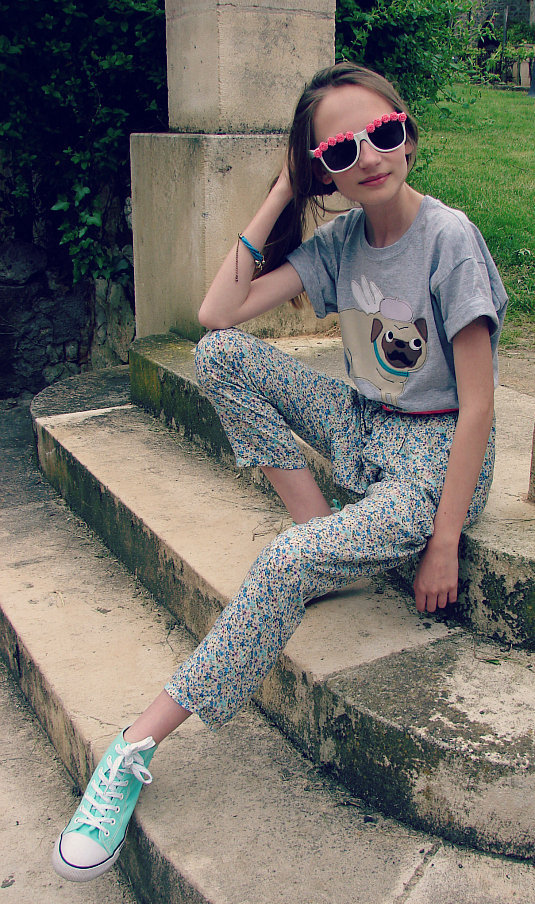 What I Wore:French Pug T-Shirt £20.00* (Not For Ponies), Floral Hareem Trousers €3.00 (Jumble Sale), Pink Belt (Oxfam), Mint Green Trainers £7.99 (H&M), Bracelet (Primark), DIY Sunglasses £2.03 (DIY Coming Very Soon!)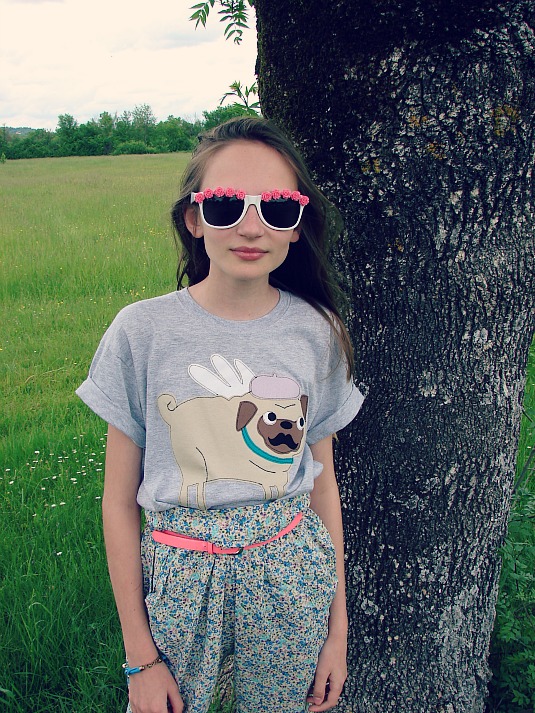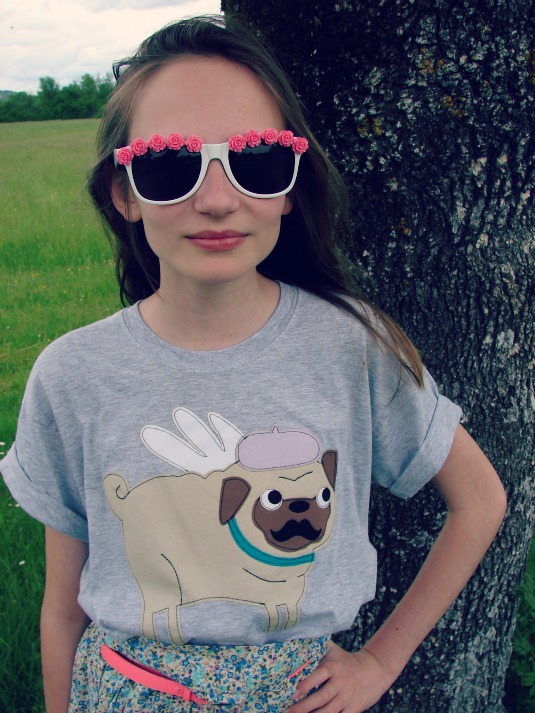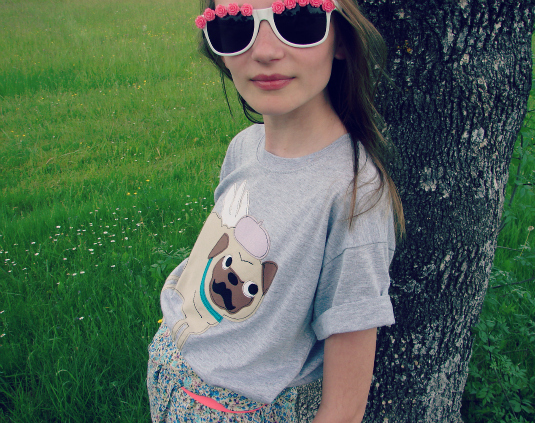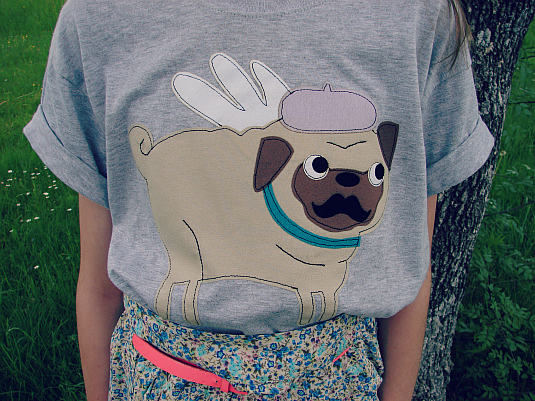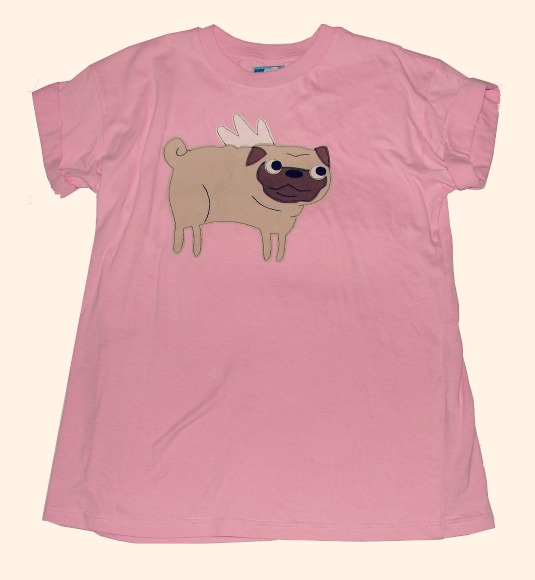 Girl's Pink Pug T-Shirt £10.00* (Not For Ponies) – This was made bigger for me.
The grey one is my favourite top of the two. I really like the grey colour as it is sort of marbley. I also LOVE the french pug! It's not just printed on, it is sewn on so it looks a lot better and feels much better quality, and is obviously going to stay put! There was one thing I did find with the French Pug T-Shirt, is that around the edges of the pug was a sort of brown-ish orange colour, which I thought perhaps was to do with ironing, but I really don't think it matters too much. The fabric is very soft, and feels very strong and durable, yet nice and light, and I would say it is like Topshop quality, so pretty darn good! I like how it doesn't fit perfectly, so it feels more comfy and it also looks great tucked into baggy trousers like these ones. Mixing it with the trainers makes it feel casual and preppy, and I really like the feel of that style. It will be perfect for summer where I live, as it will be light and comfy rather than something that sticks to my body and makes me feel gross! I also love the rolled up sleeve detail, because it makes it feel a bit more 'styled' and edgy. Pretty much, I LOVE THEM! I would also style the Pink Pug T-Shirt with a midi skirt and a the same shoes, for a more girly look, which I am sure you will see on this blog one day soon!
Not For Ponies is a pop-inspired lifestyle brand.  Everything is designed and hand made by them in their Manchester based studio. They have become well known for their quirky applique T Shirts and Sweaters, and have been featured in National Magazines such as Company, Reveal, Heat, Now, Closer, Bella, Mizz (Tolly Dolly Posh is featured in Mizz this tomorrow! – May 16th), Shout and Love It. They are inspired by all kinds of weird, whacky, cute and quirky graphic imagery and are fuelled by Earl Grey Tea and Hobnob biscuits. Their stock caters for Women, Men and Children in a variety of sizes, and XS or XL sizes can be made up! (Like I had done for me!)
Side Note: I would just like to thank all my readers who have supported me over the past week. I can now say that on the 29th May, I will be leaving France to London, because of YOU! You are getting me tho the Company Magazine Style Blogger Awards! Thank You!
(I am very grateful that Not For Ponies sent me 2 of their products to review. 100% of the words above are true, and are no way edited for the sake of having free products. I wish Not For Ponies a very enjoyable year!)
Lots of Love… Tolly Dolly Posh xx