Does anybody remember this post where I did a Lazy Oaf inspired design collection? No? Well check it out before you carry on with this one… what I really mean is, today I have a very similar one! It's the exact same sort of thing but instead of Lazy Oaf, we have Liberty London! Again… don't get too excited, I'm not working with Liberty… although I really wish I was *sigh* Please Liberty, do not steal my ideas, or any other brand or person… would make me happy! If you want to be super super awesome, then you can tweet this post and who knows, Liberty might just see it!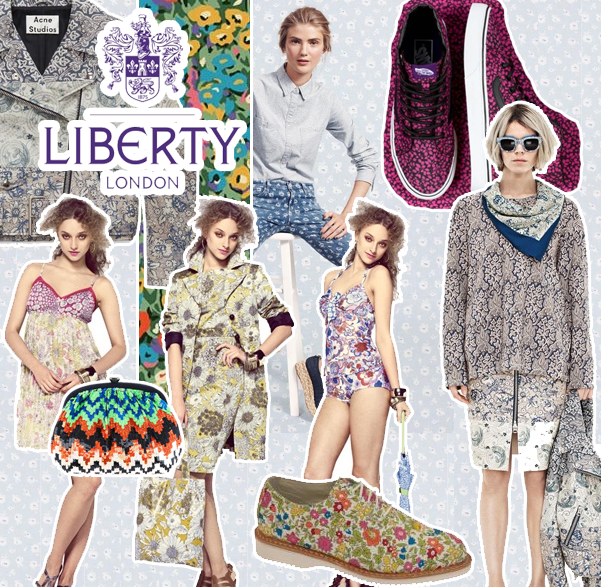 I couldn't do this blog post without a bit of inspiration, so here a few pictures of previous collaborations in which Liberty have done! My favourite collaboration is probably the ones they do with Nike, and of course that collaboration they did with Dr Martens. With my designs I obviously had to do a print because Liberty basically means 'print' in the language of fashion. I also love the Vans collaboration as it was so bright and colourful. I wanted to definitely make sure that I infused my love of colour into the collection I made, and I hope I did it justice!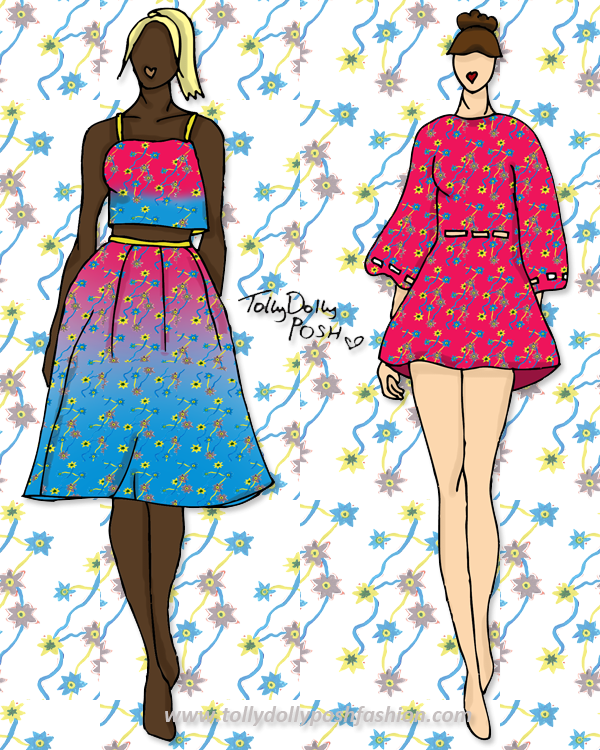 Hot Pink & Bright Blue Floral Print 2 Piece (left) and Hot Pink Kimono Dress with Cutouts (right):
For the collection I needed to make sure that I included classic pieces but also incorporated fun elements that I would wear. I absolutely love two pieces at the moment, especially with a cropped top and long puffy skirt. I honestly want this to be made for me. As soon as I can, I'm going to get that fabric printed and make it up! I created the print by doing a water colour doodle and then making it a bit brighter on Photoshop! I really love the way it came out actually, and even though it's not Liberty print standards, I think it is still nice and quirky. I'm also loving floaty dresses, and this 'Kimono Dress' is sooo pretty in my opinion! It would be a light floaty fabric, maybe a crepe sort of style. It would have cut outs around the waist and sleeve for a little something something!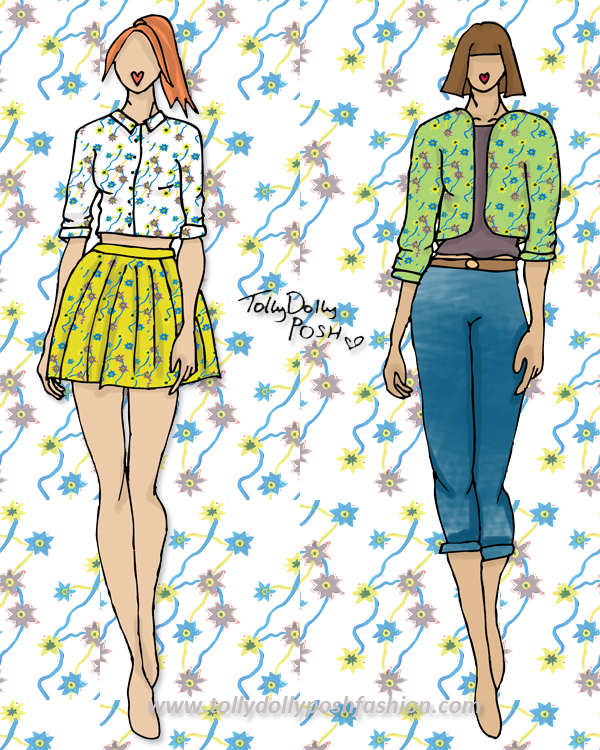 White & Neon Mustard Floral Two Piece (Mini Shirt & Skirt – left) and Green Floral Bomber Jacket, Jeans & Taupe T-Shirt (right):

Ah my days! I probably sound really big headed, but I'm really annoyed I did these designs because I love them SO SO much! I think the white and neon mustard colour combination is so gorgeous! I love how the blue pops against both of them, and the style of the shirt is just perfect. For the other look, it is definitely more casual. I think a bomber jacket is such a nice casual way to look sporty, because it isn't too much. The jeans would be a skinny boyfriend hybrid, so a bit chunky, but not too chunky that they look silly on some people, and skinny enough that they are perfect for all seasons.
Catwalk Song: Movement – Feel Real
Models: Suvi Koponen, Vanessa Axente, Anais Mali & Tilda Lindstam
I hope you liked this post! I am actually pretty proud of the outcome of this! I am definitely going to try and do more of these posts, it's just they take a bit more time than any other!
Don't forget you can nominate my blog as Best Teen Style Blog here, which would make me very happy!
Lots of Love… Tolly Dolly Posh xx