*Deep Breath* After yesterday's excitement of being on BBC Radio 4 (click the link to listen), I thought I would post a few designs. I haven't posted any designs in a while, I'm sorry. I've been so busy recently, but now I have had a few moments to just chill, do some drawings, and show them to you! I decided to put together a 'Mini Design Collection' for S/S 13. It includes 5 designs, which I think would be perfect for Spring time!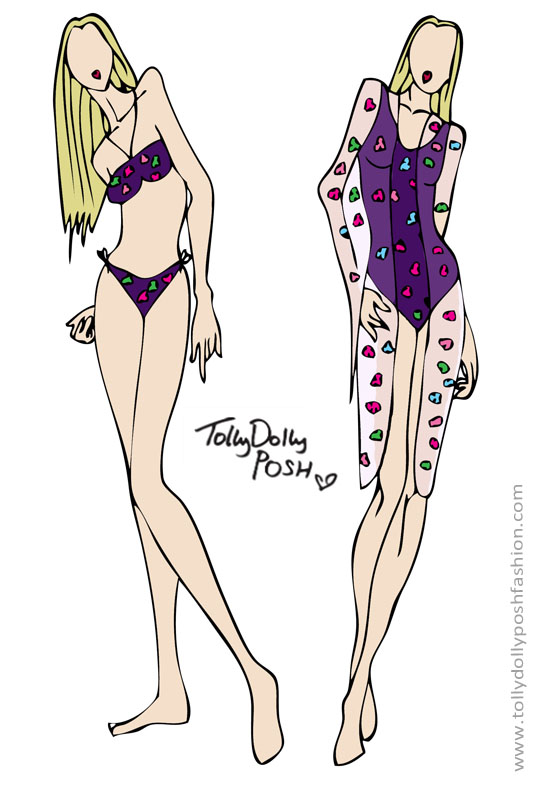 BATHING SUITS & COVER UP: I really love mixing purple and bright colours together, because purple isn't that dark, but it is sometimes quite hard to make it look right. I think adding a mix of florals to it, is one of the ways to make it look fabulous! I didn't go with the classic triangle bikini top because I believe that they aren't very practical. Especially for smaller girls who perhaps don't have the biggest of… well, you know where I'm going. I also think the 'bandeau' style is more comfortable, and will also look great with a cardigan and a pair of shorts. For the one piece, I went for a classic style, but with the same print, because I think it's good to have 2 of everything but in slightly different styles in your closet, then if you feel like covering up a bit more, you can with the costume! Speaking of covering up, I don't know whether you can see but on the right, there is a pale lavender see through cover-up on top, again with the floral print. I want the flowers to be more opaque, so that they stand out more. (I admit, this may not be perfect for the weather at this precise moment. Unless you want to turn into an ice cube…)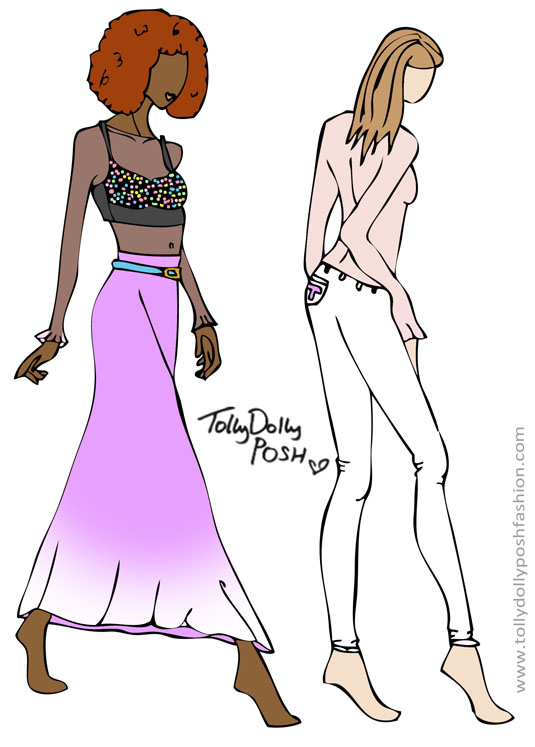 SEQUINS, OMBRE & WHITE JEANS: My first design I posted to you, I included a yellow maxi shirt, which a lot of you really liked (Thanks!), so I decided to do another one, but a ombre version. I really want this pinky/purple to be my classic 'TDP' colour. I have also added the belt the same but in a blue, which ties up with the bralet. I was thinking of keeping it just the bralet and the skirt, but I decided that I would add the same pale lavender see through fabric, as a top underneath. The bralet is covered in coloured sequins which I think could either be worn with a leather jacket, or as a nice piece for the beach. On the right, the same see through top is used, you may think its opaque because of the skin tone, but it is the same. The trousers would just be plain white denim, with the 'T' initial on the back pocket. This may look like a very basic design, but if I were to do more detailed drawings, I would try and include a little surprise which would make it extra unique.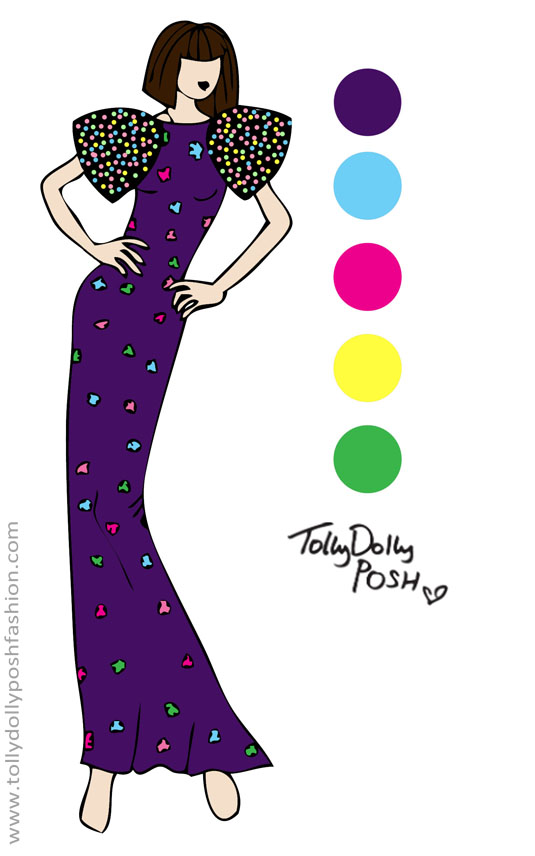 FLORAL & SEQUIN SHOULDER DRESS: This would be my more 'exciting' design of the mini collection. It mixes together all of the designs. The floral print makes it great for an evening dress, but I would make the shoulders detachable, so it would also be great for casual wear. The sequin shoulders mean they match the bralet, and also add a bit of glitz to the design. You have to have glitz! If I were to choose a celebrity to wear this at an awards, I would probably choose, Kelly Osbourne, because I think she would really suit it!
(By the way, I know that the colour swatches look like they have just come from a test page of a printer) Haha 😀
If I were to choose the make-up for the collection, I would go with a blue and green smokey eye, and a really nice blush colour. On the lips I would go for a really sheer and glossy coral colour, and with the hair, I would go for all of the above styles! For music I would go for Icona Pop – I Love It. It's so catchy, and it has a really good feel to it!
VIEW ALL MY OTHER DESIGNS HERE
It would mean so much to me if you did NOT use these designs for your own use. I spend time and effort drawing each of these by myself. If you'd like to feature them for any particular reason please get in touch, through the Contact page. Thank You.
Again, if you missed my interview on BBC Radio 4 you can listen to it by clicking this link! It was an amazing experience and I'd like to thank BBC Radio 4, so so much!
If you feel my blog deserves it, please nominate it as 'Best Teen Blog' in the Company Style Blogger Awards. Please use the URL: http://www.tollydollyposhfashion.com Thank You! (Nominations close on April 10th)
Lots of Love… Tolly Dolly Posh xx