Hello! I will explain my theory further in this post, but I believe it maybe my first OOTD of Spring…. oh yes. It is so beautiful outside whilst I write this (sitting on a table by the window – actually quite uncomfortable being a bony person), and I cannot wait to start sitting outside more. Enjoy this blog post because it has a GIVE-AWAY in it and you know what that means 😉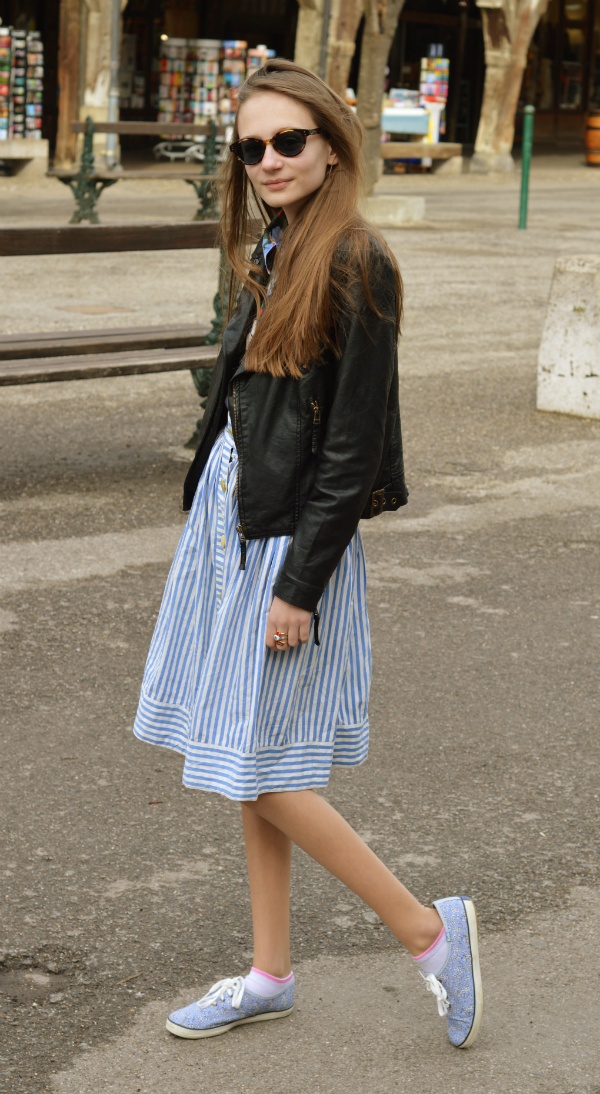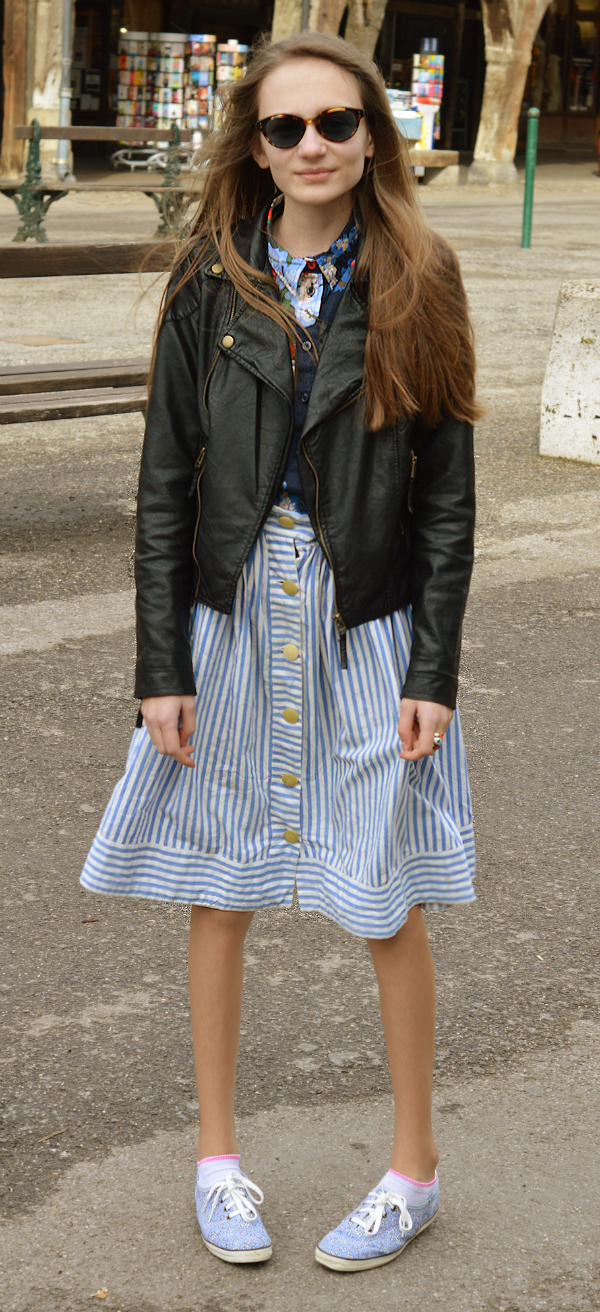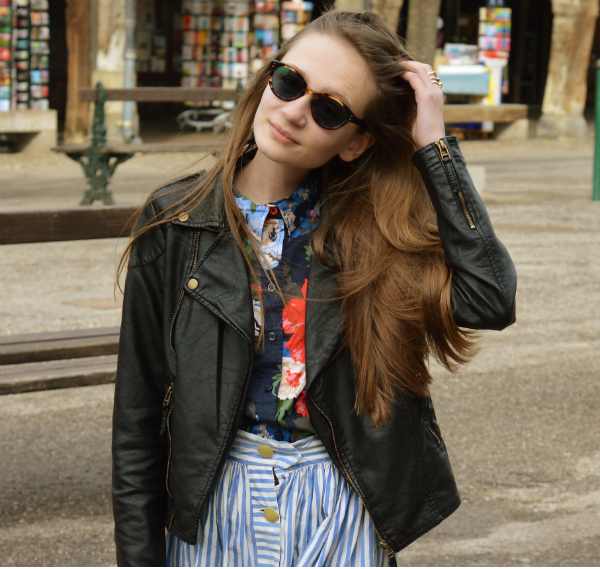 What I Wore: Faux Leather Biker Jacket £46.99 (Hearts & Bows – ARK)*, French Navy Bouquet Blouse (Joules)*, Blue and White Skirt €5.00 (Jumble Sale), Blue Floral Keds (ASOS), NANCY Sunglasses (London Retro – My Optique)* & Facial Ring Set (Rings & Tings)*

This outfit is a really good transitional outfit in my opinion. The top half is quite autumnal and the bottom half quite spring like, but the way the blouse picks out the blue from the skirt, makes it acceptable. I have been wearing this faux leather and blouse combo so much since I received them both, and I am literally obsessed. Not only have I really been wanting a faux leather jacket for years, I am also on a bit of a 'blouse high'. I've never been the biggest Joules fan, but my thoughts on the brand have definitely changed since getting this blouse because 1, the women's shirts are amazing quality, and 2 – just because it has the sort of 'Polo' 'Horse Riding' theme around the brand, it doesn't mean you have to style it that way which you can see by this outfit! The leather jacket is so nice, and it fits amazingly. It's not shiny either so it looks really nice and not tacky. I absolutely love my bargain skirt too but the one thing is the buttons… I think I might do a bit of a tweak to them. Overall as I said, I really like this outfit and it has a good balance of colours and styles.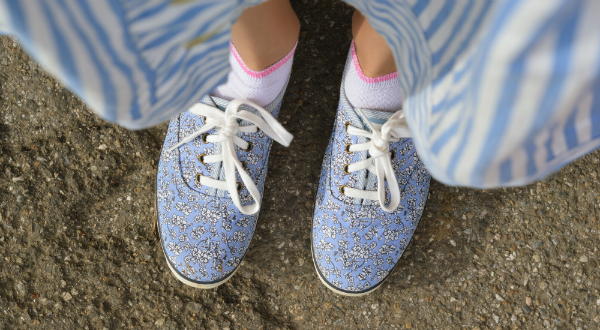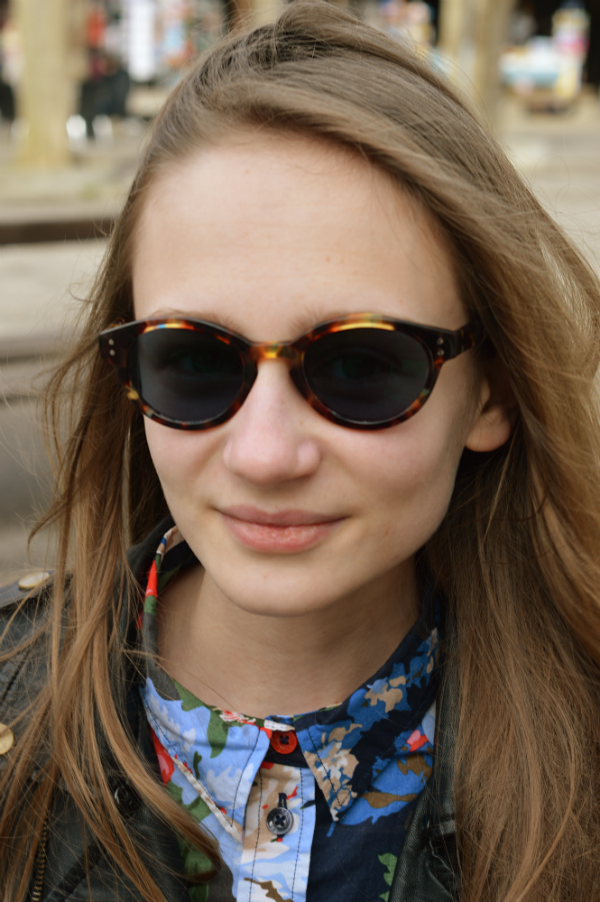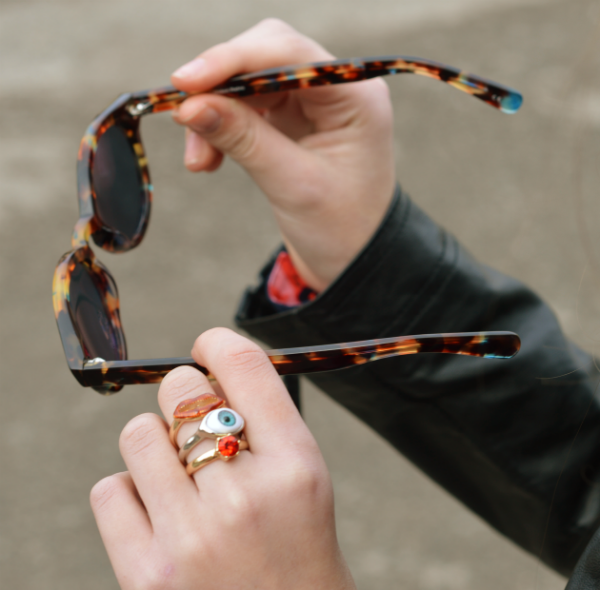 I've had my blue floral Keds for about a year now. I had some navy ones (I am pretty sure they were kids – much better size for my slim feet!) but I grew out of them, and just couldn't live without them, so I went on ASOS and saw they were way cheaper than Schuh or Keds, and snapped up a pair, but unfortunately 'adult sized' Keds don't fit me as well, so although they fit after yonks of waiting, they are still slightly sloppy. In terms of jewellery in this OOTD, I went with my 3 rings from Rings & Tings, which are gorgeous. I'm not the biggest fan of the lips one, but I think the eye and the faux ruby look amazing. I've never really worn gold and silver together, but I think they look very nice together.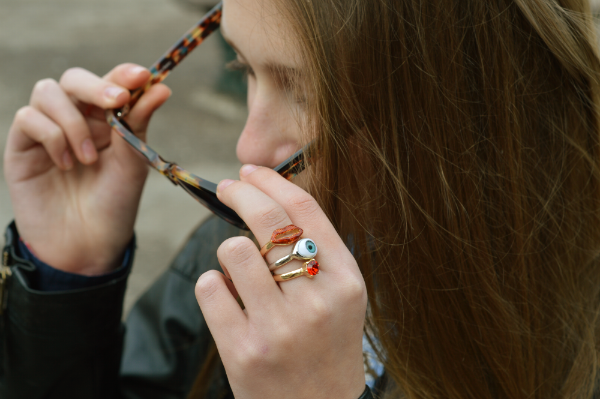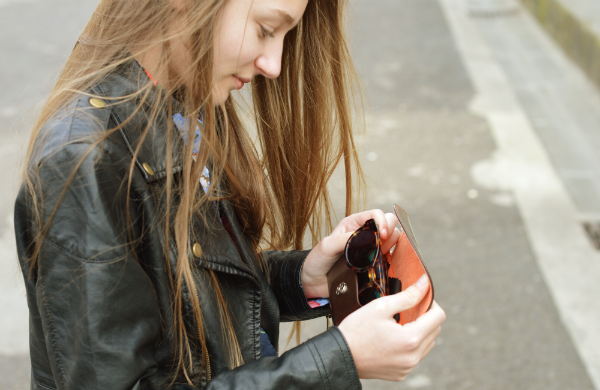 The sunglasses I am wearing are from London Retro. As a blogger I know all the gossip about PR reviews and things like that, and reviewing a pair of these I guess is known as 'controversial', but I decided I would review them for you, and let everybody know what they are really like. I'm a big fan of quite round sunglasses because I think they look really summery and (London) retro 😉 😉 and when I first tried these on, I wasn't quite sure they suited me, but looking back at these pictures, I have decided they don't look half bad!  I would have to say I am more of a 'big' sunglasses fan, and these come  up quite small on me, which is one thing to take into consideration seeing as I am only a small little person. One thing I found different compared to the pictures on the site is that the blue in the tortoise shell doesn't come up as bright and as obvious. For those of you who need prescription lenses, these are available like that too! If you would like to win ANY pair from London Retro… here is what you need to do…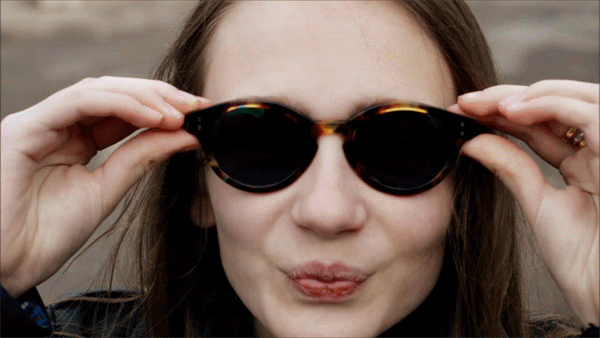 a Rafflecopter giveaway
What Could You Win? Any pair of London Retro Glasses/Sunglasses from the range.
Who Can Enter? Anyone! The give-away is open Worldwide! As long as you have parents permission if you are under 13!
How do I enter? Simply enter the obligatory entries in the Rafflecopter widget above, and enter any of the additional entries too!
Good Luck! If you liked this OOTD, do make sure to leave a comment below! 😀
Lots of Love… Tolly Dolly Posh xx