Well hello' there ladies and gents. I decided it was time I did a bit more than just an outfit post and took some lifestyle pictures too… so do excuse the rather cheesy use of a comma in this post title… it sounds like some sort of bad ITV2 reality show! Anyway, lets get on with this… oh and wish Papa Posh a belated Happy Birthday seeing as these pictures were taken on that day!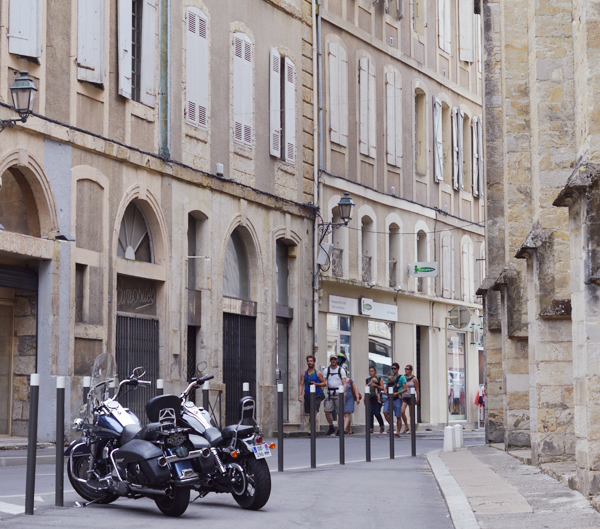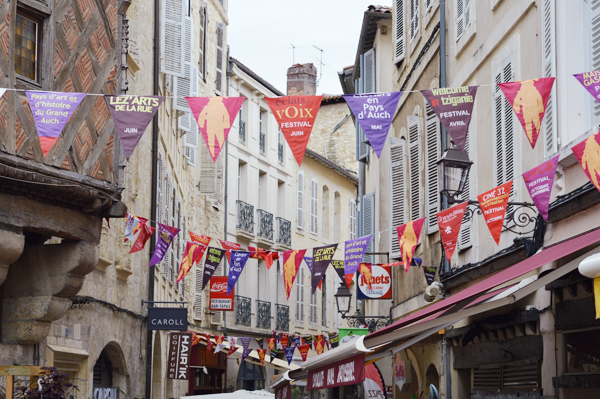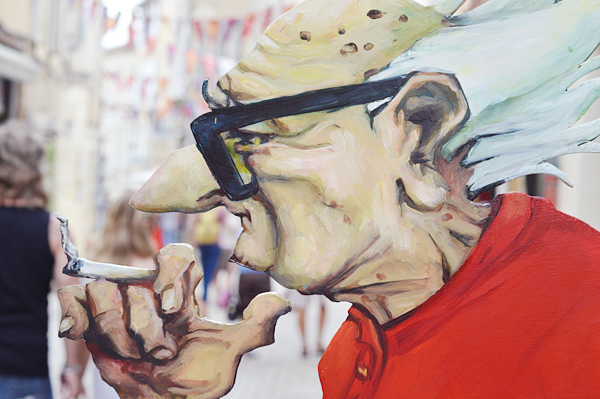 The first place we visited was a place called Auch. We'd been there before but only in the winter so it was so weird to see it with real, actual, living people wondering around. There's a massive cathedral, and so many tiny little streets to wonder round. The thing about France is that you pass so many random, freaky things every time, it makes it a real adventure!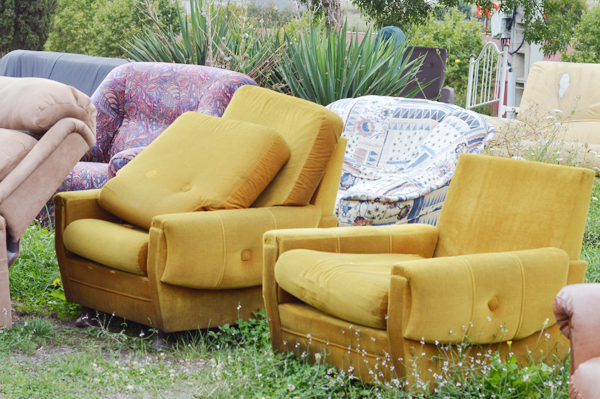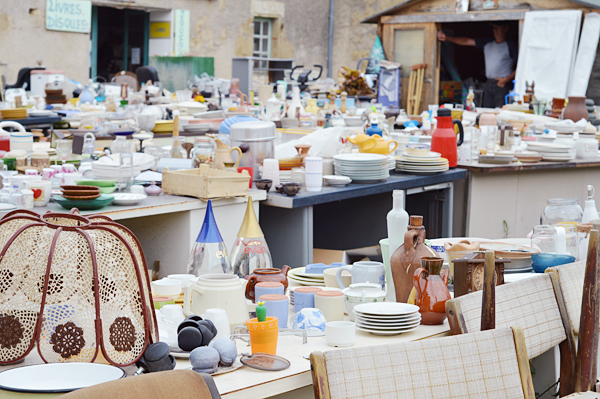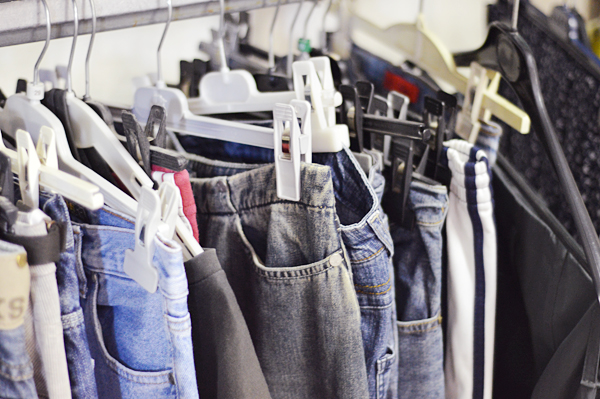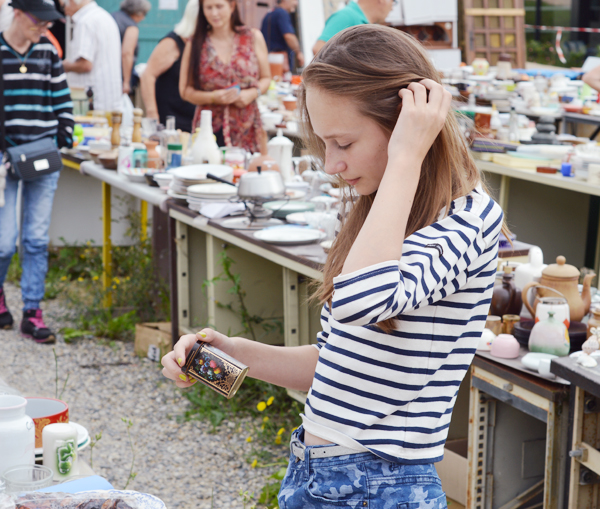 Coming out of Auch we stumbled across this huge Bric-o-Brac center… full. of. junk. It would be the sort of place to go to if you wanted a really bohemian, mix match house full of random bits and bobs. I got a bit excited when I saw the clothes though, unfortunately there were no awesome bargains (darn it!), but it was fun to look around. Mama Posh and I jokingly decided which of the old arm chairs we would pick if we had to… I decided that I would go for the mustard ones, and perhaps the paisley one too. I don't know, there's something kind of cool about them?!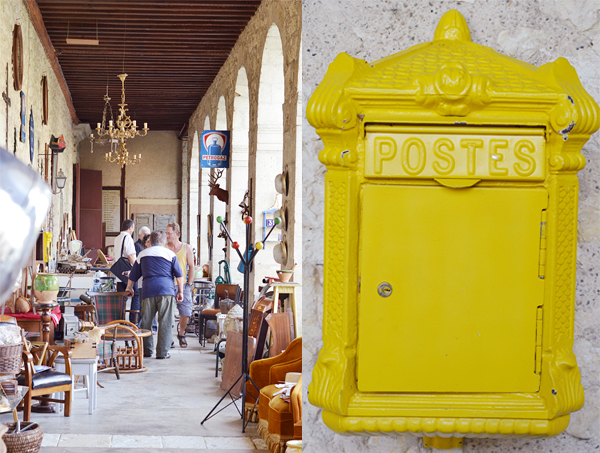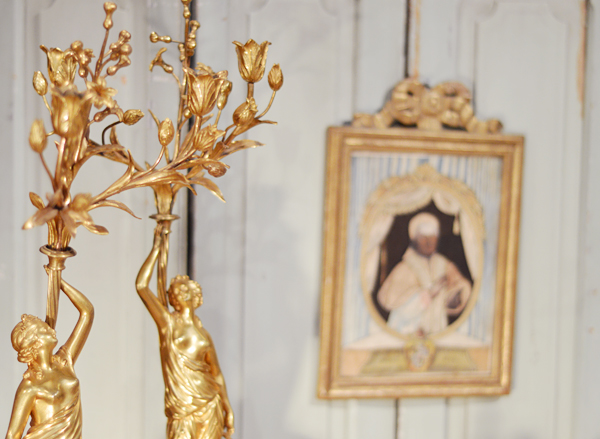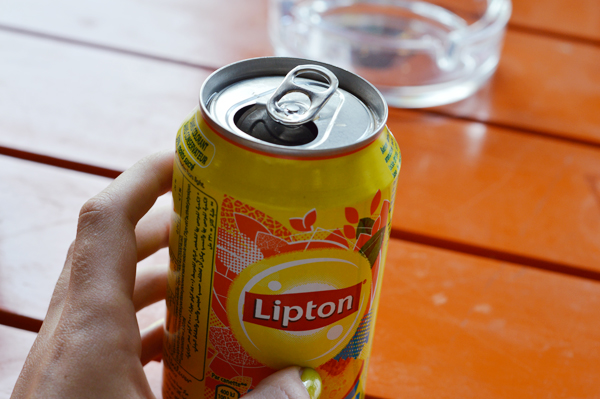 We then found another weird place which was basically a 'brocante' fair (brocante basically means junk or odds and ends, just with a few more antique pieces thrown in), it had one bit which was a church full of really expensive pieces, really beautiful. I found this stunning mustard post box too… I must have a thing for mustard at the moment, it's so pretty! To top it all off I had a Lipton Ice Tea after. It's probably my favourite drink at the moment, it's so refreshing! What's yours?! Tell me in the comments… maybe I'll discover something new to sip on!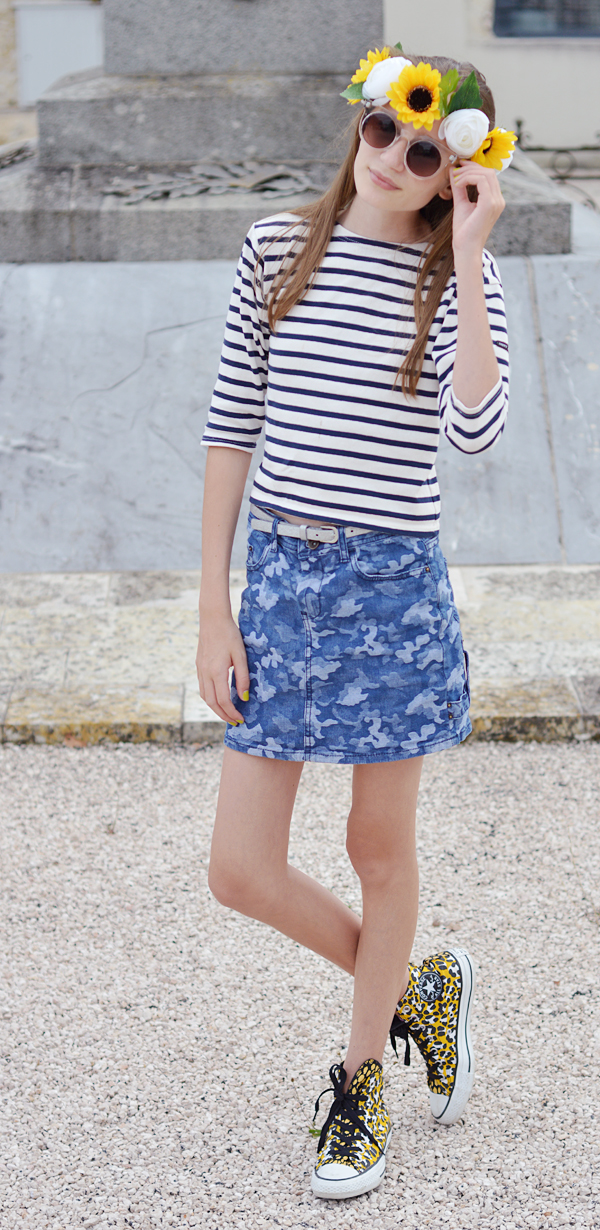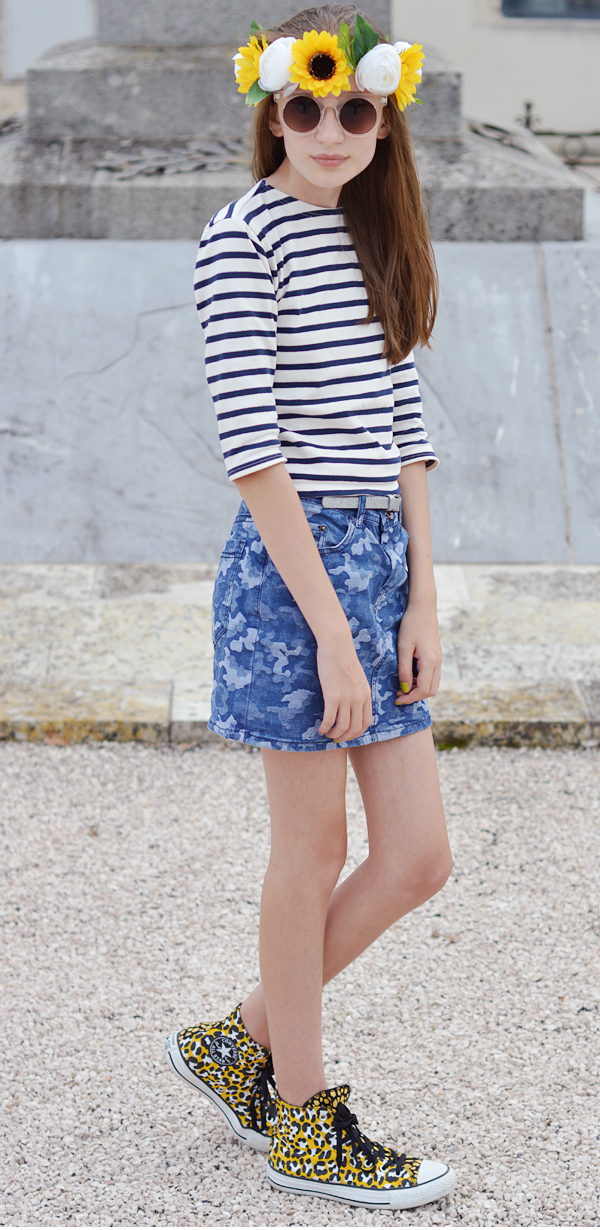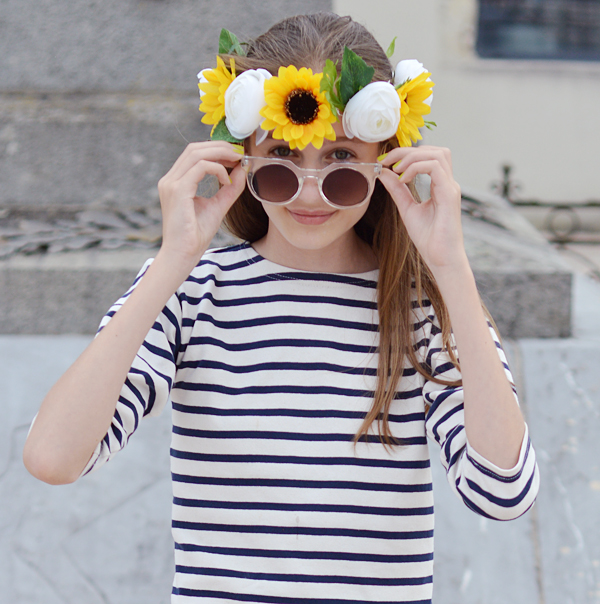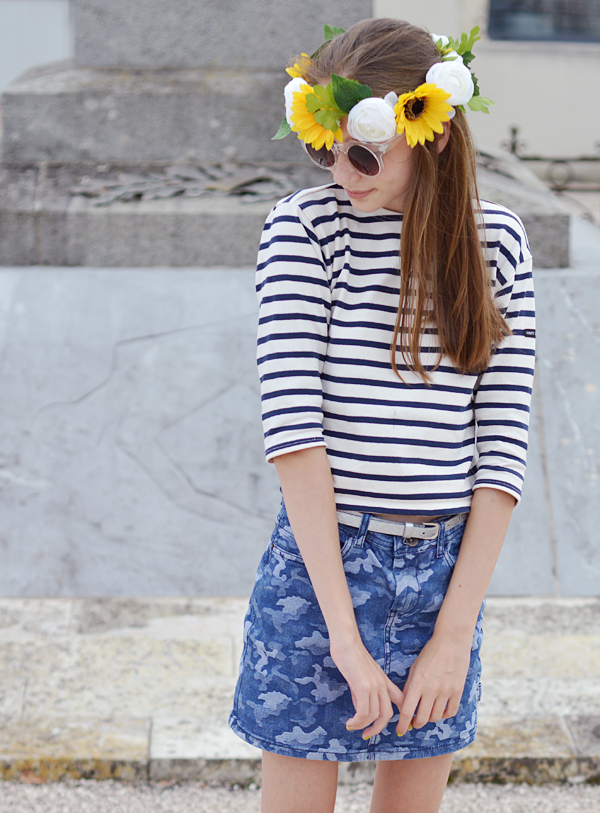 What I Wore: Stripey Top (Saint James), Denim Camo Skirt (ASOS), Silver Belt (Unknown), Sunglasses (Topshop), Sunflower Floral Crown (DIY) & Leopard Converse Hi-Tops (Footlocker)
So let's get down to business… the outfit kinda' business! I know this outfit is kind of similar to my last outfit but who cares… we were travelling quite a bit and clothes are meant to be worn more than once, non? This outfit is pretty simple, a little french if you want to say that, with nautical stripes and a denim skirt! I haven't worn this skirt in forever, and it's about time I did seeing as it's getting on the short side now. I'm not sure what else to say about this outfit… it's kind of self explanatory in my opinion 🙂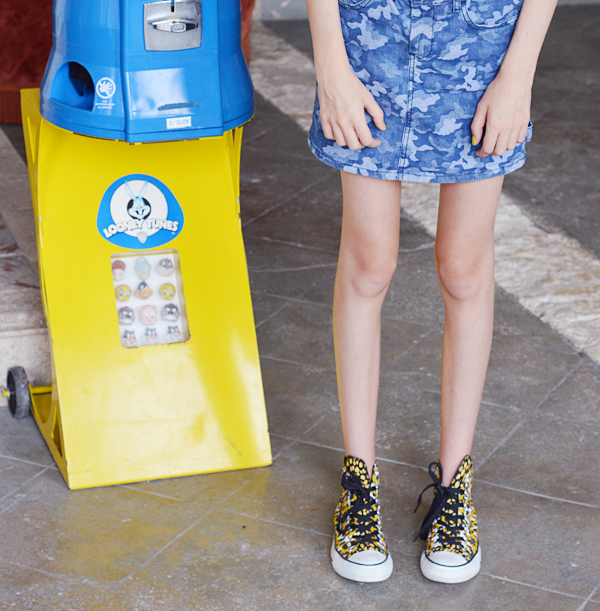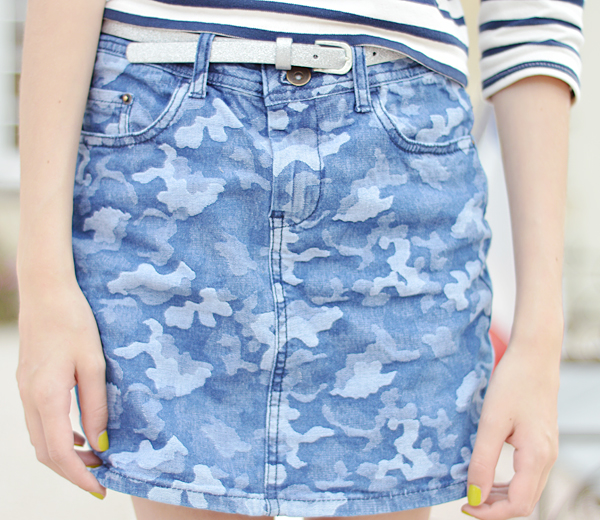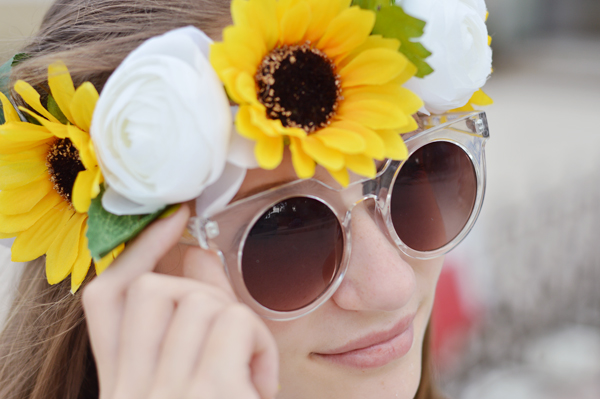 But on second thoughts there is always time to explain the details! Let's talk about my new floral crown for example! I picked up some more false flowers from a jumble sale for about three euros fifty after some haggling, but my brother says the white peonies look like onions and now I'm self conscious that they do. Do they?! If they do, let's just comfort my little soul and say the sunflowers definitely look like sunflowers! It's my first DIY elastic floral crown and after 2 burnt fingers I'd definitely say I'll stick to alice band ones…! Another cheeky OOTD with my Converse. I do love them, very very much.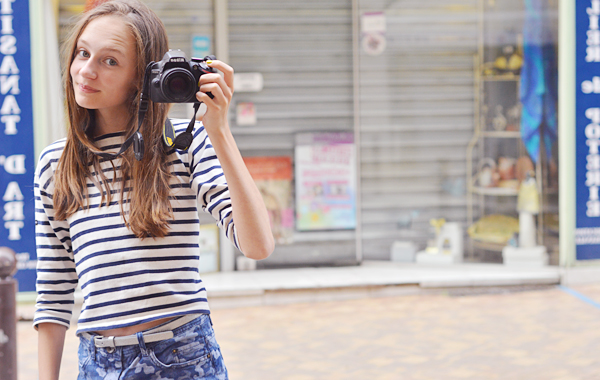 Well that's it folks. I'll leave you with this picture where I look really disheveled from sitting in the car most of the day. I'm also half smiling due to the fact people were walking past and I was trying to take a nice picture without looking really stupidly vain… ah well, c'est la vie! If you do like this kind of post, do let me know in the comments and I shall try and do some more when I can. Speak soooooon! 
Lots of Love… Tolly Dolly Posh xx