So now that London Fashion Week AW16 is over, and it's about time we get to the reviewing and reflecting! I might be doing a Milan Fashion Week review too, seeing as I'm currently in Italy (it seems rather fitting). AW16 seems like it's going to be a good one, especially in the footwear department. So let's check out what happened at Brewer Street Car Park… (All images via Vogue.co.uk)
---
---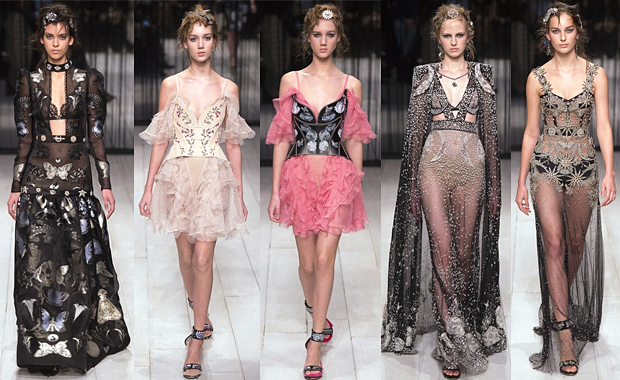 ~ ALEXANDER McQUEEN – RATING: 8/10 ~
Another thing you should know by now from my past reviews, is that I love intricate detailing that takes clothing and fashion to a new level of an art form. I love precision and beading and embellishments and all of the small details that come together to create something transformative… and all of that is within the Alexander McQueen AW16 collection.
It's very feminine in terms of shapes and styles, with lace bras and sheer fabrics being a key focus, but it still has that toughness running through which I think designers have started to do more and more over the years. It's yet another collection that hints to space and all things dreamlike, with symbolic moons and stars dotted throughout.
It's regal and every piece has a sense of presence, and I think that's most definitely true to McQueen. A big congratulations to Sarah Burton on a wonderful collection, especially since she is heavily pregnant… incredible!
---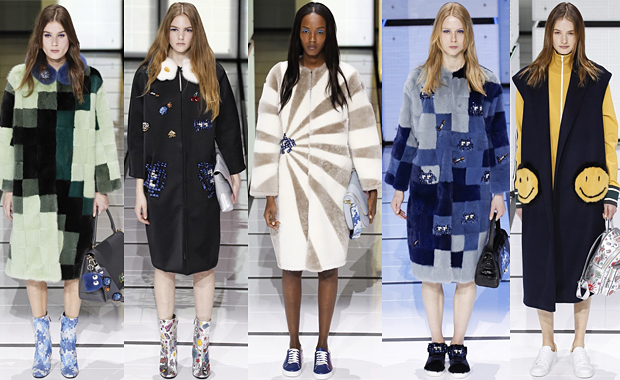 ~ ANYA HINDMARCH – RATING: 9/10 ~
After becoming slightly uninterested in the whole 'novelty' fashion theme, Anya Hindmarch has won me back again with a very tech based, Tetris and Pacman inspired collection that makes for a good inbetween with novelty and good old, high fashion.
First of all, I'll talk about how incredible the show was (on live stream)… the set had moving Tetris pieces that created and an incredible backdrop to the cast of models, which were walking down the catwalk to a beat that turned into a computer generated voice before they lined up for the final presentation.
It was really quite interesting and I love the question of "Do computers dream when they sleep?" that went along with it. In terms of the actual collection, I also loved it. Like I said, it was a great balance of novelty and true designs all of course with a classic Hindmarch twist.
There were Pacman handbags, Minecraft inspired faux fur and a nod to previous collections with the fried egg symbols and the sticker covered shoes. It was all around, a wonderful collection and such a great show, that will be sure to be a big hit next season.
---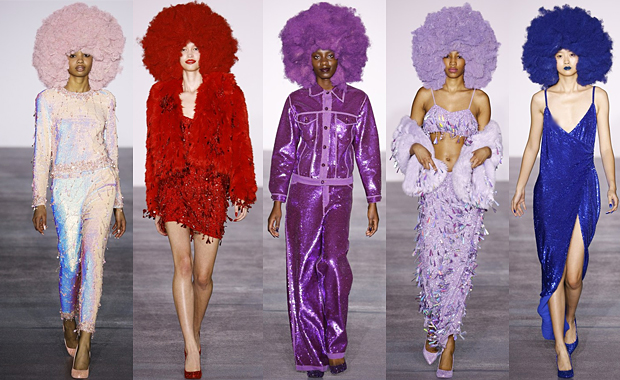 ~ ASHISH – RATING: 6.5/10 ~
Gah, I really do love ASHISH but I think this season was lacking in something. I really love the crayon box inspired idea, with each look being top-to-toe one colour, but it just doesn't feel as dramatic and exciting as usual. I won't lie, I'd still like to own most of it, but unfortunately (and I am being very subjective here), this isn't my favourite collection of the season which is rare for me and ASHISH. It's a bold move though, with everything being so simple, and for that, I applaud Gupta.
---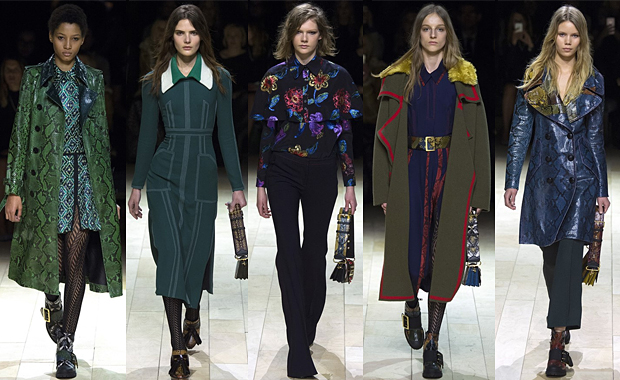 ~ BURBERRY – RATING: 6.5/10 ~
With the news of Burberry becoming one of the first brands to transition from the usual fashion week schedule of see now, buy later, it's interesting to see what's in store next. What I think is interesting, is that every look is quite different. There is of course the overall theme of masculinity mixing with femininity, slouchy seventies etc… but I would say that usually with Burberry, you can spot out pieces in different variations.
Perhaps this is to do with the change… with people needing things that are totally new. One big thing you can spot is texture; there are sequins and heavily embroidered garments. It is different, but it's still very Burberry and I'm sure it will be a big hit to those people who get to have a chance at pre-ordering their favourites.
---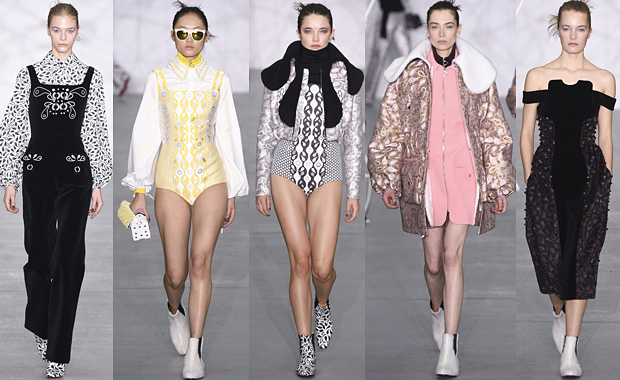 ~ HOLLY FULTON – RATING: 7.5/10 ~
Another designer who always sticks to her routers, showing a definite signature style throughout is Holly Fulton. Although inspired mainly by David Inshaw's painting "The Badminton Game", I can still feel those space age style themes running throughout in a slightly mechanical style… whether that's just my eyes, I don't know, but I like it nonetheless.
Intricate, folksy style prints across wide A-line pieces are mixed in with organza creates a lot of drama and activity to a collection that could have been a lot more basic. I love the muted pink tones (I'm a big fan of them right now) so that small addition definitely wins me over.
---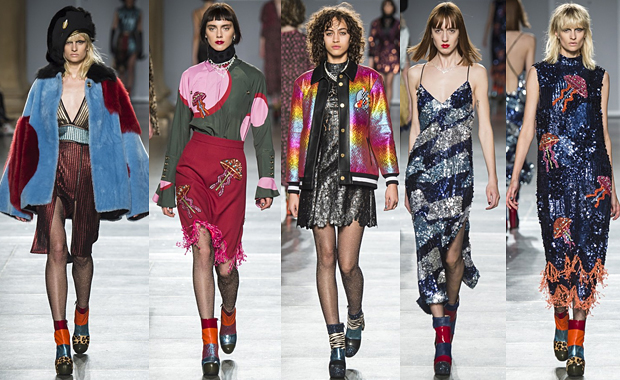 ~ HOUSE OF HOLLAND – RATING: 8/10 ~
A meet in the middle of seventies and twenties inspired pieces, I think I'm starting to fall back in love with HOH. There's flapper inspired sequin dresses (you know how I love sequins, but really, does anyone do them better than ASHISH? Actually, maybe they can this season…?!) and laid back fits in the form of loose jumpsuits and oversized robe style jackets.
There's also a hint to the 'space' trend that has already started popping up all over (we saw it with Versace's men's collection). I would say it's a nice nod to the late, great, David Bowie, but that was only a small portion of his career so we should take note of that. I think this collection is one of my favourite HOH collections for a long while now.
---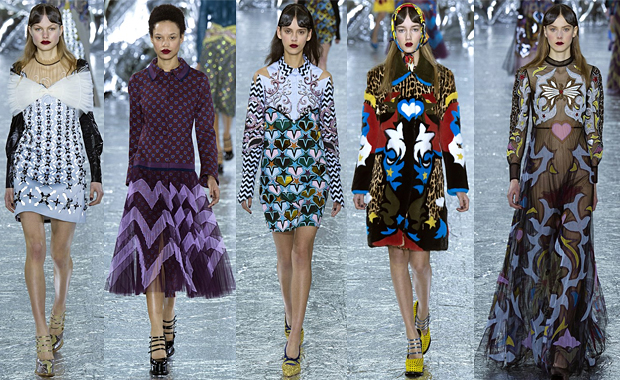 ~ MARY KATRANTZOU – RATING: 8/10 ~
I sort of fell out of love with Katrantzou over the past two seasons but I think this one has won me back, surprisingly. Although there are strong, western cowboy themes throughout, all I can think of when I look at each look is; disco. It's a party collection at heart and that's proven by the flashy metallics and bold star prints.
Of course the shirt dresses were a big focus, and they will most definitely be an inspiration for the high street, there's a lot of other things to be looking out for too… like the faux fur coats which is super interesting to see Mary focusing on, especially in such a bold manner. It really works though and I LOVE it. It's such a fun collection, that you can still class as beautiful and ethereal, just like last season.
---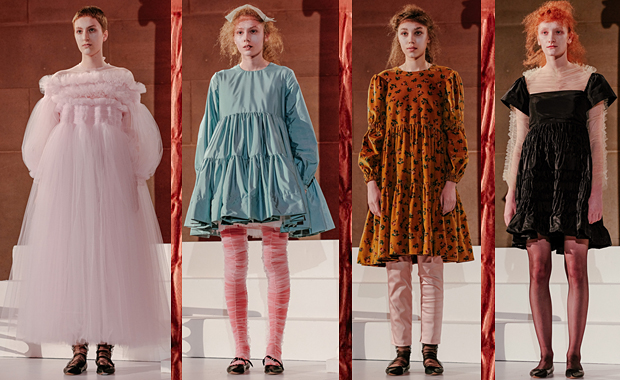 ~ MOLLY GODDARD – RATING: 8/10 ~
I love seeing what Molly has to offer because it's always so genuine and you can tell that so much love and genuine creativity is put into her work. It's also love to see such a diverse casting of models too… it's just refreshing. Everything she does is refreshing and I love that.
If I were to personally put a pin into what the collection is to me… it's a bit like the 2010 version of Alice In Wonderland. It's dark, mysterious but still playful and girly. There's bright pastel tones in the form of puffy dresses, but there's still the full, deep textures and darker shades. It's a really lovely collection and I'm still totally obsessed with her signature style.
---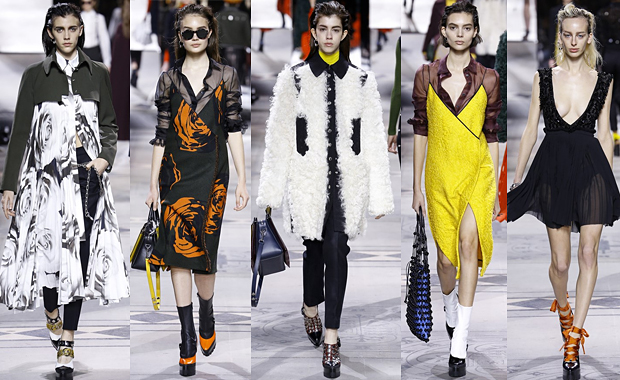 ~ MULBERRY – RATING: 7.5/10 ~
I feel as if this collection will cause some form of controversy regarding the heritage of Mulberry and its previous collections because as you can see, it's definitely something new… but is that really a problem? In my opinion, no. I think it's really refreshing to see something new from such a brand, no matter what we're used to.
It's still sleek and streamlined and there are still nods to the shapes that we're used to, but it feels lighter and I love that. I also love the shoes – I think that's one thing I've noticed across the whole of LFW – AW16 is going to be a good season for footwear.
---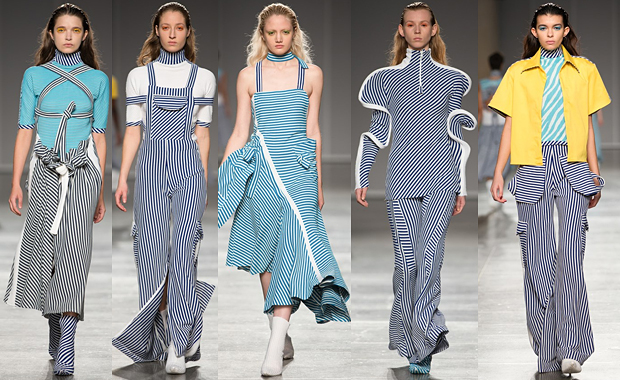 ~ RICHARD MALONE (Fashion East) – RATING: 8/10 ~
Malone is definitely a designer to keep your eyes on. I've mentioned many times before but I love streamlined collections that are simple with not too much fuss, yet they still pack a punch, and this is definitely one of them. I absolutely love the use of stripes and shapes. It's almost nautical, especially with the different shades of blue and the bright yellow breaking things up. I really do love it, and I'll definitely be looking more into his work.
---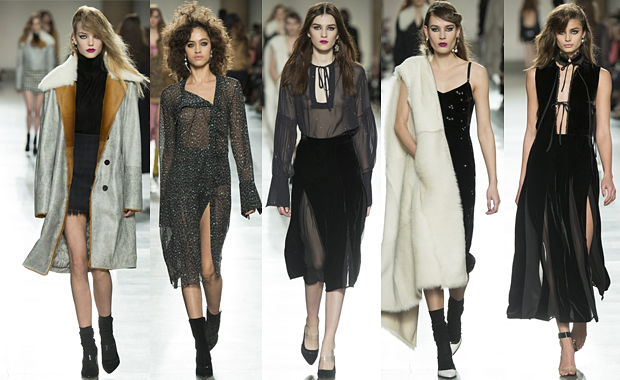 ~ TOPSHOP UNIQUE – RATING: 8/10 ~
With Topshop comes a very similar colour palette to what we saw over with Holly Fulton. Dreamy, woodland colours (and prints) with a strong balance of monochrome at the same time. It's deep, it's dark, it's mysterious and it definitely pulls you in… and dare I say it, a few of those dresses could be classed as sexy. It's a strong collection and it shows that Topshop are finally finding their UNIQUE feet.
---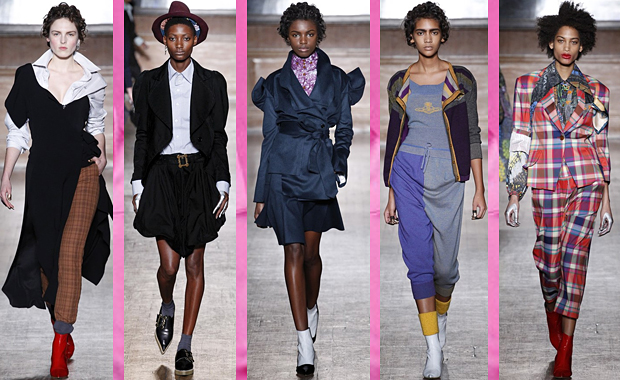 ~ VIVIENNE WESTWOOD – RATING: 7/10 ~
When I was watching the show, my first thought was "It's a marmite collection – you either love it, or you hate it", so when the Style.com review says that too… well, then I guess that's exactly how to put it. It's a classic Westwood collection once again, but that's nothing new. Every Vivienne Westwood show has classic pieces that you can pick out in each line up.
The shows are rare for that because although you can obviously pick out similarities, it always ends up looking so different with such a different feel. There's the classic neck lines, there's the outerwear that hasn't aged a day and there's the draping… but it's all new.
Personally I believe there are nods to the cyber world, a bit like Anya Hindmarch, but then I might just be picking up on similar prints and patterns. It all adds up though… every small detail goes towards the next season as a whole, so I'm sure this collection will influence it.
---
What did you think of London Fashion Week AW16? Are you excited about what's in store? Let me know in the comments!
Lots of Love… Tolly Dolly Posh xx