I know, I know… it's March and I'm only just putting up my CWTS #2 (meant for February)… I just blame February being shorter, I mean who knew 2 or 3 days less than usual could make such a big difference? I really do apologise though, I doubt any of you are really keeping track of the schedule, but oh well. It's here now! Want to know how to dress for winter? Step right this way…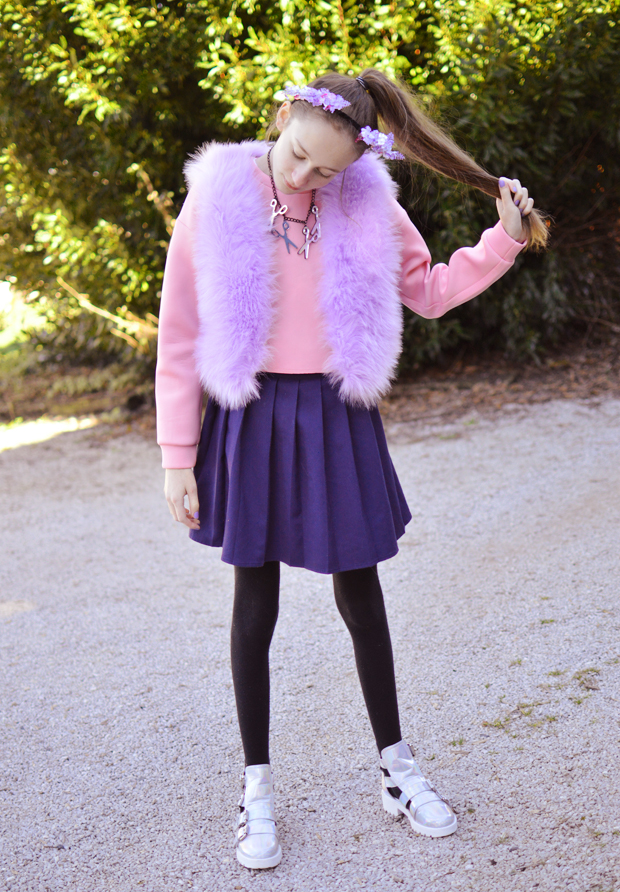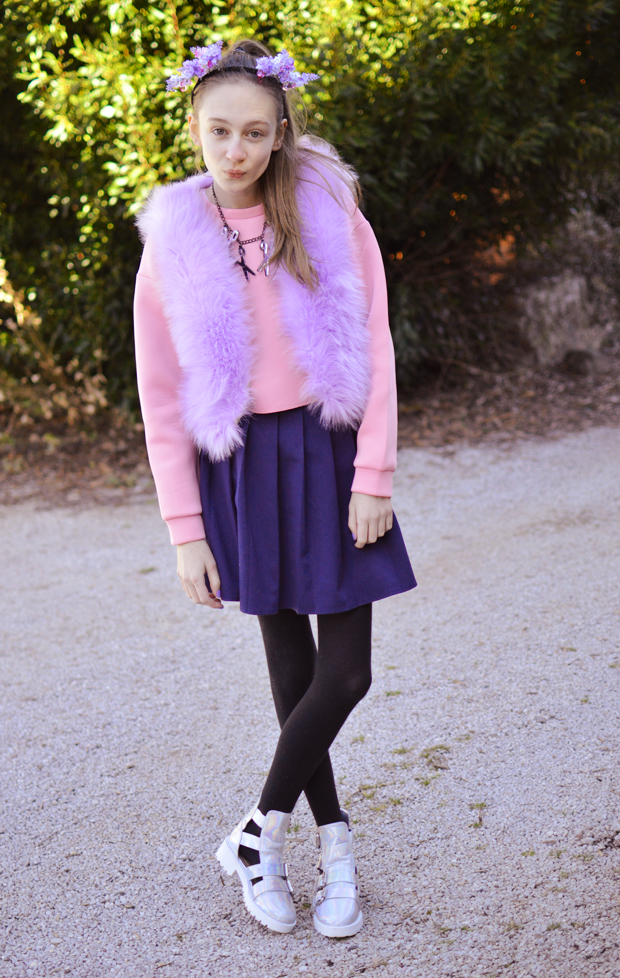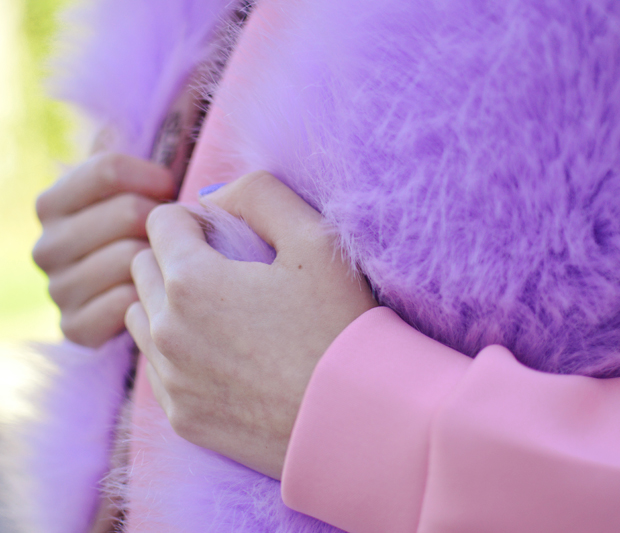 ---
WHAT I WORE: Skater Skirt (H&M) // Faux Fur Gilet (Choies) // Scuba Top (Glamorous)* // Scissor Necklace (Chelsea Doll – Now closed)* // Floral Headband (Johnny Loves Rosie @ ASOS) // Holographic Buckle Boots (Boohoo)*
---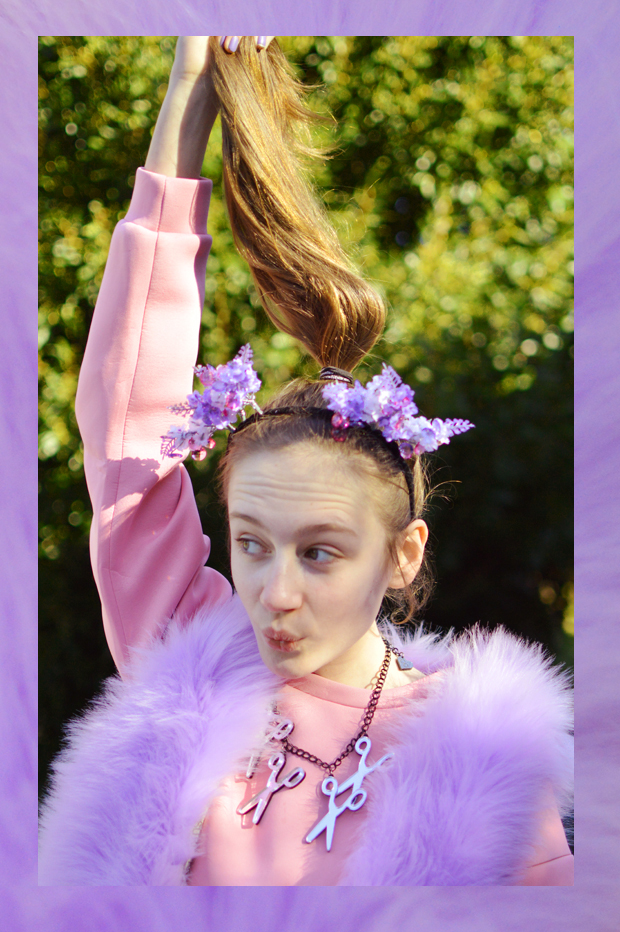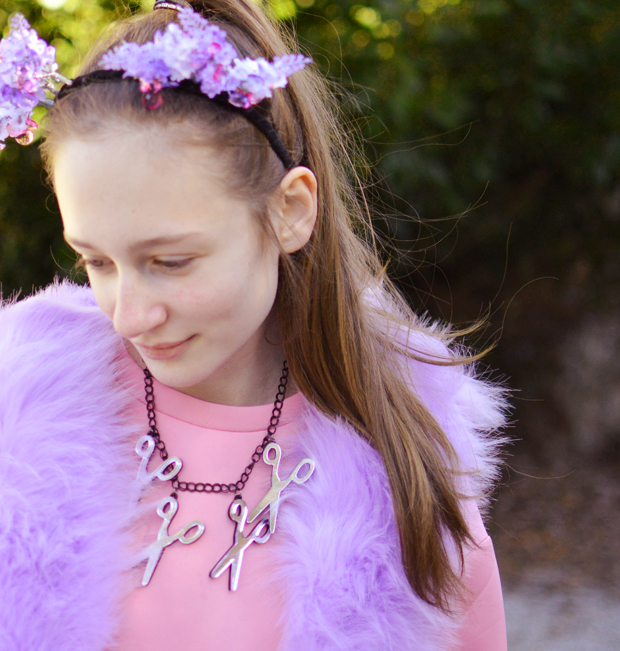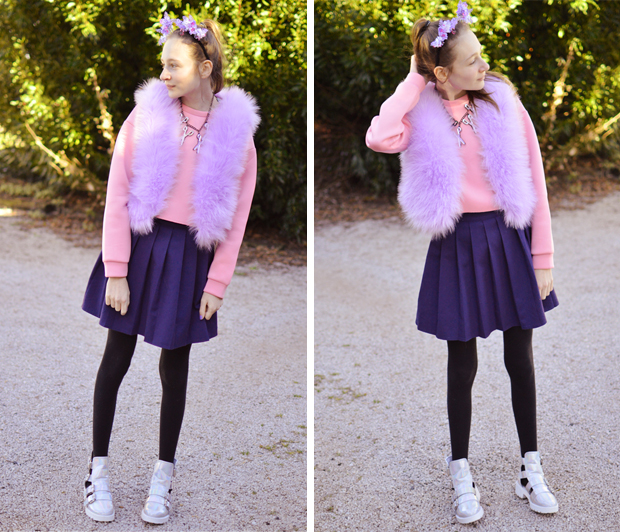 It's definitely getting warmer, which I am SO excited about. I tweeted the other day saying that I literally love summer and spring so much. It's just that feeling of stepping out the door and not having a freezing cold nose and not having to cover up your meticulously planned outfit with a coat. We're nearly getting there and that means… COLOUR. I think this skirt (that you guys so amazingly voted for me to style) is a nice inbetween colour, because it matches the purple, but then it also sorta' blends in those black tights that I'm still clinging on to.
I made this outfit a little bit more snazzy with texture too. I've been dying to try out the whole 'scuba' trend and I'm loving it. The structure to it makes everything look a bit more sleek and perhaps even a bit more expensive. I've had an odd relationship with Glamorous, but the more I wear their pieces, the more I fall in love. The other bit of texture is my faux fur gilet. It has been rather sad as you guys didn't vote for it… but it made a cheeky appearance anyway!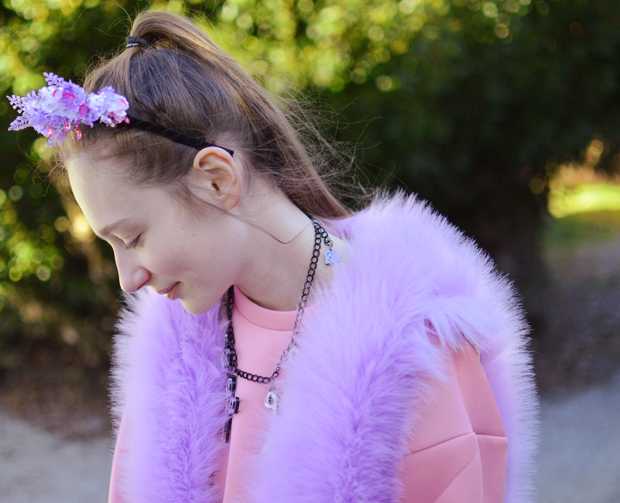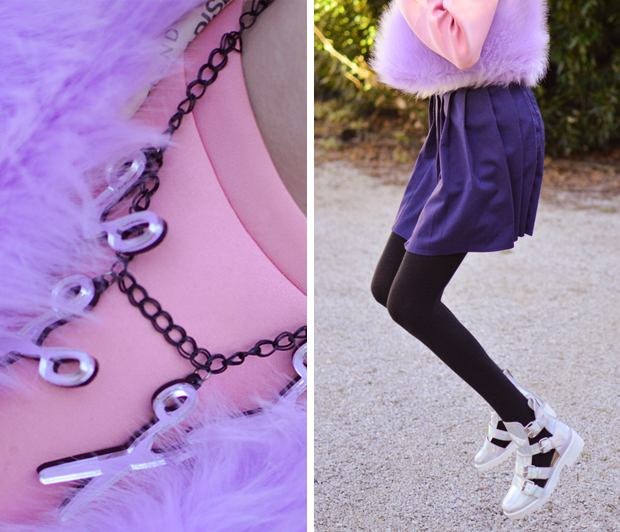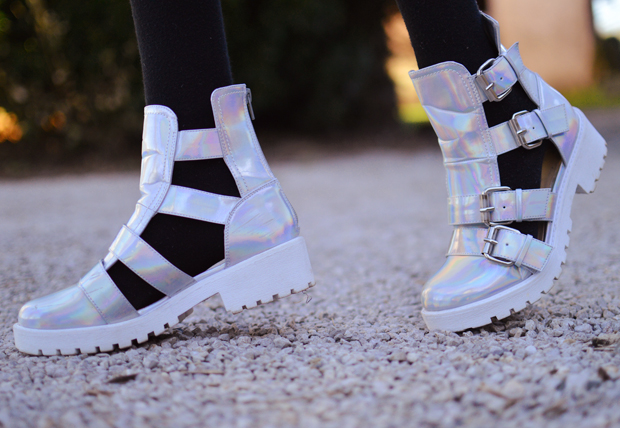 I love my faux fur gilet, especially now as it matches my super adorable floral headband from Johnny Loves Rosie… but then again that's rather sad too as it, keeps. on. braking! The stems of flowers just decide to pop off, so I perhaps wouldn't suggest buying it, unless you just really like the look of it. Speaking of things we really like the look of… LOOK. AT. MY SHOES.
You have no idea how long I have wanted a proper (like proper, proper) pair of holographic shoes, and I finally have some. I do admit that they are slightly noisy (the buckles tend to squeak and rattle) and the zips are a little too stiff, but I can live with that… they're amazing. I thank Boohoo for bringing them into my life… I will just point out here and now, that this year I'll be working with Boohoo on a snazzy lil' prom outfit… who's excited for that?!
And finally, the video! I hope you enjoy the little video segment, because I do! It also kind of gives me an excuse to put something up on my YouTube channel… eek, haha! I know each one is only short but it just gives you a little insight in to what the outfit actually looks like in 'real life'? Let me know what you think and please do make sure to subscribe, it would make me very happy! Speak soon…
Lots of Love… Tolly Dolly Posh xx