I am quite excited to say this, but I am an official supporter of Jeans for Genes day. Oh yes. The amazing charity mixing fashion with a good deed, asked me if I want to support the charity this year, and there was not even an 'umm' in sight. I of course, said yes.
What I Wore: Limited Edition Fashion Tee £20.00* (Jeans for Genes) & Denim Dungarees €4.00 (Jumble Sale).
When I first saw this top I wasn't quite sure what it was, then I realised the print was 2 girls with their plaited hair intertwined (to look like a double helix) with metallic flowers. I was going to style it with a jumpsuit to make it a bit more grunge looking, but then remembered that I had my denim dungarees. This top is so comfortable even if it is just for throwing on for casual wear. The top was actually designed by Milly Wood from the Edinburgh College of Art, and although I wasn't sure on it at first, I do rather like it. At home I like to wear this with my grey ZARA shorts. Make sure to go and buy yourself a top and get styling yourself!
If you don't know what Jeans for Genes day is all about, carry on reading.
This year, on Friday 20th September, Jeans for Genes is inviting millions of people to leave their work clothes and school uniforms at home and wear their favourite pair of jeans instead, in return for a donation. All money which is raised is sent to help children with genetic disorders, across 23 different charities. 1 in 25 children in the UK have a genetic disorder, that's around 30,000 babies each year. Celebrity supporters for this year include Melanie C from The Spice Girls, Michelle Keegan, Louise Thompson, Amy Childs, Lauren Goodger and Sophia Sassoon.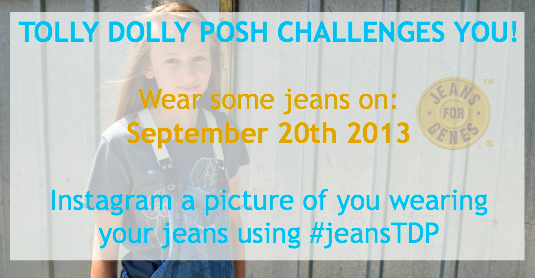 I am challenging YOU to wear your favourite pair of jeans on September 20th. Whatever the weather, whatever you are doing, make sure to Instagram a picture using #jeansTDP and I will share around my favourite pictures. Unfortunately there is no prize but you will be supporting a fabulous charity, and that is worth way more. You do have plenty of time so don't worry. I will be reminding you to get ready in Part 2 of this post! 
To celebrate my new blog banner, and a little thank you to the loyal followers of mine, I am running a give-away HERE which only involves one obligatory step to enter! Good Luck!
Lots of Love… Tolly Dolly Posh xx