Hello and welcome to my third official post of 2016… okay, calm it Tolly, it's not a radio introduction… today's post has been brewing in the back of my mind for a while now, and it's all about aesthetics and finding that 'vibe' that fits you. I feel like I'm currently in a good place with my personal style, which is a big thing for someone my age because we're always constantly changing along with our personalities. It's a good thing though – I like having the true freedom to experiment with what I wear… it's a shame that, that kind of fades away at a certain point. That needs to change!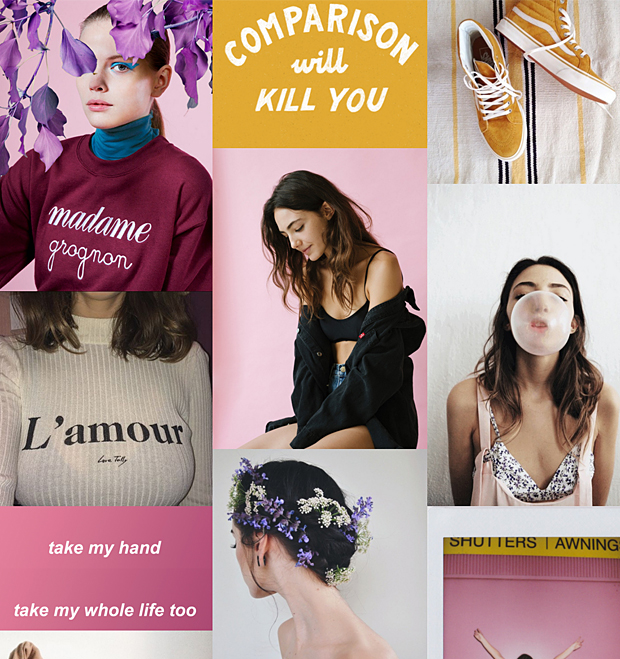 ---
---
I think my current personal style has started to form through different influences, mainly social media. I know I go on a lot about being yourself (because it's true, you should be) but I think there's a big difference between taking inspiration from and plain copying. Taking inspiration from different aspects of life can make a huge change in your wardrobe.
Like I said, for me, social media and places like Tumblr have really being do it. Creating an aesthetic isn't just about looking at clothes, it's about creating this whole idea and almost 'way of life' of how you want to go about things… so I don't just look at outfits, I look at text posts, quotes, colour swatches, photograph etc… they all add up to create this broader image of what I'm trying to put across.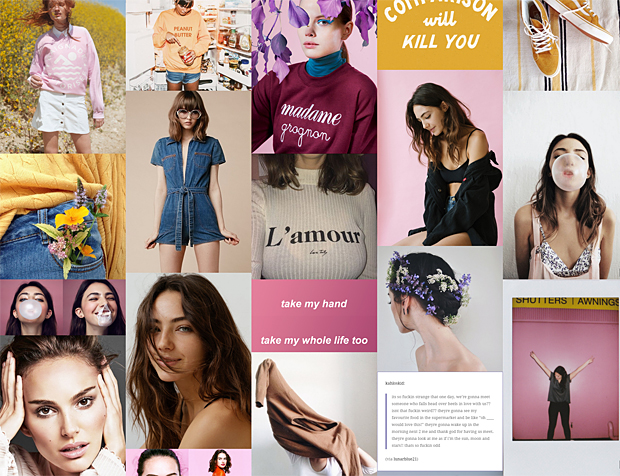 If I had to put a label on the aesthetic I'm currently channelling, it would probably be called something like… 'Pink Peanut Butter'. That sounds really odd, but it basically started off when I discovered Rad.co and they're stunning and simple collection of sweaters (that sounds sponsored but I honestly swear it is 100% not), one of them being a plain yellow number with the embroidered words of 'Peanut Butter' (scroll down to take a peep).
If I had to give a list of things I'm loving it would probably go a little something like this…
✗ Simple sweatshirts
✗ Crisp blouses
✗ Neutral tones
✗ Pinks, Mustards
✗ Corduroy textures
✗ Natural beauty
✗ Denim
✗ 70s shapes
✗ 'Tasteful' slogans
✗ Normcore – ugh, I really don't like that word though
✗ Bohemian jewellery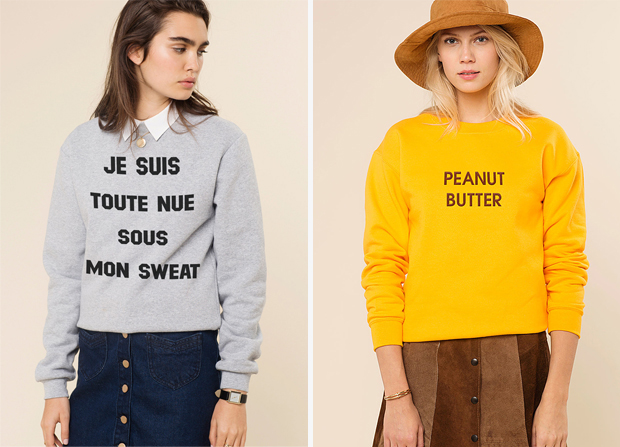 ---
SHOP: 1 // 2
---
In terms of my recent purchases and how I've actually been channeling these vibes into my personal style, I picked up this rather 'peanut butter' style sweatshirt from Pull & Bear which has a tasteful slogan, 70s colours and peanut butter colours. I can't wait to style it up throughout the year, even layering it for the warmer days so it becomes more of a slouchy throw-over (you can see a snippet of it over on my Instagram)… but as I mentioned above, I'm in love with Rad.co and I am eagerly awaiting the day when they start shipping worldwide… *daydreams*
---
I didn't want to write a full post about it because I just want the news to sit with me for a bit, but of course I have acknowledged our tragic loss of the inspirational legend that is David Bowie. I wrote a tiny snippet over on Facebook as to why I'm not making a full piece, so I hope you understand. He made a big impact in my life and I will forever be honoured that I was alive at the same time he was. So thank you, David Bowie, please go and be as free as that bluebird.
Lots of Love… Tolly Dolly Posh xx