Hello! Sorry I haven't blogged in a while, I just haven't been in the right mood…? Anyhoo, following on from my Budget Christmas Shopping Guide, I thought I would do a Wishlist. Now, just so you know, I do not expect all or even any of these things. They are just a few things which I would ask Santa for, if he was real. Fabulous, now I have the pressure and stress of hoping that nobody just found out that Santa wasn't real… owww.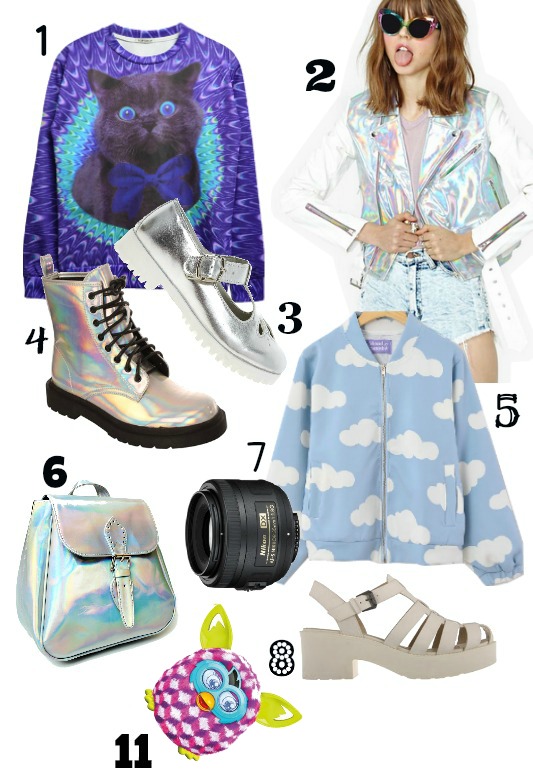 (Sorry, I added the Furby at the last minute so 11, is just hanging' with the under 10s)
1: SheInside Crazy Cat Sweatshirt – There are 2 reasons I want this… 1, being the fact that it has a cat on it, and 2, it reminds me of something I read the other day. Basically I gave Paloma Posh (my cat) a tiny crumb of chocolate cake and my eldest brother said 'Don't give her chocolate' so I looked it up, and well, you can read this for yourself. It's not the nicest, but at the time I found it hilarious, and I believe this jumper sort of sums it up! (I believe I now sound extremely weird and slightly sad…)
2: UNIF Biker Jacket – A thing of beauty. It is just gorgeous. It has white sleeves, and a holographic torso, with chunky white buckles, what more could you want? I could just imagine me opening it up now… *imagines herself floating on a candy floss cloud cradling the jacket like a baby* (Okay, now I sound very weird)
3 & 4 & 6: ASOS Holographic Flats, ARK Boots & Motel Bag – Take classic school style flats, add a white sole and shiny silver. Yup, basically my idea of a perfect shoe. I feel like if I get a pair of holographic shoes, my wardrobe would be complete. I could start to wear 'my' kind of outfits because 'my' kind of shoes would be in my collection. I'm sorry there is so much holographic in this post  9+858.21.;', How rude, I am being interrupted by my brother who is attacking the keyboard  but I just love it! The boots are just perfect because when you don't want to wear an ordinary pair of flats, you can wear a Dr Marten style boot. Perfection, plus they aren't even that expensive! Oh, and the holographic bag as well, yeah. Wouldn't mind some holographic paint too, so I can just paint my whole entire life all shiny and iridescent…
5: Moooh Cloud Print Jacket – Do I really need to explain? I thought not… oh okay then, well basically it has clouds on it, sooo…?
7: Nikon 35mm 1.8 Lens – Ever since I read this post on Wish Wish Wish, I have never stopped obsessing over the fact that I am living without such a thing. I thought the lens I had was good, but oh boy, this one has 1.8 aperture and that's just like… mental.
8: Lipstik Lillian Shoes – I love these! I've always been a fan of the chunky white shoe, but when I saw this particular pair, I fell in love. Unfortunately I believe they are only available in Australia, so if anyone can find me a European pair, then do let me know! 😉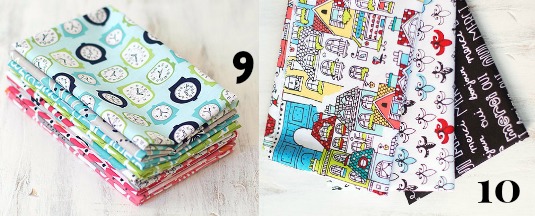 9 & 10: Gracie Girl & Mon Amie Fabrics – I've recently, been really wanting to start making my own dresses. Unfortunately France don't have the best supply of fabrics (well, where I live anyway), and even when I find some, they are extortionately priced, so when I found Bloomerie Fabrics, I knew I had to add these fabrics to my Wishlist! Imagine making a smock dress in the fabrics on the right (10)? Gorgeous.
11: Furby Boom 'Cube' – I know, slightly random, but that Argos advert is really making me want one! My sister used to have one and apparently it started driving the family insane, but hopefully there has been an improvement! The new ones mean you can hatch baby Furbies on your iPad/iPhone, and do all the usual stuff. I know it really is a bit weird, but I seriously want one! I want to make it be like… my minion.
So there we have it! I don't really want much this year, I must be getting older *sigh*… Although, I do really want some ASOS vouchers and a Saxophone, so if you do want to send me anything here is my address: JUST KIDDING. 😉
What do you want for Christmas?! Let me know by leaving a comment…
**Make sure you check out Let's See! A gorgeous photography blog which I absolutely love!** – This is a sponsored link.
Lots of Love… Tolly Dolly Posh xx