It's that time of the year… the fashion month is coming to a close, all my thoughts are in my notebook and I'm ready for my big London Fashion Week SS16 review to be shared with the world! It's a bit longer than usual mainly because I've really started to dig a little deeper into each collection rather than just say what I like about each piece. I hope you like it and to make things easier, I've added some handy links for you to skip to certain designers… enjoy! (All marvellous images are via VOGUE.co.uk)
---
---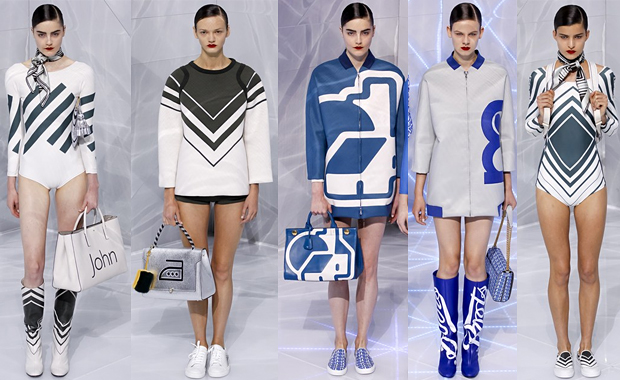 ~ ANYA HINDMARCH – RATING: 6/10 ~
Part of me wants to love this collection, but part of me is realising that novelties are simply just, novelties. Anya Hindmarch once again put the ordinary in luxury with logo covered handbags from familiar UK brands like John Lewis, Nationwide, Mothercare and Boots (Boots boots… get it?).
Of course it's clever and it works well but do we really want to see another novelty collection of designer handbags? It's a bit like Moschino's latest ranges… it's fun, quirky and it works well, but is it really enough? RATING: 6/10

---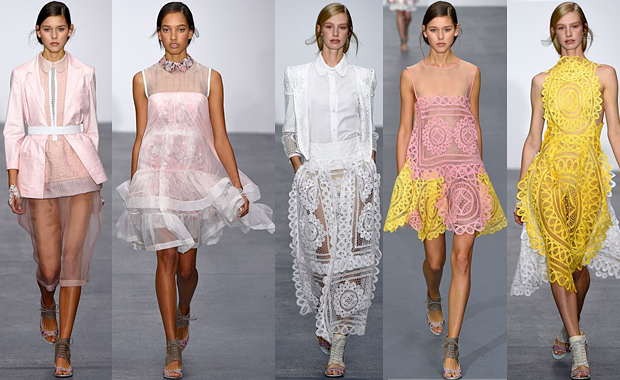 ~ BORA AKSU – RATING: 7.5/10 ~
I'd say for SS16, Bora Aksu took a slightly masculine, "equestrian" route. Although it still has it's mainly feminine routes with neutral shades of soft flowing tulle. It's almost so neutral it could be classed as failry bridal which works out well seeing as the other colours that are included are combined into floral prints and textures.
But then, as I mentioned, the more masculine themes of dressage come through (although I could be totally wrong), with tightly belted blazers and buttoned up blouses. Overall the collection is perfect for spring and summer but personally (and subjectively) I wasn't overly as excited as previous seasons. RATING: 7/10
---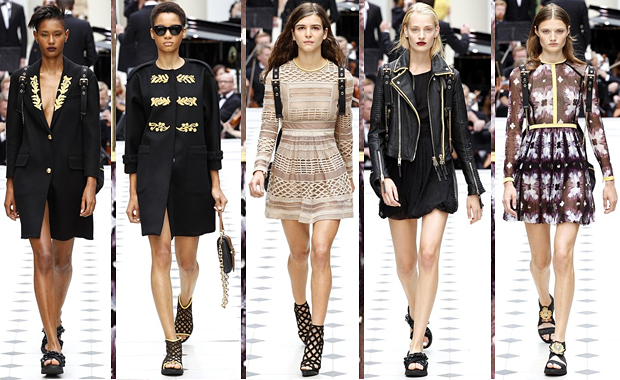 ~ BURBERRY PRORSUM – RATING: 9/10 ~
Burberry are one classic brand full of heritage with an innovative plan. New ideas never seem to fail, whether that's on the catwalk, or off. This rather dark SS16 collection was launched not only at LFW but also, on Snapchat.
If you know Burberry, you'll know how they harness the online world so it's really interesting to see. It's also interesting to see how the collection that was broadcasted over Snapchat is the one that is rather wearable and versatile… you see? 💰
Full of intricate shapes and textures, biker jackets and rucksacks it's definitely a seller. The use of mesh and tulle make up for the lack of summery colours for summery layering. It's bound to be an SS16 favourite for everyone. RATING: 9/10
---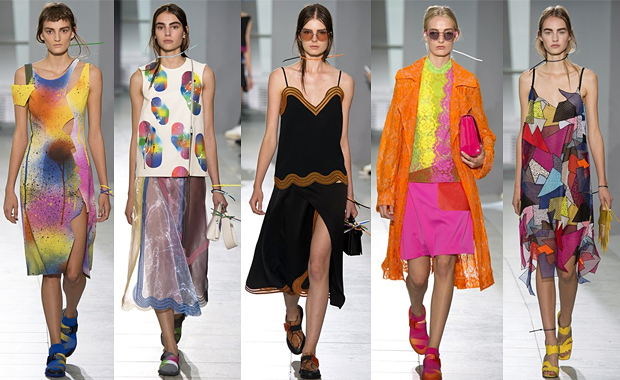 ~ CHRISTOPHER KANE – RATING: 8/10 ~
Inspired by repair from old to new, Christopher's Kane's collection is another beauty. Full of colour amongst darkness, artistic looking shapes and details (inspired by sculptor John Chamberlain) and scraps of different fabrics; it's a beautiful mess.
Neon brights to match the emerging SS15 trends, and a hint of tailoring. It's artistic and it definitely has me hooked… just like any collection with a meaning does! RATING: 8/10
---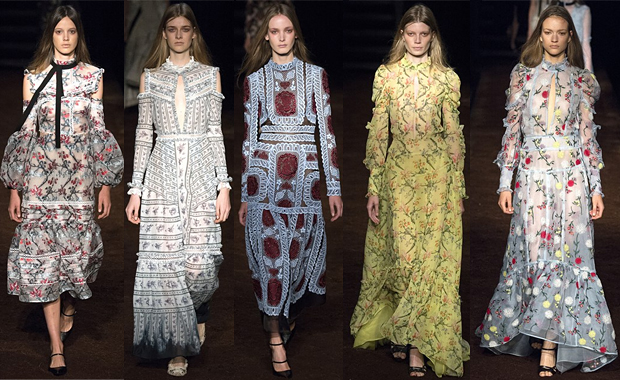 ~ ERDEM – RATING: 8/10 ~
I often forget Erdem when it comes to talking about designers but I'm honestly always impressed. I've noticed a lot of monochrome for next summer and Erdem has impressed me the most. The collection is dark and mysterious… as if every girl (look/model) has a strong story to tell about how she got here.
Well, actually, we already know that… by boat (yup, I believe a boat was part of the dramatic performance). There was a softer side though, flowing tulle in pastels with soft floral embroidery scattered all over. It's a beautiful collection and you can definitely admire it as artwork. RATING: 8/10

---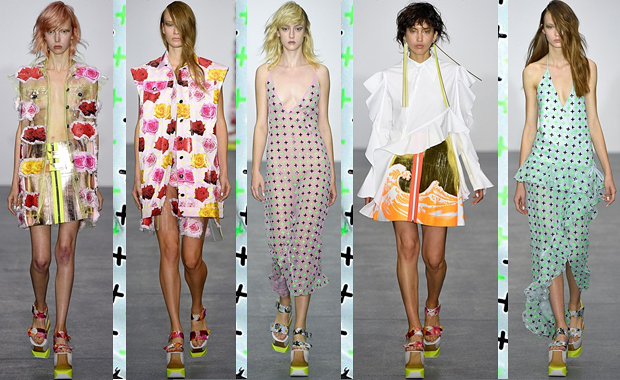 ~ FYODOR GOLAN – RATING: 10/10 ~
The collection is expressive and fun and is a perfect fit for a "summer party girl" with bright neon shades throughout each look, shimmery metallics and fun daytime florals on transparent PVC. The classic digital style from Golan's latest collections are still a key feature with robots hidden throughout.
It's a great example of the "wearable art" trend that has been floating around, with a nod to the Great Wave of Kanagawa. It's as if each looks is a different life form with such varying artistic visions… but somehow, it flows together beautifully. It's as if each girl (look/model) is on the same mission, but they're taking on the task in their own individual way. RATING: 10/10

---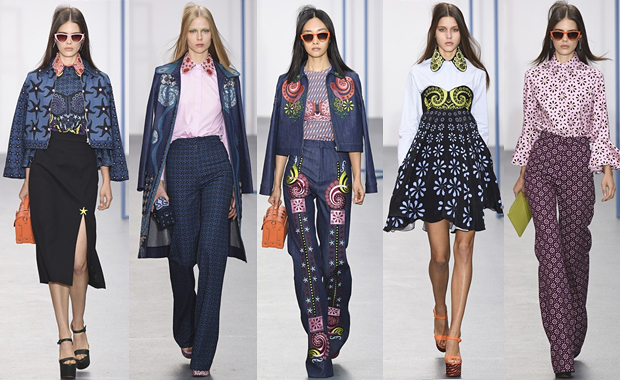 ~ HOLLY FULTON – RATING: 7.5/10 ~
This season brought familiarity with a twist from Holly Fulton. Full of classic Fulton features like applique and sleek shapes. It was slightly different though, with denim jackets and neon brights. It felt full of glamour but with a casual edge to it. It even had the slight familiar vibes of the 2015 seventies trend.
Apparently the collection was inspired by surrealist artists Eileen Agar, which makes sense. Surrealism after all is about the familiar… but a little bit off. RATING: 7.5/10
---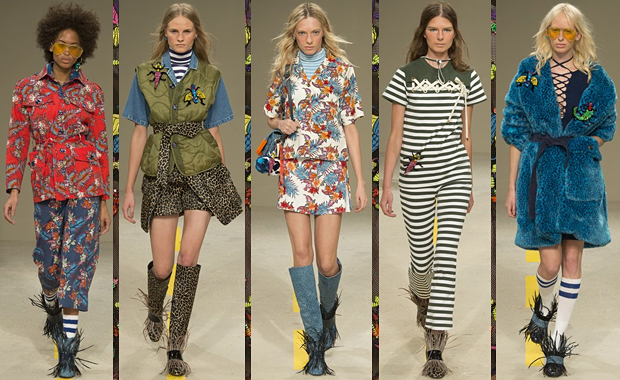 ~ HOUSE OF HOLLAND – RATING: 7.5/10 ~
I know what you're thinking… that's not House of Holland/! But it is… depending on who you are, depends on whether you would put "sadly" before "But it is…", so I'll leave it for you to decided. The shapes are familiar, they're laid-back and loose… nothing too extreme, but the dresses are free of cartoonish prints and neon brights… everything is slightly more mature and intricate.
I'm probably exaggerating a little because the fun is still there with the striped socks (hey, look who's trendy?), mixed prints, faux fur and colourful bags. It's as if House of Holland has started something new… perhaps a gradual transition? RATING: 7.5/10
---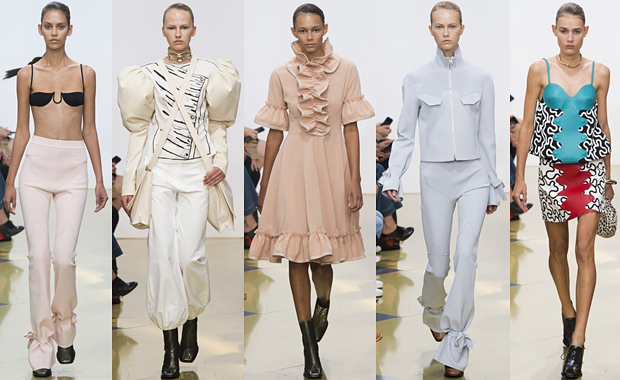 ~ JW ANDERSON – RATING: 7.5/10 ~
It's interesting to know why designers do certain things especially when a set style has been noticed across other collections so when I read what Anderson looked into upon creating this collection, the answer of "survival" intrigued me. Tight knitted pieces (I think the figure hugging silhouette will be big for SS16) and overly padded suits that resemble army uniforms and armour are a key focus point.
Feminine pieces like ruffled tea dresses and even rather skimpy bras reflect the power of a woman on her own (sans armour etc). Each piece ammits a sense of power that translates to every kind of woman. It's not the usual kind of collection that I'd be interested in but the meaning behind it draws me in, a bit like Christopher Kane. RATING: 7.5/10
---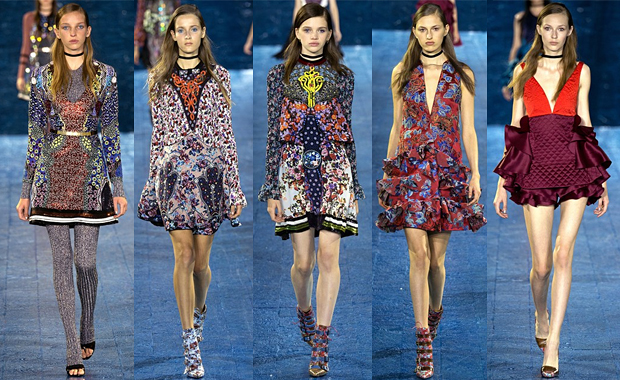 ~ MARY KATRANTZOU – RATING: 8/10 ~
For me SS16 at MK brought the "best bits". It's a simple and sleek selection of designs, all with features that are classic Katrantzou. My favourite pieces are of course the highly detailed and embellished party dresses. They feel familiar but in a more exciting way. Although I believe most of the detailing is fairly floral, it reminds me of far away galaxies with the shimmer and sparkle. It's a perfect party collection and a great move for Mary Katrantzou. Plus, after reading up on why she's shifted away from digitalised styles, it's made me appreciate her work a lot more. RATING: 8/10
---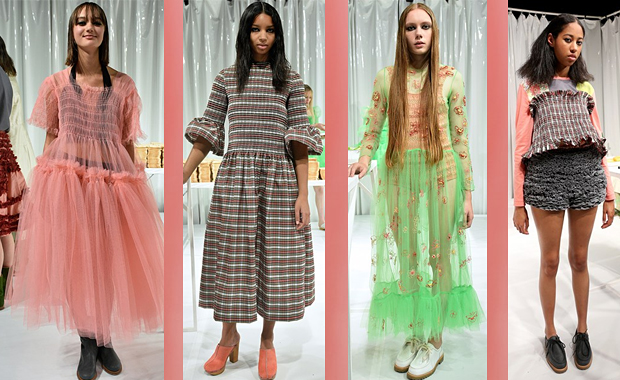 ~ MOLLY GODDARD – RATING: 9/10 ~
After watching the latest episode of Alexa Chung's VOGUE series, I had to include Molly's collection. She seems so genuine and her success is no surprise. For her SS16 presentation, Molly opted for a sandwich factory theme (perhaps a nod to the fashion industry?) with her signature tulle dresses that I would die to own.
Among the tulle and bread crusts were tartan and ruffles in light and loving colours to suit the usual British summertime. Smock style midi dresses also featured among the intricate ruffles. It's a perfect little range of perfect colours and shapes. I really would love to know about the sandwiches though… RATING: 9/10

---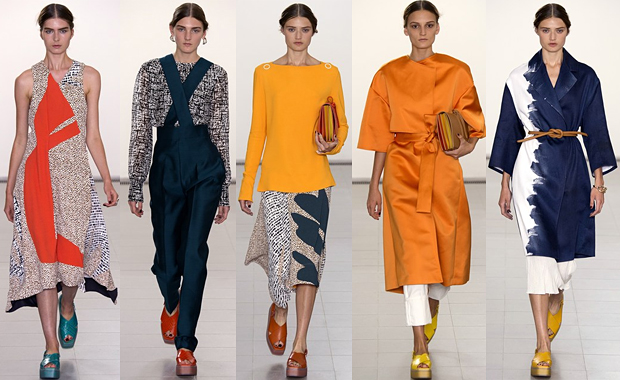 ~ PAUL SMITH – RATING: 8/10 ~
A rather 1980s inspired collection comes from the one and only Paul Smith. It's a very simple collection as usual but that's what I like to see. It's wearable but it still looks interesting and eye-catching. It features 80s tailoring and bright block colours in satins and drapy dresses.
A print that I have noticed across several collections so far is floral pointillism. Small, intricate and dotty, it adds that note of interest and finer details that Smith is known for and it will of course be a big wearable hit. RATING: 8/10
---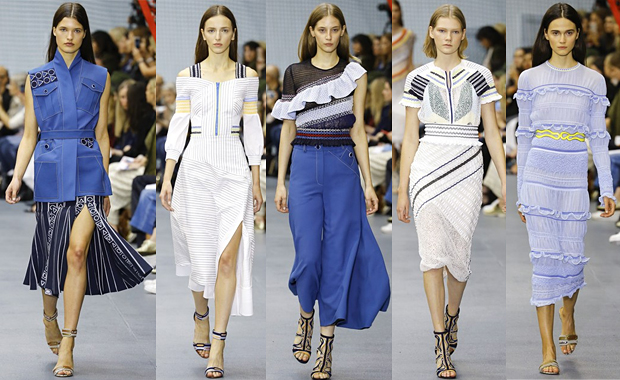 ~ PETER PILOTTO – RATING: 9/10 ~
I couldn't quite pin down the inspiration behind this collection but for some reason I keep getting pulled back to the technical side of fashion. It's as if the designer duo took what they knew and actually applied it to the physical designs… I could be totally wrong though.
It's another collection with that sort of uniform/armour feeling to it. Strapped jackets and white stitching to highlight the making of darker simple pieces. Sporty like zip up tops that could have come from some sort of dystopian movie… it's such a jumble as everything sticks to Pilotto's feminine and signature style. I'll call it a pastel fashion army for now. RATING: 9/10
---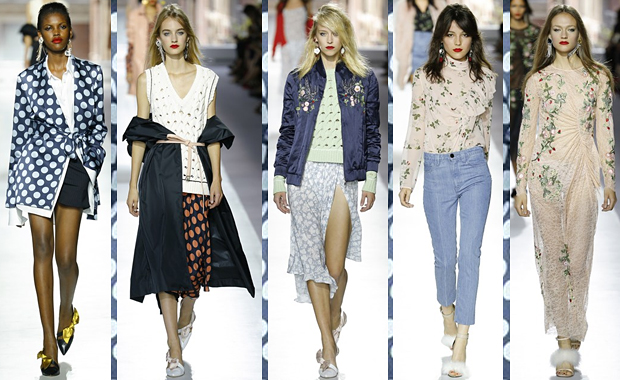 ~ TOPSHOP UNIQUE – RATING: 7/10 ~
If I were to review this from a very subjective, personal view, then I'd probably say I wasn't that bothered… but stepping away from that I think it's rather interesting. It still feels like a Topshop show, edgy and casual with those hi-low budget vibes but this season for me… it seems more like a designer show. It feels somewhat separate to the Topshop brand we all know and love, but in a fitting way.
I believe it's probably the sharp tailoring that does it and the almost Valentino-esque numbers. The collection is obviously 80s inspired (a decade on from SS15) with broad shouldered pieces and big voluminous hair to match. Like I said, it's not necessarily to my personal taste but I can definitely see it's potential. RATING: 7/10
---
What did you think about the collections from London Fashion Week SS16? Let me know in the comments!
---
Lots of Love… Tolly Dolly Posh xx