An idea planted in my mind after my latest post, so I decided to run with it. 2016 has been a year of rekindling my love for digital illustration. I'm quite happy with where I'm at in terms of my signature style, whether that's in terms of drawing or even the outfits I've been wearing this year, so, I thought I'd combine the two and do a small recap of the looks I've been gravitating towards, in the form of some fashion outfit illustrations!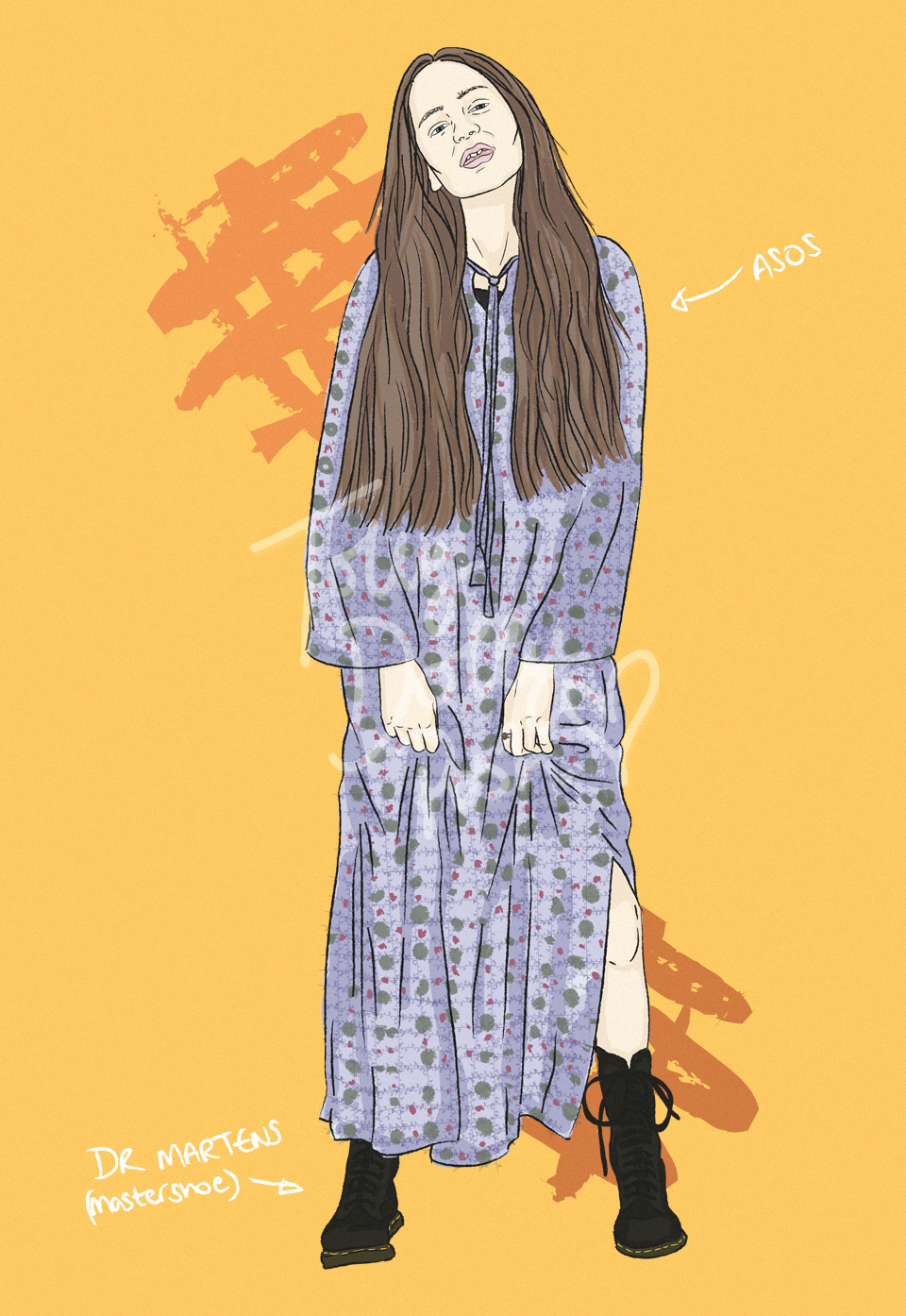 One of my first outfits of 2016 was probably the start of defining my aesthetic for the year. I thought perhaps it would dip in and out of this and that but this dress has made quite a few appearances more than this simple two-piece look. Seeing as it wasn't an ethical or conscious purchase, I'm justifying it by knowing that I most definitely have worn it for 30 wears and I will continue to do so until it's either in need of repair, a revamp or a trip to a charity shop.
I'm also happy to say that my Dr Martens have had plenty of outings too, and I had them repaired instead of receiving a new pair when the zips were starting to fail me. I would like to try out the vegan Dr Martens, but I'd also like to know more about their production before doing so. Although they might not be produced of leather, plastics and synthetic materials aren't necessarily any better due to the chemicals used and released in the manufacturing process.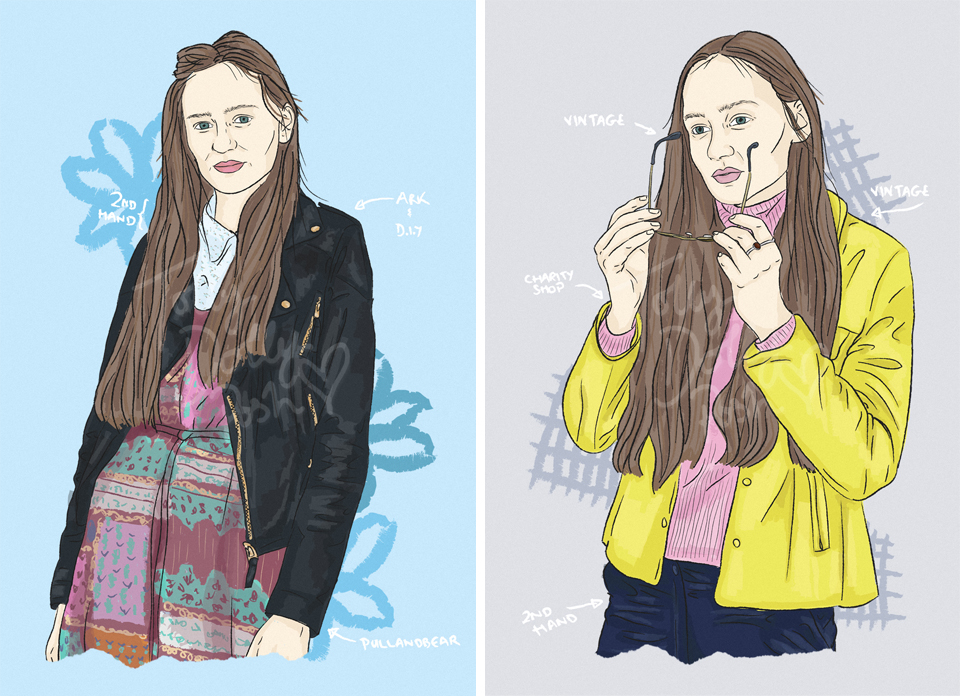 A similar style dress with splits and a detailed print was featured in my blog post about accepting change and curating a personal archive. I also wore my DIY and revamped faux leather jacket in this post too. I'd say for the majority of the second half of 2016, I was wearing at least one or two, second-hand items per outfit, so for this one, I opted for layering a floral blouse underneath the dress. For those with a slimmer figure and for those who don't usually wear a low neckline, layering blouses is what I recommend for you! I also wore my Dr Martens here too.
---
You may have taken a look at this outfit post rather recently, but I've definitely worn it more than that one photo shoot. I love the colour blocking element to it and the fact that everything but the shoes I was wearing (another pair of my trusty DMs) were second-hand or vintage. A lot of you liked the look of my pink turtleneck (in fact, I believe one of you even went out and scouted down your own second-hand version), so I'll definitely make a show of it in 2017 too! And of course, the years after that, and for however long I can manage to squeeze into it.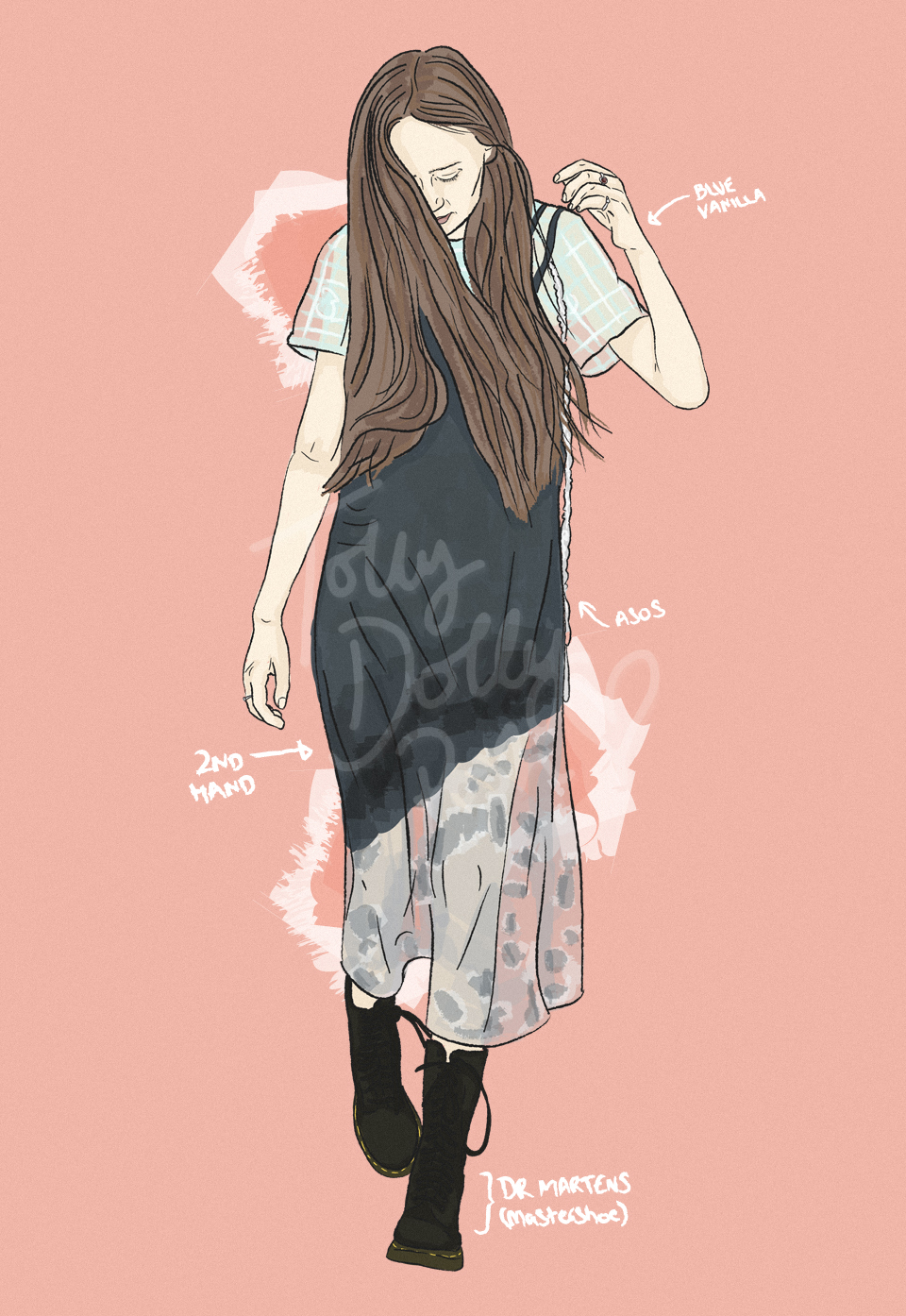 This outfit went down with a warm reception. As you can tell, dresses and my calf height Dr Martens are definitely a 'Tolly trend'. This dress was an unexpected jumble sale delight. Unfortunately I now don't have it on me as it wasn't really on my mind when leaving the earthquake zones (let me know if you want me to write a piece on living with a temporary capsule wardrobe), but I know once it's back in my possession I'll be styling it up once again. In fact I think it would look great with the aforementioned pink turtleneck. Also – sheer clothes are really fun to draw.
What have you been wearing recently? Which is your favourite illustration? Let me know in the comments! 
Lots of Love… Tolly Dolly Posh xx