To top off the exciting week of "15 things" blog posts, I have 15 sneak peeks of my collaboration with Mooi en Lief! How exciting?! If you're still not sure what this is all about, then I suggest you not only click here but also carry on reading… I'm sorry if I'm a little vague and mysterious in this post, but I can't give away too much! 
1 – INSPIRATION: David Bowie – Oh You Pretty Things (1971)
You will soon realise why exactly this is an inspiration. There are 2 reasons, 1 of them you can probably guess straight away *cough* the decade *cough* but the other one won't be so clear until the socks are released…
2 - INSPIRATION: Research Moodboard


As part of my research into the collection (this was a long while back) I created a moodboard with original ideas, cuttings, swatches, photographs, patterns and all sorts of bits and bobs to share what the collection is really about.

 3 - INSPIRATION: Research Moodboard


If you didn't already know, the collection is actually made up of knee high socks, so this is just a small snippet of some original inspiration...

4 - INSPIRATION: Photoshoot


A really exciting part of the collection is the photoshoot! We're going to be shooting it soon, so I created another separate moodboard for how I think it should look. It's been really fun putting it together and I can't wait to see the results!

5 - INSPRATION: Photoshoot


Without spoiling it too much, the shoot is going to be quite laid back and have a fun, summery vibe. You'll probably be able to work out why with a few of the other sneak peeks in this post!

6 - IDEAS: Workbook


As part of the creation process, I started filling up a humongous workbook (it's really big) and it's been so helpful. It's basically a book which documents the process of creating a collection of socks, from the very first rough ideas to the finished product. Here you can see a little glimpse of very rough branding ideas.

7 - IDEAS: Workbook


Here you can see a sneak peek of an idea for the photoshoot. It's actually quite an interesting process putting ideas together and seeing how things could work out...

8 - COLOURS: Pantone Pens


If you don't do fashion design, or general designing, then you may not have heard of Pantone. Pantone are basically the go to designing pens... often designers use them as a starting point for their collections, so you can see a glimpse of the colours which I focused on.

9 - COLOURS: Sock Swatch


Now this is really exciting! Here you can see an actual swatch from an actual sock. How crazy! It really was weird getting the first samples through and being like... "That's MY sock!", so there you go. A sneak peek... oooh, blue! 

10 - COLOURS: Sock Swatch


Another glimpse into the collection. Black and yellow... that's all I'm saying! ...so crazy right? SO CRAZY. You'll soon be able to buy these babies... eek!

11 - OTHER BITS & BOBS: Photoshoot Clothes


I have to admit going shopping for the photoshoot was pretty fun. Browsing pieces to really emphasis what it's all about is actually harder than you think though. Are you getting excited?

12 - OTHER BITS & BOBS: Photoshoot Clothes


Another little snippet of the photoshoot clothes. There are also props too which is another really exciting thing to shop for...

13 - A FEW WORDS: Tolly Dolly Posh


We thought it would be cool to sum up the collection process so far. For me it's been a huge learning curve; I've worked really hard and so have Mooi en Lief themselves. I'm so grateful for the experience and I don't think I will ever forget it. It's getting so exciting now... eep!

14 - A FEW WORDS: Jacquelina Deerenberg (Mooi en Lief)


I like to talk face to face: explaining myself and understanding the other person better. Tolly and I had to work together from a distance which went better than I expected. We have emails which could fill a complete book and I loved that whole journey with her.
---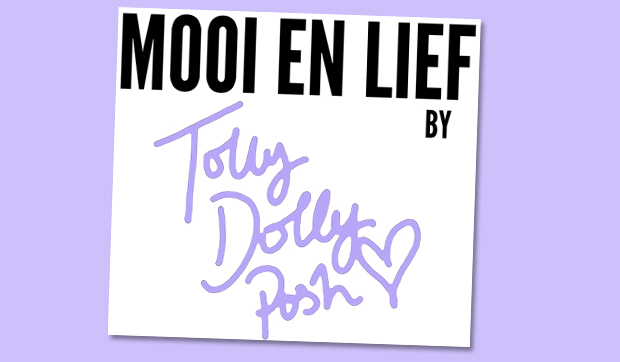 Dah-dah! How exciting hey?! This is the official #MooiEnLiefbyTDP logo! You may recognise a certain font… yup! That is the font from my old blog design… it kind of just worked seeing as that's when we started the collaboration. It's like a mix of both TDP now and then, as well as bit of the boldness of Mooi en Lief. What d'ya think?
---
🌼 FOR MORE INFORMATION CLICK HERE 🌼
---
Lots of Love… Tolly Dolly Posh xx