With age, my style has evolved over the years, drawing me closer to items and elements that I never used to appreciate when I was younger. Part of this evolution involved discovering the joy of high-quality jewellery and saying goodbye to costume necklaces and rings which turn my fingers green. They're sustainable investments and certain pieces have now simply become part of me…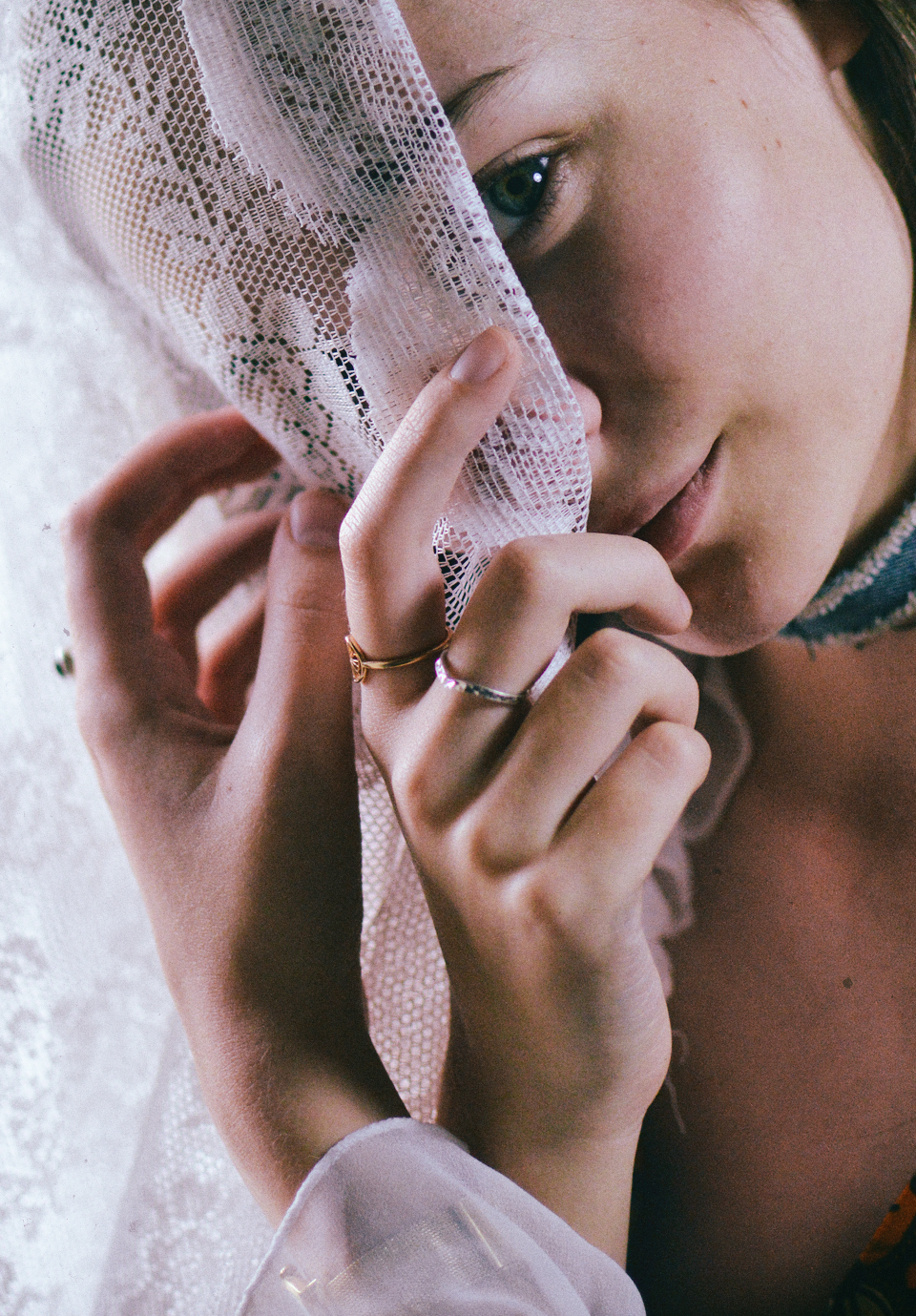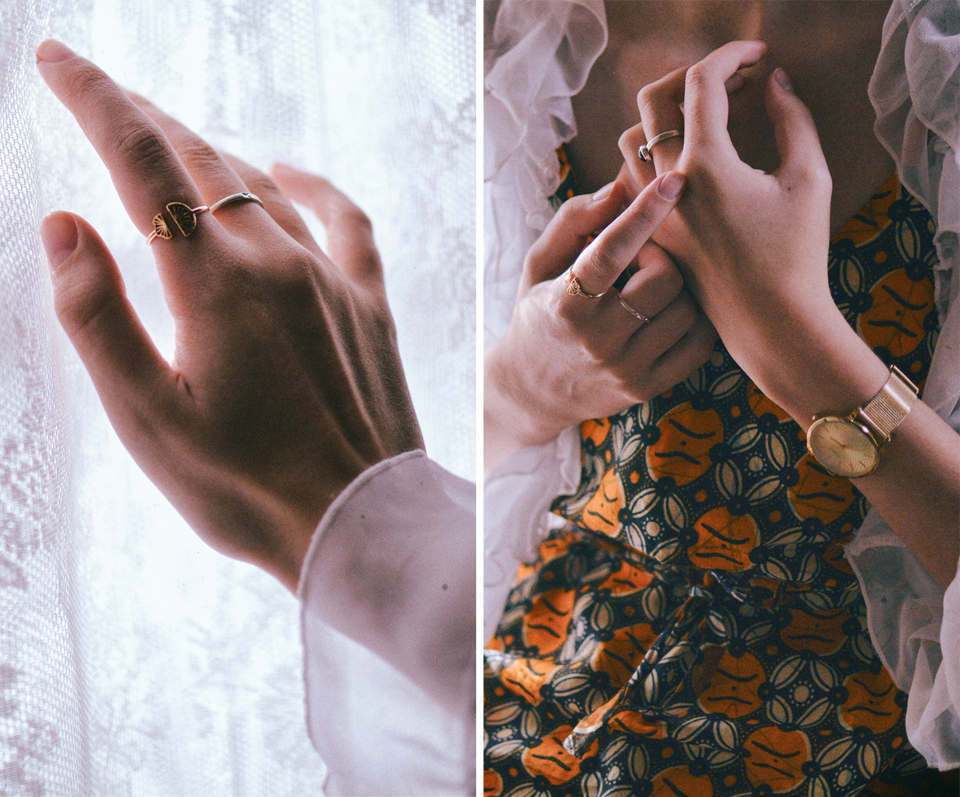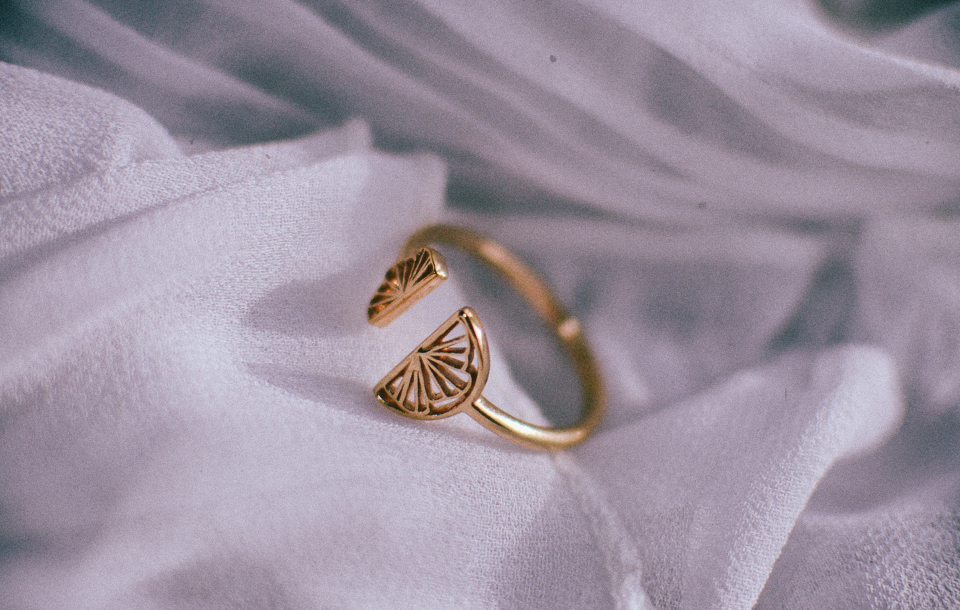 ---
WHAT I WORE: Floaty Cover-Up (Jumble Sale) // Geometric Slip Dress £47.00 (Mayamiko)* // Recycled Denim Choker (Yours Again)* // Watch (Timex)* // Silver Rings (Old & Gemporia*) // Gold Wedge Fan Ring £45.00 (Little by Little)*
---
My love of rings started when my mum sorted through her jewellery collection a couple of years ago, discovering a silver ring which no longer fit her but was in perfect condition. Fortunately, I was handed it down and you can now see it gracing my finger in almost every picture I post. It's simple and the stone isn't anything too spectacular but it's definitely been and will continue to be sustained by an emotional attachment to it.
It took a few weeks of taking it on and off before I realised I could simply wear it all around the clock because it wasn't going to wear away or turn a different colour like all of the other jewels I owned previously.
Peculiarly, I get a sense of satisfaction from the idea that just anybody I pass in the street will never know how long it's been there with me and that yes, I carry it with me all day and every day; it isn't just a decoration to match what I'm wearing.
For someone in their teens who most definitely isn't nearing marriage anytime soon, it gives me a similar sense of pride as to wearing a wedding ring (okay, maybe not quite in terms of the meaning behind it but I now get a sense of what it can feel like). It's the one thing which makes me feel complete even if I'm having a bit of drab day, sartorially.
I added my next ring to my right hand not too long after and although it may seem even simpler, the sparkle to it is what's missing from my first original addition. And now here I am, donning my third; a gold number – because I'm not against mixing metals – which can fit almost all my fingers (I have tiny ones so it was nice not to have to get a ring measurer out) and has a rather special inspiration behind it…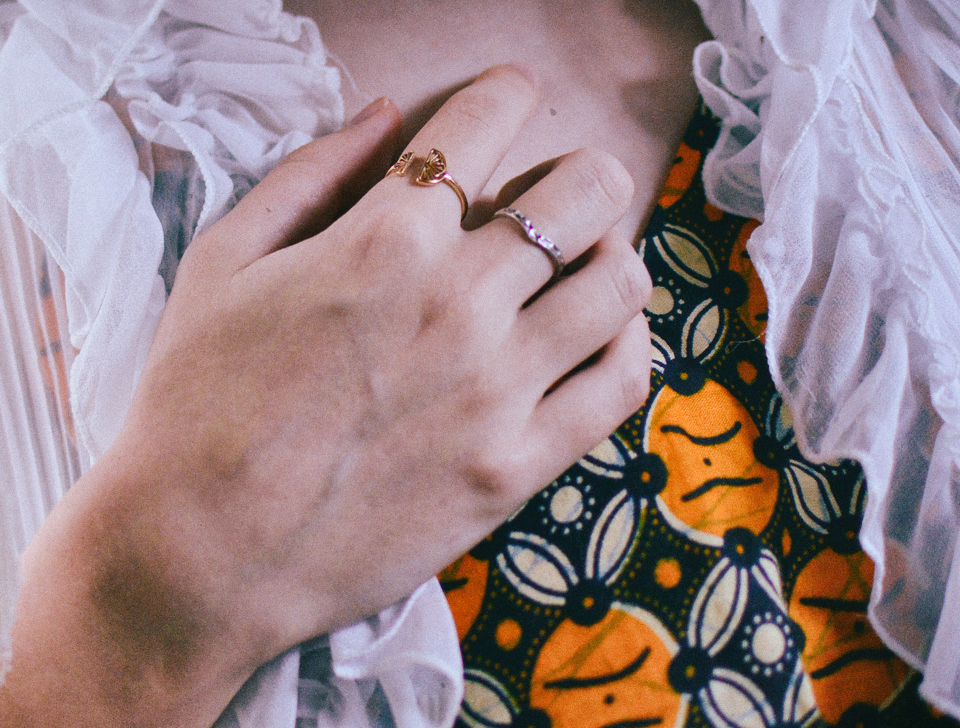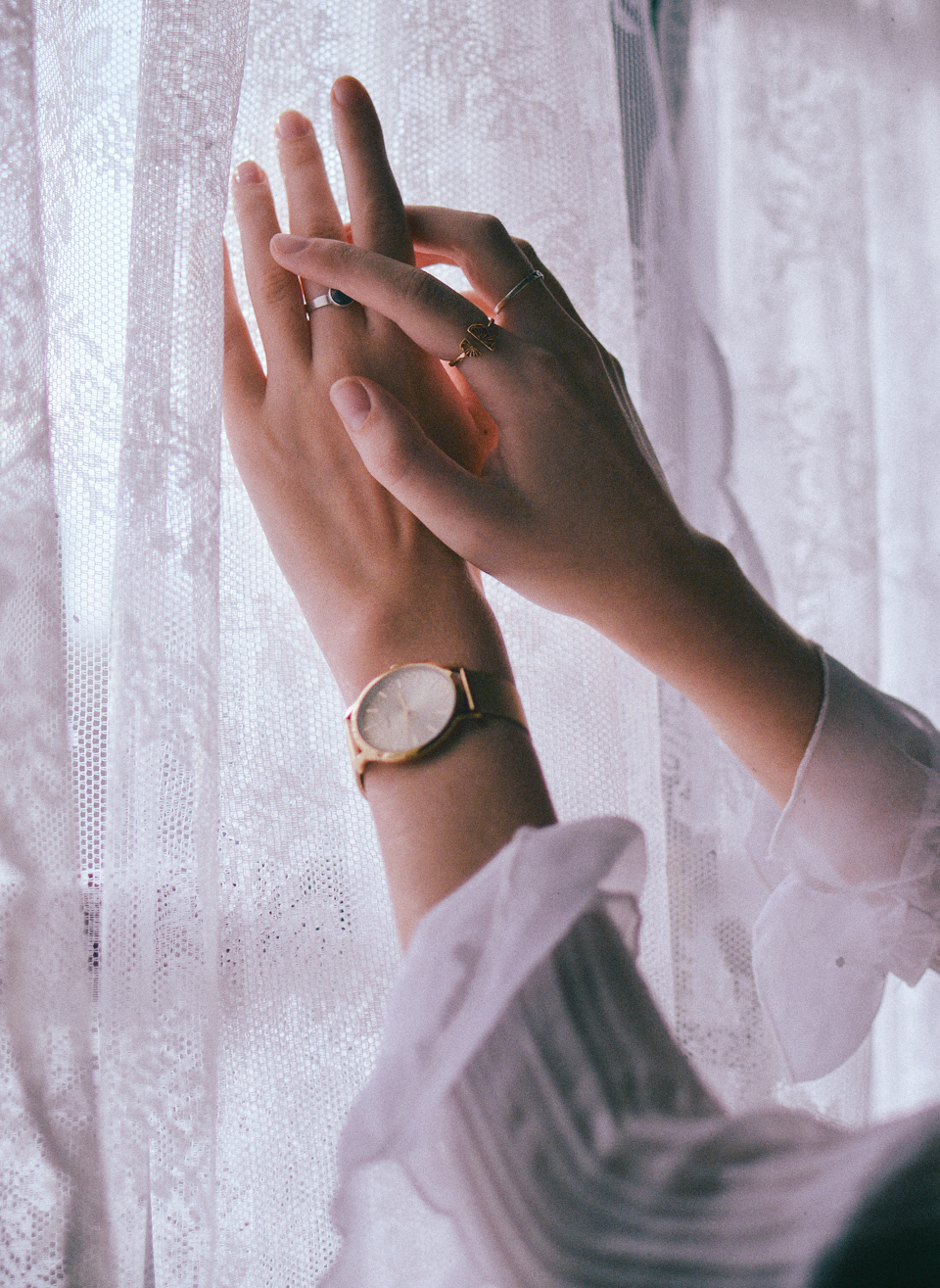 Little by Little was set up in 2015 by Annabel, a jewellery designer, and Georgina, a cookery author. Combining their two passions, not only do the duo create beautifully designed jewellery to last a lifetime but they also put their energy into supporting the charity Action Against Hunger; the global organisation combating world hunger and providing healthy livelihoods for those in need.
It's the reason as to why my ring might remind you of a fresh slice of lemon, which is rather fitting for me as not only do I love lemons but where I'm staying in Italy, is dotted with lemon trees around the garden.
---
Our main aim in establishing Little by Little in 2015, was to make a difference in a sustainable manner. That is why we partnered with Action Against Hunger.
Action Against Hunger's teams work in nearly 50 countries worldwide to carry out innovative, lifesaving programmes in nutrition, food security, water, sanitation and hygiene. The money that we have raised has generated enough funds to build a latrine and feed 100 malnourished children for a day.
---
I have to be honest and say that there are plenty of brands out there that label themselves as 'ethical' or 'sustainable' simply for the work they're doing with what they generate from their revenue. I'm of course in no way against companies which do this but it can make you feel sceptical of what their end goal is all around.
A lot of the time when people ask me how to know if a brand is truly ethical, I tell them to trust their gut instinct and work out whether the brand is truly passionate about spreading awareness for the issues that affect the industry.
Speaking to Annabel about her core values made me understand and appreciate that it isn't all about donating money once the item is purchased – it's about being transparent and responsible from stage one. Although I'm able to let myself and others off for purchasing unethical jewellery and watches due to how long they last, it feels refreshing and satisfactory when you know your jewellery has been made with care.
---
The intricate jewellery is lovingly created by a well-established jewellery producer in Lima, Peru. The factory has been running for 25 years. It now employs 350 people.
From its inception, its aim was always to bring opportunity and employment. It does this by giving jobs to people with no prior technical experience, training them in the art of jewellery. Having visited I can verify that it is a well equipped, safe and spacious place to work.
---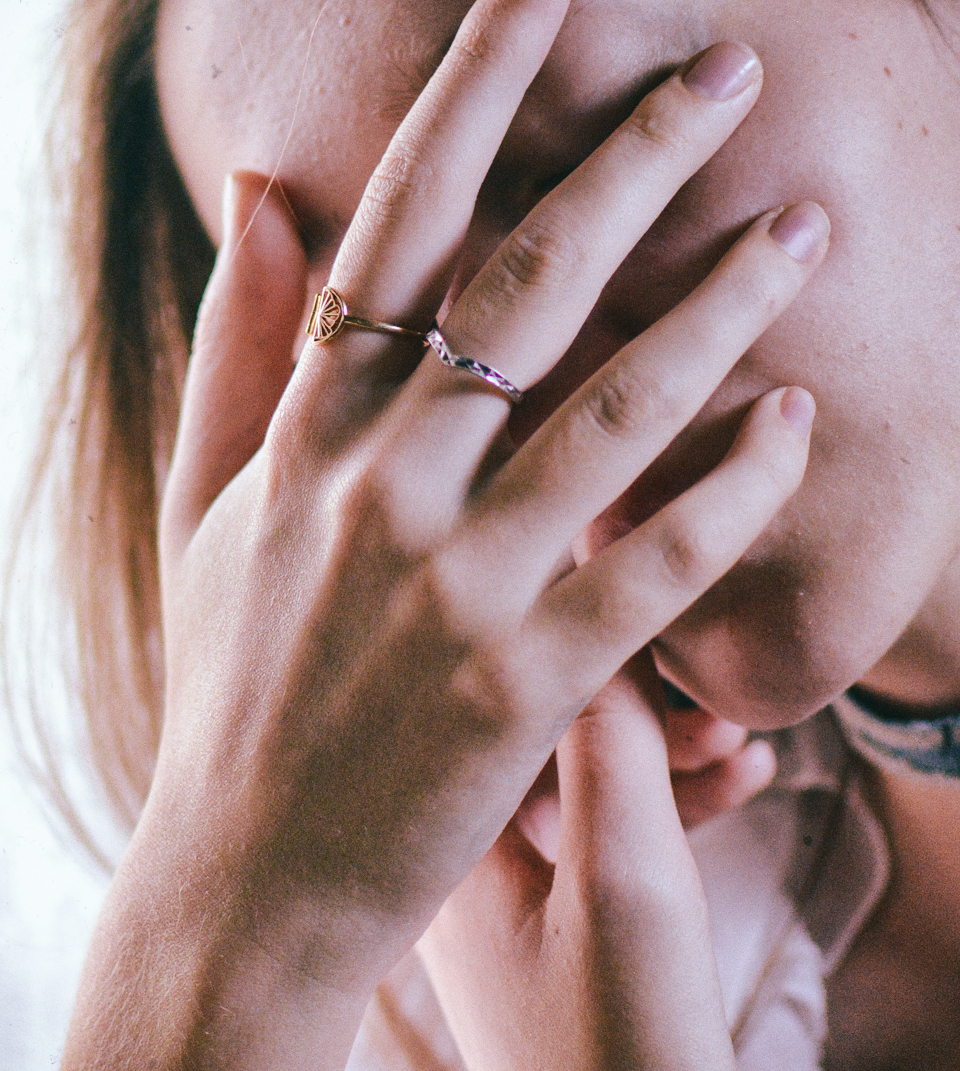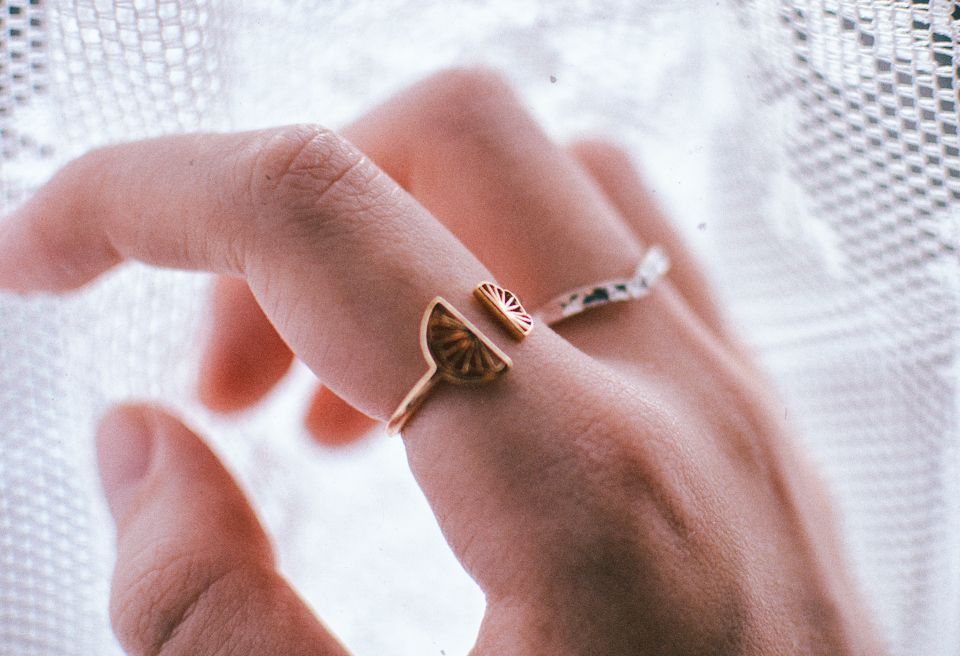 ---

~ WHO MADE MY RING? ~
There are a number of different individuals that put together the different elements of Little by Little jewellery. Everything is made from scratch. The team are well-skilled jewellers who make and manufacture the jewellery. This is led by Sandra Romero and Piero Reinoso.


---
Fashion with a cause is often easier to get behind morally within the realm of ethical fashion because we know for certain that our money will be reinvested into something we support and believe in. Although this is the case the whole year round and I don't need to sell anybody on it, I think as we near gifting season, it's something to pay attention to. Little by Little combine charity and ethics; a double whammy!
Not only can you gift somebody with a piece to treasure for years and years to come, you can also gift them with a story and a positive message that they'll be reminded of whenever they wear their new jewels or when, like me, they look down at their new ring every day.
---
Do you see jewellery as a sustainable investment? How would you style up my ring? Let me know in the comments!
(This is a sponsored post in collaboration with Little by Little. Read my full disclaimer here.)
Lots of Love… Tolly Dolly Posh xx