I haven't put up a wishlist style post in a while, so seeing as a new season is about to set in, I thought I'd put one up. I've been seeing a lot of patchwork denim around the place as well as the still ever growing trend of embroidered badges so that's basically what this consists of. You can see which are my favorites below…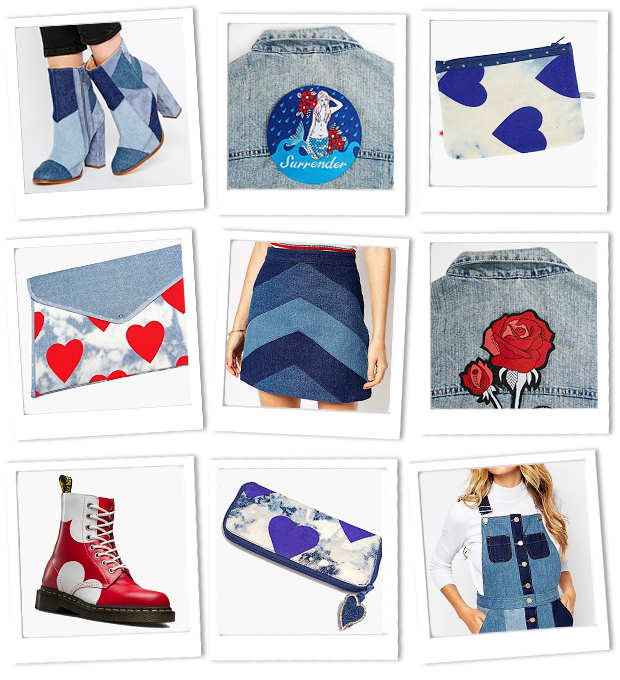 ---
Heels (River Island @ ASOS) // Surrender Badge (Rosie Wonders @ ASOS) // Purse (Springtime)* // Clutch (SPRINGTIME)* // Skirt (ASOS) // Rose Badge (Rosie Wonders @ ASOS) // Dr Martens (Dr Martens) // Wallet (SPRINGTIME)* // Pinafore (ASOS)
---
I'm ever so slowly becoming a shoe person, and I'm also ever so slowly starting to fall in love with heels (eek!) and this combination of a shoe, heel, denim and patchwork has me with heart shaped eyes. I'm not sure the boot style would actually fit my very slim figure though… which is a shame because they really are quite delightful.
To match those, this dress and and this skirt would work perfectly. I've actually had my eye on that patchwork denim pinafore for a while now and I'm thinking it would look pretty great this summer with a crisp white blouse (which I'm now an owner of – it's a Stradivarius number) underneath and then quite possibly a cool pair of Dr Martens on my feet… these Valentine's pair are pretty funky, right?
In terms of the accessories, like I mentioned, it seems that embroidered patches aren't going anywhere soon and I'm pretty happy about that… did I mention that my socks come with a free embroidered badge, yet? 
I've included a few SPRINGTIME pieces there too because I love what they're brand is all about. You may have noticed the new addition to my sidebar, which has a handy link straight to their site. When the lovely team got in touch with me, I knew I had to work with them because they have such an awesome message about achieving your dreams and spreading that passion to everyone around you. I'm all for it and the fact that they're pieces are all very denim orientated… well it makes them that much better.
---
What have you been wishing for recently? Let me know in the comments!
(This is a sponsored post in collaboration with SPRINGTIME. All thoughts and opinions are 100% honest. You can read my full disclaimer here.)
Lots of Love… Tolly Dolly Posh xx