Bonjour! Before you start reading, make sure to head over to Part 1 of this post in case you missed it! For those of you who read that part, you can now enjoy the last instalment! If you remember, I am an official Jeans for Genes Day supporter! Woop!
What I Wore: Classic White T-Shirt £7.50* (Jeans for Genes), 'Mom' Jeans (Jumble Sale), Pink Statement Necklace (eBay),  Black Jelly Shoes €4.00 (Supermarket) & one heck of a moody face (Don't Know Why).
I actually quite like this top. It's simple, yet the 'slogan' makes the outfit more complete. Just like the fashion tee in the last post, it has a nice fit and is nice to just throw on for casual wear. It's a stylish and simple way to show your support for the amazing charity, and for only £7.50, you can't really go wrong. I paired it with my favourite jeans which are  so comfortable, and the only pair of jeans which I actually enjoy wearing. Of course my outfit would not be completed without my gorgeous necklace from eBay and my bargain jelly shoes.
It's getting a lot closer to September 20th now, which only means one thing. You need to get your jeans out! I'm challenging YOU to wear your favourite pair of jeans on September 20th to show your support. Just simply Instagram a picture of you wearing them using #jeansTDP and I will share my favourites! Even if you don't like jeans, or it's too hot, go out and wear them. I don't want any excuses guys!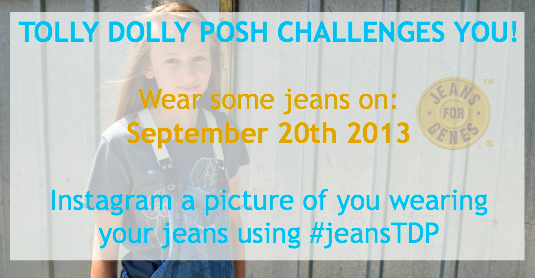 You guys know I love a little project, so I'm starting another (hopefully)! Take a look at my ideas for the GIANT blogger sleep over!
Lots of Love… Tolly Dolly Posh xx